Made by Noodletub Games, their third yuri visual novel overall, GOOD LUCK BABY! is the tale of two high school girls, their developing relationship with each other, their slowly building found family, and the angel baby they found on the doorstep one day. Typical high school stuff.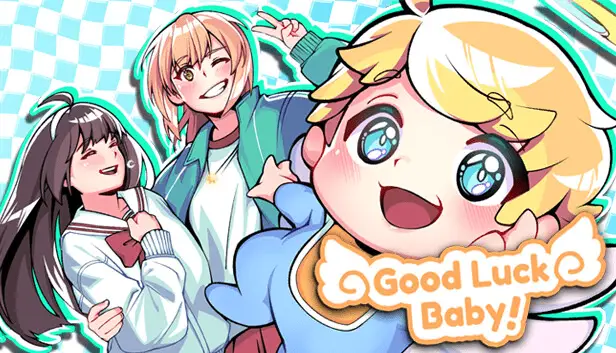 Now, we here at the Fandomentals have actually covered this game once before, back when it was in the process of being funded on Kickstarter. At the time GOOD LUCK BABY! was doing quite well for itself, having been funded in less than a day, and it went on to reach thirteen of its fourteen stretch goals, narrowly missing out on being able to have partial voice acting.
The Plot
GOOD LUCK BABY! centers around two girls, Hifumi Tanaka and Kasumi Itou, a pair of high schoolers in Japan.
When our story begins, Hifumi is at the end of her rope after a weeks long streak of bad luck. Stubbing her toe and hitting her elbow all the time, losing her wallet, missing her alarm, it's all happening to the poor girl. Add in an emotionally distant family and bad parents, and she winds up crying out to the universe for some good luck for a change.
Quite fortunately she gets that luck when infamous delinquent Kasumi overhears her plea and finds it funny. After some misunderstandings and drama, the pair become fast friends, spending hours at the arcade together and walking each other home after. And then, one day, they find a mysterious baby with wings and a halo on Kasumi's doorstep!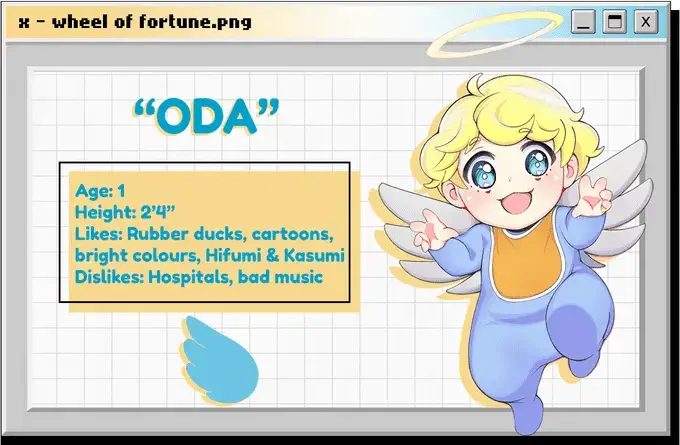 This baby isn't just weird and mysterious, he's going to change their lives and bring them into a conflict where they'll have to save not just themselves, but the whole galaxy from the evil Empress Metis, all the while trying to get the baby home.
However, that is the extent to which I'm going to be talking about GOOD LUCKY BABY!'s plot. Not because it's a bad plot, or because there's not much to talk about mind you. It's actually a very good, compelling, well written and emotional story with solid characters and excellent writing.
At the same time though, that good plot is also all GOOD LUCK BABY! has to offer.
What Gameplay?
Now, GOOD LUCK BABY! has three routes. The aforementioned one, and then two side routes, one exploring the early days of a pair of side characters and their relationship, and the other exploring the villain's story. They're all enjoyable and well done.
However, this is not a choose your own adventure kind of visual novel. No, GOOD LUCK BABY! has no choices, no minigames, no fail states or alternate endings. This is the kind of visual novel that takes the name of the genre quite seriously. It is a novel with visuals and sound effects.
This is a valid format, of course, but it means that I'm not going to be going in depth with the plot because, quite frankly, the plot is the point. To spoil the plot is to defeat the purpose of the game, since this is an adventure/mystery visual novel.
Gay, Gay, Super Gay
I cannot stress enough how much of a yuri game GOOD LUCK BABY! is. We have gay main characters, we have gay side characters, we have gay villains, and there's not a man in sight (unless you count the baby).
WLW visual novels are nothing new. Indeed, most WLW games on Steam are visual novels. But just because it's not the only one, that doesn't mean GOOD LUCK BABY! isn't extremely good. Because it is. The character designs are excellent, the characters themselves are well written, complex, and believable, the art in general is solid, the jokes largely land. There's an early game joke about an in-universe arcade game, 'Kario Mart', that had me giggling for what felt like forever.
Final Thoughts
Ultimately, whether or not you like GOOD LUCK BABY! is going to come down to your personal preferences and the kind of games you like. If you like visual novels where there's any degree of gameplay, this is not going to be something for you.
If, however, you're okay with a visual novel where you're just here to read a fun yuri adventure and enjoy some catchy music, then you will probably have a good time here! It all comes down to personal preference, more so than usual in this case given the somewhat divisive style of visual novel we're dealing with.
You can get GOOD LUCK BABY! on Steam or Itch.io!
Good Luck Baby!
Summary
GOOD LUCK BABY! is a well made, pretty, yuri visual novel. But those used to visual novels with a more Choose Your Own Adventure style to them will be disappointed.
Images and review copy courtesy of Noodletub Games
Have strong thoughts about this piece you need to share? Or maybe there's something else on your mind you're wanting to talk about with fellow Fandomentals? Head on over to our Community server to join in the conversation!