If you like visual novels, found family, mysteries, and adorable babies, Noodletub Games, a two person team from Canada has the game for you! Good Luck Baby! is available to back on Kickstarter now, was funded in less than a day, and has all sorts of fun stretch goals.
Set in the year 2002, the story revolves around our two leading ladies unravelling the mysteries behind the sudden appearance of a baby with wings, a halo, and strange powers on their doorstep. The mystery runs deeper than they could ever imagine, with the fate of the world itself resting in this tiny baby's hands.
Noodletub Games says that as "two queer women, we wanted to follow our hearts and make games that really appealed to our own tastes" which meant not only exploring romantic love between women, but also the safety and comfort that often comes with found families. Good Luck Baby! is heartwarming and interesting in a way that "allows people of all ages and walks of life to see that there is a world waiting for them with open arms, too."
Good Luck Baby! Story
Having a stroke of bad luck sucks. Having a few weeks of bad luck is even worse. That's something Hifumi Tanaka unfortunately learns first-hand. Stubbing her toe one too many times, losing her wallet on the train to the city, getting to school two hours late… this unrelenting streak of misfortune makes her cry out in frustration to the universe. "Can't something good happen for once?!"
Hifumi's luck begins to turn around upon meeting the famous delinquent Kasumi Itou. Even though she's known at school for being trouble, the reality is that Kasumi is a funny, level-headed girl with a heart of gold. Just as their mutual crushes on each other begin to bloom, they are met with one heck of a surprise…
A baby with a halo sitting happily on Kasumi's doorstep! 
Meeting this baby changes not just the lives and luck of our girls, but the entire world  – and maybe even the galaxy – as we know it. Can they evade the looming shadow of a mysterious villain known only as "Empress Metis" long enough to get this baby back home? 
With a release date of Winter 2022, Good Luck Baby! promises to be lighthearted and emotional at the same time. Hifumi Tanaka and Kasumi Itou are both 18. Having come from a neglectful family, Hifumi is very sensitive to any idea of bullying, deliberate isolation, and feeling lonely herself. But despite the fact that she has never felt special or unique before, Hifumi is about to learn just how significant her place in the universe really is.
On the other hand, Kasumi is used to being treated as an outsider, as her inability to concentrate in class or accepting authority has led to frequently skipping school and she's developed a troublemaker's reputation.
Look at this cute baby!!! Angel!!! Character!!!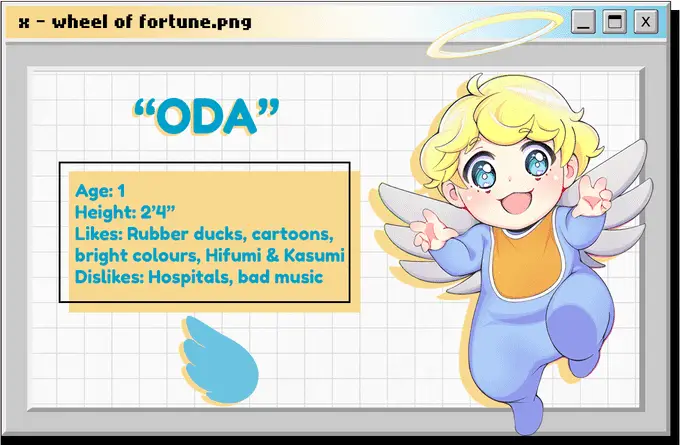 Add in Oda, a one year old baby with wings and a halo, and our duo have a lot on their hands! The cast also includes Saki, Kasumi's best friend, Touka, Saki's older sister, Hoshino, a mysterious lady, and Usagi, a woman who accompanies Hoshino everywhere and many others.
Oh and of course there's a villain, Empress Metis, but we have no idea what she looks like (yet). However, if the campaign reaches $8000 CAD, the game will include a route all from her POV!
Stretch goals for Good Luck Baby! also include: extra scenes and extended art,, which each include three levels, a route with Hoshino, the aforementioned villain route, and a special epilogue. Having already met its original goal of $3103 CAD, it's likely many of these stretch goals will get met soon.
In Hoshino and Usagi's route, players will experience a different flavour of mature romance. A serene woman waiting for her long foretold destiny to happen, Hoshino now spends each day with her beloved Usagi at her side…but it wasn't always that way. See how these two met, fell in love, and overcame adversity in a completely unique setting and tone compared to the main story in this full length route!
You can learn more about Good Luck Baby! on Kickstarter and Noodletub Games on Twitter!
Image courtesy of Noodletub Games
Have strong thoughts about this piece you need to share? Or maybe there's something else on your mind you're wanting to talk about with fellow Fandomentals? Head on over to our Community server to join in the conversation!