Tabletop Tycoon, formerly known as Game Salute, isn't really one game company. Instead, it's more like five game companies in a trench coat: the hobbyist-oriented Starling Games, the family-friendly Sparkworks,  the strategy-heavy Victory Point Games, the child friendly Flying Meeple, and finally the innovative dice company Polyhero Dice. As if that weren't enough, they also run Board Game Booster Box, a charity which sells board game blind boxes online and at cons, matching each box sold by giving four board games to Toys For Tots.
The wide range of their companies means that they really do have a game for everybody and of any age. They gave me a rundown of their newest games, as well as a little peek behind the curtain at the games coming down the line.
Starling Games
It's been a year since the initial release of Everdell and it remains as hot as ever. Not only did the first printing of the game go out of print, but it also sold out every day of the con and the line for it wrapped around the corner (especially when designer James Wilson was in to do some signings). You could usually see the corner of Pearlbrook or the very pretty Collector's Edition of Everdell peeking out of someone's bag all weekend.
The new expansion adds several new mechanics that largely center around the River, a side board that holds a new resource in the game: pearls. Players will be able to send their new frog ambassador to the River to collect these pearls, using them to build Adornments and Wonders. The pearls look very much like real pearls (glass in the collector's edition, plastic in the retail version), and the expansion is just as charming as the base game. New aquatic critters have arrived, including otters, Axolotl, starlings, and Platypi (Platypuses? Platypeople?), and they've brought them beautiful adornments to make your little town sparkle. More ambitious builders might save their pearls to build one of the four Wonders of Everdell, great works of craftsmanship and beauty that make you the envy of the forest (and confer powerful abilities on you).
Following a very successful Kickstarter campaign, Pearlbrook is available to pre-order through TableTop Direct, with a release date in the last quarter of 2019 . You can also pick up both the base and collector's edition of Everdell. Starling was nice enough to let us review Everdell, and I'll have an unboxing and full review of it very soon, so stay tuned!
The other big release from Starling was Anomaly, an asymmetric hidden movement game that mixes sci-fi and horror (a rework of an aborted game titled ∅: Fear Nothing). The setting is an Ender's Game-esque space school, with up to three players taking on the roles of Students one player acting as the mysterious Anomaly. In many ways a board game version of a slasher flick, the students have to work together to destroy the Anomaly's power sources and damage it whenever possible while the Anomaly uses its growing powers to ultimately destroy them. Every movement is done behind a screen, and the students can only hint at their location, which the Anomaly can use to seek them out. In addition, every action the Students take feeds the Anomaly, giving it  powers like the ability to teleport around the board. The game has a really cool neon aesthetic, one that's at once beautiful and brooding. It also features very cool little plastic figures for the Anomaly, as well as a circular board that looks amazing on the tabletop.
Anomaly is also available for pre-order and fulfilled recently, meaning that it should be available on Starling's store and at stores by the end of this year! We also were provided a review copy of Anomaly, so keep an eye out for more on it soon!
Starling's most recent Kickstarter success was War of Whispers, a competitive strategy game from Villainous Vikings designer Jeremy Stoltzfus. I know what you're thinking "another epic game about warring factions?" Well worry not, gentle reader, because you won't actually be getting your hands dirty with battles. Instead, players act as the secret societies pulling the strings behind everything, the powers behind the throne. You don't really care who wins, so long as you're the one controlling them when all is said and done. As such, you and your agents will have to subtly influence the different factions, keep control of different parts of the empire, and play your cards (literally) close to the chest. Your loyalty might change on the fly as your agendas change and as the wars go on, and you've got to make sure you don't get out-gambit'ed by another player. The craziest part? All of that happens in under twenty minutes. There is an insane amount of depth to this game and it all happens in the strategy game equivalent to the blink of an eye.
Kickstarter fulfillment for War of Whispers is estimated for September or October of this year, meaning it should become available for pre-order around that time, and the game should hit retail early next year.
Starling's final showing was one of the gabbagooliest games I've ever seen. It's actually a revised version (yes I know it's in the title just let me live) of a game from 2013, back when the company went by Game Salute. Players take on one of the Five Families of New York, vying for criminal supremacy with the help of cunning, murder, blackmail, and a nice spaghet. You have five years (turns) to earn as much respect as you can by building a network of criminal accomplices and contacts, each with their own special powers and abilities, and moving gangsters up the chain of command within the family. The winner becomes the Boss of the Bosses, and the losers, well, let's just say the losers will be meeting with an accident of a rather sudden and unfortunate nature. The new version improves the rules and has brand new art and accessories that make the game a fun experience for everyone from Made Men to brand new Goombas.
Starling has also updated all of the expansions from the original edition, collating them together into the Family Business expansion. These add new mechanics like the Casino, new factions like the Russian Mob, and a ton of new associates with special powers (many with famous faces). The Kickstarter fullfillment went out a just last week, so keep an eye out for pre-order opportunities and retail releases as we enter the Fall.
Sparkworks
A very small game, Penny Lane was one of the two big releases from Sparkworks, the division of Tabletop Tycoon that handles all-ages games and a lot of their licensed releases. Taking as inspiration the twee Edwardian aesthetic of the famous Beatles song of the same name, the game enlists players to become street developers. It's a worker placement game for people who want something a little more laid back, building fun little buildings on the Main Street like the Confectioners or Penny Arcade. The main currency is, what else, pennies. They are aqcuired each around, getting more when making "penny connections." You can also make Victory Point connections to get one VP, and the game ends when someone has 10 points on their lane. Ambitious players can even become the Mayor, taking over the job of first player for the next round.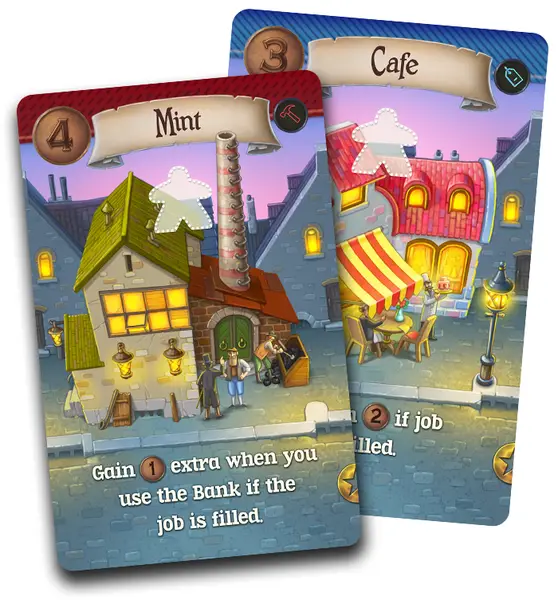 Another Spring release, Penny Lane can be found at your FLGS and at Target, where it retails for $27.95. Sparkworks was kind enough to let me review Penny Lane, so keep an eye out for more quite soon!
Blindspot is Sparkworks debut in the social gaming genre, a mix of word game and puzzle game from Australian designer (and brain scientist) Richard Vickery (Nibelungenlied ). As one can guess from the box, it looks quite similar to the chart you'd see at an optometrist's office, but if it got spliced with a word search. Players have little dots that they can use to cover letters up to form words, while also blocking other players from forming their own words. But as time goes on and the board fills up, it gets harder and harder to find space before time runs out!
The game released alongside Penny Lane, and can be found at many game retailers like Target, where it also goes for $27.95
There's alot coming down the tube for every part of the Tabletop Tycoon family, so keep an eye here for all the latest!
All images via Starling Games, Tabletop Tycoon, and Sparkworks