It's just about to be fall, but that doesn't mean the excitement and heat of the summer has to die with the leaves. While many board games work to capture the competition and speed of a good race, a few really stand out as unique examples in the genre. Here's a few recent ones that we've been getting out this year.
Publisher: AEG
Designer: John D. Clair
Artist: Jacqui Davis, Philip Glofcheskie, Ryan Iler
MSRP: $59.99
Another fantastic game from the designer of Mystic Vale and Ecos: First Continent, Cubitos is a fun little push-your-luck dice roller where players take on the role of cubes competing in the Cube Cup. It's a very cute way of personifying the dice in a game like this, which can sometimes stretch themeing to the extremes when justifying the dice. While you can design your own combinations, it's built and balanced around pre-set races that help ease you into things and which eventually emulates a true Grand Prix format. The relative simplicity of the form means that there's a lot customization and replayability, but no matter how you change things it never stops being heart-pounding or chaotic as can be.
You can grab Cubitos from the AEG store.
Publisher: Restoration Games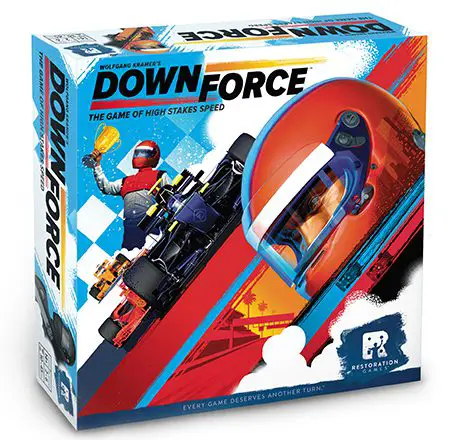 Designer: Rob Daviau, Justin D. Jacobson, Wolfgang Kramer
Artist: Tavis Coburn, Michael Crampton, Jason Taylor
MSRP: $40
Like all games published by Restoration, Downforce is a resurrected version of a game that's been around a long time with previous iterations like Top Race holding a special place in the hearts of older gamers. Now tightened up by Restoration with brand new art, it's taken on new life as a great approximation of the fun one can have at the race track. Players first bid on the cars in the race and then race them, the complications coming from the use of different cards and moving the cars around the track. While the "race" is ongoing, players secretly bet on where cars will finish. When the race is over, the bets are tallied and money is doled out. The winner might not be the one who won the race but instead the one who made the smartest bets.
You can get Downforce from the Restoration Games shop.
Publisher: IDW Games
Designer: Bruno Faidutti, Alex Randolph
Artist: Kwanchai Moriya, Julián Tunni
Tonari, which I unboxed a few years back when it came out, is a little different from the other two games on this list thanks to a focus on a fishing race, a competition between anglers trying to catch the biggest haul possible. Oh, and they're all sharing the same boat. Since they have to trade off control of that boat, moving around to the different spots to maximize their own catch while (hopefully) making sure that the other competitors don't outfish them in the process. It's quick to pick up and learn and goes by quick, but the end might not always be what you expect thanks to a mechanic that adds your score to your neighbors, encouraging the sort of "coopertition" that's incredibly easy to enjoy.
You can grab Tonari at Amazon.
Images via their respective owners.
Have strong thoughts about this piece you need to share? Or maybe there's something else on your mind you're wanting to talk about with fellow Fandomentals? Head on over to our Community server to join in the conversation!