Coming to us from Thames & Kosmos and Blam! is Cartaventura: Lhasa, an adventure through history told entirely through cards. Journey through Tibet in the footsteps of a famous explorer, setting your own path and learning the rules as you go!
Following up from a game that was all gameplay mechanics, Cartaventura: Lhassa is comparatively almost all story, part of the overall Cartaventura series of pocket sized games.
Cartaventura is a collection of immersive historical adventures, each one set in a different era and focused on a different figure and location.
For this specific game, Cartaventura: Lhasa, you'll travel to India and Tibet in the footsteps of explorer Alexandra David-Neel, facing tigers and hidden temples, mysteries and nightmares. You'll play a French war correspondent in 1916, reeling from World War 1 and inspired by Alexandra David-Neel's reports of Buddhism leading to wisdom and serenity. You'll set off, both to cover her story and in hopes of bringing an end to your own nightmares.
At its heart, Cartaventura: Lhasa is a Choose Your Own Adventure book, but in card form.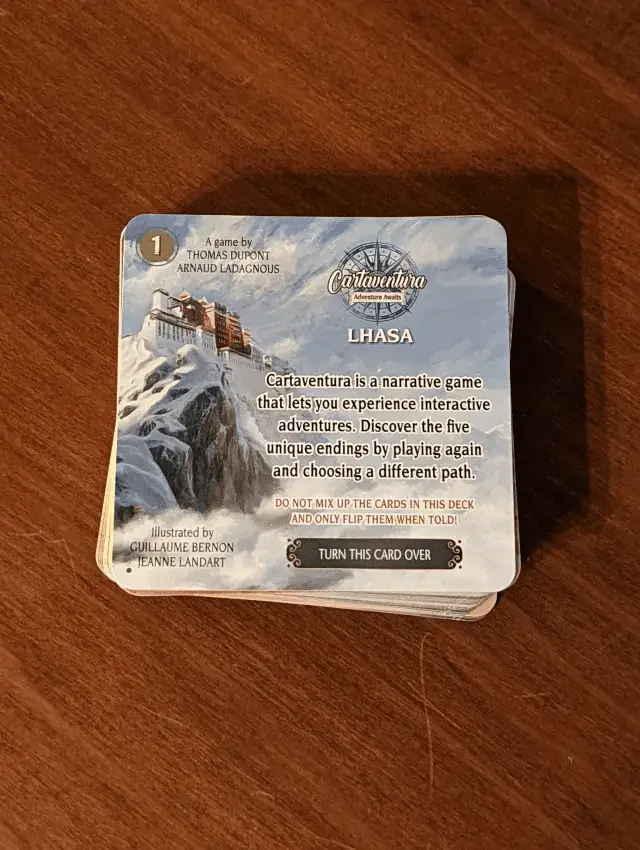 In a curious move, Cartaventura: Lhasa doesn't come with a rulebook (nor do the other games in the series, for that matter). Instead, the rules are explained on the cards themselves, and the order of operations are likewise there. New players will be learning as they go, not knowing what every card means until they get to where the game wants them.
In another unusual move, the game is purely collaborative. Up to six players can play at once, but they'll have to work together, deciding what choices to make and what paths to take together. No competition, the only sabotage is self-sabotage, the decisions on where to go and how to spend your money and time is up to all of you.
Cartaventura: Lhasa is a fairly simple game, despite the somewhat intimidating premise (though I recommend a large table to lay out all the cards you're going to wind up working through). Everything is done on the cards, with the game explicitly declaring that there's no need to take notes or use anything but the cards.
It's likewise a fairly breezy game, at least for a narrative adventure that goes as in depth as this one does. The average round doesn't last more than an hour, unless your group get stuck in the weeds debating what choices to make of course. It makes up for that short game time by offering a total of five endings you can achieve.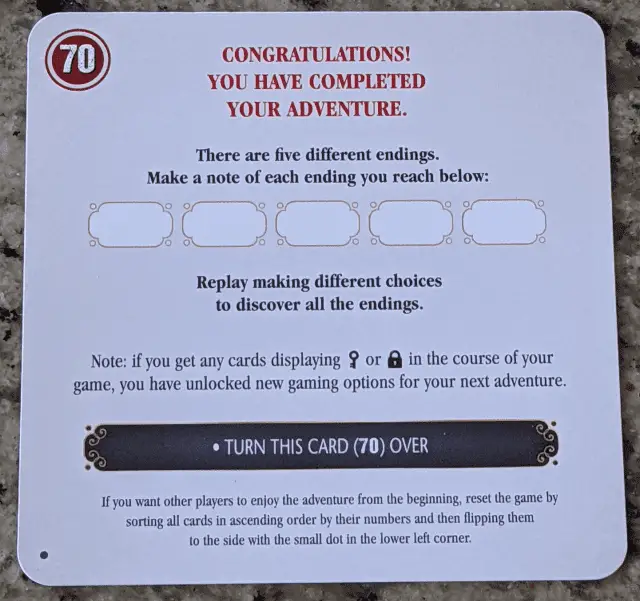 For those of you who want something narrative driven but with no chance involved, this is a very good game to have. Likewise for those interested in history, quite honestly, as a fair amount of research has gone into this product. The game even provides a small booklet to provide extra context, though it's more of a flourish than required reading.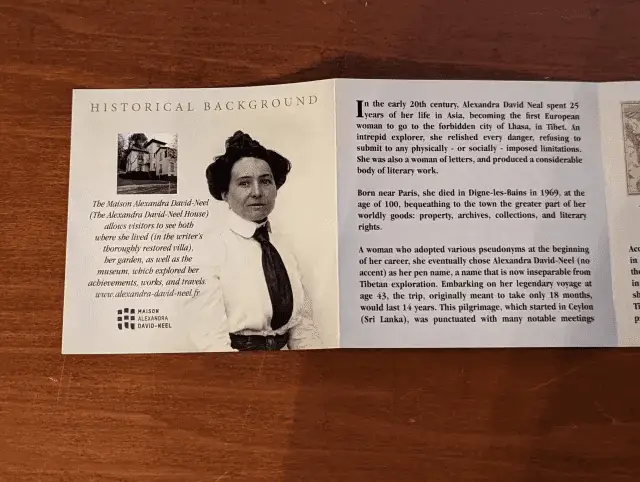 All in all, I really do recommend Cartaventura: Lhasa! It's a very unusual game, but a very interesting one, especially if you're a fan of Choose Your Own Adventure games like I am. With lovely art, simple gameplay once you adjust to it, and a fair amount of replay value, it's a solid addition to any collection.
Cartaventura: Lhasa
Pros
Cartaventura: Lhasa has a solid narrative that will engross players interested in such. The gameplay, while presented unusually, is easy to grasp.
Cons
Cartaventura: Lhasa is fairly short for a narrative game. The lack of any additional gameplay elements may detract for some players.
Summary
Ultimately, Cartaventura: Lhasa is a solid game for those who like narrative games and dislike chance. Those looking for something longer or more complex may be left wanting though.
Cartaventura: Lhasa can be bought from the Thames & Kosmos store, Amazon, or your FLGS at an MSRP of $15.
Images and review copy courtesy of Thames & Kosmos
Have strong thoughts about this piece you need to share? Or maybe there's something else on your mind you're wanting to talk about with fellow Fandomentals? Head on over to our Community server to join in the conversation!