Earlier this week I reviewed Fort, and digging into that kind of got me into a deck-builder kick. So I decided to keep the train rolling and write up a review of another deck-building game that puts a few twists on the tried and true format. Eternal: Chronicles of the Throne  is the curious case of a digital card game, Eternal, getting adapted into a real world game. Even stranger is the fact that it's not just a straight competitive card game, but instead is a blend between traditional card battling mechanics and deck-builders. It's an interesting concept, but did it work?
What's In The Box?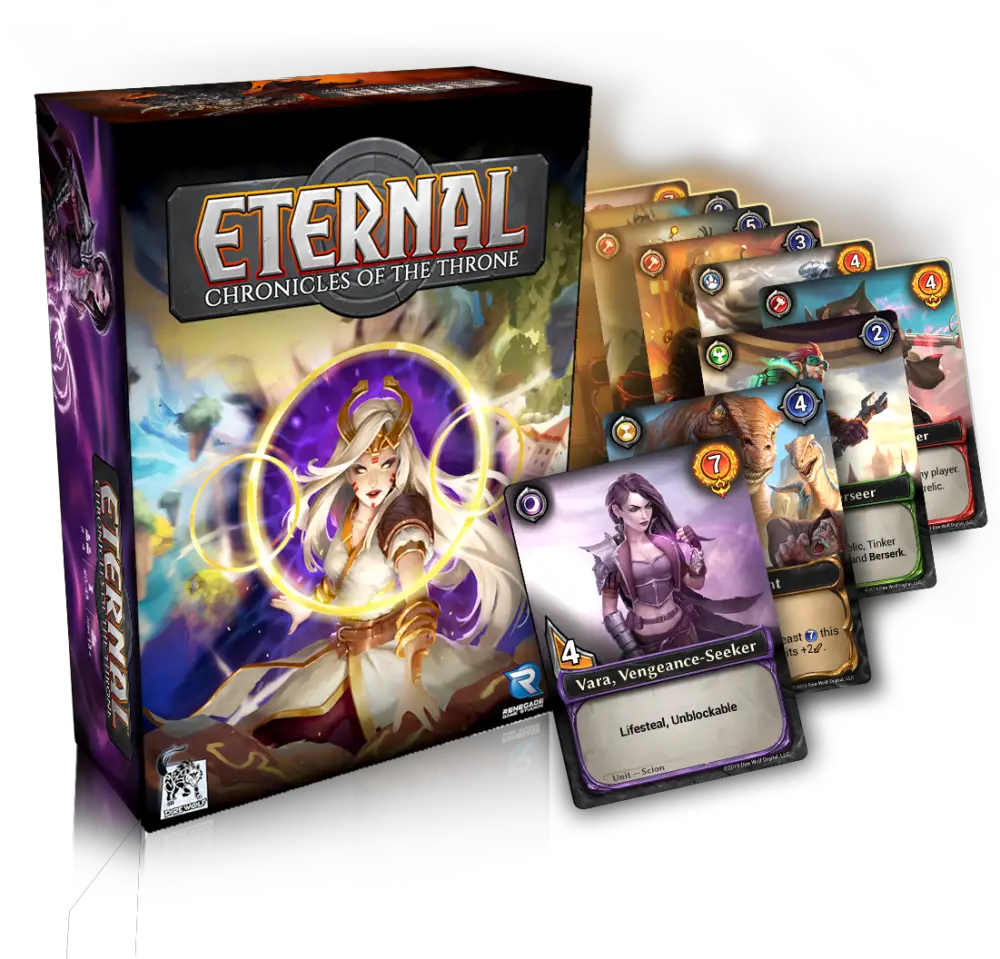 Again, with deck-builders the cards are the main focus. The box is super small and compact, since the game is mostly cards apart from the character boards that help track health (which are very nice and have little dials in them). The cards are high quality and have the same art as the original game…which means they're stunning. The world of Eternal is an incredibly fun wild west magic punk playground that allows for all sorts of wildly different characters and locations, all of which are rendered in gorgeous and highly detailed paintings. Each card captures its subject well, even the item cards, and show different moods and themes just in one static picture.  They're also colorful and incredibly easy to read, which is helpful when deciding what to pick and what your opponent might be using.
How's It Play?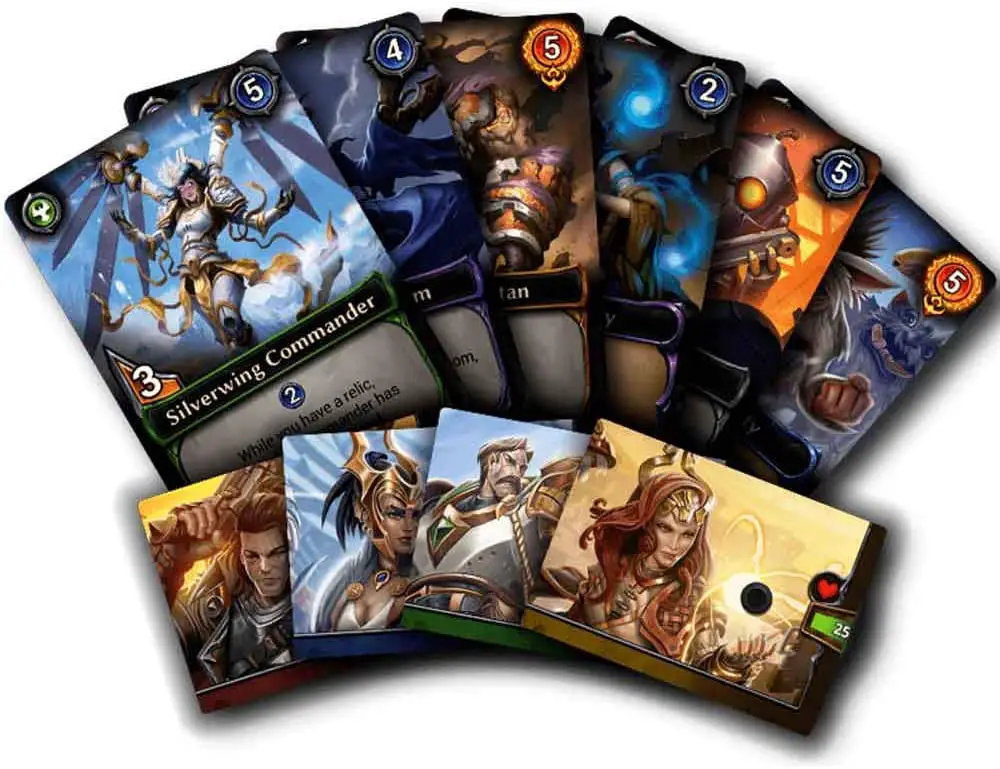 The game follows traditional deck-builder rules. You play your hand each turn, resolve the effects of your cards, and buy new cards each round that bolster the strategy you're going for. In Eternal there are five factions, similar to the colors in Magic The Gathering, that each have a unique strategy you need to work with in order to win. You can usually do well going hard on one color, or by mixing two or maybe three together. The strategies resemble the strategies of most CCG factions, with some building to late game, some going for a rush strategy, some liking artifacts, etc. Unlike most deck-builders, which have much looser strategies and thus much more room for customization of playstyle, Eternal keeps each faction pretty consistent. This makes it a lot easier to pick up and understand, at the expense of a slight lack of depth.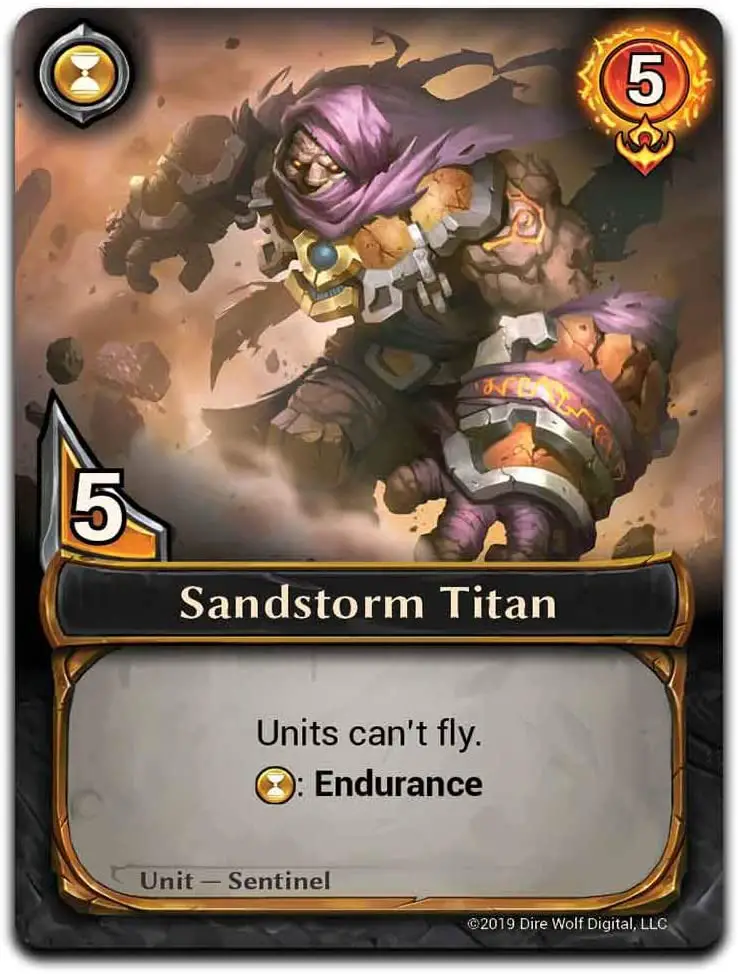 The big twist comes in with the battle portion of the game, when you can use the cards you've played to attack your opponent and hopefully take their health down to zero. Here's where the game's roots really show, and when the game is really at its most fun. Each turn you have to play some minions to attack or defend, depending on the circumstances, and they last until your next turn. As such, your opponent has to decide whether to attack or not while you have a dude out blocking for you. Cards have different strengths and abilities that affect what they do before, during, and after a battle, and there's naturally all sorts of spells and enhancements you can use to help bolster your ability to do battle.
The most astounding part of the game was, for me, the speed of it. You can legitimately get a full two-player game done in around 15 minutes, something absolutely unheard of in most deck-builders I've played. Even when you bump the player count up, it never exceeds 45 minutes and even that required a fair amount of stalling. Turns are simple and fast enough that you can get a good rhythm going, and the strategies are straightforward in a way that lets you plan without getting too bogged down in things. Having up to four players means there's a lot of versatility to your strategy and in the replayability of the game.
The Verdict

Eternal: Chronicles of the Throne is a very fun and fast-paced card game that is definitely worth trying out if you get the chance, particularly if you're a fan of CCG's like Hearthstone. The merging of the two genre is pretty seamless and is a great way to scratch the itch with people who might not be all-in on straight up card battling. Deck-building fans should give it a shot for much the same reason, as it can serve as a great gateway game for the genre or just be a way to play a deck-builder without having to carve out an hour and half to play. More hardcore players might find it a bit simple, but there's plenty of games in that niche as it is.
[rwp_box_criteria id="0″]
You can pick up Eternal: Chronices of the Throne on Amazon, or on the Dire Wolf store, where you can also grab the Gold and Steel expansion.
Images via Dire Wolf Digital. Thanks to Dire Wolf for the copy of the game used in this review.