Who can run the best candy empire? Find out with Dulce! Published by Stronghold Games and designed by Julio E. Nazario (Holi, CTRL) with art Justine Nortjé, this game has players compete to see who can best meet the challenge of running different cafes alongside their production duties, with the winning player being the person to keep the most cafes up and running at once.
What's In The Box?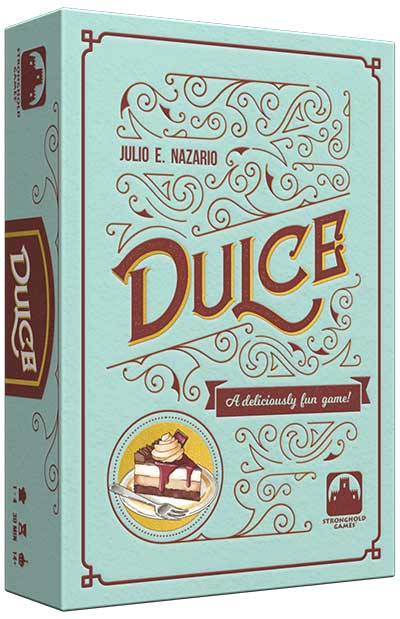 4 Player Boards
96 Double-Sided Cards (24 each red, yellow, green, and blue)
115 resource cubes

25 Cacao Cubes
25 Coffee Cubes
25 Peanut Cubes
25 Vanilla Cubs
15 Egg Cubes

4 Player Aids
4 Player Meeples
4 Chicken Meeples
1 Rulebook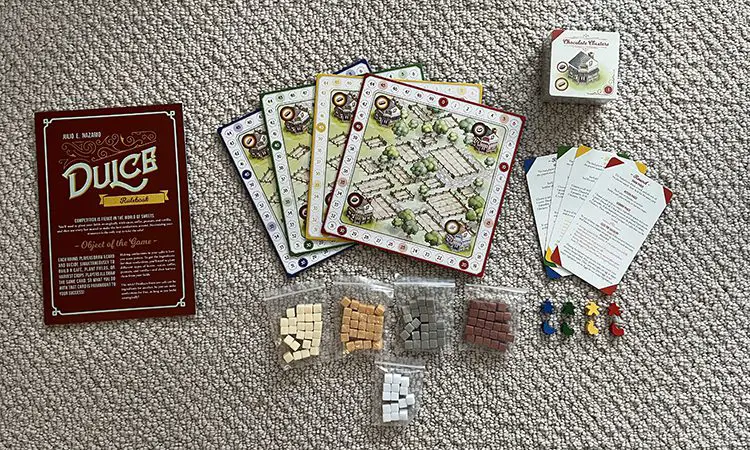 How to Play Dulce
Once each player picks a color, the lead player will shuffle their set of cards, put four back in the game box, and puts their deck of cards cafe-side up in the center of the table. Each round, the lead player will pull a card from their deck, and the rest of the players will pull the same card from theirs to follow for the round.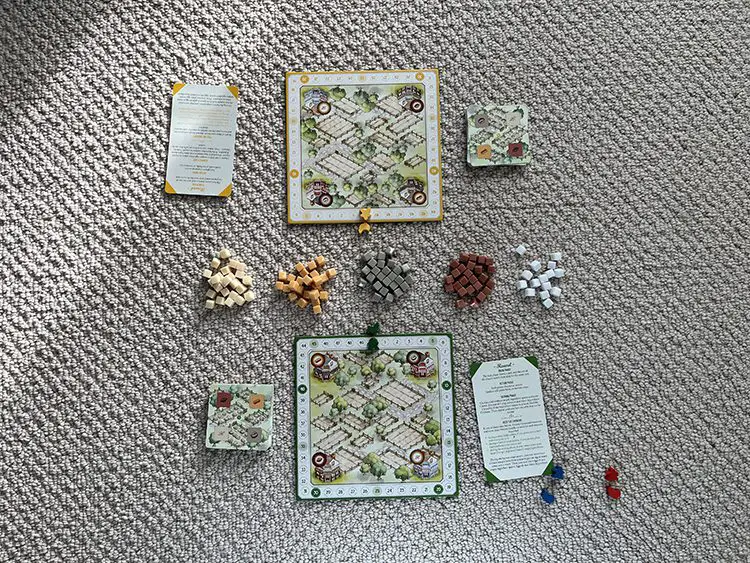 Once the card is pulled, players choose to do one of three things: build a cafe, plant fields, or harvest crops. Each action will feed into how each player is scored at the end of the round. Players are only scored if they chose to harvest crops in a round as any harvested crops will go towards their cafes. Each cafe that has it's resource spots filled counts as one point, and each player will move their meeple forward the same amount of spaces each round.
If a player harvests their resources and has leftovers, they can feed their chickens. Whenever resources are discarded by a player action, the player's chicken meeple is moved forward the same amount of spaces as there were resources. The player can then decide to move the chicken back 3 spaces to gain an egg.
The game runs for 20 rounds, and once it is concluded the player with the most points wins. In the case of a tie, players will use their chicken meeple to earn eggs, and the person with the most eggs is declared the winner.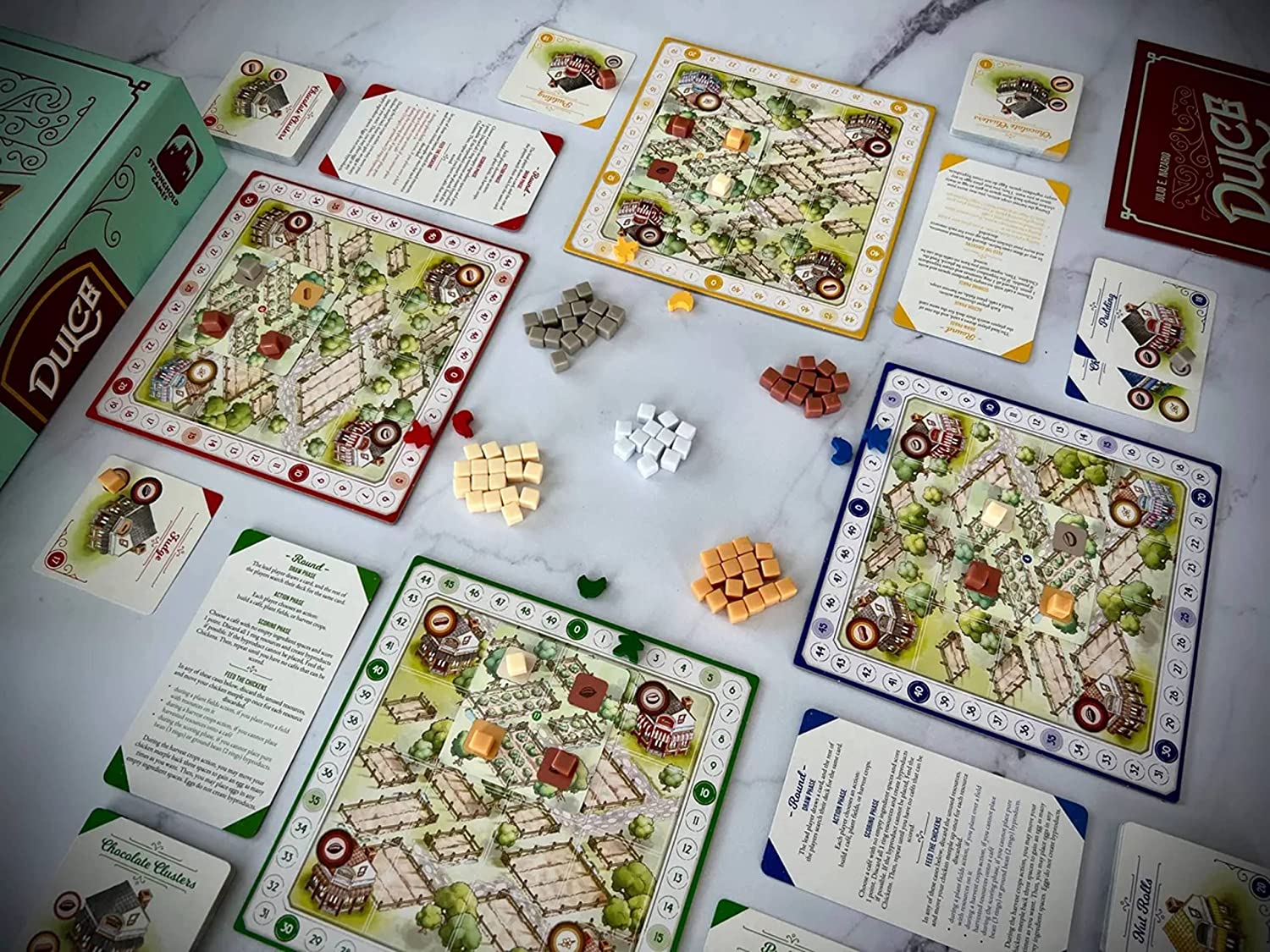 What Do We Think About Dulce
While Dulce has a very nice art style to its pieces and has a concept that seems simple to latch onto, there are a few bumps in the game that make it less enjoyable than it could have been.
The way that the rule booklet is designed makes learning the rules a little rough. It's true to the aesthetic of the game, but that means that there are a lot of softer colors that make it harder to focus on what's really important there. The examples and notes inside are helpful, but sometimes oddly placed to the point of being distracting, and in playing this we had to read some of the instructions out loud multiple times to make sure we were doing things right. I'm willing to chalk some of the confusion up to user error, but part of the problem is that there's just too much going on when each round gets busy.
After finally getting in the groove of things, the game can also feel really repetitive, and 20 rounds of the same thing over and over again never picked up. Instead of bringing in some sort of suspense to the last few rounds of the game, things kind of dragged on.
All that said, the game really tries to be for everyone. It's designed to be played with 2-4 players, but there is also a solo mode that is offered up on the last page of the rule booklet, and it's always nice to see games that take people looking for some alone time or only children into consideration. Dulce isn't an awful game, but it's very low-key, so if that's what you're looking for it might be for you.'
You can grab Dulce from Amazon, Miniature Market, or your FLGS at an MSRP of $39.99!
Images and review copy courtesy of Stronghold Games
Have strong thoughts about this piece you need to share? Or maybe there's something else on your mind you're wanting to talk about with fellow Fandomentals? Head on over to our Community server to join in the conversation!