Nordic Noir Turns Into a Love and Loss on Doctor Who
The Doctor and team go to Norway, 2018 in the penultimate episode of the series, "It Takes You Away". What begins as an atmospheric Nordic noir soon turns on its head with anti-zones and…frogs? Well, that's one way to explore what it means to grieve and to not want to be alone.
That's not normal…even for Norway
Let's start where the episode began, in the Norwegian fjords. The first half of the episode builds up an atmosphere of Nordic noir, complete with the scenery and the suspense. It almost felt like we would get as close as DW can to horror. It became complete with the house in the middle of nowhere with just a girl inside. Hanne, played by Eleanor Wallwork is alone in the house because her dad's been gone for days and she's been told not to go outside. She's also blind (played by a blind actor, the first in the show's history) but that doesn't stop her from trying to find her dad.
Team TARDIS's investigation is brief but shows how well they work together. Through their interactions with Hanne and growing suspicions, the episode only gets more intense as we get closer to the first reveal. Even the anti-zone scenes keep the tone despite the sci-fi elements. We have a potential villain in Ribbons (Kevin Eldon), who's creepy and slimy and just the kind of distraction we need. By the time the Doctor and co. crosses into the Solitract plane, it came as a real twist that it's not a big bad monster haunting Hanne and her house.
The scenes between Ryan and Hanne grow just like their relationship and it was nice to see Ryan bond with someone, especially someone younger. Initially, it was Yaz who comforted Hanne but it was better to let her go with the Doctor. Ryan staying behind is logical from the plot's perspective not only because that leaves Graham to deal with Grace. Sure, that's part of it, and we'll get back to that. But part of it is also that Ryan gets to be the empathetic and protective one, a role that usually falls on the others. He could have used more screentime with Hanne and he could have mentioned his own dad to her but it was a nice dynamic regardless. Plus it might have contributed to Ryan finally calling Graham at the end of the episode.
There's also Erik, the dad himself. Again, the episode does a great job of leading us to believe that something terrible has happened to him, even if we were expecting a twist. The reveal that he Village-d Hanne into staying in and near the house is pretty messed up and sadly unexplored in its implications. Sure, Erik does get called out for being a shitty dad and Graham and Yaz's outrage at him is great. Still, he gets away with abandoning and tricking her way too easily. There is the start of a conversation about him doing all this out of grief and Hanne gets that. This is at the core of the episode thematically but this particular moment gets interrupted straight away. Shame, really.
You wanted to be with us
Speaking of love and grief, the Solitract. The Solitract, this week's big bad is another misunderstood soul. Well, you could argue that the real "bad guys" were the flesh moths and maybe Ribbons. The Solitract was responsible for creating the mirror universe, all because it was lonely. Because of this we get some very interesting scenes with Erik and Trine regarding loss and letting go, and even more so with Graham and Grace.
About 10 minutes before Grace appeared on screen I was thinking: "I wish they would bring Grace up again and discuss Graham's grief, "Arachnids in the UK" lay a pretty good groundwork for that." And what do you know, Grace herself came back in "It Takes You Away". Except that it wasn't Grace as such, even if Sharon D Clarke did return for the role. This Grace still had the memories of the real and certainly acted like the Grace we knew from "The Woman Who Fell to Earth". All the harder this made it for Graham to let go.
See, I have one problem with all this: the problem of fridging Grace back in the first episode comes back to haunt the story. Not so much the fact that she did die, that was always meant to be in the script. But the way she died makes these otherwise beautiful and heartbreaking interactions less impactful. I loved the scenes Graham had with Grace but it was almost more than what we had when it really was Grace. We feel Graham's pain because we've grown to like him as a character but we've never had the chance to really get to know Grace. This is not on Ed Hime, by the way, this episode's writer. He could only work with what Chibnall put into the that first script, and for this to work that just wasn't enough.
The theme of the episode still comes across very strongly but it's mostly up to the actors and especially Jodie Whittaker's Doctor to do that. It's not through Erik or even Graham that it all comes together but through the Doctor. Another thing I was hoping would happen this episode was that the Doctor would react to this idea of manipulating people's grief. Whittaker's Thirteen has been very upbeat and lovable so far and I love that, but every one in a while it's good to see that she's more than capable of portraying other sides of the Doctor. "It Takes You Away" demonstrated that perfectly by giving her a speech that was reminiscent of Matt Smith's "The Rings of Akhaten" one. It was much shorter and with less angst but for a moment the Doctor's hurt was evident and Whittaker proved yet again how perfect she is for the role.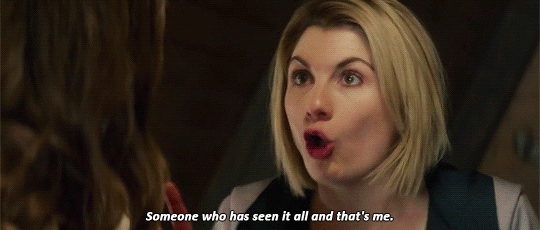 Even better was the scene that followed, between the Doctor and the Solitractor. Many, including myself, expected the Solitract to take on the form of someone the Doctor has loved and lost. The possibilities for this are truly endless, but popular fan choices include Clara, River, Missy, Rose or even Susan. And yes, I thought that would have been quite cool too, but this was the one point where the episode proved me wrong and I'm glad for that. Getting any of the actors back to do a quick scene would have been difficult logistically and it was better for the story way. Thirteen is very much a Doctor who is now willing to let go of the past and not agonize over it, which is something that all the New Doctors had been doing. More than that, Thirteen didn't need to be lured in by the promise of a loved one because she was willing to stay with the Solitract anyway.
If not for the threat of the universe collapsing, the Doctor would have stayed. And isn't that such an accurate portrayal of the Thirteenth Doctor? She stays not only because she's willing to sacrifice herself but because she wants to. She shows the Solitract compassion and is genuinely excited to learn about it and teach it what she knows. Her pure admiration for its frog form (which I'll get to in a bit) is such a Doctor-y thing. Thirteen is precious and Twelve would be so proud of this future self.
So, about that frog. I wasn't gonna ignore the fact that instead of an old face we got a frog speaking in Grace's voice. "Me and a conscious universe masquerading as a frog. BFFs." Is it ridiculous? Completely. Yet somehow it makes perfect sense for the show to do this in the episode's most crucial scene. Initially it did feel a bit too ridiculous for the overall tone of the episode and like we've been robbed of an alternative Solitract form. Thinking of it now, I'm fine with the frog. It doesn't make any sense but it still manages to work.
At least we got each other
In terms of everyone getting their chance to shine, "It Takes You Away" might be the best episode for Team TARDIS yet. We had scenes of them working as a team and as individuals everyone had something going for them. For Graham, it's obviously the illusion of Grace's presence. Like I said, it would have had more effect if we had more time with the two and a "better death" for Grace, but their scenes still worked and Bradley Walsh truly outdid himself. He also proved how much he cares for Ryan by wanting to save him instead of living out the fantasy of Grace still being alive. He deserved to be called Granddad.
As for Ryan, his main focus was Hanne, like I said before. This was a great chance to see another side of him, though it's a shame he didn't even get to see Grace. His pain is not compared to Graham's which is appreciated; suffering is not a competition. It also means that he doesn't even get the chance to explore how much he misses his Nan, though, expect in during a quiet moment with Graham. Still, his exclusion from that part of the story meant that he had his own shenanigans with Hanne and that he finally called Graham Granddad. Their moment, if not perfect, feels earned and shows how much Ryan has grown to love and respect Graham. And the other way around, don't forget that episode 1 Graham was kind of a jerk to Ryan.
Yaz's moments come when she's working with the Doctor. The two make a rather nice duo and Yaz is already showing signs of picking up the Doctor's way of thinking. Not in the Rose "you even sound like him" or the Clara "the Hybrid" kind of way, it's more… healthy. Scenes like the Doctor explaining her fifth Granny's stories or Yaz suggesting that she reverses the polarity really make this pairing for me. All the emerging dynamics within the Team TARDIS fam are exciting to watch but if I had to pick one these two would probably be my favourite.
Closing thoughts
"It Takes You Away" is undoubtedly a strange episode. Halfway through it gets flipped on its head—literally, it gets mirrored vertically. But also in another sense, it goes from being Doctor Who's version of a Nordic noir to the anti-zone and then ends up being a thoughtful yet bonkers piece on grief. Despite the strong themes it doesn't always follow up on the scenes with the potential to explore these themes, but we still get an overview and a pretty nuanced portrayal. Bradley Walsh and Jodie Whittaker are exceptional in the episode and bring out the most of their scenes. Sharon D Clarke's return to the show as Grace is a welcome one, though her pointless death from the first episode is not erased. Not that it should be, and "It Takes You Away" did the best it could by dealing with Graham's grief.
Guest stars Christian Rubeck (Erik) and Lisa Stokke (Trine) didn't have an awful lot to work with but did a good job anyway. Eldon's Ribbons was a creeper gone within a few scenes, but Eleanor Wallwork's Hanne was the true guest star of the episode. Considering that she's British and that the TARDIS would have translated Hanne's Norwegian anyway, I felt like the accent was a bit too much but the character worked well.
Something that also needs a mention is the Doctor's humour. Not just in "It Takes You Away" but the whole series, really, Thirteen has so many good lines. This week's two big favourite's were the sheep being "off plotting somewhere" and Granny Two being an agent for the Zygons. When you least expect it, Whittaker's Doctor will come up with something ludicrous. Most of it is probably scripted but her delivery is what makes the punchlines work.
"It Takes You Away" is weird in how it changes itself and the ways in which it chooses to deal with its topic. This makes for a very enjoyable episode with suspense and emotional payoff, though some of its scenes could have used more time. The Doctor's final scene with the Solitract still drives the point home and does so by having her talk to a frog. An entire conscious universe manifesting itself as a frog. Oh, how delightful it is to be a fan of this show.
Thirteen's first season comes to an end with the next episode, "The Battle of Ranskoor Av Kolos", guest starring Mark Addy and Phyllis Logan.
---
Images courtesy of the BBC
Even in December with the broadcast networks hiatus for scripted series starting, and pilot season underway, there's so much to discuss!
The continuing behind the scenes drama of Les Moonves' ouster from CBS, ABC's entertainment president Channing Dungey stepping down, NBC's Greenblatt moving on, and FOX setting up for its new leadership once the merger goes through…every big 4 network has a lot to deal with between now and the TCAs in early February. The exec panels will sure be a time… Especially if ratings come up at all.
Ratings Race
As of this Tuesday, and as always, I'm talking about scripted ratings: FOX is number 1 with a 1.13 average followed by NBC, ABC, and CBS. CW of course is last with .35. Last month, four of the five networks had six shows at or above their overall average.
Now, ABC has eight shows, the CW has five, and the rest have six.
Across the five networks, only a third of new shows are performing above the average on their network. The Connors (considered a new show), FBI, The Neighborhood, Last Man Standing, New Amsterdam, and Manifest. The highest rated new show on The CW, Legacies hovers right below the network's average.
Interestingly, across the board, long running shows are still high rating performers (or what's high now) for the networks. The exception to this is SVU at a tenth below the average.
Their "success" indicates that we probably won't lose any of the longest running shows anytime soon. Still, the network with the largest average season length (including shows yet to premiere) is FOX at 5.3 followed by CBS at 4.5. Removing the shows already cancelled and predicted as canceled doesn't make an impact because of The Simpsons' whopping thirty seasons! (Unrelated but with the announcement for Crisis on Infinite Earths, DCTV isn't going anywhere either.)
Of course some of this will shift when the rest of the new slate premieres begin in January. I do not envy the folks in charge of scheduling spring shows, especially as more time slots are lost to winter reality or competition shows.
Scheduling Shenanigans
You can put whatever new show after strong shows and still have a dud in the ratings race.
On The CW, ableist In The Dark has had zero promotion beyond the scheduling announcement that it starts after Supernatural. Their other new show Roswell: New Mexico or Roswell: TVD received the coveted post Flash slot plus actual promo. Except for The 100, their other spring shows already received cancellations, so ratings definitely don't matter.
FOX  only has two newbies to premiere, with The Passage starting after The Resident and Proven Innocent taking the 9PM slot after Cool Kids. I don't know that people watching an hour of comedy will stick around for a procedural, but anything can happen these days.
ABC on Wednesday revealed that in a vote of confidence (or in hopes to increase viewers or to get Whiskey Cavalier onto the schedule earlier) is moving the last bit of A Million Little Things behind Grey's leaving current slot holder Station 19 off the schedule until March. Considering AMLT  hit a .7 last week… The Fix is the only other newbie to get a spring slot, starting in March in The Good Doctor's place. Grand Hotel is now a summer show. ABC what are you doing?!
NBC and CBS have yet to fully unveil their new schedules so more on that in January! However, pilot development is in full swing and reboots (and spin-offs) continue to rule the pack.
Pilot Predictions
Predicting what pilots will make it to series this early is silly, but I do think that a chunk of the reboots in development will definitely make it to air. If they'll get renewed is another question. Even though this year, only Charmed received a back 9 order (Last Man Standing was ordered with 22 episodes). Last year, all the shows that received fewer than 9 episodes in the fall except for Good Doctor were cancelled. So now in May, that trend continues, or the new trend is that any back order indicates a renewal.
Which is why even though I think it's silly to bank on so many reboots in development, I know that networks are still going to do it. I won't list all of the shows in development because there are a lot and many will die by January. The CW has three alone! And NBC already has a series order for Law and Order: Hate Crimes or as my friend calls it, "SVU but grittier" making it the seventh L&O series.
By late January, early February, the big entertainment sites will have lists of all the pilots in contention and then we can really get into the details. Until then, what shows are y'all waiting to see for the first time (or again)?
---
'Legends of To-Meow-Meow' Cranks the Insanity up to Eleven
It's that time year of again. The Arrowverse crossover, but the Legends misplaced their invites. While Kara, Barry, and Oliver were getting acquainted with Batwoman and dealing with body switching, the Legends were dealing with their own alternate reality issues. Or should I say the Custodians were dealing with their own issues. Or, should that be the Sirens? Or the Puppets?
Yep, this was one of those kinds of episodes. 'Legends of To-Meow-Meow' didn't just surpass the insanity of every other episode this season. It multiplied it, as Charlie and Constantine broke the timeline more with each attempt to fix it.
At first, Charlie hits the town on her own, going to Las Vegas to stretch her newly returned powers. Going out as Marilyn Monroe, she runs into a prison buddy, a leprechaun. She barely has the chance to warn him about faulting his powers when Mick, Nate, and Ray strut in dressed like they just walked out of an 80's action show. Which they did, apparently, as they introduce themselves as the Custodians of the Chronology and we get 'A-Team' style opening credits. They kill the leprechaun without hesitation, which is a big clue for Charlie that not everything is right.
She returns to the Waverider with cat-Zari to figure out why the team is suddenly so murder-happy. She transforms into Sara, planning on just ordering them to stop. But it doesn't work because in this timeline, without help from Constantine, Sara was killed by the unicorn at Woodstock. The team attacks her, recognizing her as a shapeshifter. Charlie makes a quick retreat from the ship, taking cat-Zari along to find John.
He's being kept imprisoned at the Time Bureau. Because he was the epicentre of the timeline shift, he has memories from both timelines and his brain isn't keeping up very well. When they find him, John turns Zari back into a human. Only to turn her right back when she's against his and Charlie's idea to save Sara instead of fixing their alteration. Charlie breaks John out, with some help from Mona and a very emo Ava. Some of the Lege- Custodians die in their fight out, but everything will be fine once they save Sara. At least that's what Charlie and John tell themselves.
They travel to Woodstock, blasting the unicorn into rainbow gloop before it can gore anyone. But this time, when they return to their time Nate, Ray, and Mick are the ones with the memorial plaques. Plus, without the guys around, Sara, Ava, and an android?Gideon have formed a Charlie's Angels style team that assassinates fugitives. Charlie attempts to infiltrate the team as Amaya, but her cover is blown almost instantly. She does learn the boys were killed by the Fairy Godmother. The fairy is also the reason Zari's a cat.
John and Charlie go to Salem for their next patch job. Charlie transforms into the Fairy Godmother to trick Prudence into releasing the fairy before she can kill the boys. It seems to go off without a hitch until she returns to the jumpship. Good news, Zari is no longer a cat. Bad news, she's now a puppet.
So is the entire team, as John learns when he boards the Waverider. They aren't just puppets. They're puppets that sing their own intro and have a historical figure of the day. Since the Fairy Godmother didn't kill Mick, he became her new charge. She turned the team into puppets before Mick took her along on a crime spree.
Charlie and John keep trying to Band-Aid the timeline, but each fix ends with someone else dead in the new timeline. Yet, even when they get to a point where no one has died, John's mind has so many timelines clashing in his mind he collapses from the strain.
He finally agrees with Zari that they need to fix the timeline properly and stop Dez from leaving. When Charlie refuses to help they leave her behind, but she's not giving up without a fight. She transforms into Ava, heading to the Waverider to clue the team in on the magical ongoings in New Orleans. But there's something still wrong with this timeline. All the Legends are alive. No one is made of cloth. But they still have a 'shoot first ask questions never' policy when it comes the fugitives. Gideon picks up on the three Constantines at that point in time. The team assumes the extras are shapeshifters, sending Mick and Ray to blast them.
Charlie finally realizes it wasn't just John's absence from the team that caused the changes. It was her absence. Without her, the Legends don't learn fugitives aren't all unicorns with a taste for hearts or Fairy Godmothers that sing about murder.
In New Orleans, this-episode's-John stops Desmond after last-episode's-Constantine broke up with him. He tells him he's sorry for all the pain he's going to cause him and wipes his memory just before still-in-a-relationship John can return. As Mick and Ray fire on this-episode-John, past-John and Desmond share a kiss which becomes the point from which the timeline fixes itself. Reality is right once again, where the only puppet person is the possessed Professor Stein and the Legends aren't mythical creature murders. Ava and Mick even heal their rift from the last episode, finding some common ground.
John comes clean to Sara about their misadventure. He even tells her about Neron. Sara promises to help him take down his demon. So all's well that ends well. Except, there's no word on what happens to Mona after she met the business of the Kaupe's claws. Nor is Hank happy the Kaupe escaped, which he learns about in the middle of a golf game with someone… something wearing Desmond's face.
Analysis
Was this the strongest's episode of Legends? Probably not. It sacrificed some substance for the sake of 80's spoofs and sing-alongs. But that's not to say this episode wasn't good. Far from it. The alternate timelines were laugh out loud funny and the Puppets of Tomorrow song is going to be stuck in my head. They were so good I'm willing to overlook characters like Ray, Nate, Sara, and Ava feeling so drastically different in their respective spoof realities. I'll chalk up to the discrepancies in their characterizations to time being so broken.
It could have easily become frustrating watching John and Charlie patch broke timeline after broken timeline while they ignored the obvious answer. But it never got to that point because every step of the way you knew John was doing this to keep Desmond alive. John Constantine, always the tortured soul, willing to let his mind be torn apart by multiple timelines before he gives up on his love again. It's a tragedy the timeline being fixed has to come at the cost of Dez's soul. But maybe it isn't lost forever.
The scene between John and Desmond pulled at the heartstrings. As did the moment when Charlie finally realized she was the missing the link for the Legends. It's always a good moment when a Legend finds their place on this mismatched, rag-tag team. It's hard not to compare this episode to 'Here I Go Again', when Zari found her place on the team. Which is a glowing compliment when that episode is one of the best of Legends entire run.
The brief callbacks to the earlier episodes was a nice way to tie off the first half of the season as well. The Unicorn was only eight episodes ago. Yet, monsters, magic, and pure insanity feel like they're always been a part of Legends of Tomorrow. Well, pure insanity has been a fundamental part of Legends since season two.
It just shows how this series isn't afraid to shake up its own formula. Thus far it's worked every time, with each season being better than the last. It's still early to call season's four place for certain. Season's three back half had some heavy ringers, but so far this season is on the right tracks to be the most memorable one yet. They're sure to come back strong when they return in April.
Only Legends Could
"You missed calls from Barry Allen, Oliver Queen, and Kara Zor-El,"
"Sounds like the annual crossover,"
"Yeah, that's going to be a hard pass,"
This whole exchange is amazing. Easily wins favorite lines of the episode.
You can tick off Sara Lance's annual dalliance with death. Sara dying, almost dying, or faking dying should be a running gag at this point, but for some reason, I can never find it funny.
Everyone just understands cat-Zari. No explanation needed. Much like when Nate understood pig-Ray.
The CW tradition of bad wigs continues with emo Ava. (Kate Kane, by some miracle, avoided the curse.)
In the Siren's reality, Sara's wielding Mick's gun and Gideon has Rip's.
I want more of DC's Puppets of Tomorrow.
There's a timeline where Nate and Hank die from a Garden Gnome.
Why yes, Legends did give us the true love's kiss fixes everything. And yes, it was a kiss for a mlm couple. Legends never ceases to amaze.
I got a flirty vibe from Charlie and Zari at the end. Time will tell where that goes.
---
Images courtesy of the CW
The Underwhelming End For Series 11
Series 11 comes to an end with "The Battle of Ranskoor Av Kolos". The title would suggest that this finale is an epic conclusion to a season that—for the most part—has been a breath of fresh air. "Epic" is bad word to describe this episode, though. It's exciting in its own way, at least the concept is. As just another episode, "The Battle" (as I'll call it from now on) is fine, perhaps even good at times. As a season finale? Underwhelming, to say the least.
We respond to urgent calls
Let's look at what the episode was actually about. The Doctor and team receive nine different distress calls, all coming from the planet of Ranskoor Av Kolos. What follows is the restoration of Paltraki's (Mark Addy) memories, the realization that Tim Shaw's (Samuel Oatley) back, genocide on five counts, some Graham angst, and ultimately the TARDIS saving the day. The big thing here is Tim Shaw, of course, more so than any of the plot points. Series 11 has been very secretive in general and Oatley's return was meant to be this huge thing the BBC didn't want to spoil. The irony here is that Tim Shaw's return was probably the most predictable thing about any series finale in the history of Doctor Who.
But before diving into what Tim Shaw contributed to the finale, let's talk a bit more about the setup. So we have the nine distress calls, Paltraki mysteriously not remembering anything, the whole thing about the planet messing with people's heads. This is a suspenseful beginning and it looked like it would set up a real threat, something worthy of a final episode. And then… it falls flat. When Tim Shaw appears, the episode wants you to feel like as if the stakes have been raised. What happened to him since the Doctor defeated him 3,407 years ago? What has he been up to? All kinds of questions that we could think of as the Doctor herself tries to figure it all out. The problem is? I don't particularly care.
The "revelation" of Tim Shaw comes eight minutes into the episode. Those first eight minutes were setting up something big and then Tim Shaw appears and the tension is gone from that point. It's not like Chibnall doesn't try to make you care: Graham's storyline, if nothing else, should make you feel invested in whatever will happen. If you're like me, though, then that's not enough to turn the episode around. Don't get me wrong, it's not like Tim Shaw is the only aspect of "The Battle" or that I'm saying he ruined it all. It's that the episode itself puts so much emphasis on this him without putting the work in to build him up as a real threat.
Tim Shaw? Is that you?
Okay, fine, let's talk about Tim Shaw himself then. Most of the episode's tension comes from his return. Graham's desire for revenge, the Ux's faith being twisted, Paltraki's crew, everything. "The Battle" takes it for granted that you fear Tim Shaw as much as everyone else and that you care about tension because of him. Essentially, Chibnall counts on his own episode, "The Woman Who Fell to Earth" as having established this villain as a real threat. Unfortunately for him, that episode didn't do an amazing job at setting up Tim Shaw, either. Back then, he was an alright monster of the week who caused the fridging of Grace and brought Team TARDIS together. Now that he's back, the most significant aspect of him is still how he relates to the main characters.
Suppose that he was more impressive in that first episode, that we as an audience actually cared about him being back. "The Battle's" handling of him would still be disappointing. For all his talk about the greatness of the Stenza and even despite his five goes at genocide (with Earth being the sixth attempt), Tim Shaw doesn't feel threatening. The camera certainly tries to convey the message, there's nothing wrong Oatley's acting, either. You don't even have time to process the weight of his threat, really. I'd need to rewatch both that first episode and this one, but right now I feel like the problem is with the pacing and how the Doctor views him.
Remember, Tim Shaw's relevance lies in how he relates to Team TARDIS. He's a villain because he killed people in Sheffield, most importantly causing the death of Grace, and he's the catalyst for the team coming together. Yaz and Ryan barely react to him, with the exception of Ryan helping Graham take him down. That leaves the Doctor and Graham, it's up to them to make us care about Tim Shaw being back. I'll get back to Graham, but how does the Doctor react? She's annoyed by him. Even when she realizes the genocide and the massive scale of his actions, she's more annoyed than anything.
Part of it is just how the Thirteenth Doctor is as a character. She doesn't go full Oncoming Storm on him or gives an epic speech as other Doctor's might have done. She refuses to take him seriously and therefore takes away his power. And this is a refreshing and good trait for the Doctor to have in general, but maybe, in this case, we could have used something else. The Doctor is still appalled by Tim Shaw's actions and sure, there is at least some weight to the possibility of Earth being miniaturised and kept as a trophy. But the Doctor's mostly annoyed with Tim Shaw and frankly, so am I.
"Every action has consequences."

"And these are yours, Doctor."
So, Tim Shaw failed to make me invested in what was happening. Even Earth being targeted feels empty. Okay, Yaz is understandably worried about her planet and as is the Doctor. But do we really care about the Earth of the 55th century? And Yaz sacrificing her neural balancer if that means saving Earth is all nice and good, but nothing bar a mild headache happens to her and the Doctor as a result. Hard to get a sense of the stakes, despite the Doctor's rambling, if nothing really happens to anyone. Okay, okay, the five planets that Tim Shaw already got to. The battlefield on the planet. Paltraki's crew member dying. "The Battle" sure does want me to care about all this but it doesn't do an awful lot to achieve that.
Tim Shaw wants the Doctor to face the consequences of her actions and so he targets Earth. It's a good concept on paper, and the above exchange between the Doctor and Tim Shaw could have gone done as one of the more interesting ones in Doctor Who history. I don't want to blame Tim Shaw's character for everything so here's another way in which this falls flat: it's empty words, no matter who says it. There are no consequences for the Doctor's actions, and arguably that's because Tim Shaw barely had anything to blame on the Doctor.
The Doctor's action, in this case, was to send Tim Shaw back. He ended up on Ranskoor Av Kolos instead and there's an argument to be made that, as a consequence, the five genocides and atrocities committed are all her fault. In this case, the Doctor's real mistake was to let Tim Shaw live. This is never discussed, it's just taken for granted that the Doctor stopped him once and has to do so again. In the end, it's Graham and Ryan who seal him away and the Doctor herself doesn't seem too worried that Tim Shaw might rise and kill again.
What's the consequence here? The Doctor doesn't let Tim Shaw get to her head and doesn't take on the guilt of all those deaths. That in itself is actually a brilliant way of showing how far the Doctor has come since the Time War and how Thirteen is willing to let that all go. Or could have been, if even the possibility of the Doctor internalizing this was brought up.
It's not that genocide and war can't be bad without it having a direct effect on the main cast. Yes, Tim Shaw is undoubtedly bad and what happened with the Ux and the planet is sad. The problem is that there could have been a personal side to the story, but without the Doctor's reflections or any other consequences regarding the companions, we just have this. Yes, it's bad and sad but it lacks any nuance or complexity beyond that. And even the fact that it's bad and sad doesn't have time to sink in because the episode is desperate to get to the conclusion by the time we find out about this.
The better man
But wait, there is one main character who reacts to Tim Shaw beyond the initial shock or annoyance. Graham, fresh off seeing Grace again in "It Takes You Away", is out to avenge the death of his wife. The Doctor's immediate reaction is to send Graham back to the TARDIS but he ignores her. The way the dialogue plays out is strange in itself but let's not get hung up on that. So Graham's out for blood and the Doctor makes it clear that she won't stand for that. It's ultimately not her but Ryan who convinces Graham that Tim Shaw is not worth it, that Grace wouldn't have wanted that.
This Graham side of "The Battle" is the one I appreciate the most and have the least problems with. Okay, so his change of heart was quite sudden and as was his bloodlust, to be honest, but it works with development that he has with Ryan. I especially appreciated Ryan saying "I love you" and looking like he regretted it immediately. They are allowed to have heartfelt moments but it's never "cheesy" or cheap. The two take down Tim Shaw together and make him think about Grace and the consequences of his actions.
The lack of a battle on Ranskoor Av Kolos
The thing with Graham's desire for revenge is that even this storyline would have been so much better if it had more time to progress. That is ultimately the main problem with "The Battle": time. This is typically a story that would have been a two-parter in any other season and not just because it's a finale episode. Chibnall's pacing and his resolutions, in particular, have had problems but in "The Battle" it makes the whole story not work.
Or rather, it still works, it just misses almost every chance it gets to become something more, something spectacular. There isn't even a battle, as such, even though it's in the title of the episode. There have probably been many battles on this planet, just not any that Team TARDIS participated in. So what do we have instead? The stopping of Tim Shaw in an underwhelming finale. At the very least, "The Battle" is underwhelming when viewed as a season finale, far more low-key than any other from the 11 series of New Who so far. But that poses an interesting question: do we need season finales to be epic?
This topic warrants its own article but in case we had a short "no" answer, where would that leave us with "The Battle"? Is it a better episode when it's freed from the pressure of having to be a grandiose conclusion to a whole season filled with various themes and storylines? Well, my short answer would be "slightly". Yes, it's slightly better when you take that expectation out of the picture. But it doesn't change the fact that the episode still thinks too highly of itself and fails to be remarkable in almost every way. At the end of the day, it would still need to be a two-parter to be a better version of itself. Or maybe it would need a different writer altogether, depending on how you view Chibnall.
Closing thoughts
I'm aware that I'm being harsh with "The Battle", possibly because of its season finale status. And though I stand by my criticism, let's point out some of the better parts of this episode. Despite everything I just said I don't hate this episode or even dislike it too much. It has way too many flaws for me to think it's "good", but there are still some highlights.
I haven't mentioned the Ux much but I think their concept was interesting. Perhaps in another context, the Doctor could have spent more time getting to know them and being amazed by their powers and culture. As I said, the Graham and Ryan scenes were a worthy end for their relationship in series 11 and they are both loveable dorks. Mark Addy's Paltraki was underused but he was still a welcome addition to the list of guest stars. Yaz had a disappointingly small role but she still managed to have her moments, especially when paired with the Doctor. And I'll say it one last time this year: Jodie Whittaker is still amazing and does the best she can with the script she's given.
"And it has to be us, does it?" Graham asks the Doctor at the beginning of "The Battle of Ranskoor Av Kolos". And the answer is no, it didn't have to be them to answer those distress calls, we would have been fine without this episode. But it's still more Doctor Who with Thirteen and I still got some joy out of watching the episode, so underwhelming or not, here we have the end of series 11.
Fortunately, there is going to be one more episode before the hiatus until series 12 in 2020. The holiday special will air on New Year's Day this year and perhaps it will do a better job of concluding this first part of Thirteen's run. "Resolution" is rumoured to feature an old monster so this could be Chibnall's first attempt at writing a returning foe (during his own era, anyway). It could be anyone or anything… oh, who are we kidding, it's gonna be the Daleks.
---
Images courtesy of the BBC