From Ravensburger comes the Disney Jungle Cruise Adventure Game. It's a fun adaptation of a Disney ride (coming on the heels of last fall's The Haunted Mansion: Call of Spirits) by dynamite design collective Prospero Hall. Released about a year ahead of the upcoming movie, Jungle Cruise is a bold attempt to yet again boil down the comedic, atmospheric experience of the ride into something that fits into your dining room.
Like Tammany Hall and Plankton Rising, we sent Jungle Cruise to a group of high schoolers to see what they might think of it and, perhaps more importantly, see what their teacher could do with it. While a game based on a theme park ride might not seem educational at first glance, the results we got were surprising.
What's In The Box?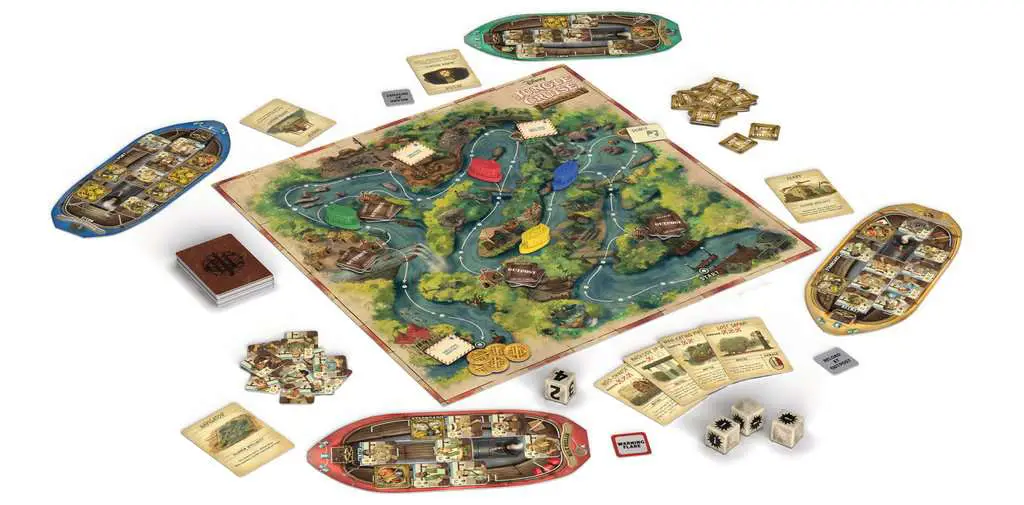 Jungle Cruise Adventure Game comes with
1 Game board
80 Navigation cards
4 Dice (1 Movement Die, 3 Danger Dice)
4 Boat movers
4 Boat placards
6 Skipper Specialty cards,
4 Warning Shot tiles
48 Passenger tokens
31 River tokens
4 Clue tokens
12 Outpost tokens
5 Tip tokens
Rulebook
As one would expect from Ravensburger and Prospero Hall, absolutely gorgeous art in this game and very high quality components. The board is obviously an overhead map of the river that acts as the setting for the ride, with adorable little boat movers used to represent each player. One assumes you have to add your own goofy commentary (though there are plenty of puns on the cards included with the game).
How's It Play?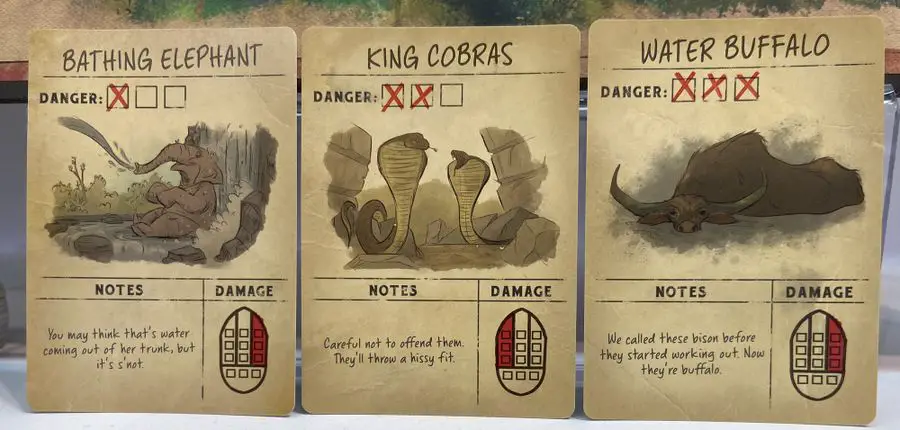 This is the third game we sent to our group of students in Oklahoma, and, much like with Plankton Rising, this cruise ran aground due to a complicated rules system. While some of the students did in fact persevere after searching around YouTube for playthrough videos, and did actually end up enjoying their playthrough, another group just gave up entirely.
My team ended up just discarding the rules and playing by our own. We rolled dice and took turns moving, and even then that was more exciting than anything the game presented us with.

The Zoomers are not impressed with your rules.
That said, they did all comment how much they liked the game visually, with graphics in particular receiving 5 star ratings across the board, and that the games pieces were well made and fun to use.
The Verdict?
If you can make it past the rules sticky wicket, there is a fun game in here to play. Over a third of the students said they'd recommend it to a friend or family member, and they all did enjoy the playthrough once they got started (even if one team wound up entirely homebrewing their own game). A third of the students also said they would play the game again if given the chance.
Overall, it goes back to the growing commentary from the teenagers that they are much more easily engaged with video playthroughs to learn how to actually play a game instead of trying to dive in only through reading the written instructions. If you're planning on inviting a teenager in your life for a round, come prepared with YouTube.
You can get Disney Jungle Cruise Adventure Game from Amazon for $34.99.
Images via Ravensburger
Have strong thoughts about this piece you need to share? Or maybe there's something else on your mind you're wanting to talk about with fellow Fandomentals? Head on over to our Community server to join in the conversation!