SpongeBob SquarePants: Plankton Rising is a fun cooperative card and dice game where players assemble a team of allies to face off against Plankton. Take on the roles of your favorite Bikini Bottom characters such as SpongeBob, Patrick and Squidward. It's the latest iteration of the "Rising" series that began with Thanos Rising and has expanded to games themed around Harry Potter (Death Eaters Rising), Batman (The Batman Who Laughs Rising), and Star Wars (Dark Side Rising). This version is, obviously, aimed more at younger audiences with efforts made to increase the accessibility of the game for younger players. To test this out, we gave it to a class of high schoolers to try out. Could they defeat Plankton, or does the game hit Rock Bottom?
What's In The Box?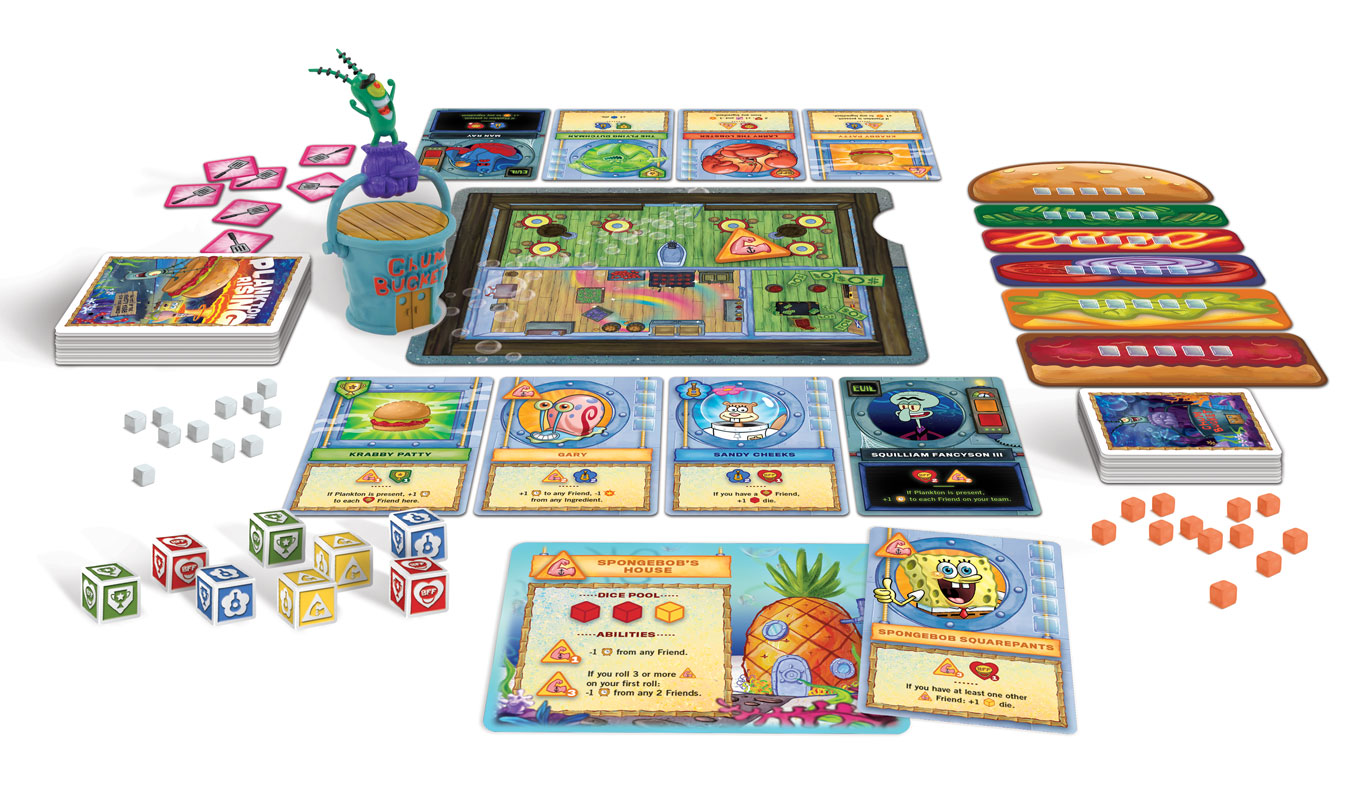 1 Krusty Krab game board
10 Friend dice
1 Chum Bucket Plankton figure
6 Krabby Patty ingredient tiles
4 Team tokens
30 Spatula tokens
30 Theft counters
60 Time counters
4 Team home base cards
48 Krusty Krab cards
18 Plankton action cards
Instructions
As usual with The op, components in Plankton Rising are stellar. The star attraction, as with other games in this line, is of course the little statue of Plankton astride the Chum Bucket which sits near the game board and serves as the game's focal point. The change in audience is reflected in the writing and symbols on the cards, which is smoother and more reliant on icons to explain gameplay than in Thanos Rising! or Dark Side Rising!
How's It Play?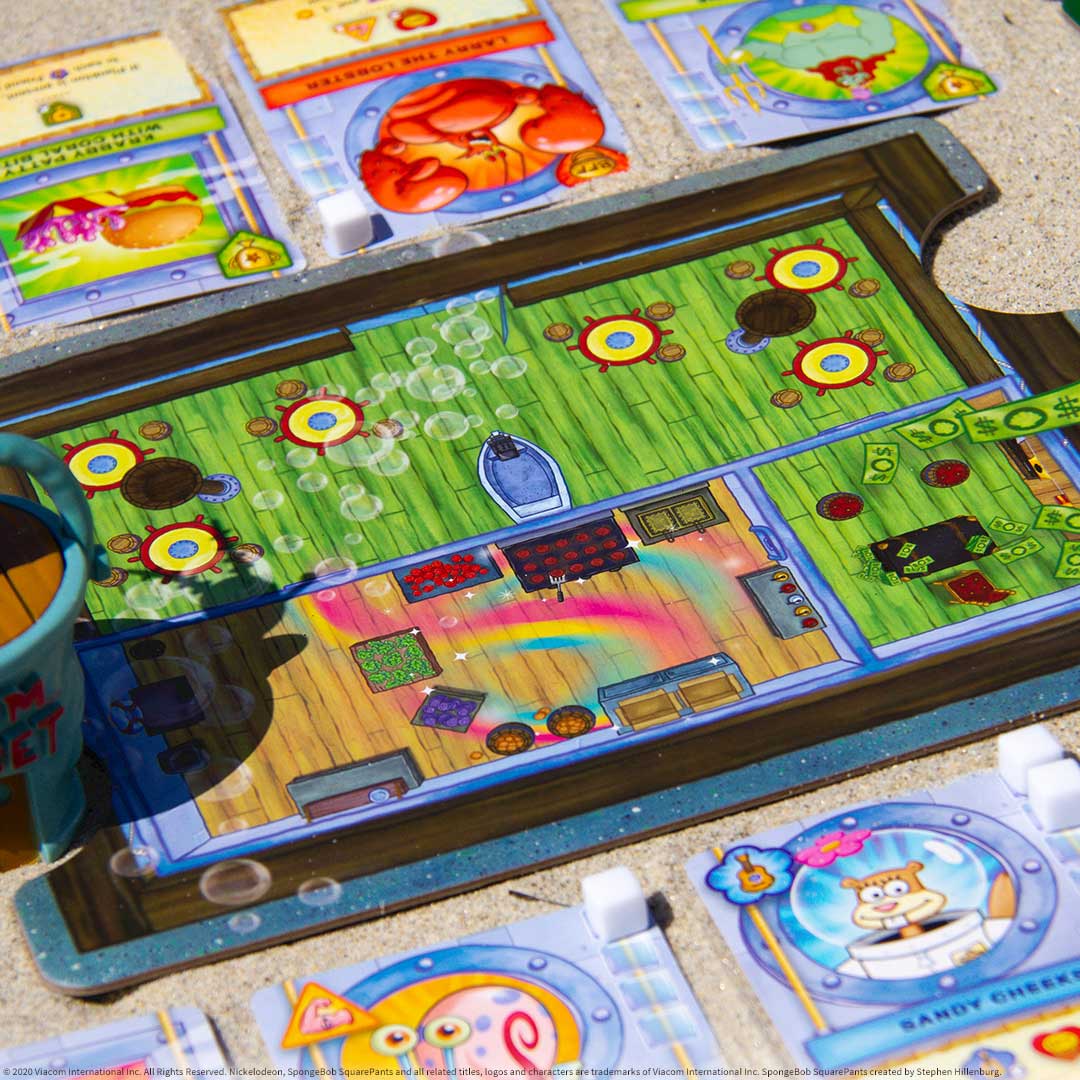 So this is the first of a series of four games we sent to a high school in Oklahoma to let actual high school students play and let us know what they thought of the game. The teachers facilitating this had them all rank specific categories a 1 through 5 with 1 being the lowest and 5 being the highest.
SpongeBob… did not fare so well. The thing we learned about this group of high schoolers is that when it comes to reading the written instructions, well, that went over like a lead balloon. They found them very hard to understand which led to further frustration when they realized this was a game generally geared towards much younger children. As one student said, "It was really complicated, I don't know how those eight-year-old's did it."
Now, they did go and look up the "how to play video" on Youtube and for some this did seem to help. However, even with the aid of the video tutorial there were still some students struggling to make sense of the overall rules and gameplay.
kwbfkufudakhfgliuesrhkjnakelhg.kdc;aisergiuahbfsiyserbfihzdf thats what i thought of the game bc i couldnt understand it so thats how i under stand the ruls of the game

An exasperated student's feedback, written in unedited Zoomer fashion.
The Verdict?
Not so great for Plankton Rising. The amount of time it took for the students to figure out how to play the game left most of them unenthused for the actual gameplay. There were additional comments about the amount of pieces (and packaging) involved for a game that was presumably meant for 8-year-olds. "Complicated packaging on game pieces. Also, the overall game is complicated to understand."
Most of the students when asked how they would rate the gameplay and if they would play this again rated it a 1. As for if they would recommend this to someone else? Well, that also pulled in a 1… from every single student who played it.
Bottom line, complicated instructions tanked this game with our students, and they lost interest from both the time it took to finally play and their frustration with a game that they were left thinking that they failed in comparison to children (which is an understandable ego blow).
SpongeBob SquarePants: Plankton Rising
Summary
This game was ultimately sunk by its complicated rules and exasperated teenaged patience stretched too thin.
If you want to try this game out and see if you fare better than this group of high schoolers, you can pick SpongeBob SquarePants: Plankton Rising at The OP Games for $39.99.
Have strong thoughts about this piece you need to share? Or maybe there's something else on your mind you're wanting to talk about with fellow Fandomentals? Head on over to our Community server to join in the conversation!