'Tis the season. The season for rainbows and corporate pride, and DC and Marvel are no exceptions. The pride anthology that DC released had a whopping 98 pages of stories written and drawn by queer creators and range from heart-wrenching to sweet. Got a lot to cover so let's get into it.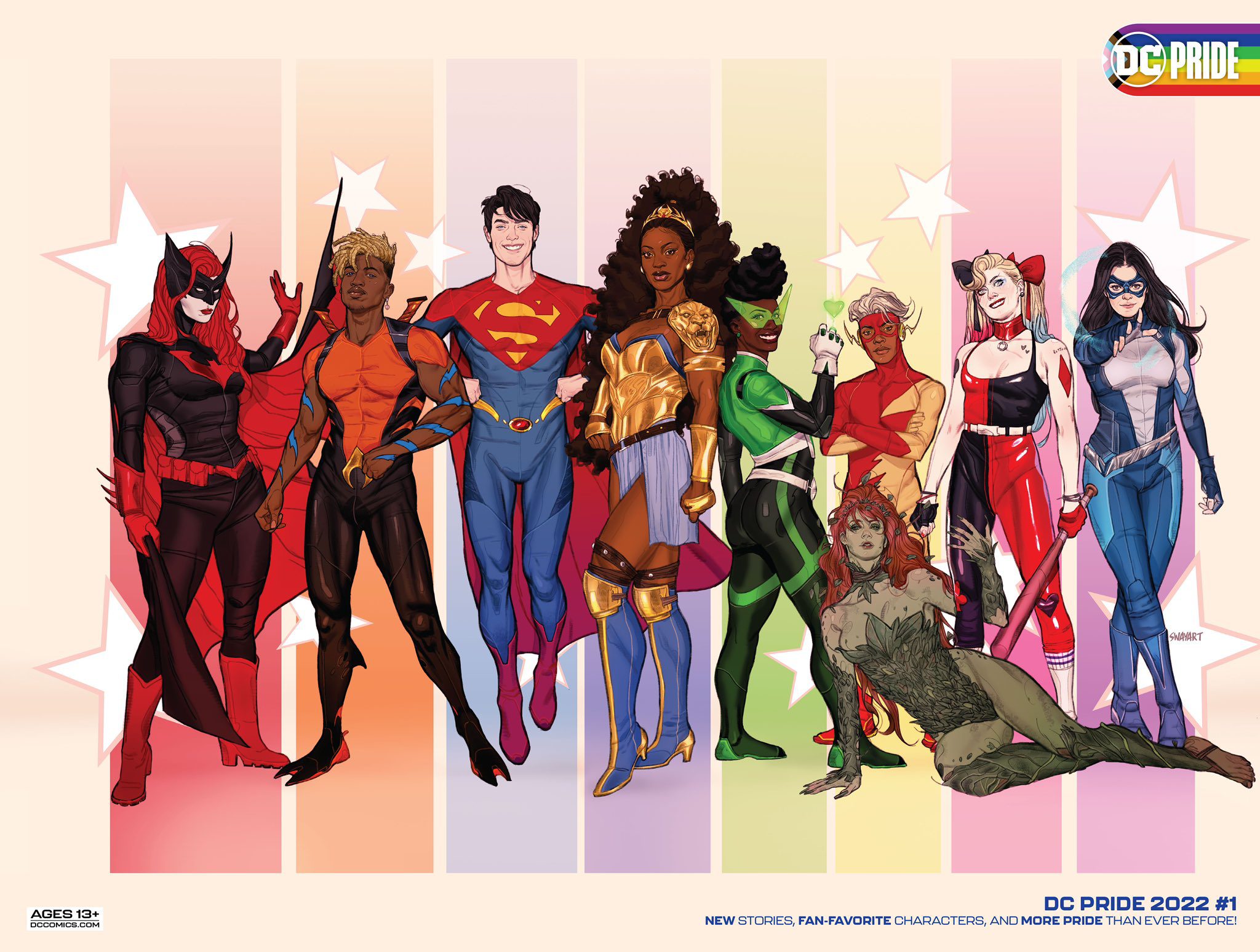 Super Pride
Devin Grayson, Nick Robles, Triona Farrell and Aditya Bidikar
Huh wild, there's nothing here, just 8 blank pages. 
I jest, but some may say that would be a better story than the one we got. Robles' beautiful art with Farrell's colors was the only good of this but not even that could save the absolute mess of a story we were given. Grayson using Jon as the mouthpiece for tone-deaf neoliberal platitudes was especially egregious just a few pages after Nicole Maines' foreword addressing the rise in anti-LGBTQ rhetoric and legislation. I don't know what to say, Devin Grayson, try harder. 
Confessions
Stephanie Williams, Meghan Hetrick, Marissa Louise and Ariana Maher
I'm fairly new to DC in general, so I don't know who Nubia's lady friend is, but the intimacy and connection is conveyed from the first panel. Hetrick is one of my favorite artists recently and it is clear that the entire team on this story had a lot of fun with it. Nubia and Barda quipping back and forth and the "suffering sappho" were small gems from Williams who really has created an incredible voice for Nubia. I'm not sure if Nubia's sexuality has ever been outright stated, but I am always in favor of putting that on the page in general. The bright colors of the wrestling ring with it's boisterous characters made for a fun and genuine story that still framed queer intimacy and friendship at it's core. 
Think of Me
Ted Brandt & Ro Stein and Frank Cvetkovic
This was the story that I bought this book for. As an aromantic person, I am all too aware of the lack of aro and ace representation in comics. When it was announced that Connor Hawke was going to be canonized as ace and have a story by an entirely ace team I didn't know if they could stick the landing. But boy did they stick it. Connor's quiet frustration with the pervasive nature of well-intended family and friends who just want him to go on dates is all too relatable.

What really struck me was how carefully they described the fact that Connor does in fact desire romance. He just doesn't want to share physicality with anyone else. The conflation of aromanticism and asexuality is all too common and while the team had tweeted that Connor was alloromantic, the description was beautifully done. I can't stress enough how amazing this story is and we get the word asexual twice(!) on panel! This, paired with the demisexual Braniac5 splash page, make me overjoyed for my ace siblings and leave me hopeful for aspec representation moving forward.
Up at Bat
Jadzia Axelrod, Lynne Yoshii, Tamra Bonvillain and Ariana Maher
Starting off with a great easter egg referencing Kate Godwin (DC's first trans superheroine), we get right into the action with Alysia Yeoh. An injured Batgirl enlists the help of Alysia, who ends up having to fight off the Killer Moth. The narration hitting themes of having to fight the same fights over and over again, having to do 'wild things', and perseverance was paired beautifully with the dynamic art by Yoshii. Don't think I missed the open door/wink for Babs to maybe come out? Only time will tell.
A World Kept Just for Me
by Alyssa Wong, W. Scott Forbes and Ariana Maher
Jackson and Ha'Wea have one of the sweetest queer first love stories that I have read. Wong perfectly captures the anxiety and overwhelming nature of meeting your partner's parents for the first time, paired with the sadness and loneliness of knowing that your own experience is nothing like theirs. The very literal contrast between Ha'Wea's family household and the deserts of New Mexico made for beautiful storytelling as Jackson relayed his childhood story. I wish these two would get the push that Jay and Jon have gotten because their story is truly beautiful. 
The Gumshoe in Green
Tini Howard, Evan Cagle and Lucas Gattoni
While I may not have the most in-depth knowledge of DC comics, I am very familiar with chaotic bisexuals. And the noir-esque backdrop is perfect for Jo Mullien to get caught in the seductive snare of two scheming aliens who intend to eat her. I can see how some see this as framing her bisexuality as something that she has to suppress with willpower in order to not be overcome with lust; which is definitely a tired story beat. The monotone art with green accents was beautiful however and personally made the story a treat to read.
Public Display of Electromagnatism
by Greg Lockard, Giulio Macaione and Aditya Bidikar
This story was simple yet so detailed and effective at exploring themes of found family and the awkwardness of navigating a fairly new relationship. Ray's overreaction to being surprised by Xenos' kiss followed by his explosive temper in the field was perfectly balanced by his friends calling out his behavior and his subsequent apology to his partner. It was a neatly packaged slice-of-life story that felt earnest and sweet.
Bat's in the Cradle
by Stephanie Philips, Samantha Dodge, Marissa Louise and Lucas Gattoni
Kate Kane is one of my favorite characters at DC. I love seeing her toughness and resilience as a queer woman facing impossible challenges. Seeing a flip side of that from her father's perspective was even greater. With so many queer folks having strained relationships with their parents it's always touching to see a parent/child story that doesn't center entirely around a coming out moment or similar event. Reflecting on the vulnerability of a child and the vulnerability that comes from being a parent is not often explored and Williams did a beautiful job with it. 
Special Delivery
by Travis Moore, Enrica Eren Angiolini and Ariana Maher
The excitement of experiencing your first pride is something truly incredible and I feel that Moore's story with Tim Drake captured that perfectly. His eagerness while narrating his fights as he attempted to stop a robbery amplified that feeling of waiting to see those rainbow floats for the first time. This story was simple and cute, and not every part of a large anthology needs to be earth-shatteringly profound. 
The Hunt
by Dani Fernandez, Zoe Thorogood, Jeremy Lawson and Aditya Bidikar
Something great about Harley and Ivy is that they're allowed to be horny much more than many queer couples I have read. With multiple references to submission, slippery fingers, and being on top; the innuendo was strong with this one. This playful tone made the shift to the "mimic" selves more drastic and uncomfortable, but love prevails. The genuine love between these two is always a joy to read and their dynamic was captured perfectly.
Are You Ready For This?
by Danny Lore & Ivan Cohen, Brittney Williams, Enrica Eren Angiolini and Ariana Maher
I suppose it's fitting that the story centered around the speedster feels like the most chaotic story in this anthology. The quick and quippy narration and fluid action sequences fit for Jess but overall I found this one of the more difficult stories to follow. The art is still beautiful and the narrative is fun, just not one I found myself completely invested in.
Finding Batman
by Kevin Conroy with art by J.Bone and Aditya Bidikar
I truly don't have the words to describe how this story hit me. If you are looking for a reason to buy this anthology, do it just to read this. The tragic and horrifying look at Kevin Conroy's life as a gay actor during the AIDS crisis brought tears to my eyes. I am sure there are many more in-depth and personal reviews of this story out there but I truly encourage you to just read it for yourself. 
See you in a few weeks for Marvel Pride!
Images via DC Comics
Have strong thoughts about this piece you need to share? Or maybe there's something else on your mind you're wanting to talk about with fellow Fandomentals? Head on over to our Community server to join in the conversation!