It's time to get serious here. Supergirl season 2 has lent itself to a lot of discussion, from those squeeing with delight at the all things Sanvers, to those who…may be less enthused at the not exactly flawless portrayal of Mon-El. However, one topic has been criminally overlooked in fandom conversations. The most important topic, at that.
What the fiddlesticks is up with the DEO?
The DEO is, of course, The Department of Extranormal Operations, a subdivision of the US Department of Defense. And with its portrayal in Supergirl, it sort of feels as though it makes no sense. But don't worry; Kylie and Griffin have a foolproof ten-step plan (only eight of which will be skipped) for discerning if this is truly the case.
Let's start with the basics. The name itself is rather woolly. What exactly does "extranormal" mean? What is their legal definition when it comes classifying "extranormal"? Does that include the paranormal? And, if so, are there officially sanctioned Ghostbusters? Does this mean that Ghostbuster merchandise is government propaganda that helps fund our defense department? We think the implication here speaks for itself. Well played, Director Bones.
From what we can tell, the general population is fully aware, and accepting, of the fact that aliens exist. Well, accepting enough to debate their status as citizens. So then, why is the department that works on their cases secret? In fact, wouldn't this be for the protection of said aliens to understand that there are dedicated government agencies, or is this just the secret group behind a public one, which is kept secret because… They have to do shady things that violate alien rights?
That seems rather unconstitutional, so maybe it's just because the government doesn't want the public to know the wasteful shit they spend their money on for the DEO.
For instance, they paid money to put lead into their paint at the DEO headquarters. Which yes, isn't out of the realm of possibility for our government as of late, but you'd think the health hazard alone would turn them off of the idea. We promise, Superman would still fuck them up if things got really bad, even with their well-hidden stash of kryptonite.
More wasteful still, they are willing to pay for property in the heart of the city, which happens to comprise the entirety of a massive of a high-rise that also happens to be one of the most recognizable buildings in the National City skyline.
We don't know a ton about real estate prices in this fictitious city on Earth-38, but we have a feeling it would have been just a touch cheaper if they had gone with the ol' bunker-in-the-desert thing. Also because no one would get into it by accident.
Which reminds us, what the hell do the people of National City think is in this building? Does the DEO have to spend money to hire actors (who would have to be agents with security clearance) to play disinterested administrative professionals in a fake corporate office, or is it more like a very fancy hotel that is always booked? If it's the latter, how do they feel about letting people use the lobby bathroom? During coffee breaks, are agents required to put on suits and dresses and mill around the foyer? Our personal recommendation would be holograms, of course, despite the fact that power outages would render them useless.
Oh, speaking of power outages, the DEO goes on lockdown like…a lot. And even if it wasn't a regular lockdown, there's always emergency drills of some kind because they have to do that, just like any other government agency. So do they just eject the poor people who wandered into the lobby having to pee using a blast of pressurized air? Granted, we can think of other ways to throw them onto the streets, but imagine how much better this would be (on the environment too) if they hadn't insisted on renting space on the busiest damn block of the entire city.
Is it cloaked? Did the DEO drop money on a downtown high-rise that needed a constantly running cloaking device, with the hopes that helicopters might only sometimes hit it? No, even that's too stupid (not to mention environmentally irresponsible) to be a true possibility. Much better that they have fake hotel workers.
Don't even get us started on Kara entering and exiting through the windows. Though we suppose if they went with the fake hotel scheme, the public might just assume that she lives there. We're glad they have their contractors in mind.
BUT WAIT. Contractors! It's all coming together now! The DEO clearly contracts construction workers so that the building will appear closed down. They'd of course have to be real crews, or else competing construction companies would be trying to figure out who the fake team was, and why they don't appear anywhere else in the city and… It's a whole thing. Just trust us. Now, what these construction workers are actually fixing is beyond us, but maybe there's a constant gas leak. Or they're always being bug bombed for termites. Or perhaps the DEO agents use their coffee breaks to destroy entire sections of the facade for fun. And stress relief. We know Alex would dig it.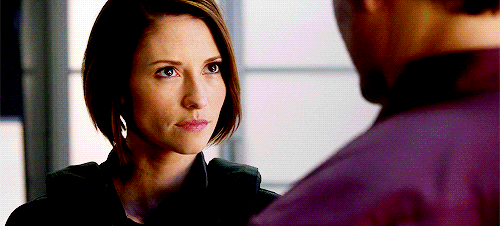 But this, dear readers, brings us to one of the most confusing and glamorous aspects of the DEO—payroll. Real talk: is Kara a contractor or internal employee? We lean towards the former, because we don't recall "Agent Supergirl" ever being uttered (and good thing too; it sounds really stupid). She also didn't even know an HR department existed, which suggests an incredibly haphazard onboarding process for her, if there ever was one at all. From what we remember, she just kinda showed up one day, and J'onn never told her to leave. Good thing too, those employee handbooks must be thick as redwoods and quite the dull read.
The only thing that gives us pause here is that J'onn made Kara and Mon-El fill out an HR form to disclose this relationship. Mon-El is most likely the same status as Kara vis a vie internal vs. external worker, but it does seem over and beyond to require relationship disclosure for contractors. Especially since Alex didn't even mention this potential conflict-of-interest when she cheerily insisted that Kara date the boy. Maybe this was J'onn going rogue, thinking that the paperwork would seem like too serious of a commitment and by asking them to sign it, Mon-El would choose to go the way of Poochie. We applaud J'onn for trying.
There is something we can't applaud J'onn for, however, and that's letting random people just walk their asses into the headquarters. It's not even like this is a rare occurrence. Maggie may as well have security clearance at this point, because she's magically able to waltz in at all hours at the night for no reason other than to see her girlfriend (well, only the mind-reader knew this for the bulk of the season) and get a slightly earlier start on their date. It's possible that J'onn just takes the head on security clearance given his abilities, except…he's not there all the time. And even when he is, he can sometimes forget to do the mind-reading thing for plot purposes, so it's not very useful.
While we're on J'onn, that reminds us: the Director of the DEO directly participates or intervenes in many of their operations. Like, he's the one punching people. It's great that he's the Martian Manhunter, but maybe that means someone else should be in charge since he's always in the field and cannot do administrative work. Or, you know, direct the operations. If only they had a living skeleton who sweats cyanide and has a lovely collection of neckties.
But frankly, do they even need a director? They only have maybe 3 or 4 agents active at a given time, unless the plot demands otherwise. Heck, they didn't even have a dedicated IT guy until Winn got the job this year. Which sadly just bring us back to the GIANT BUILDING! Who is using it, if no one is in it? Or are they just sub-tenants with the following floors: top, ground-level, basement, and sub-basement. Those poor businessmen who work in the middle and have no way of getting in their building (or out). Is this up to code? We have our doubts.
No no, back to the agents. From what we can tell, there is a constant fluctuation in team size from 4 agents to…over a hundred. You know, for those operations where the vans come and stuff. What happens to the van crews during the normal day-to-day, when they're almost never needed? Do they have other day jobs? Does everybody have an incredibly high number of vacation days they can take? Are they temps and called as-needed (and if so, how does no one know about them)? Are they there, but merely hiding behind the cameras during most episodes? OH! Maybe they live in the vacant parts of the building, which means that the DEO definitely owns and operates a luxury hotel with actual service.
Well then, nevermind us. We were going to go on about how Maggie magically knew of the DEO despite it being a top secret held secret, or how their HR department is sorely lacking in recourse for its employees stealing equipment and going on rogue missions, but it's clear these are mere quibbles. The DEO makes perfect sense, and its agents are true American heroes.
Especially the ones who cook the meals for the room service of the hotel that they clearly live in and staff.
---
Images courtesy of The CW , Toys R' Us, and DC Comics
[starbox id="Griffin,Kylie"]
Keeping Kosher In Monster Hunter World
Monster Hunter World is the best selling game in its series, with over 7.5 million units shipped. There are many reasons for this: The game is more accessible for new players, it's not just on a handheld console anymore, there was actually some marketing push for this game…the list goes on.
However, I personally think one of the reasons the game is so popular is its food eating cutscenes. Before you go on a hunt, you can eat a meal at a canteen that gives you buffs. You're also treated to an adorable and very tasty looking cutscene of the Palicoes (a cat like race that helps you hunt monsters) making your meal. The details are so lavish and the end product looks so good I couldn't help thinking about it off and on for weeks. And one question that kept recurring was, "Would any of this food be Kosher?"
Kosher foods, for those of you who may not know, are foods that conform to the Jewish kashrut (dietary law). The word treif describes any food that does not abide by this law. Determining what foods are Kosher or not can get complicated since different groups of animals have different rules. At its most basic though, there are three groups of animals: land, flying, and fish (invertebrates as a rule are treif). Conveniently enough, most monsters in Monster Hunter World could fit under the same categories. We'll go through each category and examine a few monsters from the game to decide if any (or all) of them can be Kosher.
Before we begin though, I'd like to give major props to one of our editors, Gretchen. Before I wrote this article, I knew next to nothing about what makes a food Kosher or not. Gretchen not only educated me, but did a lot of the heavy lifting, and for that I am grateful.
By Land
The first monster up for discussion is called Uragaan. Uragaan lives mostly in volcanic regions and is identifiable its large chin, its shiny, lustrous golden hide, and the spikes along its back. It consumes mostly bedrock and those large spikes on its back are actually crystals. It produces a sticky, tar like substance on its stomach, which it uses to attach explosive rocks to itself as a means of defense. If someone were to knock down or kill Uragaan, they'd be able to mine the vast mineral wealth on it's back…but they wouldn't be able to eat it, as Uragaan isn't Kosher.
In order for a land animal to be Kosher, it has to meet three basic requirements. First, it can not be a carnivore or a scavenger. It can not eat meat. Second, it must have a split hoof. Horses aren't Kosher, but animals like cattle and sheep are. Finally, the animal must chew its cud. Pigs have split hooves, but they don't chew their cud and thus are not Kosher. Uragaan meets the first rule, but fails with the second and third. As such, Uragaan can never be Kosher.
The next monster up is Kirin. Kirin resembles a unicorn or (more accurately) a Chinese Qilin. It has a single large horn growing out of its head, with a white mane and tail that seem to stand on end from static electricity. It's body appears to have fur, but those actually are scales. Kirin also seems to crackle with electricity as it walks. Looking at the picture we can see clearly that it has a split hoof. The game doesn't tell us what it eats or if it chews its cud, but if we extrapolate what it looks like and compare to say, an antelope or a deer (both of which are Kosher) we can safely assume that Kirin is Kosher as well, right? Wrong.
Kirin fails to be Kosher not by the quality of the animal, but by the quality of its behavior. You see, Kirin belongs to a group of monsters called Elder Dragons and these monsters, in addition to being tougher the ordinary monsters, are immune to traps and tranqs unlike other monsters. This presents a problem, as in order for meat be Kosher, the butchering must happen in one swift action using a sharp knife. Shooting the creature with an automatic repeating crossbow is not the way to do it. Kirin, unfortunately, is not Kosher for this reason.
We come now to the last land based monster in this article: The Kelbi. Kelbi, unlike the monsters mentioned thus far, are not aggressive. They are small, and the males are usually green in color while the females and juveniles are blue. Males also have large, prominent horns while female horns are smaller. In-game, Kelbi horns are medicinal, and players make potions out of them. I'm also happy to report that Kelbi might be our first (possibly) Kosher monster.
Like Kirin, Kelbi has a split hoof. We also know that Kelbi are herbivores, but it is unknown whether or not Kelbi chew their cud. Extrapolating and comparing them to real world deer and goats though, we can have more confidence that Kelbi are, in fact, Kosher.
By Air
Now we will discuss birds. According to Jewish tradition, animals that fly and are not insects are birds. Thus animals such as bats are 'birds' in regards to Kosher rules. The rules for birds themselves are fairly simple. They can't be predatory or scavengers. This rule immediately rules out the next monster on the list: Rathalos.
Rathalos is known as the "King of the Sky" and is the male counterpart to Rathian, another flying monster.  Rathalos are bipedal wyverns, primarily red in color, with sharp, poisonous claws that they use to hunt with. In addition to that, they have a flame sac that they use to produce flaming projectiles from, and their long thick tail has a club at the end of it. But as I mentioned in the previous paragraph, no birds of prey can be Kosher.
The next monster on the list is one of the oddest in the game. Pukei-Pukei resembles at first glance a giant chameleon with frog like eyes, wings, and green scales covering its body everywhere except around its wings and neck, where it has feathers. The Pukei-Pukei is an herbivore and it will eat poisonous plants so it can produce a poison to defend itself. Despite all of these peculiar traits, Pukei-Pukei appears to be Kosher.
I was surprised to hear Gretchen tell me this, as I thought there would be no way a monster as weird as Pukei-Pukei could be considered Kosher. But as she laid the case out it began to make more sense. Despite some reptilian traits, Pukei-Pukei has more avian traits, and that classifies it as a creature of the air under the kashrut. As a creature of the air, it has to meat a few specifications. It does not scavenge like a vulture, nor does it hunt like a bird of prey. Thus, Pukei-Pukei meets the requirements.
And By Sea
There aren't very many sea monsters in Monster Hunter World sadly. Only one of them really seems like it would count. And this one is Jyuratodus. Jyuratodus resembles nothing more than a bipedal coelacanth fish. It has two dorsal fins, two pectoral fins, two pelvic fins, and a long, thick tail that it can use to defend itself. It also covers itself in mud and other ooze, to act as another layer of defense and to possibly keep its gills and scales damp. Fortunately for us, practically the only water based monster in this game is also Kosher.
For a sea animal to be considered Kosher, it must have fins and scales that can be removed. This generally means that the stereotypical fish is allowed, but not animals such as eel, lobster, squid or crab. Jyuratodus, despite its size and aggression does have fins and scales and would be Kosher.
The Hunt Goes On…
So what are we left with from this list? Two monsters that could be considered Kosher, three that are not, and one that might be, if it chews cud. And this is only a small sample of the monsters in the game. Not only that, but Capcom has plans to release more monsters as free DLC over the upcoming months. When the PC version of the game is out, I might revisit this article and expand on it. Until then though, happy hunting and bon appétit!
---
Images Courtesy of Capcom
Cherry Bomb Part 1: Hello World
Bitches to south, cunts to the west,
Smallfolk say I blew up the sept;
But no one cares anymore about the blessed,
Or gives two shits about open incest!

Welcome readers, remain calm: this is your ch-ch-ch-ch-cherry bomb!
If you have no idea what we're talking about- we being "Julie," the combination of Kylie and Julia– that means you're probably making far healthier choices in media consumption than we are. And likely in life as well. You see, we've taken it upon ourselves to go back and rewatch Game of Thrones plotline by plotline. It's just such a smart and complicated show that we truly want to focus on understanding it to the fullest. Master storytellers and showrunners David Benioff and Dan Weiss (D&D) probably have things to say. So let's take a look at what they are!
But wait, who's "Cherry"? And what's this bomb? Well, because Julie is such an unrepentant book snob, she always tries to separate the show from A Song of Ice and Fire and the rich characters of George R.R. Martin. Therefore, she uses certain show-only nicknames, which can be fully explained in our Book Snob Glossary. They're exceedingly clever. For this…we're focused on the Good Queen Cheryl and her brother/lover Larry.
Be sure to click that glossary link if you'd like more detail about the roots of these nicknames. If you think this is very immature of us, then…we're not going to argue with you.
Now, before we can analyze Cheryl and Larry's story in Season 7, we need to take you back through what happened. Therefore, part 1 of this retrospective will be a satirical and not-at-all high level recap, while part 2 (due to be released in a couple of days) will be the actual analysis, complete with a serious tone. Basically, we have to get it out of our system here.
Floor Map
Cheryl's first task after blowing up the sept and burying her son last season is to somehow survive the imminent invasion from the obviously stronger army belonging to Deadpan and her feminist alliance. And step one in that plan was apparently the commissioning of a giant floor map. A painter is in the corner looking extremely disgruntled with the task as he finishes the details on Bear Island.
Perhaps the reason for his peevishness is that Cheryl is stomping around the still-wet map while wearing one of her numerous, yet indistinguishable black "battle dresses." Larry comes in, and despite his own peevishness in his final scene last year (how long ago was that?), is perfectly chill with Cheryl. She asks if he's mad or scared of her, and he's like, "why would I be?" Why would Jerry bring anything?
They both begin planning the hopeless war to come- not difficult, mind you… hopeless- and lobbing exposition at one another, with the floor map helpfully becoming a visual aid. You see, Deadpan and her Hand, Tyrion (my, word travels fast) are coming at the head of an armada, and will likely land on the unoccupied Dragonstone. We suppose they have so few men that they can't even send a couple dozen there to guard it? But hey, why even try for it? It's all the way over therrrre.
Cheryl quickly deduces that they're screwed. There's enemies to the North (*dramatic pointing*). Enemies to the west (*dramatic walking*). Enemies to the South (*dramatic sweeping gestures*). Also they're all [insert misogynistic slur].
"Enemies to the east. Enemies to the south-Ellaria Sand and her brood of bitches. Enemies to the west-Olenna, the old cunt. Another traitor. Enemies to the north. Ned Stark's bastard has been named King in the North and that murdering whore Sansa stands beside him. Enemies everywhere."
Larry gets scared of this, and is like, "well the Reach Lords probably wouldn't want to fight with our obviously losing side." Especially after that whole sept incident, with all those poor, scantily clad Reach ladies getting blown up. Cheryl says not to worry, cause they're racist. Also, she and Larry are going to build a dynasty for themselves, with no heirs to speak of. (OR AREN'T THERE?)
Larry then tries to broach the topic of Tommen, but it's clear Cheryl is too stoic and put-upon to process her grief. She also says that Tommen betrayed her (??), so maybe that whole unattended king thing, or the "out with the old, in with the new" was intentional on her part. Yikes.
Larry mentions Walder Frey and all of House Frey dying (how much time has passed, seriously?), so Cheryl says that their only option is to ally with the Ironborn. Just like their father taught them.
Cheryl: I invited Euron Greyjoy, the new King of the Iron Islands. You said yourself we needed stronger, better allies. There you are.

Larry: How are they better allies? How are they different from the Freys? They both broke their promises and murdered their former friends as soon as it suited them.

Cheryl: So does everyone when it suits them. Unlike the Freys, they have ships. And they're good at killing.
That sounds like Tough but Fair Tywin.
Then brings Larry outside, where lo and behold, the entire fucking Iron Fleet, which must have been produced from the Iron Islands' lush forests, is there. Larry doesn't like this idea. Maybe because he realizes there's nothing stopping this giant armada from taking the city. Or Dragonstone. Though of course that never happens.
You see, Eurovision is a hooligan. Every morning he asks himself, "what would a hooligan do?" and then does that. So when we cut to the throne room where Eurovision is being a totally cool rocker in his leather jacket. He's just standing his dumb ass alone in front of the throne, whining about how Yara and Theon stole his ships. We can't really tell who this is supposed to be convincing, or of what.
However, new motivation! Eurovision really, really wants to hop into bed with the most "beautiful woman" in the world. Who is Cheryl, this season! He's very motivated to win her hand in marriage and we guess co-rule Weisseroff, with the Iron Islands being part of that.
Larry hates this idea, because of the Greyjoy rebellion. He takes the opportunity to exposit and steal Jorah Mormont's backstory: he was the first through the breach at Pyke! Did he also win the tourney and marry that Hightower dame?
Eurovision is like, "whatever, I'm glad the rebellion happened because the islands were getting overcrowded." However, then he continues on to try to persuade Cheryl to agree to a marriage. What's very strange about this is that we know Cheryl invited him, and she even told Larry about the marriage idea as they saw the fleet arriving. Also the Lannisters- and we can't stress this enough- are very, very, very screwed right now. So why Cheryl is acting like she has any leverage is beyond us. Unless the prestige of holding Cheryl's Landing is just that significant.
Whatever the reason, Eurovision is convinced that when she rejects the proposal, he needs to win this no matter what. So he decides to cosplay as King David and go get Cheryl 200 Dornish foreskins. Or like, Faullaria and Tyene Fake…whatever. Have fun storming the castle! Or sailing to Dorne. Or whatever is actually happening, because we're still not sure.
Racism is Thicker than Blood
In the next episode, we pick back up in the throne room again. Before we say another word of negativity about this show, we need to point out how there's now minor decorative changes to this set to demonstrate that the Lannisters are in power.
Snaps for D&D, or more likely, whoever their far more competent set designers are.
Cheryl has decided that she needs to actually talk to the Reach Lords she didn't blow up, even though their Warden[ess] has sided with Deadpan. There's at least a good handful of them, but don't worry, because you only ever need to learn two names.
Cheryl tries to scare them about Deadpan's dragons and foreign forces. Those Dothraki are savages! Also Deadpan is the Mad King's daughter, and she burns people just like he did! Not like Cheryl though; she only disposes of her enemies in humane controlled demolition projects. And the Lannisters have never ever done anything remotely bad, cause it's not like there was a War of Five Kings in recent memory where they ransacked the entirety of the Riverlands.
Wait…was that even on the show? Nevermind.
Larry is there, kind of nodding along with this Larry Face.
This conversation ends, and Larry runs after the all important Randyll Tarly, and his son Rickon as they leave the throne room. We mean Dickon! Larry forgot, and it's really funny. Funny enough to even repeat again later. And to have recast the actor that plays Sam's younger brother. We're now treated to 33-year-old Billy Bones as Dickon Tarly, with bulging biceps of justice, and the deepest voice imaginable. We promise this becomes important. We're kidding; the reason for this casting change is the greatest mystery of the season.
Larry tries to figure out how Randyll is going to side. Randyll is not pleased with dragons, and even less with foreigners, but he's confused. See, he's sworn to Olenna (somehow), but then Cheryl called him, and she's his queen, so he came. Dude…figure this out, because political prisoners are a thing that happens!
It all works out, since Larry leans on his xenophobia and ambition enough to be persuasive. He offers him the Warden of the Southship, which is apparently so enticing it's worth signing up for the side that is obviously going to lose the war. Though he's martial, so maybe the Tarly forces will be decisive. Even if the women are only allowed to knit by the fire (in their multiple bedrooms).
Meanwhile, Cheryl is also securing a sure-fire way to victory. Qyburn made a crossbow. But wait: it's larger than average! That's his anti-dragon solution. Cheryl rubs her hands together as if this is the most devious device ever devised. The guy is a fucking necromancer and this is what you're going with?!
Also, #theDornishdiditfirst. #RememberMeraxes
Somewhere in between Dragonstone, Dorne, and the Reach (take your pick), Eurovision intercepts Yara's fleet and kills everyone but Yara, Faullaria, and Tyene, whom he takes captive. Theon jumps overboard. We just saved you twenty minutes and a "foreign invasion."
There's really nothing to note, we promise, other than that in this scene, Eurovision is a good fighter. D&D say he's "walking the walk." Thanks guys, for that sparkling insight.
A Most Eventful Fortnight
The hooligan then returns to Cheryl's Landing, where the smallfolk have decided they like the Lannisters now. Or the Ironborn. Or loud noises and a parade! That would at least explain their past positions.
Either way, Eurovision is definitely delivering as the bestest birthday party magician they've ever seen.
He also keeps taunting Yara about Theon and how DUMB he looked, which we'll break down in our "odds and ends" retrospective.
This was so exciting to the denizens of Cheryl's Landing that they're all still clapping for him into the throne room. He's like "yo Cheryl, here's your gift," and he shoves forward Tyene and Faullaria. Tyrion was a way better gift for Deadpan. Cheryl is mildly impressed and sort-of accepts the marriage agreement, but not before shifting goalposts: they'll be wed after the war is won. Larry is still saddened by this, and Eurovision acts like it's some great victory. Dude…you're getting screwed.
Larry tells Eurovision not to get to cocky since the wind vane smallfolk clap for everyone. Eurovision responds by asking for sex advice with Cheryl. We lose at least a handful of brain cells.
So. You know what would be fun? A scene that takes up five full minutes of screentime with barely anything happening in it! It also makes us feel uncomfortable and sick. Dramatic satisfaction!
You see, Cheryl is led into the Black Cells (we guess) where Tyene and Faullaria are chained up. She monologues at Faullaria for three whole minutes, and we're not even slightly exaggerating. Topics include: being sad Myrcella is dead, Oberyn looking hot during his fight with Gregor, Zombie!Gregor's general existence, the fact Faullaria can't speak with a gag on, the racialized sexualization of Tyene's beauty, Cheryl being jealous of her baby's wet nurse, Cheryl forgetting that her mother didn't die until she was nine, the four other Sand Fakes who we've never seen, the concept of power, the concept of empathy, the pain of losing daughters, insomnia, poetry, the cycle of revenge, and how Cheryl once kissed a girl and liked it.
During this, we should note, she's wearing the brightest fucking lipstick known to man. Well, turns out that was a deviously clever visual cue, since she's wearing the same exact lipstick poison Faullaria had used when she killed Myrcella, not that we remember quite so neon a hue. Cheryl kisses Tyene. We're sure D&D planned this all along. Cheryl then retcons the poisoning inconsistencies from the past by having Qyburn explain that it's a variable amount of time before it kicks in, based on their personal constitution. Cheryl gently dabs it away with a tissue, drinks an antidote, and leaves Faullaria to watch Tyene die.
Then she immediately goes to her bedroom and puts her lips on Larry's penis. Are you SURE you got it all? Do you want to maybe use a second tissue just in case?
It's probably not worth mentioning that Larry was at first not into the sex, but then was. It amounts to nothing, ultimately, since the next morning they're spooning in bed and Larry has this look on his face like he's just the gosh-darn luckiest guy in Weisseroff. Then there's a knock on the door. Cheryl decides her superstition has been blown up, so she just wings the door open even though Larry is clearly in bed still. Luckily, it's just mini-Maid, in her own super trendy battle dress and pixie haircut, who takes the incest confirmation like a pro.
What did she want? Oh yeah, to tell her that Cheryl has to go to a meeting. And probably strip the sex sheets from the bed.
That meeting turns out to be with Tycho of the Iron Bank of Braavos. Out of all the things for D&D to have kept in this show, the fucking bank plotline was really not one we expected. We also didn't expect the banker to be super happy that Cheryl blew everyone up, because he read his Richard Dawkins, and apparently blowing up the sept meant she freed the city from the yoke of superstition. Guys…
What even is the rule of law? Despite Cheryl's destruction of both theocracy and patriarchy, she can't escape those damn loan sharks. Tycho wants a payment, or else he'll have to back Deadpan. Cheryl convinces him that it's a bad idea; after all, if there's one thing Braavosi bankers want, it's to protect their shares in the slave trade. Also, Deadpan is a revolutionary, and revolutionaries are not good for banks. Unlike Cheryl, who is somehow working within the system with her destruction of both theocracy and patriarchy?
Tycho is convinced though. "Your father's daughter indeed." Cheryl decides what she then needs to do is impose an arbitrary timeline on herself for paying back the debt. How about two weeks? Sounds reasonable, because who can't just pull huge sums of gold out of their ass in fourteen days? Especially when there was no indication he wouldn't have accepted a payback period of, say, six months. The things we do to beat interest rates.
One to fourteen days later, Tyrion has Deadpan's Unsullied capture Casterly Castle. But oh no, it was a trap (kinda), and Casterly Castle is empty! You see, one to fourteen days ago, Larry came and grabbed his army there, and marched it, along with all the provisions, south to Olenna's cottage. So all the Unsullied found was a Lego castle, while Eurovision arrived to burn their ships. Time for the Great Schlep across Weisseroff to get home.
Then, in the timespan of one to fourteen days, Larry mounted a successful attack against Olenna's cottage, despite its clear geographic advantage.
It makes sense though; the Lannisters have important generals including Larry, Bronn, Randyll, and Dickon, and absolutely no one else. On the other hand, the Redwynes Tyrells have a flower as a sigil. So they can't fight.
Larry shows up in Olenna's sitting room to exposit all of this to her. He came up with the idea to attack Highgarden after learning from Robb's Whispering Wood attack! How is this remotely similar, Larry? It wasn't even a feint. It was just moving an army. And abandoning your ancestral home, as useless as it apparently is.
Olenna thinks this all makes sense. (See: previous reference to flowers.) Why the Lannisters waited until now to attack Highgarden is beyond us, and also beyond Olenna, who says Tywin should have done just that the minute his mines ran out of gold. We're sure that would have been great for the alliance he depended on to save their asses during the War of Five Kings.
Whatever, that's not important. What's important is that this is Diana Rigg's last scene in the series. She's practically giddy. It's also apparently important that Larry "finally" gets to kill an enemy, because "we haven't seen [it] that much throughout the series." And we suppose Olenna is super significant to him. Remember that one time she told him he couldn't sit with her?
Larry tells her that Cheryl wanted to murder her in gruesome ways, which apparently doesn't bother him, though he wants to give Diana Rigg a dignified exit: poisoned wine. It's thematic, right? She just gulps it the fuck down, and then exposits about how her own poison wine was not nearly as humane as this one. Wait…was it Manischewitz or something?
Take that Larry! She killed Joffrey, your son! Also she tells him that Cheryl "has done things I wasn't capable of imagining." Probably? We guess? Larry tells her that the ends justify the means, and honestly we have no clue who's side we're supposed to be on. D&D tell us that she "wins the scene" though, so. Okay. Score one for Team Deadpan. Minus fifty points for capturing a useless castle.
The Field of Fail
The next episodes brings us to the Long March of the Lannisters, which is actually on-screen unlike some other army movements. Unfortunately, it means we get to giggle at their bouncy double-steps, which they've somehow been doing across the entire continent.
They're also transporting these very, very subtle sacks of gold, which may or may not have a dollar sign on the bag. Remind us why the Tyrells just had sacks of gold lying around? Larry gives one to Bronn, which means he no longer needs to stick by his BFFL. Bronn begins complaining about how he'd rather a castle. We're starting to suspect he's looking for any excuse to stay with Larry.
Bronn: There is still the question of my prize.

Larry: That's a lot of money I just gave you.

Bronn: It's not a castle.
Yeah, sure guy. We're onto you.
This love story is cut short when Randyll comes skipping up asking for help with grains from farmers. Apparently they've been looting– sorry, foraging– all the way from Olenna's cottage, and shock of all shocks, a few farmers don't want to give up their crops right before winter. These are…the good guys? Compared to the looting Dothraki that Cheryl was talking about while holding a flashlight under her chin? Or does this prove that Cheryl is unequivocally the bad guy and a hypocrite?
Tycho doesn't seem to think so. He's still in Cheryl's Landing for some reason, and he's super impressed that the giant sacks of gold are en route. As a result, he increases the limit on her credit card, all while comparing her favorably to Tywin. Seriously, this guy is into Cheryl. Maybe he should ask Larry for sex advice.
Cheryl immediately takes out another loan, but since she's such a safe bet (clearly), he's all about it. He's also all about the Floor Map, which she shows him while explaining that she wants the Golden Company. "Oh, they've helped us collect loans before." "Cool." Why is this scene here? Oh right, to build up a false tension about the gold's arrival.
Tycho: Rest assured, Your Grace, you can count on the Iron Bank's support. …As soon as the gold arrives.
Well, turns out that's literally nothing. When we pick back up with Larry and Bronn, they're both standing and staring into the middle distance as the rest of the army double-steps by. Randyll lets them know that "all of the gold is safely through the gates" of Cheryl's Landing. That was soooo tense! Thank the gods!
Randyll is tense though; he wants to whip the straggling soldiers, since they leave the "head of the line" vulnerable. But…wasn't the gold the head of the line? How is it moving faster than everyone? Also, they're literally right outside of Cheryl's Landing. Why is he suddenly worried about an ambush? Did he read the script? IS HE THE THREE EYED RAVEN?
Randyll's sonion then pops up, and Larry calls him "Rickon" again so that he can correct him. Larry's a slow learner, it's true, but he does learn. Bronn thinks the name Dickon is really funny.
Randyll rides off to go flog his troops or something, leaving Larry and Bronn to talk to Dickon. Apparently this burley 33-year-old man has never seen battle before. He was so shocked at all the smells! "War is hell, kid," Bronn tells him. This seems like a good casting choice. We're sure they'll do lots with this character for the rest of the season.
But suddenly, Bronn's elf ears hear an approaching Dothraki horde. What even are scouts, especially when Randyll was specifically worried about an ambush?
It turns out, everyone else might be partially deaf, because lo and behold the ENTIRETY of Deadpan's Dothraki are suddenly there, galloping right over the hill and screaming. Man, do those horses have endurance. They just keep galloping. Yup, still going.
Anyway, the forces clash, and this fight is 10 fucking minutes long. Deadpan shows up on Drogon, and she targets every single provision, because it's not like her army needs to eat, we guess.
There's a shot where Billy Bones saves Larry, and we suppose that's significant? Who's the "boy" now? Oh, and Bronn has an arc where he literally looks back and forth between a sack of gold and the scorpion, and chooses to fire the scorpion because of his love for Larry Weisseroff. Or something.
He manages to hit Drogon and give Deadpan a bit of a scare, but it turns out the ~ultimate secret weapon~ scorpion didn't do a whole hell of a lot. Drogon lands, and Deadpan goes to pull the bolt out, and he seems mostly fine. However, as Deadpan futzes around, Larry decides he wants an arc for the battle too. Or maybe just something to do. Which in this case, entails charging headfirst at Deadpan with a spear, because that will totally end well.
Hey, in case you were wondering how to feel about this, never fear! Tyrion's here! Literally. He's standing right on a hill watching everything. And he thinks Larry is a "fucking idiot" for charging Deadpan. Well, he's not wrong…
Turns out when you charge with pointy things at dragons, they like to breath fire in defense. Who knew? But never fear once again! Because out of nowhere– and we mean absolutely off-frame-nowhere– Bronn appears, hurls himself off his horse, and knocks Larry into a suddenly deep pond that five seconds previously had been shallow enough for a horse's charge.
The episode ends with Larry sinking further and further under the water with the weight of his armor pulling him down. We're extremely worried. Truly anyone can die on this show. It's so brilliant.
Oh Look, a Meeting Invitation!
Guys, we have good news: Dave Hill wrote this episode! And to be fair, he does what he can with what they give him.
In this case, it was a miraculous survival of Larry and Bronn, who emerge a good 500 meters (at least) away on the opposite side of the pond. How did they swim this long? How did Bronn possibly pull Larry in his full armor? Why didn't Deadpan or Tyrion look for them? It's not like they magically intuit Larry's survival or anything.
But Carol Award winning plot armor aside, what's really important is that Bronn is totally ready for his "you saved me" kiss.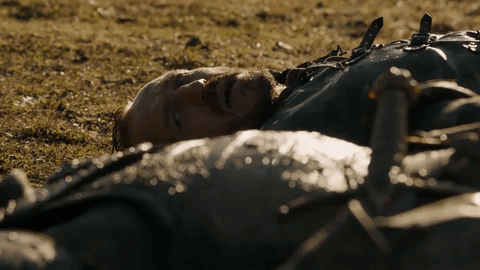 Also his character arc goes away. Poof! He's only here for money! Sure, Han Solo. Sure. He insists to Larry that dragons change things and he's done. We're positive this will come up again.
Some arbitrary amount of time later, Larry finds Cheryl, which is easy to do, because he was right outside Cheryl's Landing. She probably watched the battle from her window. Larry passes Qyburn in the hallway for three seconds, and this was a very necessary interaction for us to see. Is it seeding that Cheryl has other confidentes? Isn't it reasonable for the queen to talk to her Hand?
That aside, Cheryl's all jazzed about her Golden Company plan. "We'll find a way to deal." Larry is less enthused. Deadpan kills for "sport" and they can't win! Well, she did destroy provisions for sport, so maybe he a point? However, an even better point comes from Cheryl: "What other fucking choice to we have? It's not like anyone is going to drop a truce into our laps! Especially not Tyrion, who hates us and totally killed our son!"
But wait! Cheryl, don't you know that Olenna killed Joffrey and not Tyrion? This changes…something. We think. Cheryl's skeptical it's the truth, but then Larry mentions that her killing Joff would have in effect made Olenna the ruler of Weisseroff.
It's just so devious. Also, what the hell is the point of rehashing Olenna's motivations? The audience gets that she was trying to protect Margaery. Larry and Cheryl making sense of this now feels like…like there's just not quite enough material to fill this episode. Weird.
Now let's take a good two minutes to hear Larry whine to Bronn that he doesn't want sparring practice right now. Wait! We thought Bronn was leaving because dragons? Well, turns out, he's not leaving or sparring. He's telepathically arranging meetings for Tyrion with men Tyrion has every reason to believe are dead!
Yeah, Tyrion's just chilling there.
What wacky hijinks must have ensued to get him into Cheryl's Landing! Errr, we mean, meticulously plotted intrigue.
Bronn fucks off, while Larry gives Tyrion his most angry face. Fans of the books cry into their A Dance with Dragons dust jackets. Tyrion has something very important to say…many things, in fact: "You made me look dumb with Casterly Castle. You're holding a sparring sword. Dad knew I was innocent at my trial. He was ableist. Deadpan is going to win. Deadpan is not her father. Do you want a truce?"
We do think it's more than a bit odd that D&D chose to retcon Tyrion's motivations for killing Tywin here, just as a note. But we'll cover that more when we get to the heart-pounding Dragonstone retrospective.
Anyway, the scene ends before Larry says anything in response to this random truce offer. Instead, he runs right to Cheryl, like a loyal little minion. But wait: Qyburn is there again! Is this some kind of conspiracy??
Once he leaves again (maybe it was just another pelvic exam), Larry spills the beans on everything that happened. Cheryl already knew about the meeting though. She knows everything. For some reason she asks if he's going to punish Bronn for betraying them. By what? Setting up a meeting that bails both of their dumb asses out of this mess?
We're then treated to a good two minutes of Larry expositing about the threat in the North, while Cheryl acts skeptical. However, don't worry: there will be a meeting with proof–so much proof. Wise Cheryl knows that this is really their only chance of surviving, so she's like, "Okay, cool. We'll spin this to our advantage somehow." She tells him it's crucial they beat Deadpan.
"For ourselves, for our house, for this (dramatically touches her stomach)"
HELLO WORLD, IT'S A CHERRY BOMB!
Yup. Cheryl is gregnant with a Larryling. She's gonna tell Weisseroff he's the dad, too. Good thing she's not slated to marry a young hooligan, we guess. Larry gets very, very, very sentimental, and they hug, so in love and happy. Oh, and "don't betray me again," she cautions. What?
No, what? He didn't know about the meeting ahead of time, and went running right to you… We guess this is what makes her so villainous.
Possible Alliances and Implausible Breakups
After a horrible Cherry-less episode, we open the season 7 finale with the Unsullied! Where did they come from? Where did they go?
Apparently Cheryl's Landing, because Bronn and Larry are standing and watching them march in. Hey, did you know that an army of eunuchs means their soldiers are eunuchs? And therefore don't have penises? Larry and Bronn discuss the significance of this vis a vis the patriarchal setting. "Maybe it is all cocks in the end." Maybe, dude.
Anyway, establishing shots of giant armies aside, inside Cheryl's Landing, Cheryl and Qyburn are planning for the meeting while Larry watches with his Larry face.
It's apparently worrying to him that she wants Deadpan killed first if things go wrong, because you shouldn't target the head of the opposing forces or anything. We don't know what his deal is.
Some ungodly amount of screentime later, we're in the pit! Cheryl enters dramatically, flanked by her space nazis. She's wearing a rockin' Battle Cardigan from Neiman Marcus, while her queensguard keep their phallic helmets on.
Horrors! Cheryl's dramatic entrance was slightly mistimed. Deadpan isn't there yet, you see, so we spend at least thirty seconds (but maybe a full minute) with people exchanging glances and sitting in silence. Get used to that.
Finally, Deadpan shows up with two of her dragons. Not conspicuous at all, honey. Cheryl, of course, yells at her for being late. "Sorry," she says. Okay.
At this point, even Cheryl is like, "Can we fucking get on with it?" Well, it seems like Tyrion is about to start things off, but he's cut off by a WILD EUROVISION! He's such a hooligan that he can't let meetings follow an agenda. It's not even worth getting into what he says though, since literally no one cares or reacts to it. Cheryl finally tells him to shut the fuck up.
Jonny mentions the dead army, and Cheryl gets mad, since this sounds like bullshit to her. She doesn't want to "pull back her armies." What armies, and where? Seriously? Aside from maybe a garrison at Olenna's Cottage and her space nazis, who is around? Eurovision's forces? What are they pulling back from? Casterly Castle? We thought the Lannisters lost that anyway. We're just…
Ignore us, because for the next three minutes, Sandor slowly walks across the pit and opens up a wooden backpack containing ice zombie evidence. Finally the damn thing pops out and lunges at Cheryl, who looks scared. OR IS SHE?
Jonny then goes on to explain how you can kill them with fire or dragonglass. Cool science project! Eurovision decides to interrupt again, this time to fuck off. He's really terrified, you see, and he wants to go hide on his islands because wights can't swim.
OR DOES HE?
Also, we're reminded of when his driving motivation had been to marry Deadpan. Good times, good times.
Cheryl does some world class acting (oops, spoiler) here, and says that she'll absolutely pull her armies back, as long as afterwards, Jonny doesn't–I don't know, just spitballing here–side with Deadpan so that Cheryl is super fucked down the road. Jonny doesn't take the obvious cue here, and tells her that he bent the knee to Deadpan.
Cheryl stomps out, space nazis following. When Larry goes to do the same, a wild Brienne (representing Sansa's interests, obviously) tells him that he needs to, and we QUOTE, "fuck loyalty." We suppose it's fair that Brienne is more concerned about the zombie she just saw than feudal commitments. But you know what no one is concerned about there? Zombie!Gregor, who was there that whole time. Sandor even talks to him and junk. Just…forget it.
Anyway, Team Deadpan is super concerned, because they clearly needed Cheryl to pull all those troops of hers back from all those places, or else they can't fight zombies. Tyrion decides he and he alone must talk to her. How brave.
He runs into Larry in the hall first, and they call themselves idiots. Again, we're not going to argue with you…
Larry: She thinks I was an idiot to trust you.

Tyrion: A lot of people seem to think that, actually. I'm about to step into a room with the most murderous woman in the world who's already tried to kill me twice, that I know of. Who's an idiot? I suppose we should say goodbye, one idiot to another.
Remember when Deadpan locked people in a building and burned it down?
Tyrion finally goes to confront Cheryl, who's just like…a little pissy. She comments that Tyrion's into Deadpan because she's, "A foreign whore who doesn't know her place." We assume this is a reference to Shae, who was retconned out of being a motivating factor for Tyrion in his patricide? Why did D&D even write this line?
Tyrion: A foreign whore you can't abduct, beat, or intimidate. That must be difficult for you.
Wait…Ros?? Is the North foreign? Can D&D literally not tell their sex workers apart even if they invented them?
Tyrion mentions how he's given Deadpan some shitty advice. We're not going to argue with you! Apparently this means that he's actually somewhat nice to Cheryl, because he doesn't want her to get eaten by a dragon. But wait! He killed Tywin! Cheryl is upset about this!
Then we get a rehash of Tyrion's conversation with Larry about how Tywin was ableist, and again, we're not going to argue. But we are going to start to zone out, because this conversation goes in a loop-de-loop. Like, we're very aware Peter Dinklage and Lena Heady have EMOTIONS and are saying THINGS, and we can't blame Dinklage for putting it all out there now that he's finally opposite someone other than Emilia Clarke. But we just can't track what the actual substance is at all.
See, Cheryl blames Tyrion for all her kids being dead, because of some kind of weird chain reaction he put into place when he killed Tywin. He tries to apologize, but she doesn't want to hear it. Then she blames him for more things, then they talk about how their feelings don't matter. Then Tyrion gets a drink of wine, but Cheryl abstains. Then Tyrion talks about Deadpan's war for social justice. He says she's a wonderful queen because she listens to him.
Meanwhile, Cheryl begins gently caressing her stomach, and pretends that she was compelled by Euron's "I'm out of here" attitude. "You're pregnant!" Tyrion gasps. ~End Scene~
Anyway, we cut back to the pit. Turns out Cheryl has been convinced to pull all her armies that exist back from the places they definitely occupy. Not only that, but she will fight with them! Wow, Tyrion must have been very persuasive off screen. OR WAS HE?
"And when the Great War is over, perhaps you'll remember I chose to help with no promises or assurances from any of you."
Well Cheryl, I'm sure they'll remember that as long as you don't suspiciously NOT show up. But who would promise to show up even when they're in no way expected to make such a promise in the first place, and then bail? Who Cheryl, who?
Though in fairness, since there kind of is no Lannister army, maybe she just assumed they'd never notice.
Some amount of time, and one confusing trial later, we cut back to Floor Map, which Larry is using to help plan his massive army's journey North. Cheryl comes in, and we guess those pregnancy hormones are really messing with her, because she's suddenly completely antagonistic for no reason.
"I always knew you were the stupidest Lannister. The Starks and Targaryens have united against us, and you want to fight alongside them? Are you a traitor or an idiot?"
Cheryl, that's your boyfriend and baby daddy. Where is this coming from?
Also, where is this coming from? You PLEDGED YOUR TROOPS. You could have looked magnanimous just for agreeing to the dumbass truce of nothingness. Why wouldn't Larry have thought this was earnest?
Now, here's the thing: Cheryl is right that post a battle with the dead guys, the Lannisters would be screwed to face a Targaryen/Snow (?) alliance. Like, it's perfectly reasonable for her to argue that they should consolidate power while those guys go up North, since how else are they going to survive?
At the same time, "remember my generosity" was also a valid strategy. Maybe Cheryl could have earned good will there and negotiated a survivable solution afterwards. That's a conversation to be had, especially since the fate of humanity is on the line.
Yet that's not the conversation we get. Also, there was still no reason for Cheryl to promise her troops unless she was going for Strategy B. But we know she didn't suddenly change her mind since, as it turns out, she already planned with Eurovision!
Yup. That hooligan was just faking being scared, and he's secretly going to ferry the Golden Company. Larry decides this is just TOO MUCH. "You planned with Euron before me?" Well yeah, dude. She thinks you're an idiot. Which she then continues to express over and over.
So he dumps her; the end.
No really, he insists that he's going to ride North, since his fighting prowess will make such a difference, and he storms out. There's two seconds where D&D try to pretend she's going to have zombie!Gregor cut him down, but nah. He just leaves, and significant snow falls on him in the final scene.
We hope you had tissues at the ready for that gut-wrenching breakup. It was hard on all of us, we know. We'll give you a couple more days to collect yourselves before we dive back into this tale to discuss the very deep significance.
---
Images courtesy of HBO
Benioff and Weiss as Fuller House Showrunners
Fuller House, my absolute favorite show, is experiencing a shake-up before its fourth season. Showrunner Jeff Franklin was let go, replaced by two of the show's producers Steve Baldikoski and Bryan Behar. I'm of the firm opinion that any shakeup here is a good shakeup, especially given that Fuller House is so predictable it borders on self-parody at this point. Do I think Baldikoski and Behar will be offering something markedly different, however? …No.
In fact, if there's one thing I could wish for Fuller House, it would be some bravery. Courage in that good ol' writers' room. Who's famous for that? Why none other than David Benioff and Dan Weiss of Game of Thrones. We've been positively giddy around here about the prospect of their Star Wars films-absolutely no sarcasm at all in that statement! So I was thinking, why limit their creative talents? Why not also have them take over Netflix's finest comedic reboot?
Now, this is not my first rodeo when it comes to speculative "Benioff and Weiss Adapt" scenarios. And as much fun as those are, I should state that here, the dynamic duo (D&D) aren't adapting the show, but merely continuing. As such, they will be subject to the same restrictions I imagine Netflix put on Fuller House to keep it family friendly. No nudity, no expletives past DJ's use of over-the-counter medicine brands, and certainly no gore or sexual violence. With that, let's dive into a bold go-go-go season 4.
D&D Take the Reins
Fuller House left us with a pregnant Kimmy carrying Steph's baby, DJ accepting a job on Steve's behalf despite them finally being together (is "finally" the right word?), Jackson in a quasi-relationship with Rocki, Uncle Jesse and Joey returning to San Francisco to reopen the Smash Club, Danny coming back because of some blown network deal, and everyone else in the exact same spot as they were when the show began.
While D&D can't have anything too dark, what is missing from this show is a villain. Their version of Cersei has obviously been enough of a darling to earn herself the place of villain protagonist for two seasons, so it's likely a formula they'd want to repeat. Given that Jodie Sweetin is the only one in the cast with any kind of acting chops, she's the logical choice for it. But how? She's in a fairly good place since the in vitro went so smoothly.
Well, clearly a woman's only tenuous grasp on her humanity is through children, so Kimmy needs to lose the baby. It's a bit grim, though Fuller House is no stranger to character set-backs where the parents end up explaining how sometimes bad things happen. This emotional toil causes Steph to snap. She drinks a lot of wine, and no longer is able to be loving towards her nephews. With DJ, she's jealous of the life she has. Steph will continue to live in that house, but she refuses to do any more she-wolf howls, instead teaming up with her evhul friend Gia Mahan.
Together, the two of them plot revenge. At first Kimmy is the target, but when it's made clear she did everything she could to protect the baby, they blame faulty eggs. To the fertility clinic! Steph and Mia empoweredly burn the place down, because "no woman should have to go through this." The feminist credentials write themselves.
Now, Jimmy, Steph's completely idiotic boyfriend, will get a much more sympathetic rewrite. He'll finally realize she's a monster, which everyone else knows of course, and break up with her. Not because of what she's going through, but because she withheld her revenge plan from him and confided in Mia instead.
He ends up going on a wacky vacation to Argentina with Fernando in an attempt to cheer up.
This subplot takes up two full episodes, when the buddy duo fall into unexpected trouble with the law. You see, Fernando had a lot of debt that he never cleared! They end up escaping with a zany chase scene. Fernando gets a significant scratch on his face. Michele Clapton, brought on as the new costume designer, gives him one-sided zippers for the rest of the season to help highlight how deeply he feels this.
Even though the Matt/Steve/DJ love triangle has been more or less resolved, D&D become determined to "fix" the outcome so that Matt ends up being her choice. They view him as the far more attractive partner since he's fit and "tough." Steve could have just been written off the show with his new job, yet D&D bring him back and throw him in lots of scenes with Matt, so that the two of them can talk about how the other one is in love with her. They get along, it's just…funny. That they both like the same woman.
They both end up trying to help DJ with her vet business, though Matt is clearly the better partner (it's never addressed why Steve, a podiatrist, would have attempted this in the first place). Once DJ picks him to be her business partner, Steve disappears from the show entirely. DJ finally takes Matt back in an episode where Cosmo dies and she fails to save him. She realizes that she needs Matt in her life and practice, and that she's been blind to him this whole time. It's never addressed that she chose Steve over him the season prior.
Speaking of love triangles, D&D become very invested in the idea of pairing Ramona with Jackson, since he is a Nice Guy™. Rocki is still in the picture, and suddenly committed to being his girlfriend, so she and Ramona drop all pretenses of a friendship and are catty with each other. There's an episode devoted to this causing problems at school and disrupting classes. Jackson hilariously can't decide, and the big season finale shocker is a rumble in the school cafeteria. It's unclear who "wins" as there needs to be a cliffhanger.
DJ's younger two children both get recast. Tommy is replaced with an even smaller baby, though nothing changes. He just has to be carried around now. Max gets replaced with Dean Charles-Chapman, still serving as an elementary schooler. His personality and voice aren't anywhere near the same, but he still wears bow ties now and then. His role is also heavily dialed back, mostly just existing to help highlight what an irresponsible babysitter Steph has become ever since Kimmy's miscarriage. Four episodes might go by where neither of these boys are seen.
Uncle Jesse and Danny are both foregrounded, with Uncle Joey used very sparingly. There's no reason he isn't around when Jesse is, he just…isn't. Danny, meanwhile, is almost always sitting on the couch in DJ's living room. He delivers lots of long monologues about moments from Full House, and getting old. Sometimes it seems like he's repeating himself, but the camera never cuts away despite that.
Jesse, meanwhile, cannibalizes most of the season with his Smash Club revival. His mission in life is to get everyone around him to eat, drink, and be merry. Kimmy is working for him to help successfully relaunch the club, but there's an odd character reversal where she's trying to be assiduous and do her job, and Jesse is trying to be fun. At the end of the season, Kimmy tells Jesse how he surpassed all her party planning expectations, and she'd love to have him continue as a partner in her business given his natural talent.
Now of course, all these ideas combined probably amount to 10 episodes of content. Yet never fear: D&D still script 13! In order to pad the extra 60 minutes, we get lots of longer, stylized artistic shots. It takes at least 2 full minutes for DJ to remove cold cuts from her fridge. We see Jesse's entire ride from the house to the Smash Club. Every school scene starts with at least 20 seconds of students filing into the classroom. The slower pace indicates that it's now a much more meaningful show.
While much of what I described might seem like a poor fit for Fuller House, what you have to remember is that this is the face of BOLD television, even in a PG framework. So while Baldikoski and Behar have some mighty shoes to fill in order to keep the show up to its glorious standard, in the hands of true showrunners, it's clear the potential has no limits.
---
Images courtesy of Netflix