At first glance, Cobra Kai seems like yet another modern reboot hoping to cash in on its successor's popularity. After all, it pops up in an age where sequels and remakes dominate Hollywood, and it fits perfectly into the '80s craze popularized by Stranger Things, another Netflix hit show. However, a closer look at the series proves that, although Cobra Kai may be another reboot of a classic '80s property, this new iteration has plenty of original ideas.
Now, that isn't to say Cobra Kai doesn't pay homage to The Karate Kid because it certainly does. Showrunners Jon Hurwitz, Hayden Schlossberg, and Josh Heald are vocal fans of the original movies and this love bleeds into their series through not only flashbacks and callbacks, but also thoughtful analysis of The Karate Kid's themes.
The pilot reintroduces audiences to Daniel LaRusso (Ralph Macchio) and Johnny Lawrence (William Zabka), now in their fifties, yet still feeling the effects of their fight at the All Valley Karate Tournament more than 30 years ago. Daniel uses his karate shtick in commercials for his car dealership and gives away a free bonsai tree with every car sold. Meanwhile, Johnny is working odd jobs, living in a rundown apartment complex, and tired of seeing his old rival's face on billboards all over Reseda.
Naturally, these two return to each other's orbits when Johnny reopens Cobra Kai and, subsequently, reignites the bad blood between himself and Daniel, who is worried about Cobra Kai's ruthless style of karate being taught to a new generation of students.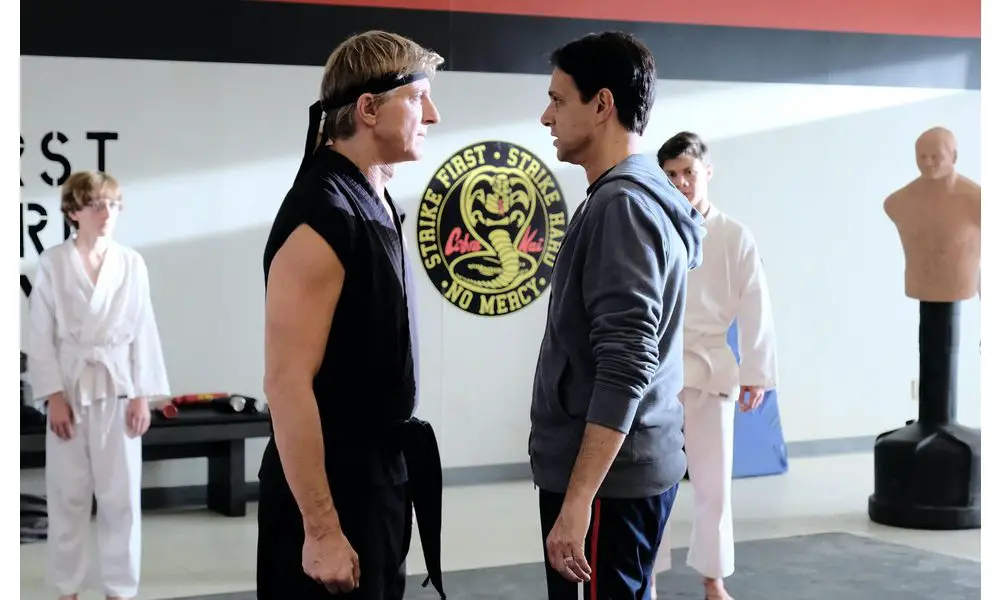 Among the new crop of Cobra Kais is Miguel (Xolo Maridueña), Johnny's new neighbor, protégé, and star student; Hawk (Jacob Bertrand), a frequently bullied geek who uses karate to tap into his inner aggression and become a bully himself; and Aisha (Nichole Brown), once shy but now confident and popular among her Cobra Kai peers. Not all kids are seduced by Johnny's new dojo, however. Many partake in Daniel's free, defense-only karate lessons at Miyagi-Do, namely Daniel's daughter Sam (Mary Mouser) and Johnny's son, Robby (Tanner Buchanan), which creates an even bigger rift between the two.
Perhaps the most interesting thing about Cobra Kai is its tendency to "flip the script" as Johnny puts it. In his students' case, this transformation is mostly literal – shy losers become confident and aggressive as they internalize Cobra Kai's mantra of winning at all costs and showing no mercy. For Johnny and Daniel, however, the show is much more nuanced in depicting their characters by showing both perspectives and occasionally undermining the original movie's black and white storytelling.
For example, a notable difference between Daniel and Johnny in The Karate Kid is money – Daniel moves into a shoddy apartment with his working, single mother, and Johnny and the other Cobras are country club rich kids. In the original film, this is done to show the extent of Johnny's advantage over Daniel, as well as to give Daniel a concrete reason for feeling he doesn't belong in the valley.
In Cobra Kai, their financial situations have swapped – Daniel is now very wealthy and successful, and Johnny is decidedly not. It would be easy for the show to use this as a commentary on their characters and imply that this is a result of Daniel's inherent goodness and Johnny's lack thereof. Fortunately, Cobra Kai is not interested in that narrative. The class disparity between the two men is a conscious choice by the show, made to depict Johnny as an underdog and Daniel as a person of privilege in the modern era.
The goal is to break these characters away from the stereotypical roles they played in the original movies. As great as The Karate Kid is, it still suffers from a mistake '80s movies often make – under developing its characters and painting them as either wholly good or completely bad. This new iteration of The Karate Kid universe understands that people (and life) are often more complicated than that. Johnny is portrayed in a much more sympathetic light here and the audience gets to see Daniel's own failings for the first time.
A constant gag over the course of the show is that Daniel and Johnny are both stuck in the past, which is a wink to the obsessive nostalgia that made reboots such as Cobra Kai possible at all. However, it's also clever character work because it forces a pair with such abundant differences to have something they agree on.
The reappearance of John Kreese (Martin Kove), Johnny's abusive sensei from the original, adds another complication to the story as the new generation of kids are at risk of being corrupted by the same man who led Johnny astray. This gives Daniel and Johnny a common goal because, after all, Cobra Kai holds the same values its predecessor did, primarily that there are no bad students – only bad teachers.
The fourth season of Cobra Kai premieres on Netflix on December 31st and will be a great way to ring in the New Year because, even without all the deep-seated messaging and themes, the show is a delight to watch. It's funny, engaging, and has original thoughts about The Karate Kid that justify its existence in the movie universe's canon. Even the petty teen drama gets a pass from me because the soap opera plots exist primarily as an excuse for the characters to beat the hell out of each other in the many choreographed fight scenes.
All three seasons of Cobra Kai are available for viewing on Netflix and it's heavily advised that you catch up before the fourth season airs in late December.
Images courtesy of Netflix
Have strong thoughts about this piece you need to share? Or maybe there's something else on your mind you're wanting to talk about with fellow Fandomentals? Head on over to our Community server to join in the conversation!