Only a year as chaotic as this one could make me actually excited to watch Christmas and other holiday movies of all things. I've watched a few from Hallmark and Lifetime here and there when they were just on randomly, but their (usual) whiteness has never really been my scene. The only show I watch on Hallmark is Good Witch, which is decidedly not Christmassy.
However, after Hallmark removed then aired the Zola ad with the brides after controversy which then led to President and Crown Media CEO Bill Abbott's departure, well I was immediately more interested. The departure came two months after Hallmark received ire after removing a Zola ad with two brides and an interview with THR TV's Top 5 hosts Lesley Goldberg and Daniel Fienberg.
The two took him to task for the whiteness of the films and the fact that no movie had Hanukkah in its title. (It's one of their best interviews and worth the listen.) In response, Abbott argued that the "generalization isn't fair, either, that [they] just have Christmas with white leads." Sir, there are tens of articles about this precise issue. Their whole shtick is that holiday movies = Christmas!
Still Abbott left in January of this year and was eventually replaced by former TV One CEO, Wonya Lucas in July.
Lifetime which airs its own competing "It's a Wonderful Lifetime" series of films had similar issues with onscreen inclusion but upped the ante, if you will. Though the network aired Twinkle All the Way, which included Brian Sills and Mark Ghanime as one of the secondary couples (including a kiss) last year, this year they green-lit the first movie where the gay romance is the lead story!
Which brings us to September when Hallmark announced its Countdown to Christmas movie list including 39 films, and its first movie with Hanukkah in the title. Hallmark by the way did air Wedding Every Weekend this summer during their wedding themed month that included two brides so this wasn't all just for the holiday movies. Christmas With the Darlings also had a side romance between two women! The list of films included a number of interracial relationships and even a few movies where both leads are people of color.
Michelle Vicary, EVP Programming said in a statement to press:
Our holiday table is bigger and more welcoming than ever. This year's movies reflect our most diverse representation of talent, narratives, and families, including The Christmas House, featuring a storyline about a gay couple looking to adopt their first child, and starring Jonathan Bennett in an ensemble cast. Our movies are rooted in warmth and positivity, meaningful connections, family gatherings, and seasonal traditions — a winning formula we hope will bring our millions of viewers much-needed levity and holiday cheer at the end of a tough year.
Netflix, too, joined the party with its own set of holiday films (read Christmas) made for and by the streamer and didn't have any movies focusing on gay leads, until it picked up A New York Christmas Wedding as well which I reviewed last month and loved. Other networks like BET and Paramount also air holiday movies so there really is something for anyone who is into this content!
Below is the list of the movies I plan to watch and to keep an eye out for either due to their subject matter or much more inclusive casting in order of premiere date. All movies not on Netflix are 8/7c time or otherwise noted.
---
Jingle Jangle: A Christmas Journey | Netflix | Available Now
Starring Forest Whitaker, Keegan-Michael Key, Madelen Mills, Phylicia Rashad, and others, this film is a musical adventure set in the gloriously vibrant town of Cobbleton. The film follows toymaker and inventor Jeronicus Jangle (Whitaker), who spends his days creating fanciful inventions. Keegan-Michael Key plays his trusted apprentice, who steals his most prized creation. Newcomer Madalen Mills plays Jangle's grandaughter, who discovers a long-forgotten invention and awakens the magic within for a holiday adventure.
This is the most over the top Christmas film I've ever seen and considering its setting and cast, I'm super excited to watch.
Check out Jeremiah's review!
The Christmas House | Hallmark Channel | Sunday, Nov 22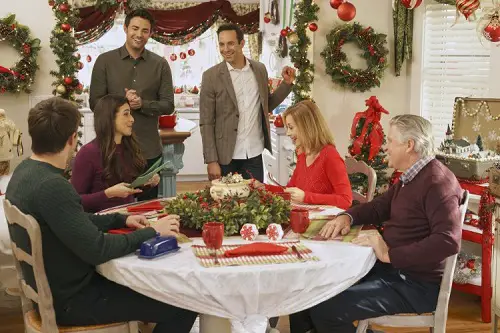 This one has double the romance! Maybe even triple.
Working through some difficult decisions, Mitchell family matriarch Phylis (Lawrence) and patriarch Bill (Williams), have summoned their two grown sons—TV star Mike (Buckley) and Brandon (Bennett)—home for the holidays. It is their hope that bringing the family together to recreate the Christmas house, will help them find resolution and make a memorable holiday for the entire family and community. As Brandon and his husband Jake (Harder) make the trip home, they are anxiously awaiting a call about the adoption of their first child. Meanwhile, Mike reconnects with Andi (Ayora), his high school sweetheart.
The adoption storyline sounds very sweet and putting that in front of millions of viewers is A+. You can view the trailer directly at Hallmark.
Christmas Ever After | Lifetime | Sunday, December 6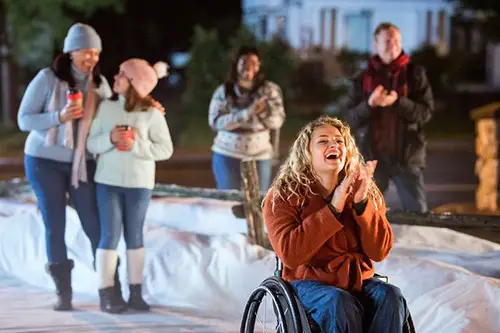 This one is a huge deal because to my knowledge, it's the first Christmas movie on any of these channels/streamers with a disabled lead! Ali Stroker plays a popular romance novelist who's suffering from a severe case of writer's block when she arrives at her favorite snowy bed & breakfast for Christmas. There, she meets the B&B's new owner (Daniel di Tomasso), who bears an uncanny resemblance to the handsome hero from her novels and gets her new manuscript back on track.
As someone who spends a lot of time with people who use wheelchairs I'm super intrigued to see how they designed and decorated the set to be accessible.
The Christmas Setup | Lifetime | Saturday, December 12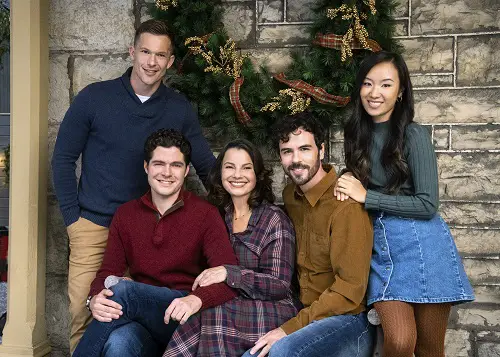 Starring real-life marrieds, the film chronicles the romantic adventures of Hugo, a New York City lawyer (Ben Lewis) who returns home to Milwaukee with his best friend, Madelyn (Ellen Wong), to celebrate the holidays with his family, that being his mother, Kate (Fran Drescher), and his brother, Aiden (Chad Connell). As it turns out, Kate is in charge of the local Christmas celebrations. As it also turns out, Kate likes to play matchmaker.
And she does just that with Hugo, aligning the stars so that her son crosses paths with his old high school friend/crush, Patrick (Blake Lee). Hugo and Patrick quickly find themselves attracted to each other, but…. Hugo is about to learn that he's up for a killer promotion that would necessitate a relocation to London. What will they decide? Will Hugo choose love or career?
The trailer is so Christmas chaotic you can't help but be charmed. Plus, unlike the Hallmark offering, this has the gay couple as the main leads meeting and getting together as opposed to being secondary and already hitched. (Not that the adoption storyline isn't wholesome already.)
Dashing in December | Paramount | Sunday, December 13 at 7/6c
The gay leads aren't restricted to just Hallmark or Lifetime or Netflix, however with Paramount's new film which follows a New York financier, Wyatt (The Young and the Restless' Peter Porte), who returns to his rural hometown for Christmas and stumbles upon an unexpected attraction.
While there, Wyatt attempts to convince his mother, Deb (MacDowell), to sell the family ranch and its adjoining Winter Wonderland attraction, though he questions his motives after meeting the property's handsome ranch hand, Heath (Juan Pablo Di Pace). 
This is like every gay romance novel come to life, and should be fun to watch. I am hoping the Black best friend is fully developed though because uh if not….bad.
Although seriously where are the gay men of color in any of these movies?
A Sugar and Spice Holiday | Lifetime | Sunday, December 13
Finally though certainly not least, is a film written, directed, and cast by Asian women! Starring Jacky Lai as Suzie, a Chinese American woman who draws on her family's cultural traditions to "spice up" an old-fashioned Christmas baking competition, the network explains. Suzie is an up-and-coming architect who returns to her hometown in Maine, where her family (father Tzi Ma) runs the local Lobster Bar, for Christmas.
Her grandmother was a legendary baker in their community but recently passed away, so Suzie is guilted into following in her grandmother's footsteps by entering the local gingerbread house competition. She teams up with an old high school friend (Tony Giroux) to do so, and while she works to win the competition, she may also find love in the process.
First of all, I flipping love baking/cooking as a central part of a story and am excited to see what looks like a mostly if not entirely Asian cast. Hopefully the network will release a trailer soon.
It is hilarious though that the movies with "holiday" in their synopsis are clearly not holiday movies as much as they are Christmas movies.
Love, Lights, Hanukkah! | Hallmark Channel | Sunday, December 12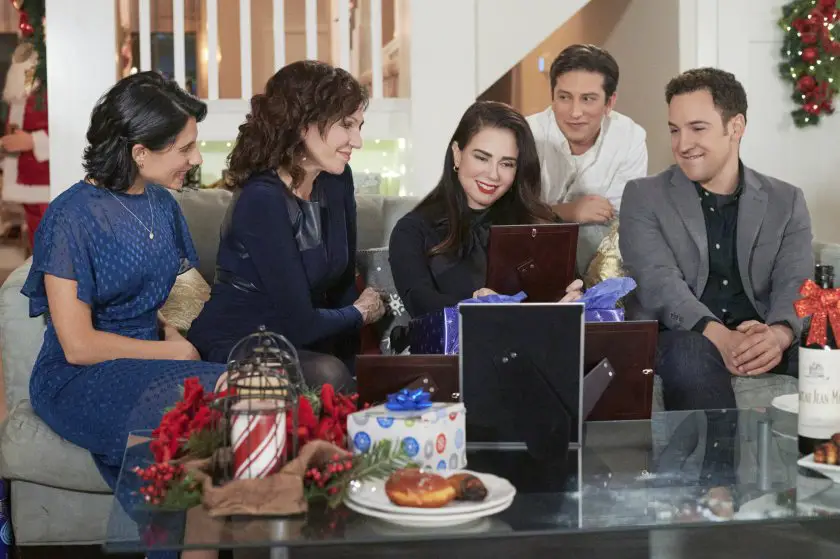 It's starring Mia Kirshner as Christina who "prepares her restaurant for its busiest time of year, she gets back a DNA test revealing that she's Jewish. The discovery leads her to a new family and an unlikely romance over eight nights." The movie also includes Ben Savage and Marilu Henner.
I Hate New Year's | Available On Demand December 4
Though available earlier, it fits better at the end since it is timed for the end and beginning of a new year! From the same folks who gave us Season of Love last year, this film stars Dia Frampton as Layne: a rising music star who grew up in Nashville but got a big break and headed to L.A., leaving behind her friends and a special someone. Now, with a huge hit on her hands, Layne has hit some serious writer's block.
She decides to head home to Nashville for New Year's Eve, looking to find her ex and get back her songwriting mojo. As she spends New Year's jumping between bars and parties with her best friend Cassie (Ashley Argota), looking for the one that got away, she realizes that the love of her life, and the reason she sings, has been right in front of her all along. The film also stars Candis Cayne and unlike a certain movie on Hulu is not about lying to your partner!
Information on how to access the film is available at the website.
---
Again this is only two handfuls of nearly 100+ holiday movies across these four networks but I'm sure more of them are just as fun and pushing the usually white envelope more! Hopefully this will lead to more inclusively cast (and written) stories next year where two women can star as leads on Hallmark and Lifetime, men of color on all the networks, and even get more Hanukkah content. By the way, one in four people are disabled in the US so Ali Stroker's film better not be the last one we see. Essentially, I'm asking where are the holiday movies for the full spectrum of people living in the places these networks target????
Honorable mention is Netflix' Dash and Lily, a very short and cute series where the titular characters meet through a red notebook passed back and forth ending in Romance and it includes a Hanukkah episode with an underground Klezmer band!
Images courtesy of Hallmark Channel and Lifetime.
Are you planning to watch any of these movies? Or have strong thoughts about this piece you need to share? Or maybe there's something else on your mind you're wanting to talk about with fellow Fandomentals? Head on over to our Community server to join in the conversation!