As little children, my brothers and I would sit on the floor and flip through a huge book as big as my youngest brother. Richard Scarry's Biggest Word Book Ever was set in Busytown with beautifully illustrated landscapes all about teaching kids different words. We even had episodes of the original Busytown kids show on VHS (and those VHS might be the only ones we've kept in our house out of a wish to get them converted to DVD…)
So when I saw Ravensburger has the Busytown Eye Found It!, I knew I wanted to try it even if I have no little kids around me regularly.
Scarry's Busytown follows humans who are anthropomorphic animals with a host of characters like Huckle Cat, Lowly Worm, Fiona Cat, Doctor Lion, Mr. Frumble, Hilda Hippo, and so on.
The game comes with a six foot long game board (in three interlocking pieces), 4 movers, 4 mover bases, a spinner, 1 ferry tile, 10 magnifying glass tokens, 6 food tiles, 30 goldbug cards, 1 sand timer, and the rules manual.
For two to four players, Busytown Eye Found It! has players race around Busytown to search for hidden objects together. Drive through city streets, an activity filled farm, a busy airport, and a bustling harbor full of boats, all with cameos from the beloved characters!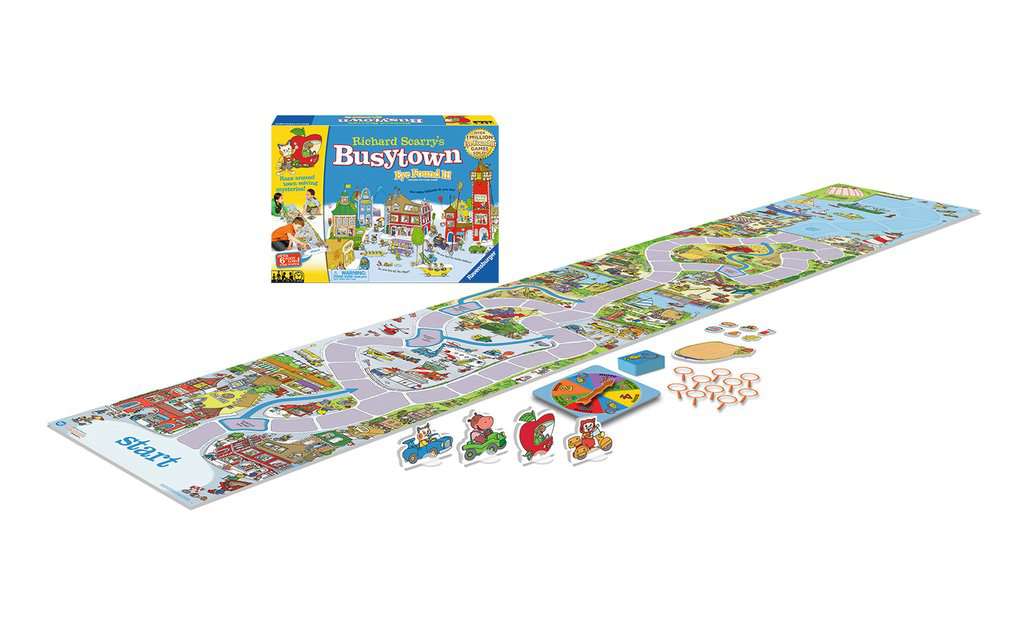 Gameplay is very simple which is great considering the audience. Each player gets a mover character and a base. Shuffle the 30 goldbug cards and place near the board while the food tiles are placed on Picnic Island. All players "drive" down the road to the ferry and onto Picnic Island and, throughout gameplay, help Goldbug find the hidden things in town to assist in the trip. There's over 100 objects hidden around town!
Within the time allotted by the timer, all players work to find the items as quickly as possible. however many are found equals the number of bonus moves each player gets before the next turn.
Let's be real, the game is for kids and thus very simple, but it's still fun because players have to work together to find the items and get to Picnic Island together. Only once they all arrive are players "done" playing and get to celebrate.
Since the board is so long, it allows everyone to spread out and really get involved at looking for the different items as prompted by Goldbug. A smaller board would force all the players together and make for a cramped area. And even if your kids or the kids in your life don't know Richard Scarry or his characters, the game is plenty of fun (even for adults!)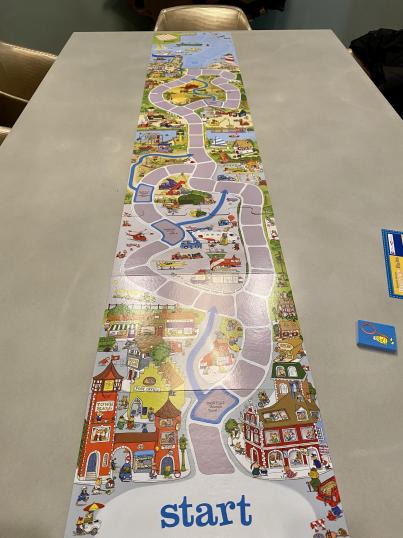 The only drawback to the board being so long is that you need the space for the board, and of course the players to navigate. If needed you can stagger the pieces next to one another to have the full board available but not take up quite as much floor or table space!
I had fun playing this with friends and am definitely going to conscript my younger cousins to play again soon.
You can pick up a copy at your FLGS or at Walmart!
Images and review copy courtesy of Ravensburger
Have strong thoughts about this piece you need to share? Or maybe there's something else on your mind you're wanting to talk about with fellow Fandomentals? Head on over to our Community server to join in the conversation!