With each successive Agatha Christie adaptation, Kenneth Branagh is growing bolder both in his visuals and the liberties of his adaptation. His latest, A Haunting in Venice, is less an adaptation and more "inspired," giving Branagh the freedom to indulge his cinematic idiosyncrasies and themes. The style is less a typical Poirot (Branagh) drawing room mystery and more of a gothic old dark house tale.
I loved it, flaws and all.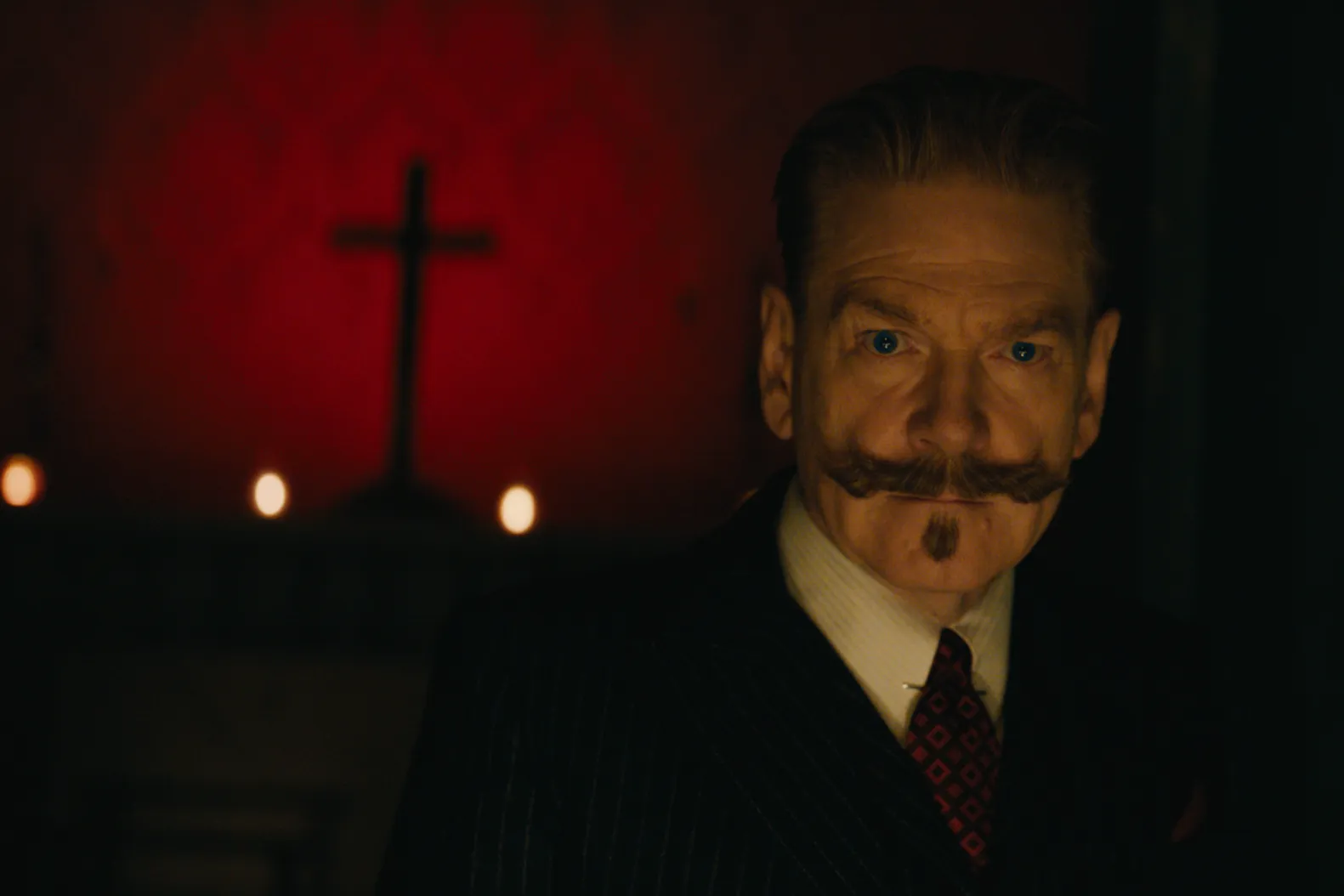 A Haunting in Venice is a spooky stylistic mediation of Poirot's belief in humanity and the idea of a soul. Oh, it's also about the weight of murder and how easily it is to confuse obsession with love and how both can corrupt. That Branagh and the script by Michael Green smuggle all of this under the guise of a spooky riff on a Chrsitie story makes it all the more delightful.
Like most Christie stories, A Haunting in Venice corrals a cast of characters of all classes, though usually the elites, and watch them dine and gossip about the poor victim. Branagh and Green have assembled a compact cast of characters; however, taking place mainly over one night in a single location, a crumbling abandoned orphanage gives the movie a sense of bated breath.
As with the other Brnaagh adaptations, there is a side-kick who can act as a go-between the fussy Belgian and the common folk. This time round, it's a long-time friend, or as close to one as Poirot can have Adriane Oliver (Tina Fey), a mystery author whose best-selling books are based on Poirot. The two share a fascinating relationship because each is responsible for the notoriety of the other. In the books, this role falls to Hastings, a man meant to be Poirot's Watson but comes off as so annoying and obtuse it feels like Chrsitie is punishing us for liking Poirot.
The main cast of characters: Rowena Drake (Kelly Reilly), a retired opera singer and grieving mother of Ashley who died under tragic and mysterious circumstances; Olga (Camille Cottin), Rowena's housekeeper; Maxime Geard (Kyle Allen), Ashley's gold-digging fiance, Dr. Leslie Ferrier (Jamie Dornan), the Drake's family physician, Vitale (Ricardo Scamarcio), Poirot's bodyguard, and of course the famed physic Joyce Reynolds (Michelle Yeoh). There's also Nicholas (Ali Kahn) and Desomona (Emma Laird), siblings who work for Yeoh's Joyce.
Of course, throughout A Haunting in Venice, we will uncover personal and professional secrets and explore buried traumas. Twists and turns, oh my! But what makes A Haunting in Venice is how Branagh has embraced style. Death on the Nile was filled with visual grandeur, sweeping overhead shots, and elegant glides across the room as characters entered and left. But with A Haunting in Venice, Branagh and DP Haris Zambarloukos have opted for exaggerated angles, dolly shots, and extreme static shots mixed with Lucy Donaldson's quick-fire editing.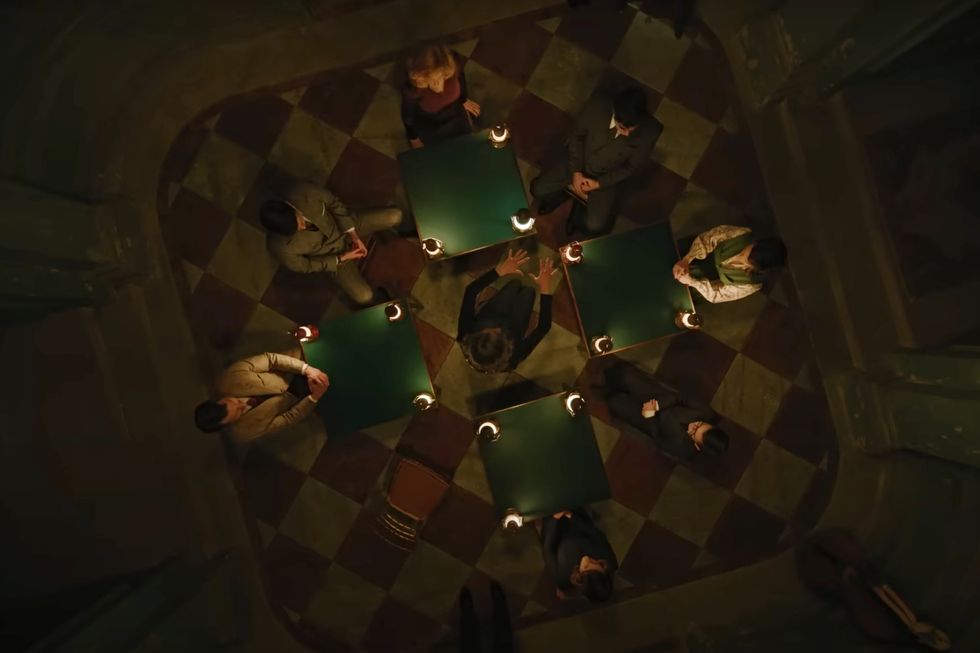 Zambarkloukos has shot all three of Branagh Poirot's movies, each with its distinct flavor. Yet, A Haunting in Venice feels even more stylized than the previous two, more idiosyncratic, as Brnagh uses Zambarkloukos to heighten the mood and explore Poirot's state's turmoil and restlessness. Cut off from the world, the great detective no longer solves cases and has only reluctantly agreed to come to Rowena's party because Adrienne wants him to debunk the great psychic Joyce Reynolds.
Green's script, however, isn't the best. He's also adapted every one of Branagh's Poirot's. He suits Branagh's theatrical flair but struggles to juggle multiple ideas. Branagh uses Green's story to give himself and Zambarkloukos more freedom. The result is that A Haunting in Venice is a joy to behold but feels at times as if it doesn't quite know where to go next. This is also because Green's adaptation is the first in the trilogy to go so far afield from the source material, reminding us how easy Christie makes it look.
For all the visual mastery on display, it's a pity Hildur Guonadottir's score plays it so safe. At times, it feels as if Branagh and Zambarkloukos's camera work is so frenetic that Guonadottir's score struggles to keep up. It feels subdued, too restrained, compared to the vibrant acrobatics of Branagh and Zambarkloukos. One scene is a tour-de-force of Donaldsona's editing and Zambarkloukos's camera, involving Poirot discovering a secret passageway that feels almost anti-climatic because of Guonadottir's score. 
Perhaps that's the point. Branagh attempts to build tension and then denies us a release, like the characters trapped inside the orphanage. Trapped, with the walls closing in, sunrise close but so far away, and no idea if they will make it out alive. 
The cast is uniformly good, especially the young boy Leopold (Jude Hill), Dr. Ferrier's precious child. Under Branagh's direction, he is neither cloying nor pretentious. Hill's Leopold strikes the right note of a precocious boy without appearing overly cute or grating. 
Yeoh is, as per usual, a pleasure to watch. Yeoh's Joyce is enigmatic and compelling, playing with our perceptions as we decipher whether she is a real psychic or a charlatan. The game is fun, but Branagh wisely doesn't play it for too long.
Much will be written about Fey, and it's all deserved. But I quite loved Reilly's obsessed and despondent Rowena. A magnetic presence, Reilly is given a lot to chew on, and she doesn't leave any meat on the bone. For as much as Fey has the unglamorous job of playing second fiddle while moving the plot along, Reilly does a maestro's job of keeping us wondering just how tethered to reality Rowena is.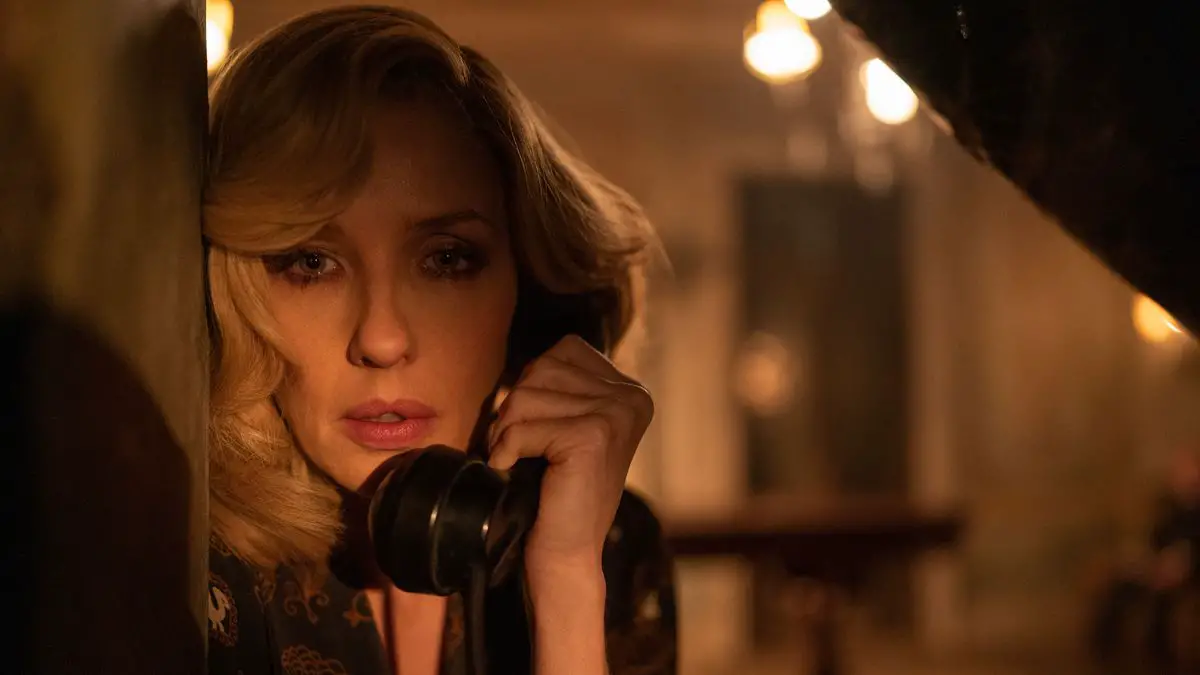 With each Poirot movie, Branagh finds a new layer of melancholy to explore, and it somehow never gets old. His Poirot is a tragic figure, which fits Branagh's brand of Shakespearean theatre. Though as much as I admire the poetic loneliness he finds in every character, I do miss the joy of Poirot ripping into the upper classes and confronting them with their awful and silly lies to throw him off the track. Surely, a movie that contains both is possible?
Images courtesy fo 20th Century Studios
Have strong thoughts about this piece you need to share? Or maybe there's something else on your mind you're wanting to talk about with fellow Fandomentals? Head on over to our Community server to join in the conversation!