I grabbed this book from the library as soon as it was available because I am on a mission to read all of the modern Indian diaspora representation currently being published. Upon finishing it, I realized I wanted to shout from the rooftops that if you're into fantasy, you should read this. I'm going to wander into the land of spoilers briefly (won't ruin the novel, but explain more my opinions), but skip paragraph 8 if you want this review to remain spoiler free.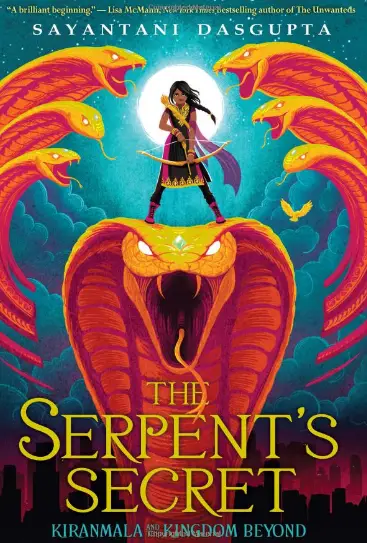 But first, a summary: On the morning of her 12th birthday, Kiranmala finds her parents gone, with only a map left to find them. The stories her parents have told her are true, she really is an Indian princess, and a Rakkosh demon has kidnapped her parents to another dimension. Kiran is brought to the other world by two princes to rescue them, and along the way, battles demons, solves riddles, and finds that everything is so much more complicated than she ever could have imagined.
This is a middle grade novel written by one of the team members from We Need Diverse Books; the initiative started in 2014 to bring the issues of a lack of diversity in publishing to the forefront. While strides have been made over the last four years, and there is still a long way to go, without that initiative, I don't think this book would be in my hands right now.
This book is fantasy rooted in folklore, and while I didn't grow up with these stories (I am two generations removed from India itself, and am not Bengali), I felt the tug of familiarity towards my culture, toward a childhood of dressing up as an Indian princess for Halloween and eating Indian sweets. This book struck a cord in me for that.
Fantasy wise, where does this book stand?
There is a moment in the book where Kiran says "curiouser and curiouser," regarding a fantastical creature, which of course, transported me towards Alice's Adventures in Wonderland. But further still, as I read deeper into the book, I was reminded more of Spirited Away, the Studio Ghibli film from 2001.
The family dynamics, the transportation between realms, the rescue of parents all lead me to Spirited Away. Now of course this book is different, drawing on different folklore and legend, but so many of the notes reminded me in the most positive way of Spirited Away. From the portal from New Jersey to the other dimension, to the customs she must pass through and pass riddles, through the travel and filling her pockets with rubies to fooling the prince's grandmother into passage to another island, reading through this transfixes you like an old school Ghibli film.
Kiran, throughout this book, is handed more information about who she really is. Primarily how her parents found her floating down the river and how she is the daughter of the moon and a Rakkosh demon. She herself is a half-demon princess, and this adds an additional layer to the story as she wrestles with the language of adoption. Kiran is also, through the beginning of the novel, working through the usual mocking Indian kids go through from their classmates for their culture. The way this book balances the fantasy/folklore vs. being a real kid is done artfully, and Dasgupta does an excellent job of making sure first and foremost, the people experiencing the fantasy are having real human emotions about what they're working through.
There are a ton of threads picked up in this book, far too many to talk through in a review without spoiling half the book. But this book is self-contained and the first of a series. Read this book with your kids or little cousins, or on your own, because it's damn good and needs more hype. Is this the next Harry Potter? No, but it's something else on its own entirely, and that's what makes it magic.
---
Images Courtesy of Scholastic Press