Funko wasn't the only big company jumping onto the board game train. Bicycle, the venerable makers of playing cards and playing card accessories, have decided to enter the board game industry with three brand new board games, the first in their "Games by Bicycle" line.  I had a chance to check out all three at GenCon, as well as meet a couple of the designers. The stated goal of the line is it develop fun party games that have unique twists to them that help them stand out. The first two, It's Blunderful and Shuffle Grand Prix, are currently out, while the third, Tattoo Brawl, won't be out until October.
Retail Price: $24.99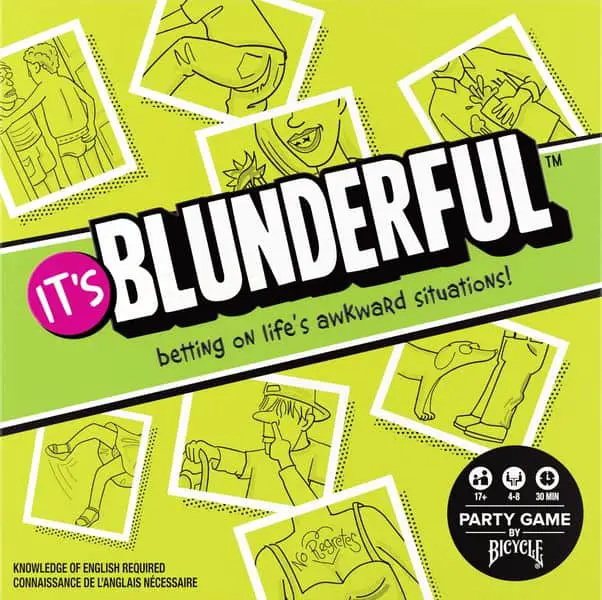 It's Blunderful is, at first blush, another party game focusing on weird situations and knowledge of the people you're playing with. But it actually plays in a fairly unique way that is not only fun, but also doesn't require intimate knowledge of your opponents like other party games might.
One player draws a card which has a situation on it and three possible responses. The rest of the players then take one of their cards, A, B, or C, and place it beside their point board to "bet" on which response they think the reader would have to the situation. This betting mechanic, which can earn you points or lose you points, was something Bicycle wanted to include as a bit of a nod at some of the more common games played with their cards. The game caps out at fifteen points as well, meaning that the game won't go on forever like other party games often do.
Despite the 17+ age rating, it's not a dirty game. The situations included in the game are awkward and relatable to anyone, designed so that you could play the game "with your grandma" and still have a good time.
Shuffle Grand Prix
The other debut was Shuffle Grand Prix is a bit different from their other two offerings in that it's not a party game. While it is fast and incredibly fun, it's actually meant to be a family friendly "gateway game" of light strategy. Its designer actually began work on it as a video game, before deciding it would be even more fun out here in meatspace. It's a deckbuilder of sorts, with each player getting their own character and deck to use. The character's all have unique personalities and gimmicks that help them along. There's Mae the Scientist (with her trusty salamander), Noodle the Cat (and his box car), and more!
The players race around and try to gain speed while slowing down their fellow drivers. But they have to be careful of the other drivers trying to slow them down at the same time. Extremely fun and colorful, with art straight out of a Saturday morning cartoon, Shuffle Grand Prix is like if Wacky Races were a card game and it feels as hectic and wild as it looks.
Tattoo Stories
Release: October 2019
Not releasing until fall, Tattoo Stories is a really neat party game that combines storytelling with drawing to "simulate" the experience of creating a tattoo. Each turn, a player (the "customer") is given five "subjects" that they want included in a tattoo. The other players (the "artists") then all must design a tattoo around those subjects. But the "customer" doesn't need multiple versions of the same tattoo, so the "artists" have to vie for their business. This takes the form of questions about the subjects, asking for more specificity or a glimpse at the customer's tastes. It's then up to the customer to think on their feet and come up with wild and wacky reasons why they might, for instance, want a ballerina with a moustache as a tattoo.
The subject cards are then doled out by the customer to whomever captured that subject the best, and the winner is the one at the end of the game with the most points. The game is played out on white boards, but there's a twist with them: since you're designing a tattoo, you can't change your design as you go. It's permanent. It's a really fun game that combines a lot of the best parts of other party games, and I can't wait until it comes out.
You can currently pick up Shuffle Grand Prix and It's Blunderful on Amazon, as well as at many local game stores. And keep an eye here for more coverage of Games By Bicycle including reviews of their newest games and interviews with the creative masterminds behind them!
All Images via Bicycle