Blockbuster Returns is the sequel and expansion to Big Potato Games' Blockbuster, the board game version of Heads Up! except with only movies and less phone flipping.
Filled with all the best movies from the last 10 years, the game opens with a movie buzzer battle where players fire movie titles back and forth. Then they race to describe, quote, and act out different movies in order to win the game.
Big Potato Games kindly provided a copy for us in return for a fair review and I can tell you that this game is very fun, and even playable on a video call! Which is great because playing this outside would be a) awful if it's windy and b) rude to the neighbors.
What's in the box?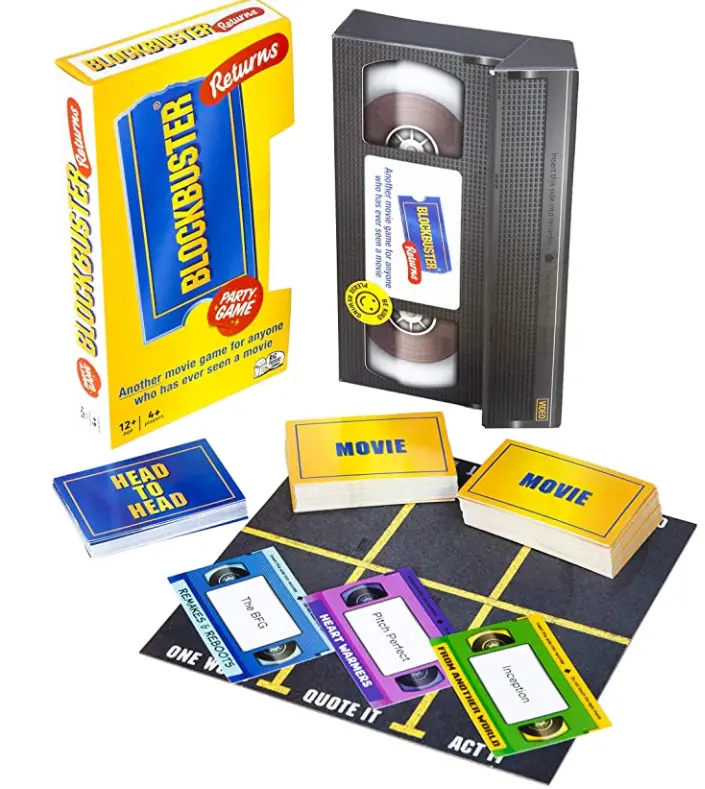 Most charming about this game and its predecessor is that the box is shaped and designed to look like an old VHS. Inside comes a board for the two teams to use when playing, 30 Head to Head cards with prompts for the players, and 100 movie cards in four categories. The board is very sturdy and the cards too should hold up even after numerous plays. The game takes up little space, which is always a plus in my book!
Not for Kids, From Another World, Remakes/Reboots, and Heart Warmers are categories that provide enough variety for even the most movie averse and movie obsessed.
How does it play?
Blockbuster Returns' instructions are really simple, which is precisely what you want from a party game. Players split into teams and face off in head to head battles where they play in fifteen second rounds using the Big Potato app (though you could just use your own timer).
A head to head card is revealed and a player from each team race to name a movie in that category like movies with boats. Whoever gets it first taps the timer which lets their opponent shout out a movie and hit the timer before the 15 seconds are up, going back and forth until the timer ends.
Next the winner draws six movie cards and secretly looks at them, giving three of the hardest cards to their opponent and keeping the easiest three. Each team gets 30 seconds to get their team to guess each movie using one of the methods below.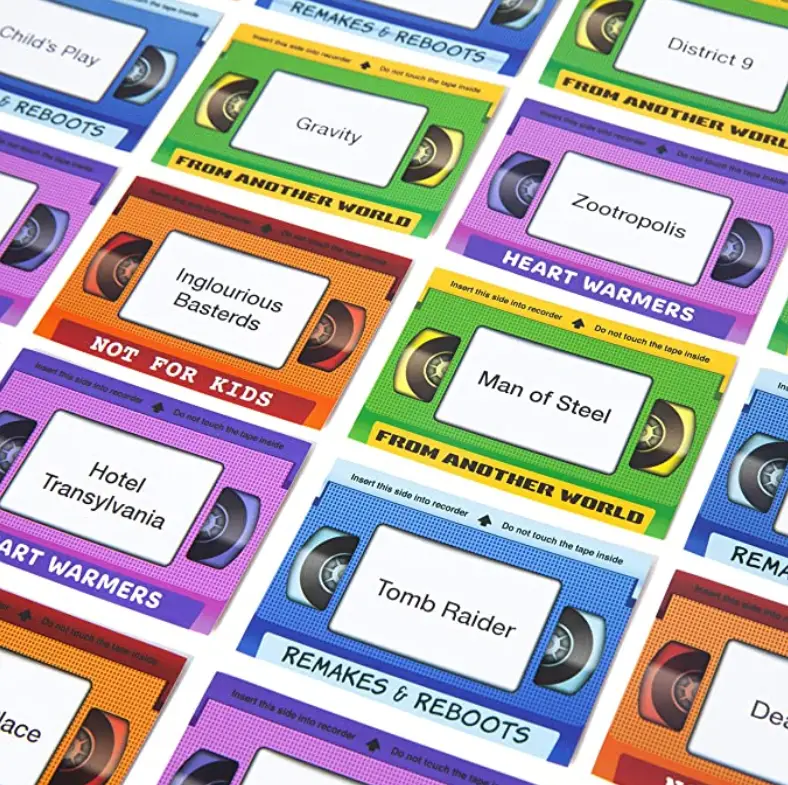 One word: Describe the movie to your team using one carefully chosen word. Feel free to repeat until you're blue in the face.
Quote it: Describe the movie to your team by shouting out a quote. If you don't know one, make it up.
Act it: Channel your inner De Niro and act out the movie to your team. No talking allowed.
When the time's up, they add all the Movie Cards they've won to their collection. Now it's the other team's turn. The player who lost the Head-to-Head Round must describe their own cards and if they do, can steal any remaining cards left.
The first team to successfully collect two movies from each of the four genres wins the game!
The Verdict?
Since we just wrote about party games that don't need a party, I have to admit that Blockbuster Returns too fits this category, and unlike the games on that list, this one can be played on a video call! Since neither player ever sees the others' cards, it was easy to hold up the movie category cards when my friends won, and when I won, well no one needed to see the cards!
Of course yelling over video is doubly as chaotic as yelling out movie names in person but it was still super fun and allowed my friends from all over to play. Honestly more board games should be made on purpose to be playable through a video call regardless of the pandemic. Plenty of people don't leave their homes for whatever reason and getting to play with friends from all over is super nice.
Blockbuster Returns is available at Target and Amazon for $12.99, a great value for the game and how many plays you can get out of it.
[rwp_box id="0″]
Images and game courtesy of Big Potato Games
Have strong thoughts about this piece you need to share? Or maybe there's something else on your mind you're wanting to talk about with fellow Fandomentals? Head on over to our Community server to join in the conversation!