CN: Uncensored cattiness
Hello everyone and welcome back to one of the most unhinged times of the year for X-Men fans: The Hellfire Gala! Going on our third year we have a good idea of what we can expect from Krakoa's Merry Mutants and their superhero guests: fashion that causes equal amounts of gasps and groans. In fact I think we may have more looks this year than ever before! But not all of those are the serves their wearers think they are, and Will and Dan are back to give you their takes on the looks set to debut in tomorrow's X-Men Hellfire Gala #1.
The Fabs
Tempus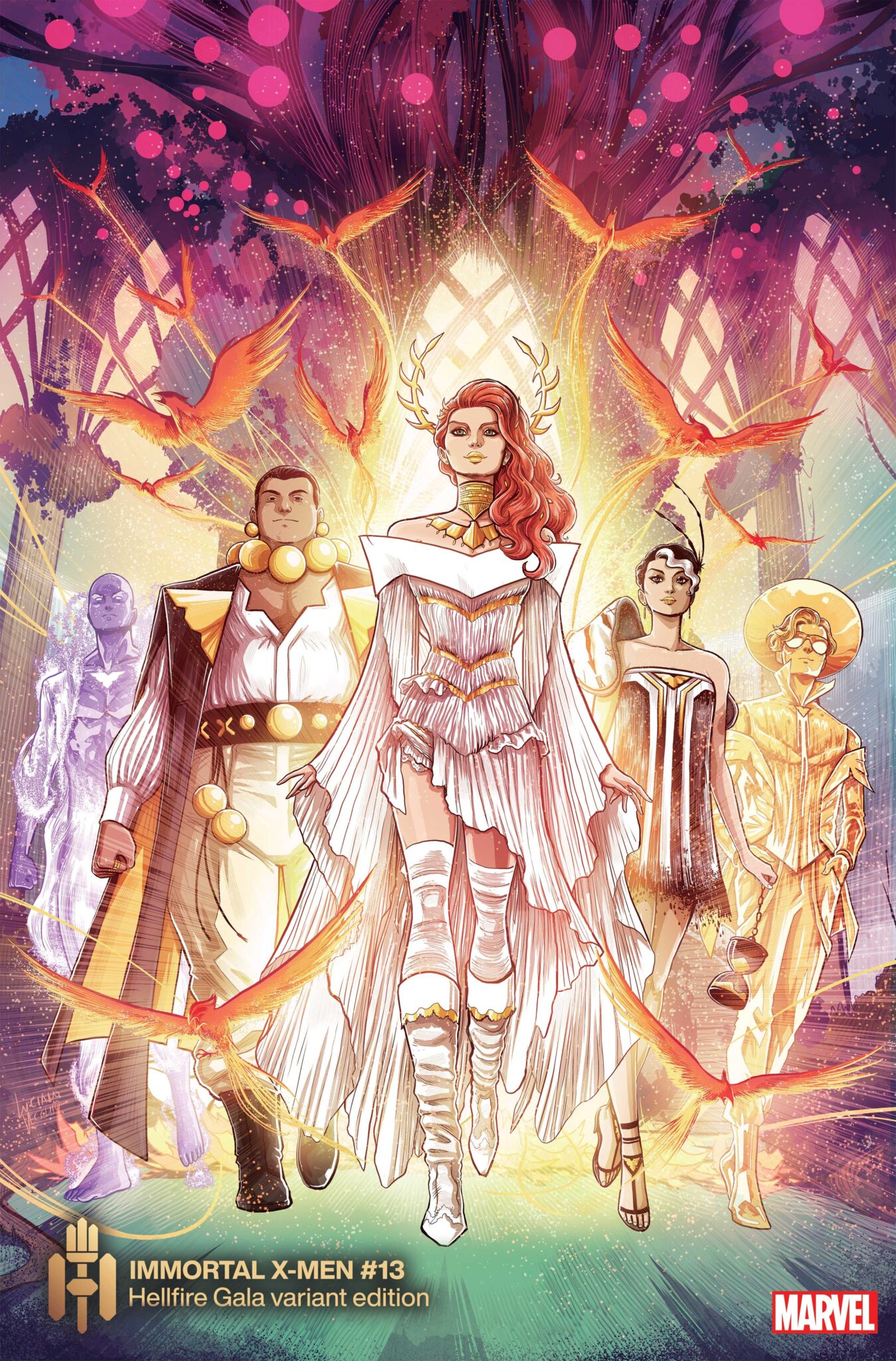 Will: Eva Bell the ultimate dark horse for my number one best dressed. I cannot stop staring at her dress and her whole look. At first glance it seems like a pretty plain flapper-inspired dress and headpiece. At closer glance the strap of her dress is a Dali-inspired melting clock and the headpiece are the hands of a clock. She's holding an hourglass as a purse! I'm obsessed with the art deco inspired pattern to her dress and the dark makeup giving her a more vintage look. I wonder who's idea it was for the Five to all serve this hard but Luciano Vecchio knocked it out of the park.
Dan: I'll be the first to complain about some of Vecchio's choices but he's a hell of a costume designer. Will had three of the five in her top 10 and I just couldn't dispute it because they're all serving. Tempus is 100% the best one of the lot thanks to the sheer commitment to her theme and a level of accessorizing that we unfortunately rarely see at this event.
Hope Summers
Will:It's no secret that Hope is everything Jean thinks she is, and this dress is no exception. The draped massive sleeves and the headpiece are giving angelic vibes, perfect for the mutant Messiah. Her huge gold jewelry contrasting with the delicate pleated fabric is visually striking and gorgeous. She looks like she could take flight at any moment and just float away. 
Dan: This really is the perfect look for her and a complete mogging of Jean. The fabric gives off both the angelic vibe but emphasizes the almost goddess-like place she has for so many mutants. The whole thing smacks strongly of Artemis and I think that's the perfect embodiment of who Hope is.
Elixir
Will: Yes, our top three are all members of the Five. I wasn't anticipating loving all their looks so much but I feel like all of them really played into a unique aesthetic as well as utilizing or paying homage to their powers. We've seen gala attempts of a bolo tie look before but it did not match up to this in the slightest. The wide brimmed hat and sunglasses add some cool factor and the head to toe gold is just incredible.
Dan: Elixir has been lazy in the past since he's got gold skin, but this year he really showed out along with his fellow Five. He seems to be pulling off effortlessly the same type of look Iceman (more on him latter) is failing at.
Miles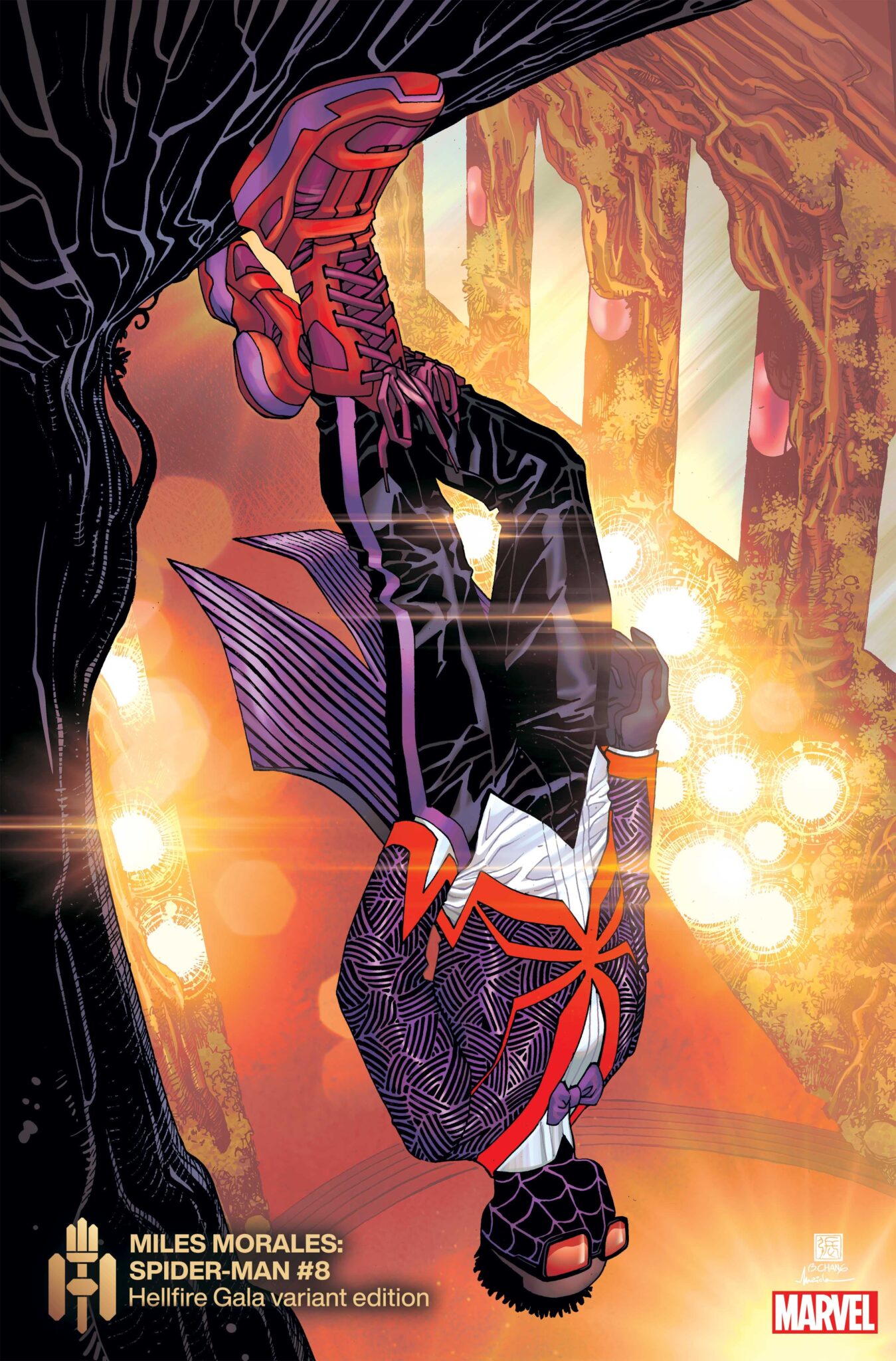 Will: You could say that this is just a variation of a suit and while you would be correct, it is done much better than the other such variations we have seen on this list. The sneakers and pants fit his character so well and the spider-inspired lapels of the jacket are amazing. My one nitpick is on the cover; it seems as though the tails of his jacket are defying gravity. Maybe that's a feature. 
Dan: Gravity is no match for fashion! One thing I always use as a yardstick for male fashion is: "Would John Boyega wear this." And this is right out of the expert playbook thanks to fantastic use of colors that evoke his costume without copying it directly. The single button spider is an inspired design choice I'm surprised we've not seen on other Spider suit jackets.
Kate Pryde/ShadowKat
Will: Being in the top 10 in a best dressed list is an odd place to find Kate but from the first time I saw this look it's been one of my favorites. The ruffles and epaulettes give homage to her recent pirate inspired look and the overall leotard-esque cut of the shorts and vest bring back nods to her earlier costumes. She had to have had assistance with this because we know she would never dress this well on her own. 
Dan: Famous fashion victim Kate really blew me away with this Gothic Lolita-type look that brings in her eternal pirate vibes in a way that doesn't scream "Disneyland." The nails, the umbrella, the bustle. It's all on point.
Hellcat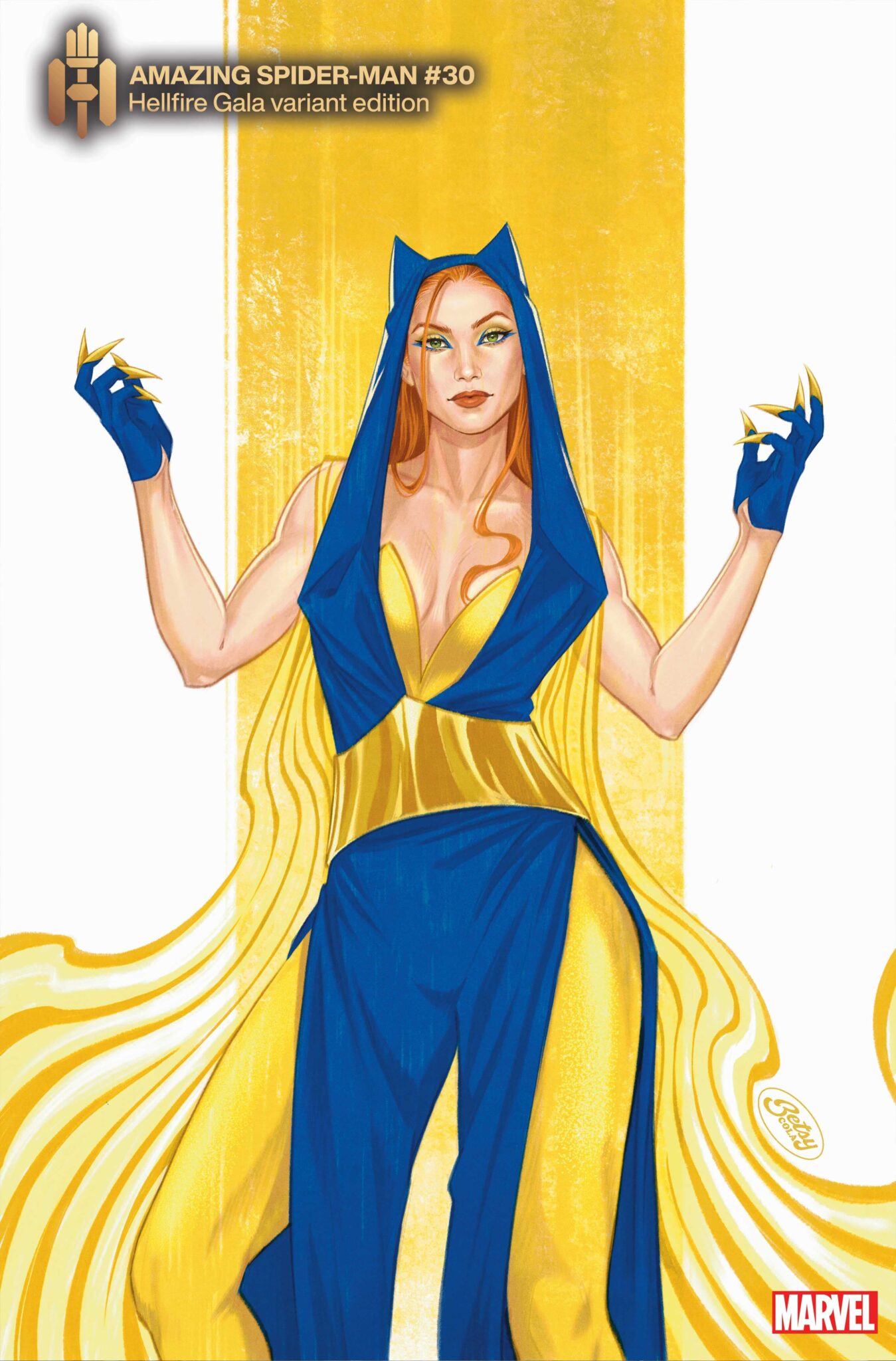 Willl: This was the highest I could put this look in good conscience. I love it personally but objectively there are much better looks. It shows Patsy's character and still adds elements of interest. It's one of my favorite looks this year.
Dan: This was actually one of the ones I insisted make the top 10 because Patsy found a way to do a relatively simple costume in a way that isn't boring as hell (looking at you Ms. Watson).
Captain Marvel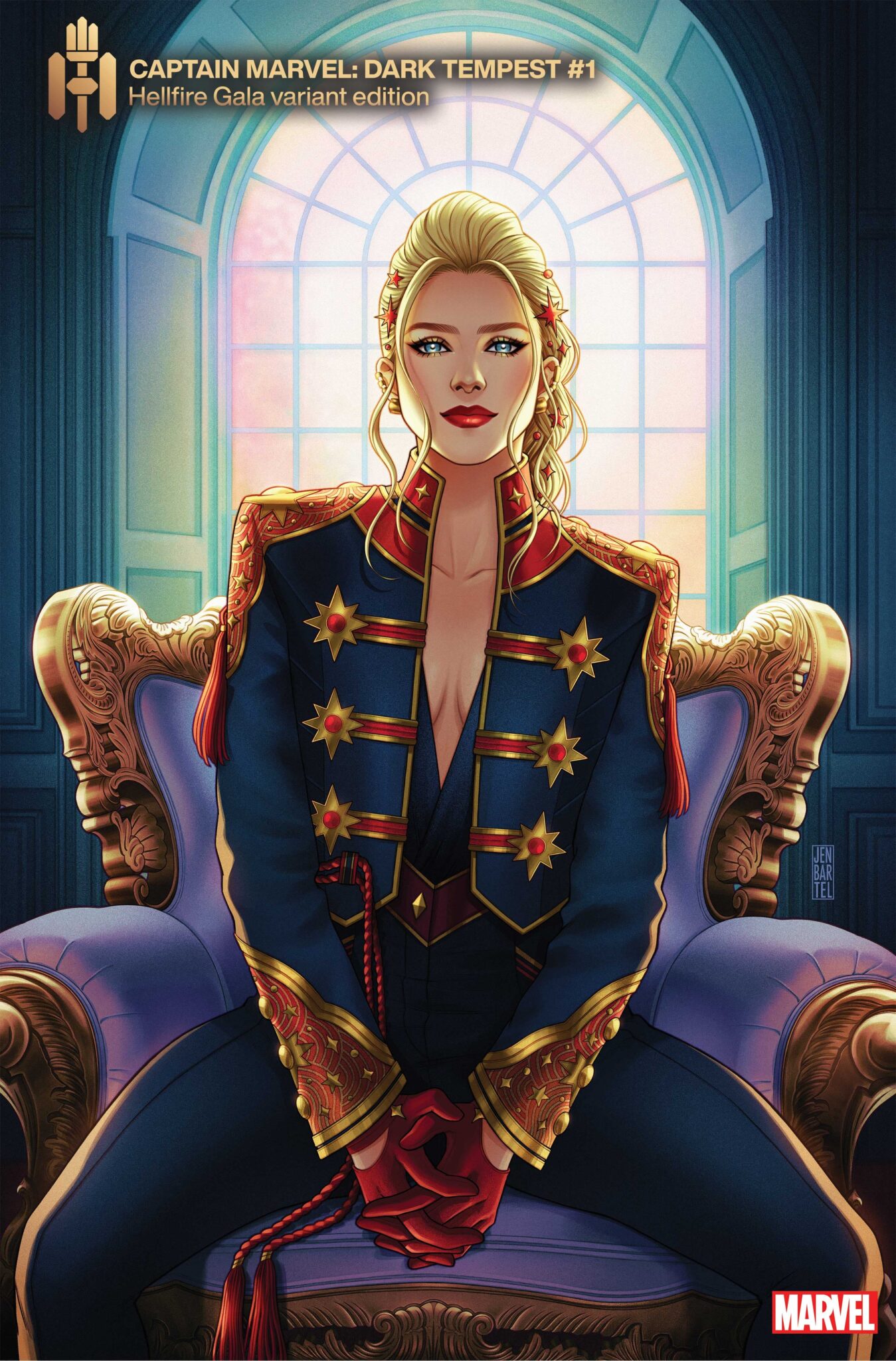 Will: Look I'm gay and she's hot. The military inspired jacket and gold accents look incredible and the gloves and hair just add to it. 
Dan: I can't dispute Will's logic here. I'll say this one does pull off Military Chic in a way that her past looks have tried and failed to do.
Kwannon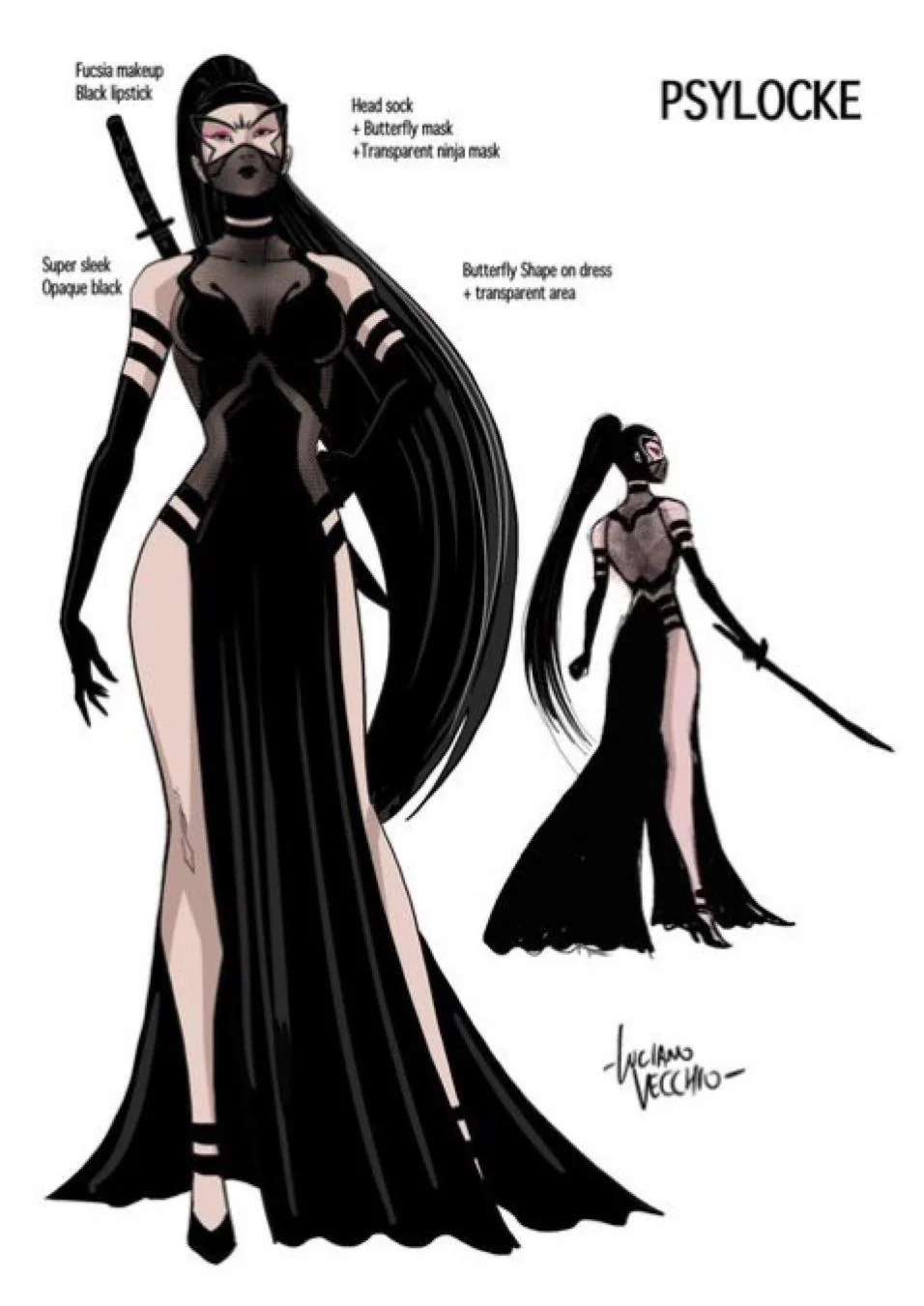 Will:THIS is how you do a simpler look but make it interesting. It's sexy in the typical "Psylocke" manner but there is NO way you could mistake her for Betsy. This is a Kwannon look through and through with the mesh and the mask and the swords. She's so hot I'm obsessed.
Dan: It's nice to see a Psylocke look that is both elegant and straight off a pinup, rather than going too far in either direction.
Emma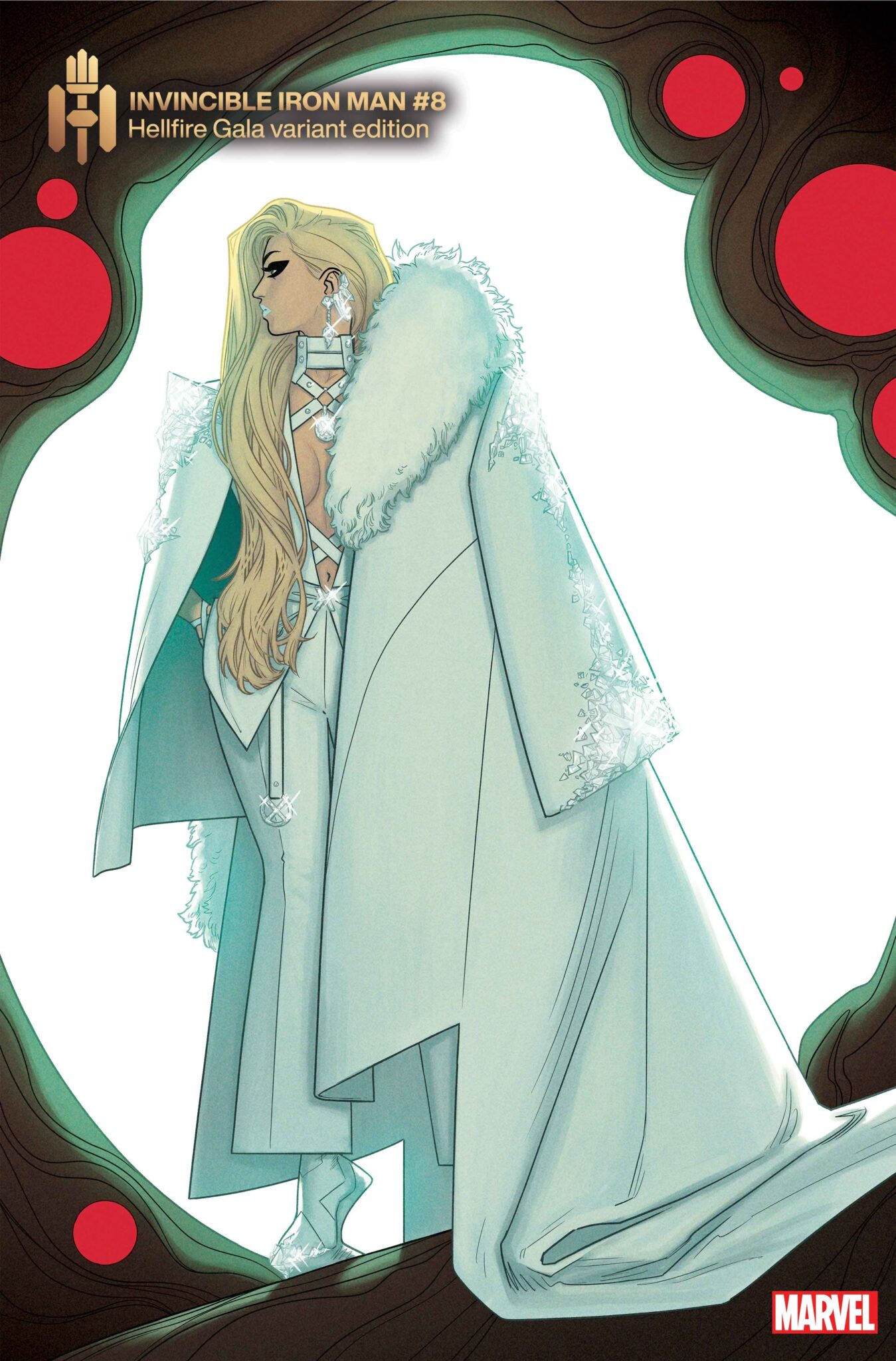 Will: I was initially underwhelmed by Emma's look. The big diamond encrusted coat is amazing but I think it takes away from the intricacy of the harness and pantsuit. Kris Anka has had a banner year for designs (Editorial Note: He did a lot of designs for Into The Spiderverse) and this is no exception.
Dan: Emma almost always makes my Top 10 every year since she's been dressing like this since her first appearence. She makes the mistake a lot of the mutants and heroes make by adding that big coat over her strappy look (though she's rocked a big coat every year). And I again question how comfortable this is in the middle of Krakoan summer.
Exodus
Will: Unlike a lot of others on this list, this look almost has too much going on. The re-structured headpiece from his usual cape and the colors are nice. Love the exposed midriff but overall a bit busy.
Dan: Look, I just appreciate that SOMEONE is trying. And if that means he looks like some sort of gay technopriest then that's what he looks like.
The Flops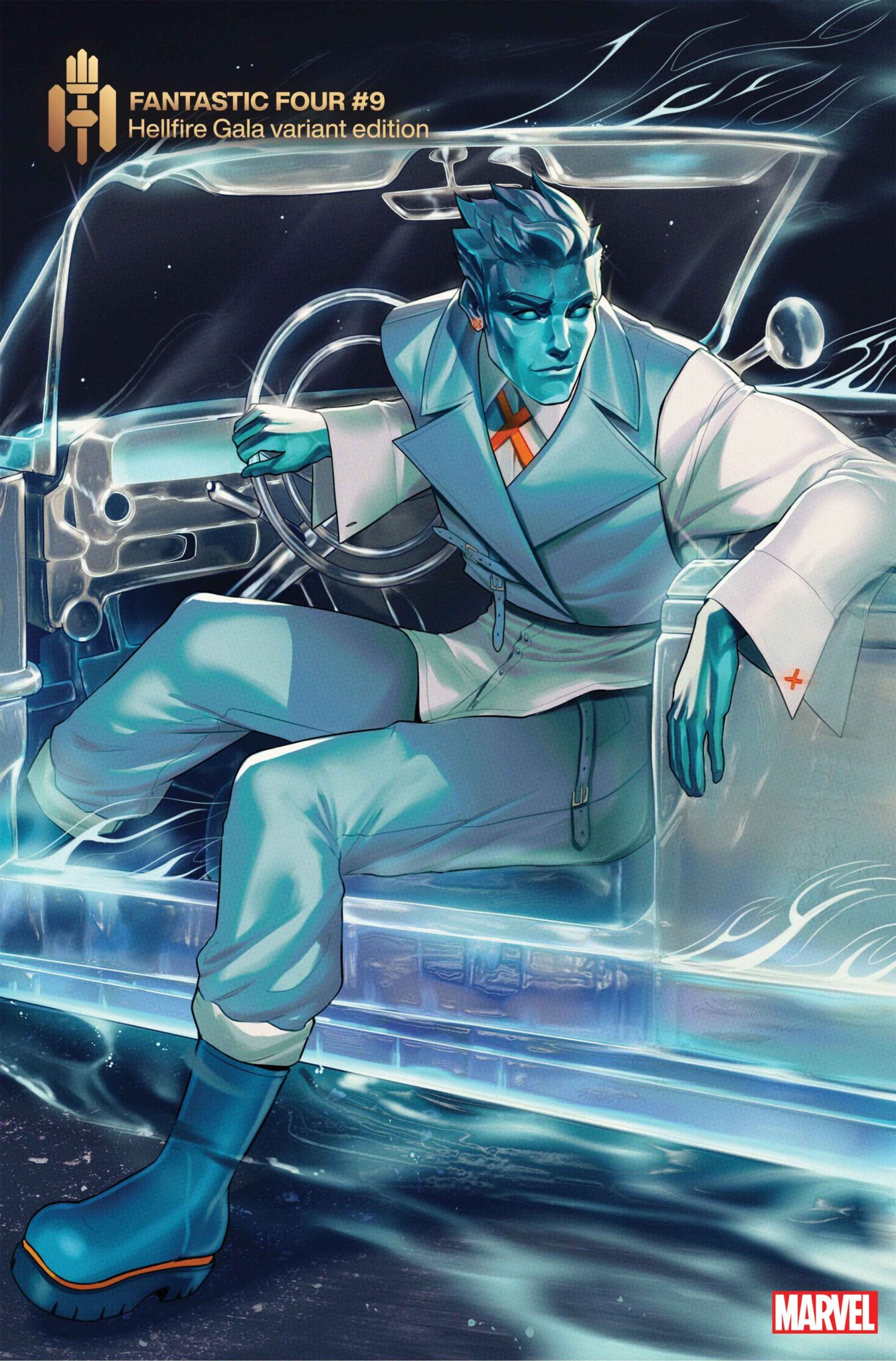 Iceman
Will:Look, we all know by now that Bobby is a boring gay. He pushed the limits the first year with that skirt-inspired number and it looked bad so he sticks to what he knows. Not bad but nothing incredible. 
Dan: Look the outfit is weird enough but the art they chose for his cover just emphasizes how much he looks like a valet. Do I want to flirt with him or just hand him a tip? And platform boots? I know he's 5'8 but you'd think an Omega would have a little more confidence.
Talon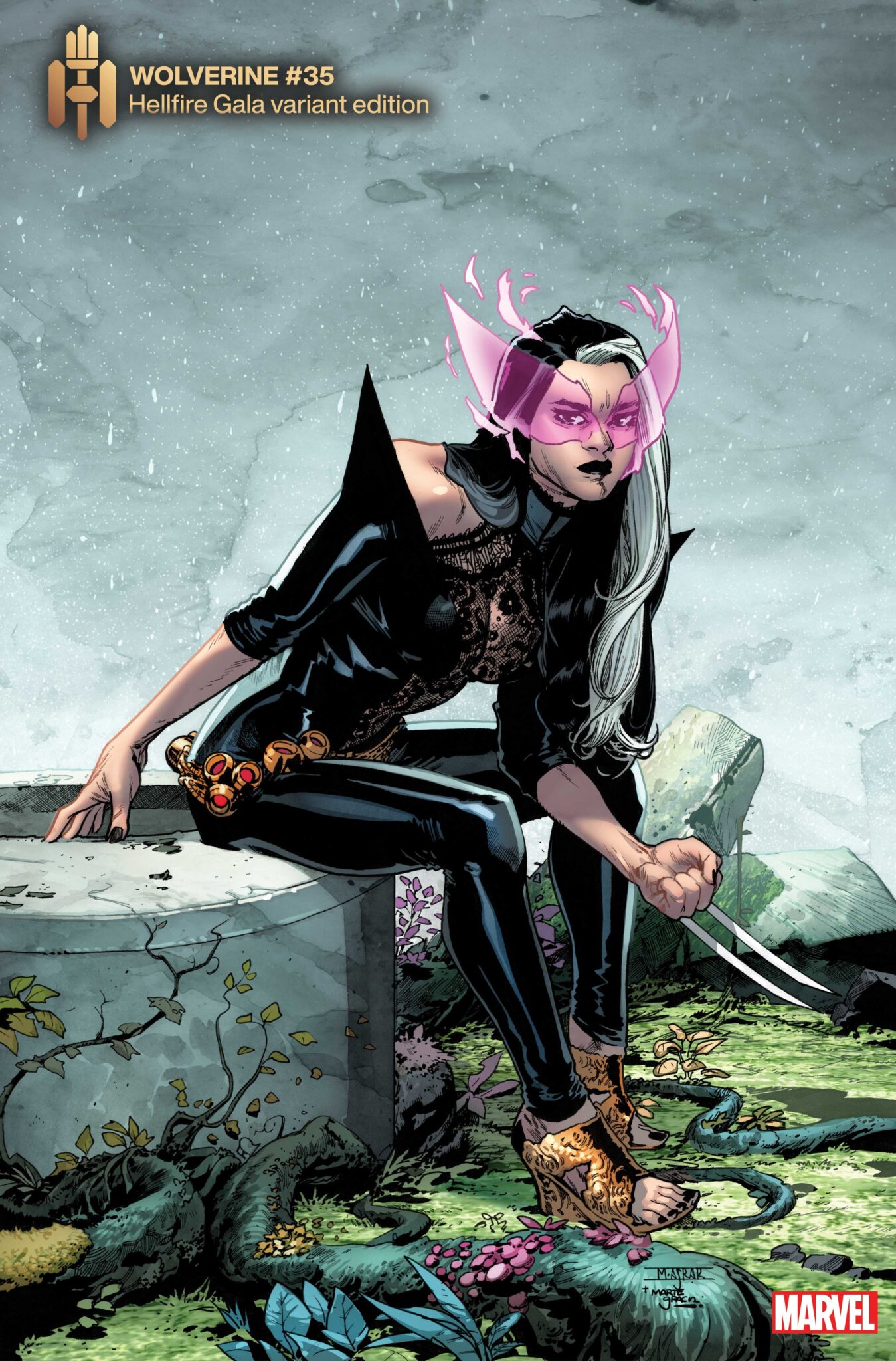 Will:At first I didn't hate it. I love when Laura gets a more goth-y look and this felt like that direction. But then I realized she is matching with Synch and now I hate it. I hate everything about that couple and matching costumes is too far for me. Trash. Disaster. 
Dan: I may already be the Founder and President of the Talon Haters Society, but this is such a wack go for a couples costume. Like she and Everett need to get overthemselves if they think they're some sort of hot "It" couple that can pull off boring looks like this. The real Laura is able to pull off some really strong looks incorporating her own flair with the traditional Wolverine-style, not this Selene Wannabe nonsense. And why does she have Psylocke goggles?
MJ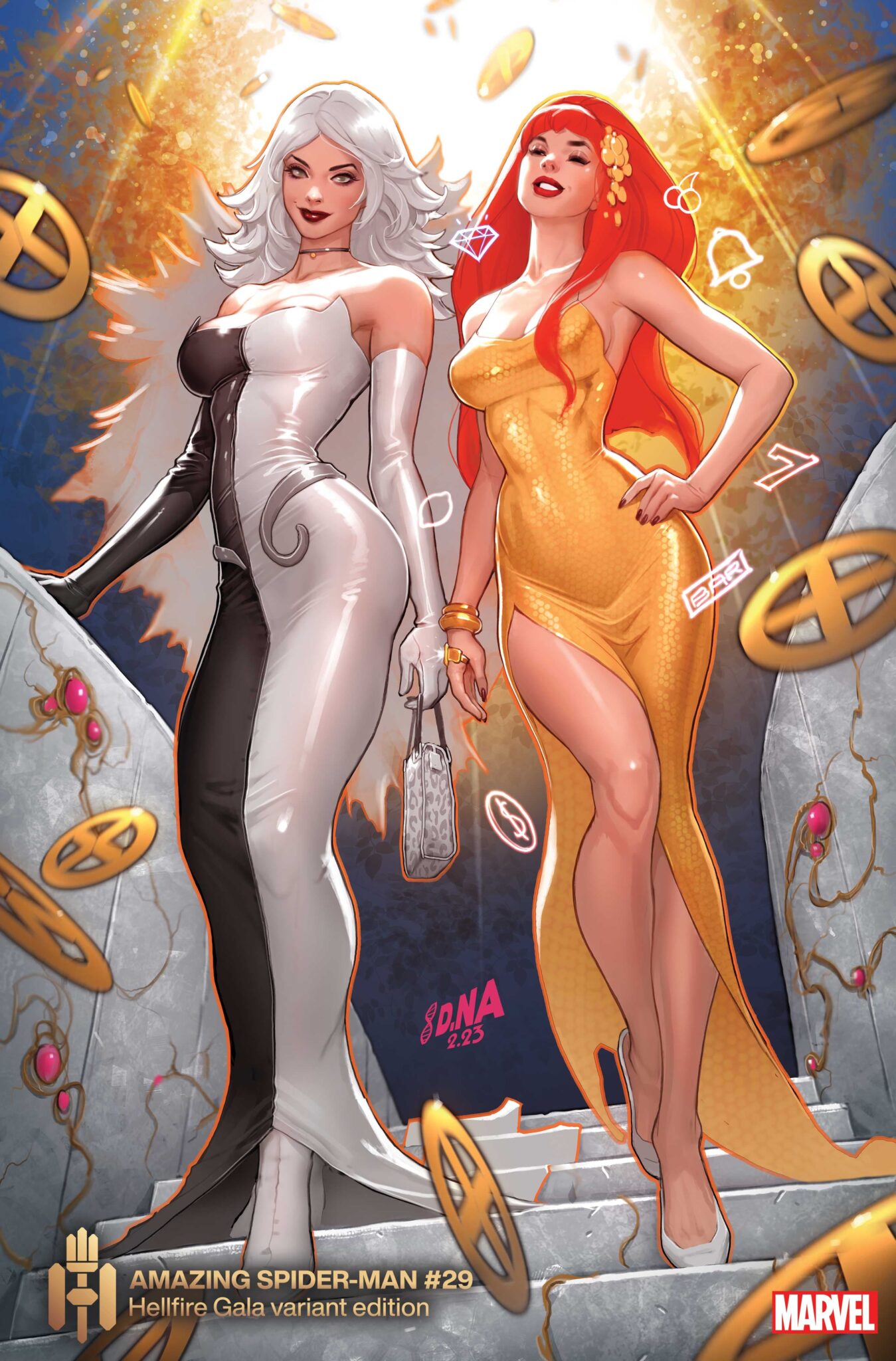 Will: This is just so plain and boring, MJ has better looks than this on any given tuesday.
Dan: For God's sake you're supposed to be a fashion model! Not a generic hot person like most of the heroes, an actual fashion model who knows how to look daring. Maybe too much time getting imaginary husband dick in the flop dimension through off her sense of style.
Black Cat
Will: I appreciate the commitment to a theme especially when the theme is cats. But like most of the others before her on this list, she could do much better.
Dan: While the hair and split make her look like Harvey Dent's girlfriend, she's at least trying harder than MJ.
Hallow's Eve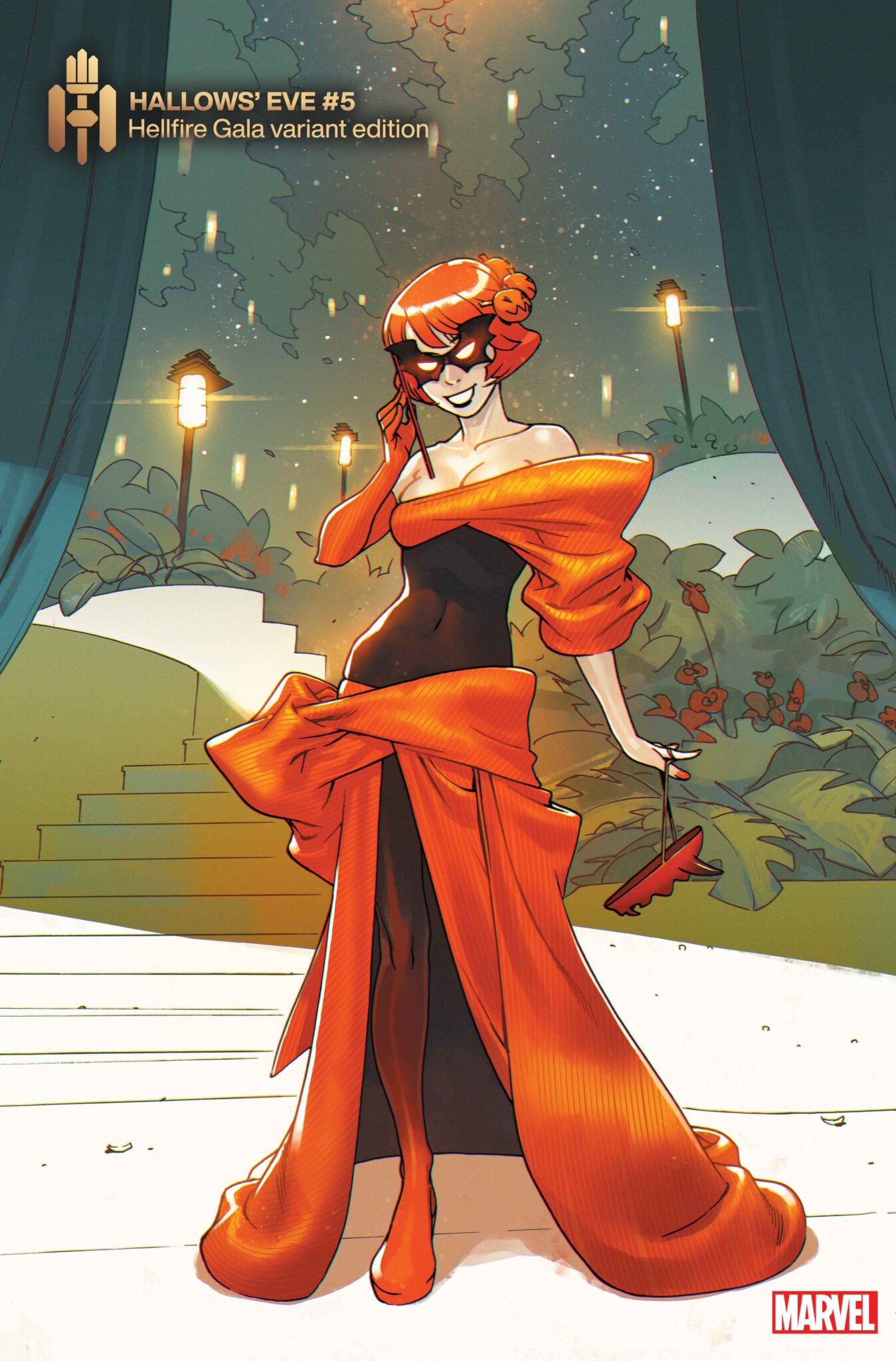 Will: I have no clue who this girlypop is and I think she did try her best but it is just not enough to get higher on this list.
Dan: A Halloween themed supervillain (hero?) and the best you can do is a boring mid-century dress? And two cheap masks? Kingpin showed up to the gala in a proper *look* and his entire gimmick is "fat guy who does crime." Try harder, Miss Eve.
Nova/Vision/Synch/Thor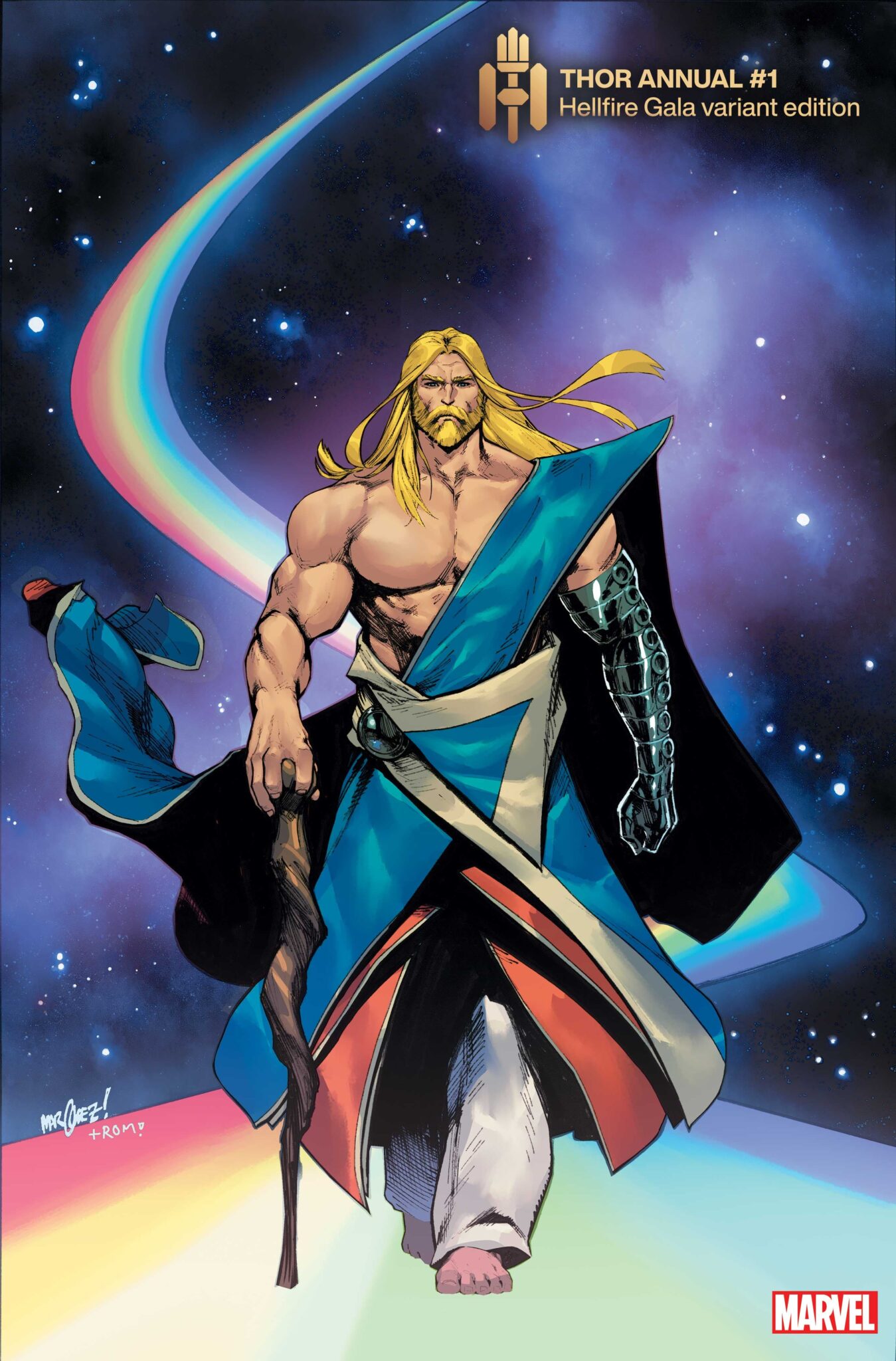 Dan: I put these four together because all four of them took the absolute wrong approach to the Gala. Taking your shirt off under your boring-ass suit does not count as effort, nor does draping an old bed sheet around you. I know you all work very hard for that physique (except maybe Synch) but you must show some effort.
Will: I always support a tits out moment at the gala but this just lacked any excitement. Take your helmet off. Let your hair down. I know Viv is fighting for her life in the Champions group chat with her dad looking like this in public. This is a GALA not a toga party.
Moon Knight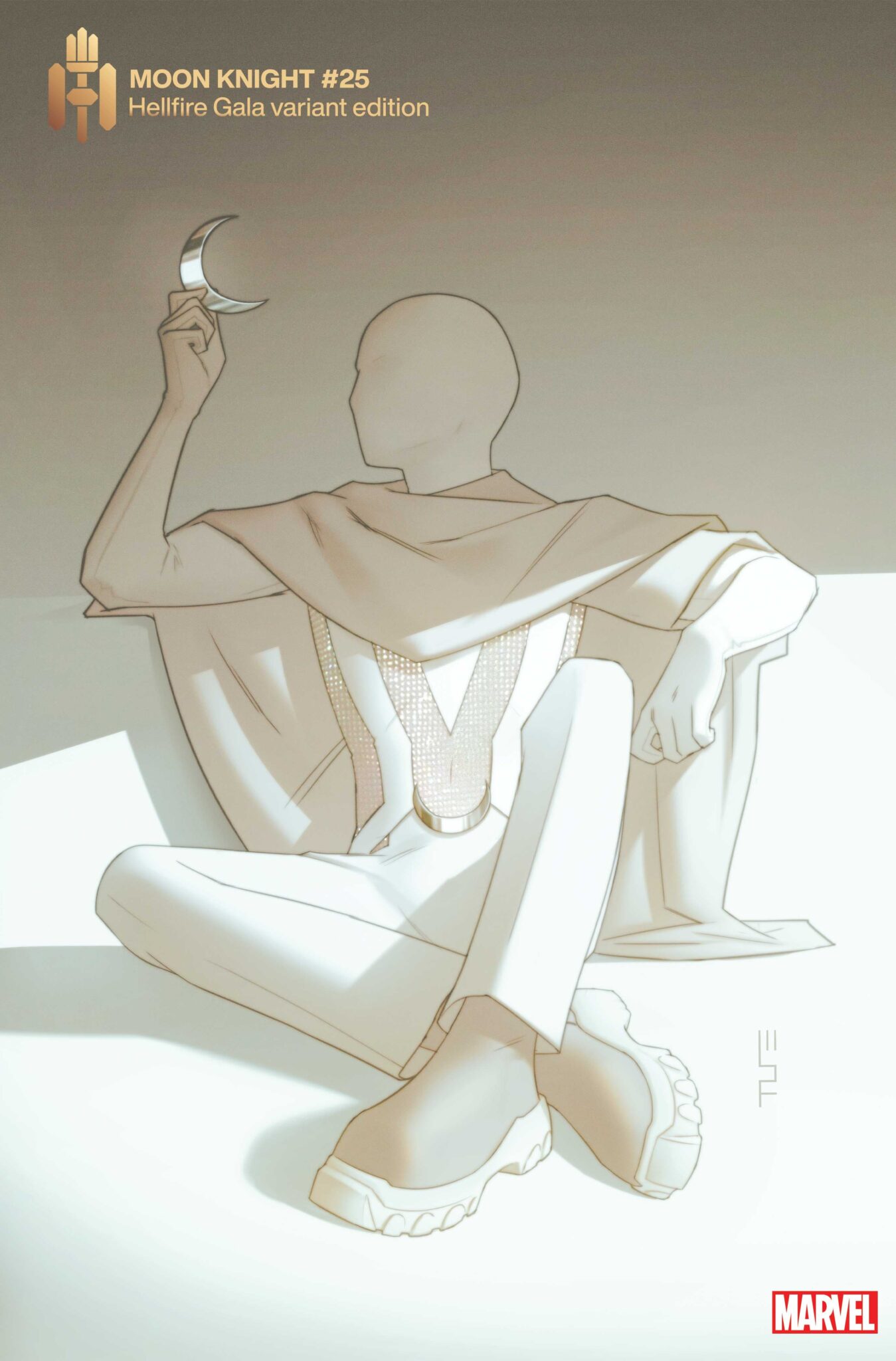 Will: While this is essentially very similar to the Mr. Knight costume, he gets points for the sequined mesh cutouts. Could still go further. 
Dan: This is a design that looks good on a variant cover but looks incredibly lifeless out and about. The sheer parts are a good choice but did he really have to add a poncho and a pair of orthopedic boots?
Fantomex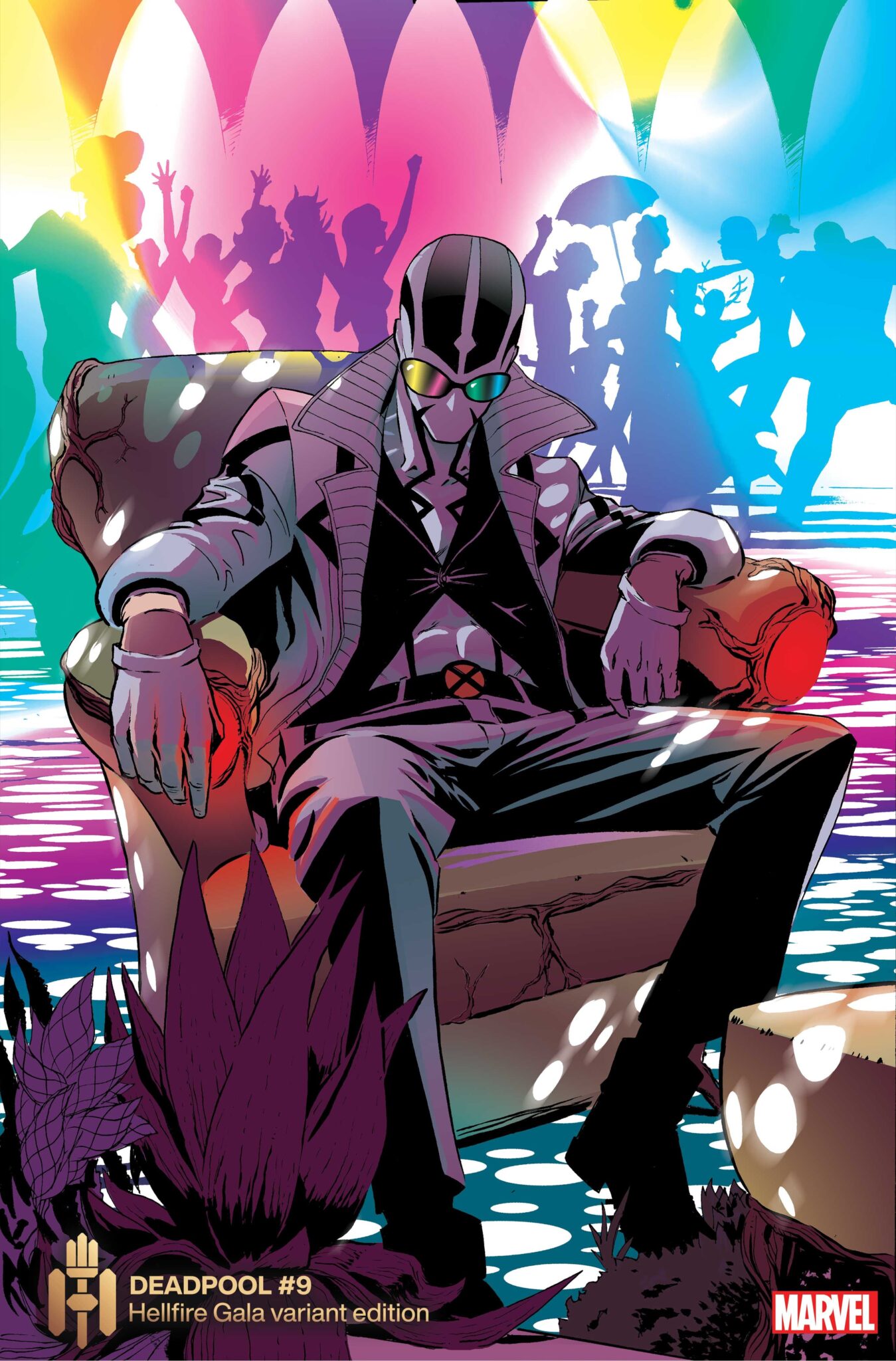 Will: Also just boring, isn't this just your costume with sunglasses. And why are you here?
Dan: I'll give him credit, he's at least admitting he doesn't care unlike those dudes who just threw on a suit jacket and posed like they were doing something. Very disappointing to see a Frenchmen like this, though.
Scarlet Witch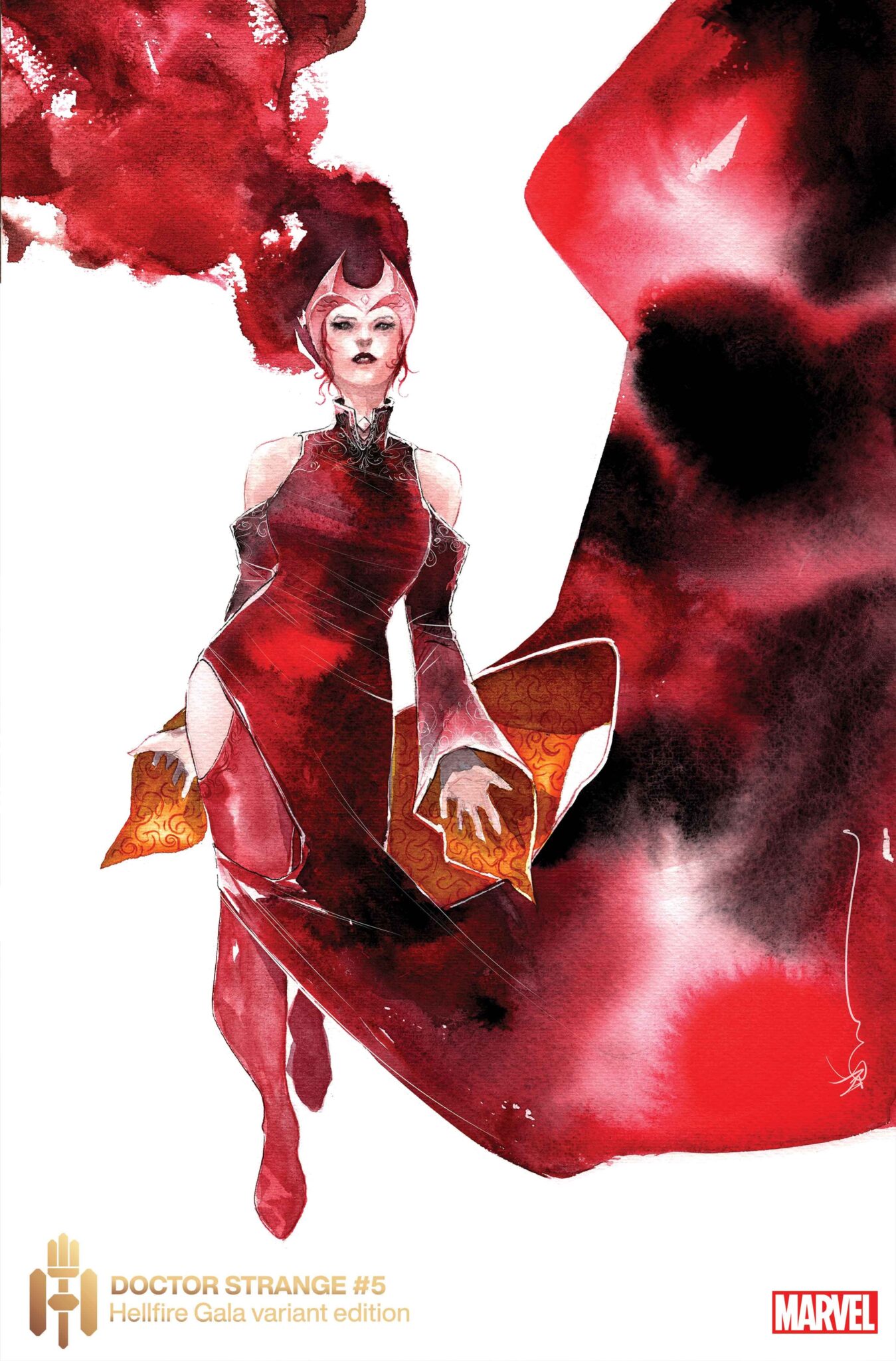 Will: Aside from the fact that she is horridly whitewashed on the cover, this dress is just uninspired and seems like something she's worn before. The draping is confusing and it just doesn't feel like modern Wanda. 
Dan: If the inside lining of your sleeves is the most exciting part of your outfit maybe try for a little more pizazz.
Jean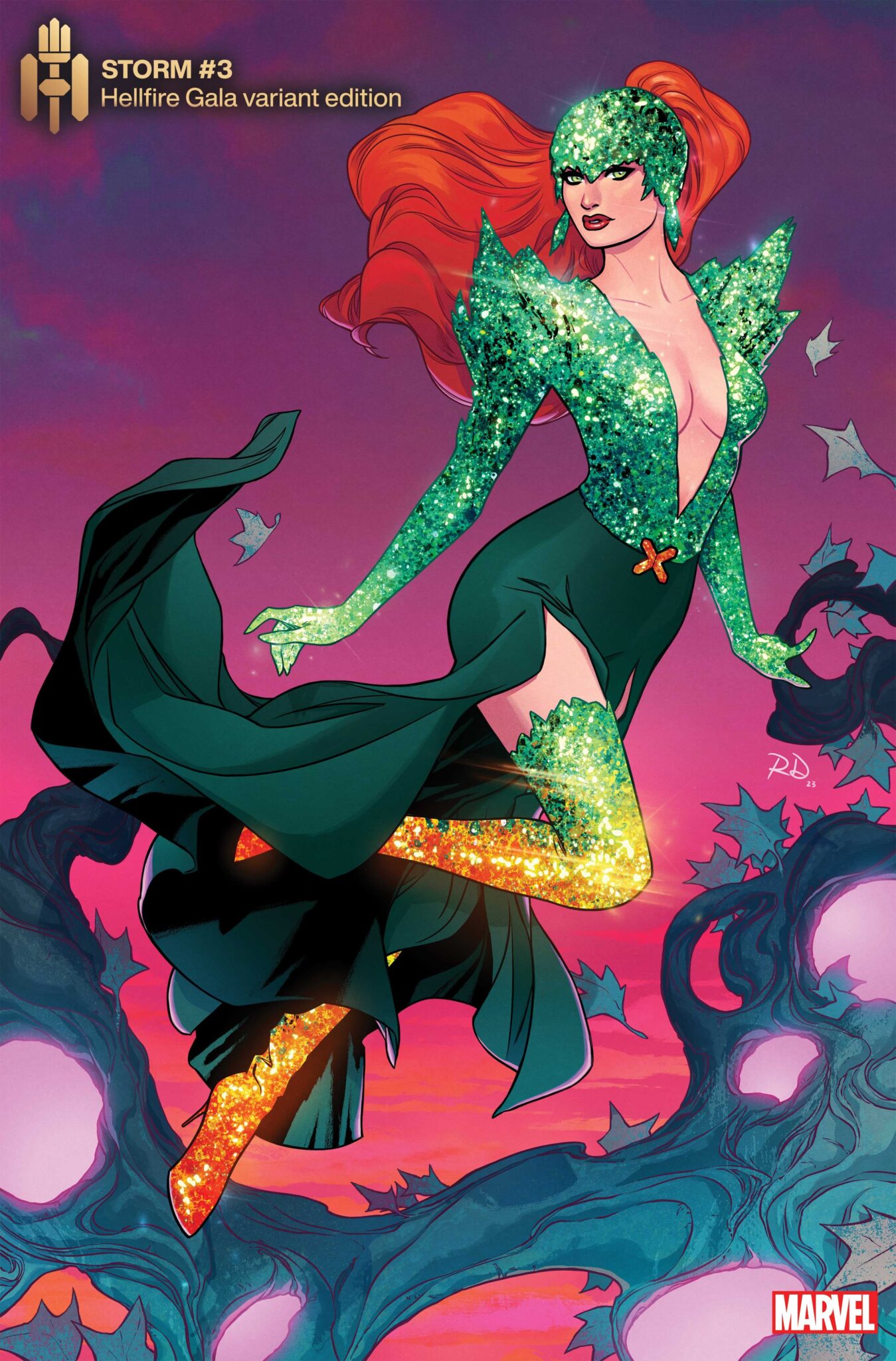 Will: This might be a controversial placement but I just cannot stand the head thing. It looks clunky and cheap. The gems of her gown and shoes and headpiece look like costume jewelry from Hobby Lobby. We all know Jean can't dress herself so are we surprised? Not really. 
Dan: Someone at Marvel really thought they did something with this look since they've got a few covers with it but it is just so…boring. Lots of green ooh ok oh and the shoulders are…pointy? Is she pointy now? And the hat. Oh my god the hat. The single biggest MISS of the Gala this year and a complete travesty considering how far she's fallen. Why would you think a Bedazzled shower cap was a good idea?!? Try harder, Marvel Girl.
Images via Marvel Comics
Have strong thoughts about this piece you need to share? Or maybe there's something else on your mind you're wanting to talk about with fellow Fandomentals? Head on over to our Community server to join in the conversation!