Guess what's out tomorrow?! Arcade Spirits: New Challengers, the sequel to Arcade Spirits, is all that it promises to be and more. I was provided a review copy and I must say say that if you love visual novels, arcades, and conspiracies, this is the game for you!
This sequel brings you into a new setup (you are now an eSports player), including old and new faces. You can also import your choices from the original Arcade Spirits adventure to build the world around your decisions.
Arcade Spirits: New Challengers is a delightful visual novel with interactive elements and light RPG mechanics where the player can dive into Fist of Discomfort 2, a strategy-based minigame – where your victory or defeat will determine the path of your story. (You can also skip the minigame if you want!)
Nearly everything is customizable too, which puts this game in a league of its own. You can pick your pronouns, hair style, skin tone, hair/eye colour, and more. You can also design your rival, whose player name is Hunter, as you see fit, and choose how the story plays out while interacting with a wide range of people.
Unfortunately (due to the size of the game), there are not endless customization options for body type or facial features which does limit the full customization experience.
Of the many characters that you'll meet, if you choose to romance, there are six plus Hunter that you can fall for. However, there's actually 9 romance paths that you can go down, one of the many features that extends the length of this game in an organic and enjoyable way.
If you're not into romance, you can skip it entirely and focus on keeping things professional and friendly. Honestly, you'll be so busy trying to balance a social life and keeping your team happy that romance is the least of the main character's worries going in to the story at first.
Zapper, Locksley, Rhapsody, Domino, Grace, and Jynx are all incredibly different people with their own quirks and backstories making each character route really fun, especially as stories begin to intersect. Once you do pick a romance (or closer friend) route, you get to see a portion of the game from their perspective when things start getting weird. I love when visual novels have sections from different POVs so I really liked this part even though I was internally yelling at my own character the entire time.
All the story, intrigue, and of course competition occur against a backdrop of beautifully animated backgrounds and with music that sounds like its come right out of an arcade. Specifically, Good Clean Fun, the only pizzeria/laundromat/arcade in town.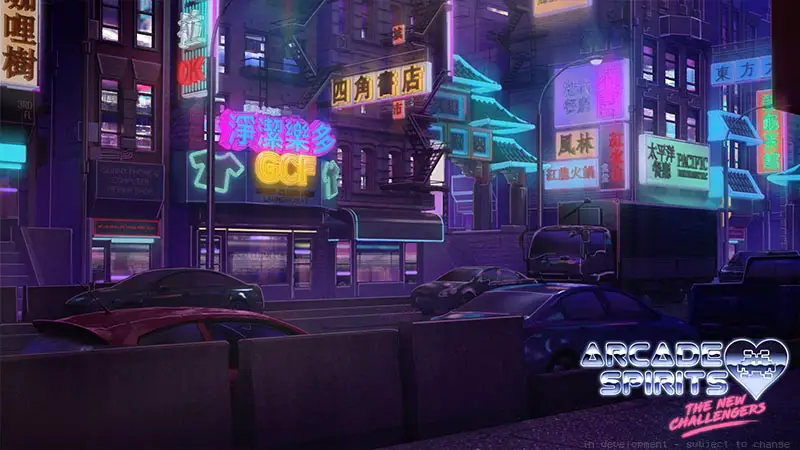 Arcade Spirits: New Challengers and New Mysteries
The game begins with the player talking about their life and goals to be part of a winning eSports team and their relationship with their rival (which you can decide to make friendly or a full on rivalry). You also spend a lot more time learning about Iris, the personal AI who was created by Grace (Cooper).
Your pocket assistant also lets you choose if you want hints for personality traits (kindly, quirky, steady, gutsy, flexibly) or if you want to turn them off. For this playthrough, I kept them on, but I'm definitely going to play again without them on for future runs! You also find out that IRIS was actually taken off the market so you're one of the last people to have her installed…(Iris is hilarious, by the way).
Unlike most visual novels, you get a map in Arcade Spirits: New Challengers. One that you can actually click on and move from room to room in the arcade when prompted, which is a lot of fun and adds to the experience. You also can't make it to every one each time you have a choice which means lots of replays to get through every dialogue tree and plotpoint!
Since each romanceable (and friendable) character has different personalities, you have to be thoughful about which dialogue options you pick each time you're offered a choice. The variety of options means that you can't just click through and hope for the best outcome. Rather you have to really thoughtfully approach each character, especially if you plan to romance all of them (which I totally am).
One of the absolute best parts of this game is its dedication to diversity in a holistic and thoughtful way. While I cannot speak to the details of syringomyelia, Jynx's experience as a disabled gamer felt true from what I've seen other people describe, and the game establishes each character as a fully complex individual from the beginning. Jynx does face ableism, but all those moments are specifically for her, and sometimes the player, to respond to in a variety of ways.
Additionally, this game is definitely on the mature side, with a few moments that could be triggering so I've linked the content warnings here that should all be available once the game is live.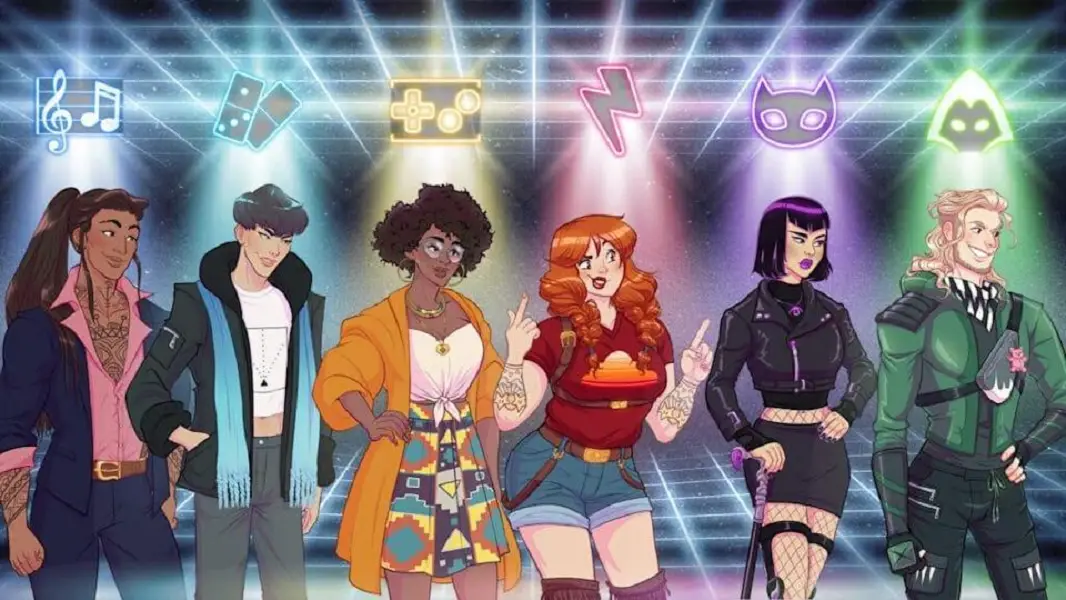 None of the characters are just their gender or their racial background or even their personality traits. Each one is a well-rounded and plotted character, which makes every subsequent playthrough a lot of fun and gives a lot of depth to the story.
This depth extends to the main character, who you learn in the first "no good answer" dialogue option for the player has some major self-worth issues going on, adding to the larger story of the group of characters coming together to go pro.
Finally, without spoilers, the conspiracy (maybe many conspiracies…) hinted at in the demo unfolds beautifully as you move through the plot with surprising consequences. You can even follow an organization that's directly connected to said conspiracy on Twitter. Answers to my questions about Locksley's interest in Grace and friendship between Zapper, Domino, and Jynx also appeared in unexpected ways.
The development team did an incredible job with this game, especially as a reflection of gaming (with all its good and bad). The subplot with Hunter not having a great time on the rival team was super realistic. I know that I'm going to have a lot of fun playing it over and over again to get through all the routes.
You can grab Arcade Sprits: New Challengers on Steam tomorrow!
Images and review copy courtesy of Fiction Factory Games
Have strong thoughts about this piece you need to share? Or maybe there's something else on your mind you're wanting to talk about with fellow Fandomentals? Head on over to our Community server to join in the conversation!