Adventure Marts always tend to pop up whenever they are needed, from dark dungeon entrances to magical forests to the crowded markets in town. Players play as store managers, providing and selling anything that adventurers across the land would want. Adventure Mart is a new take on deck building that Hub Games has brought to the market. Running a store for those adventurous adventurers has never been more fun! And if you like what you see from Hub Games, check out my reviews of their other game titles like Prisma Arena and Flip Over Frog.
What's in the box?
36 basic stock cards
59 stock cards
20 picture cards
20 staff cards
36 adventurer cards 
14 daily bulletin cards
1 initiative token
3 fighters guild tokens
3 mage guild tokens
3 ranger guild tokens
3 discount tokens
40 one gold coins
20 five gold coins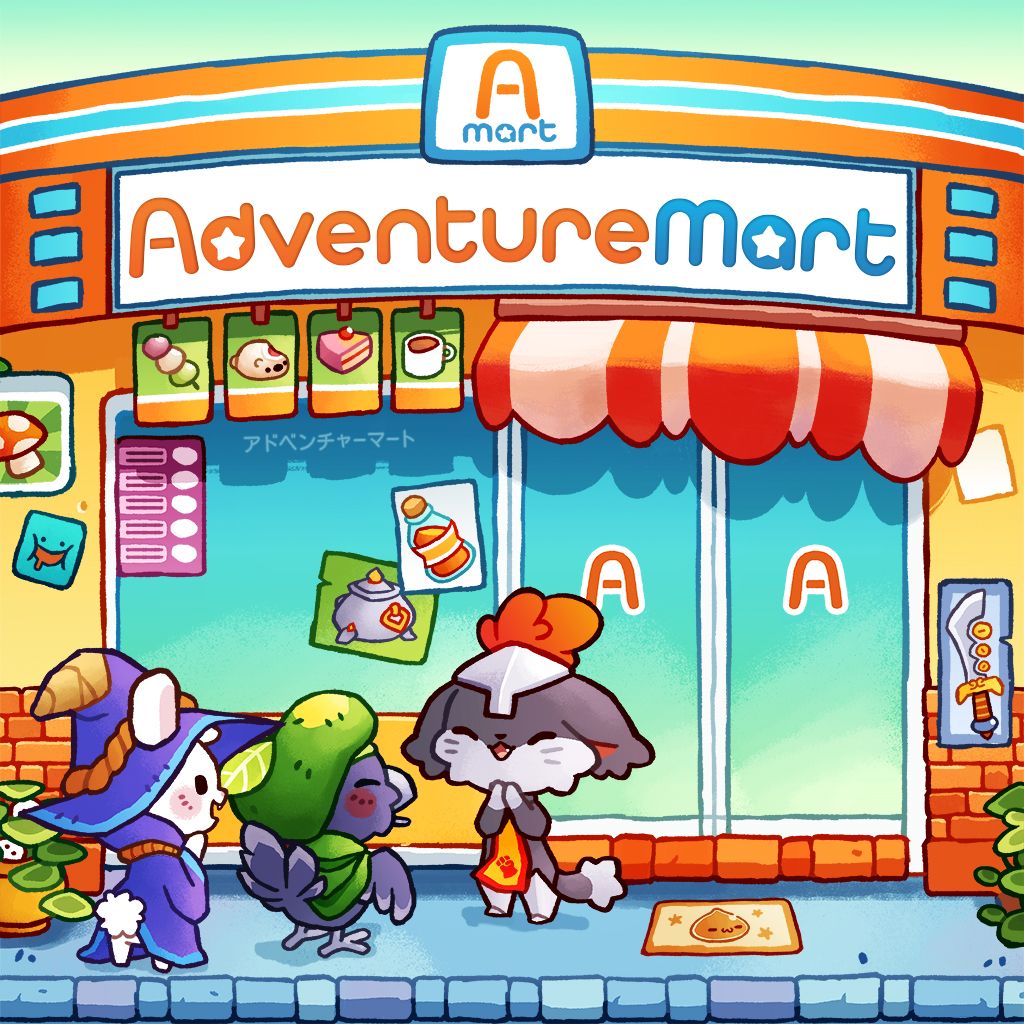 How's it play?
Each player will start the game with 10 basic goods to sell. You have a hand limit of 5, so you will be cycling through your deck of goods to hopefully sell to a random adventurer. When you sell a good, it goes in the discard pile. When your deck becomes empty, you take all your discarded cards, shuffle them, and place them back to form your deck. To connect this to the theme of a market, you're essentially reordering product you need to restock in your store. 
The game plays in 5 days, or 5 rounds. At the beginning of each round everything opens. New stock cards are placed out each round with 2 new fixtures and staff cards being available as well. Adventurers are placed out face down, so players don't know what goods they want to buy yet. A new bulletin card is revealed giving special instructions for that round only.
Spend Gold
Players then take turns trying to get better product, selling their goods to adventurers, and making their store better. On your turn, your can spend gold to buy stock, fixtures, or staff. You will pay the cost on that card laid out and place it in your hand to immediately use. 
Start a Sale
You can start a sale to an adventurer by flipping over an adventurer card. Players take turns bidding with their cards to make the sell. The player with the most stars wins the sale and discards the now used cards to their discard pile. The adventurer card is added to their ledger, keeping track of all adventurers they have made a sale to. That player will also gain the lowest amount of coins from either the total money that adventurer has available (stated on the card), or the total coins listed on all the product that just got sold. 
Selling product to adventurers will give players more money to use to buy cards with, but there is a limited number of adventurers looking to buy product each round. Once they are gone, you can't sell anything more. There also is a fixed number of adventurers each round: one plus the number of players playing. This means that a player might be able to sell to 2 different adventurers at most. Hopefully you get to sell to at least one of them. 
Use a Card Effect
The last thing you can do on your turn is to use a card effect. The card effects give the game some added complexity. The plan is to get cards whose abilities you can use to get even a better store than you previously had. If you buy cards but don't use their abilities, you won't get the push in score like if you will if you get one whose ability you can use. Without using the ability, it's just a slightly better "basic" good that can be used to sell to an adventurer.
Note also that some cards have abilities that are triggered during other points in the game. These are all listed with a tag other than the "use" tag, so keep an eye out for when you can use them.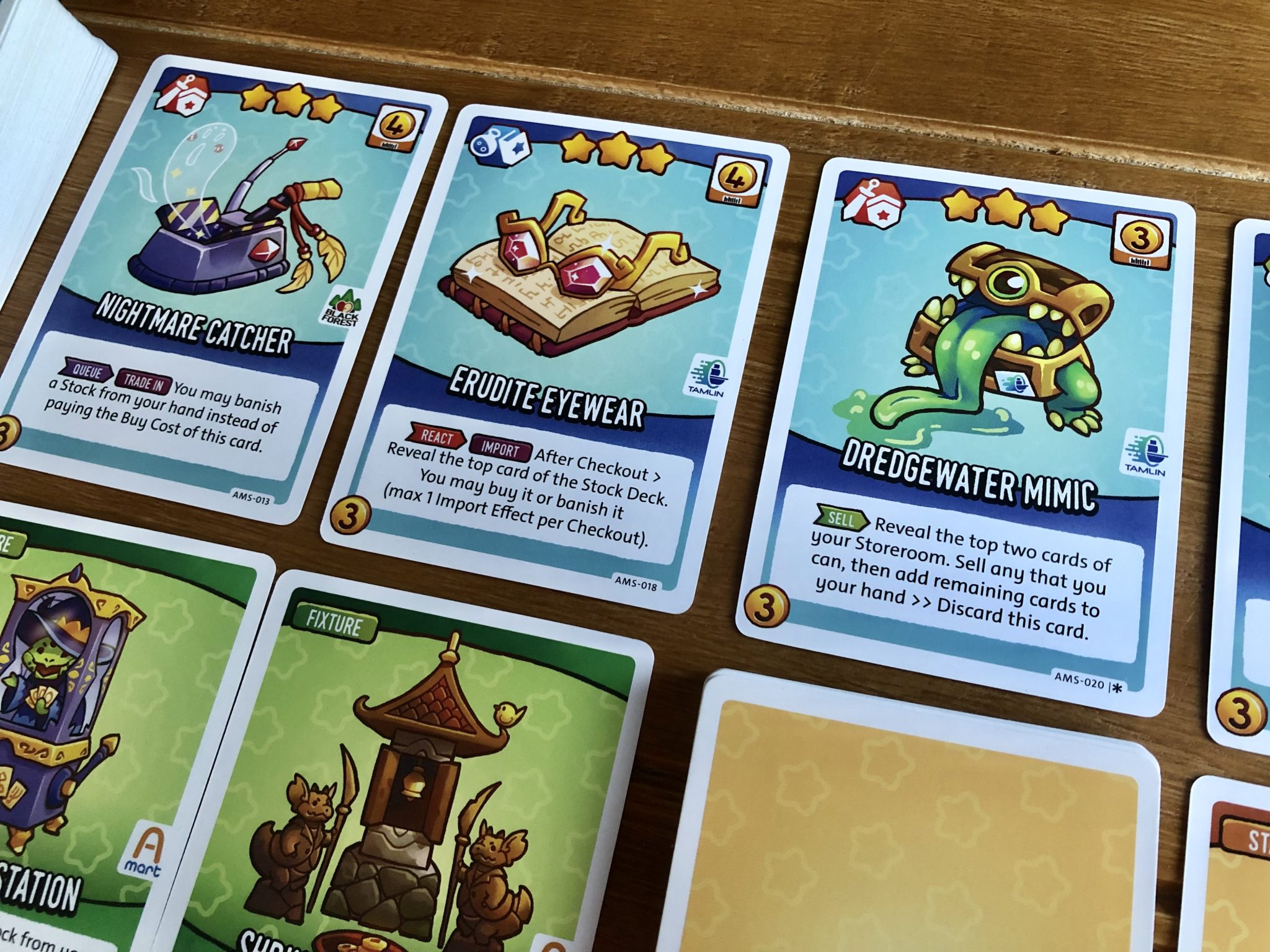 Store Closing
At the end of each round, players may choose up to one card to keep from their hand for the next round, and then discard the remaining. Players will then draw back up to 5 cards, drawing out of their storeroom or their deck. Players then flip over any fixture cards that are facedown in their store. Staff cards need to be paid their hiring cost, and then those cards can be flipped over. If you cannot pay your staff, that card is discarded. Lastly, the player with the lowest gold listed on their adventurer cards receives help by either choosing one of the newly flipped out fixtures or staff cards, or by taking 3 gold. If a staff or a fixture card is chosen, its added to the store for free. All face up cards in queues are then discarded.
Players will then start drawing new cards out into their queues, and players will again take turns. This is done 5 times, and at the end of the 5th day, the game ends and players will go through corporate review. You will then score points for the total money by adding up all cards you bought, excluding your basic cards, then add that total to the number of coins you have, and then calculate gold earned from "review" bonuses on cards. The player with the highest total Net Worth is the winner.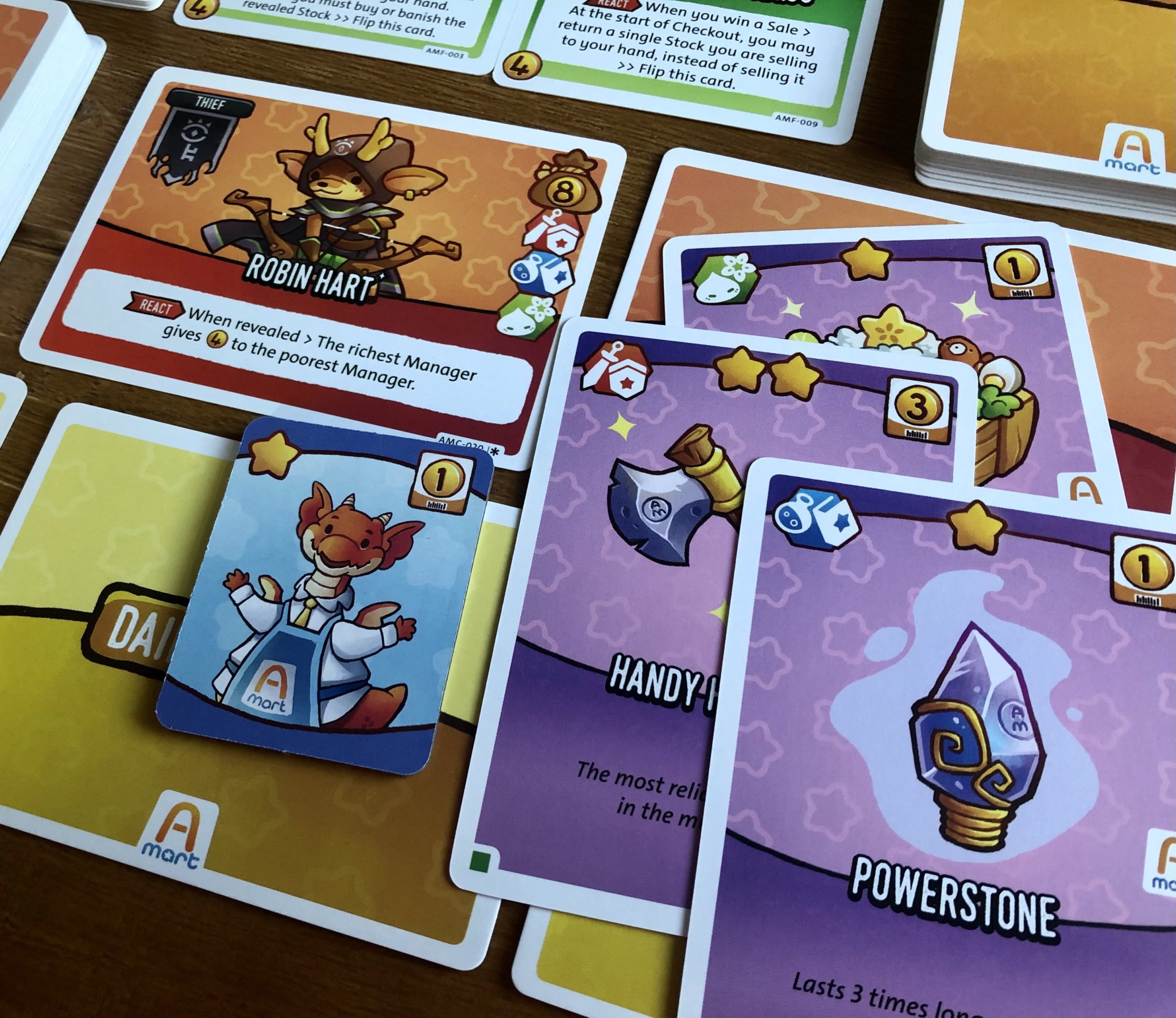 The Verdict
When Adventure Mart first came out, I was super excited, especially since I knew a copy was coming my way for review. As time went by, and problems I would consider mostly related to Covid-19 within the industry began to grow, I didn't get a copy, and my excitement for this game faded. I had been so excited for a deck builder that held this theme, a store to sell stuff to adventurers. 
After a year, I was sent a copy and was again excited to find the combination of deck building and it being a store. Adventure Mart's art and flavor text make this game more on the cutesy side of things. This doesn't bother me too much, but this portrays the game as a simple game that kids might be interested in playing. Keep in mind though, that due to all of the text on the cards, this game is really challenging for kids who can't read, or can read but still don't understand how to play the game. I have a 6 year old and the game didn't work with her. To be fair, the box says 10+ which I would agree with.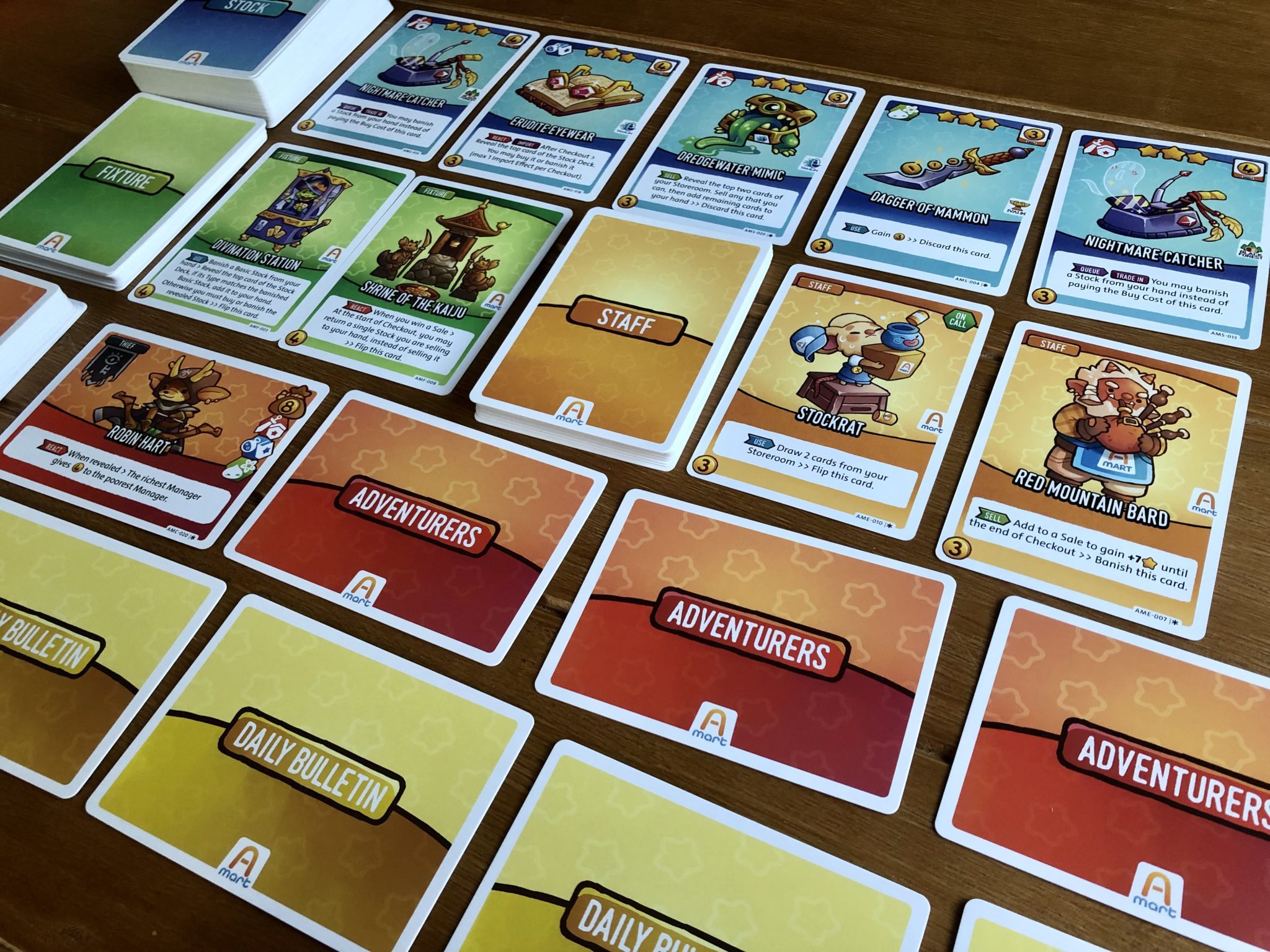 I like the premise of Adventure Mart, which is to collect goods to sell to adventurers who come by and gain points when doing this. I think the idea and many of the mechanics are spot on for this game, but there were some things that didn't work well for me and for those I played with.
The first thing was that there are a set number of adventurers per round, which is one for each player plus one. This means that someone most likely will sell to 2 different adventurers and gain more coins than everyone else. As the game goes on, it seems like this problem gets worse, because the rich get richer and can get better and better cards to just run away with a lot more than everyone else. The game has a catch up rule for the player in last place, but for everyone else, tough luck. This makes it hard to catch up to the player who starts doing better than everyone else early on.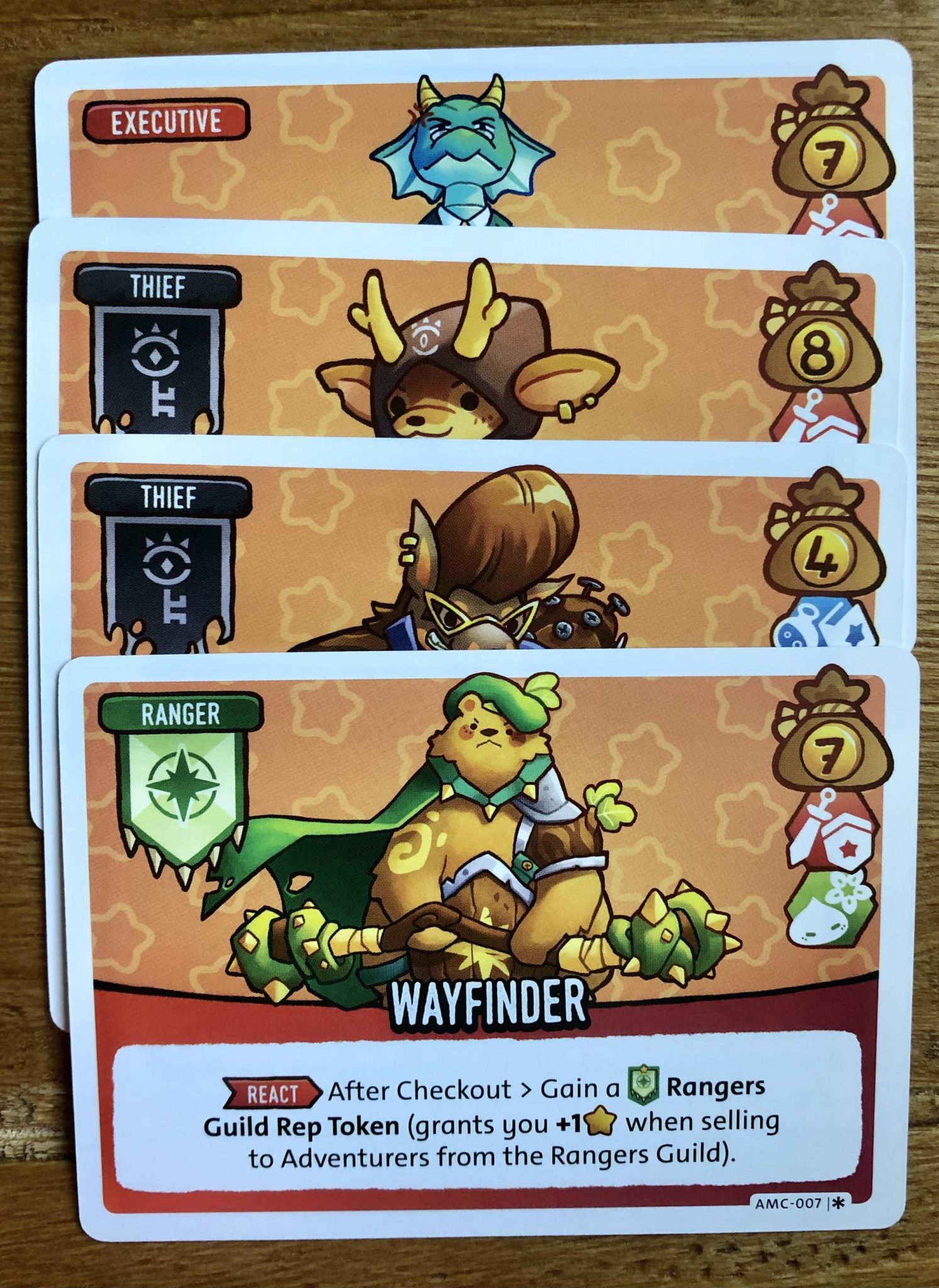 Adventure Mart also doesn't provide a way for players to plan; this would be a quick and easy fix by placing adventurers out that are on their way to your store. As the rules have it, you might just be unlucky and not be able to sell to any of the adventurers that come through, which really sets you behind. This also lets others possibly sell to more and shoot them far in front. So a rule to help players plan a little better would help fix this. 
Adventure Mart is pretty simple if you have played any other deck builder game before, but this game might not flow like others. This for me isn't a bad thing, but just something I think one should be aware of when planning on getting or playing this game. You will spend lots of your time reading the cards and trying to figure out how to use them. There are various tags that help to know when the card's ability is activated, but many times players spend a lot of their time reading cards and trying to figure out what they actually do. I didn't mind reading as I was excited to see what a new item would do, but it did slow the game down.
Overall, this game is a fun deck builder that might not be was strategic as I would have liked, but still satisfies me with a fun theme and simple gameplay. 
Images Courtesy of Hub Games
Have strong thoughts about this piece you need to share? Or maybe there's something else on your mind you're wanting to talk about with fellow Fandomentals? Head on over to our Community server to join in the conversation!