Back in July of this year, I reviewed a demo for a game called The Sundew. And, quite fortunately, I now have the opportunity to talk about the full game, as I was provided with a review code by the developers!
For those who, understandably, don't remember that review, a quick recap. The Sundew is a point and click cyberpunk adventure game, developed and published by 2054 Games. Set in, appropriately enough, 2054, you play as Anna Isobe, a cyborg beat cop in a world where cyborgs are now not only obsolete, but taboo. Through trials and hardship you must navigate your way through the dystopia Anna lives in, as she soon finds the fate of the world lying in her hands.
So, that's the plot of The Sundew, but what sort of game is it?
Simply put, it's a retro throwback, point and click adventure game, centered heavily around inventory object puzzles.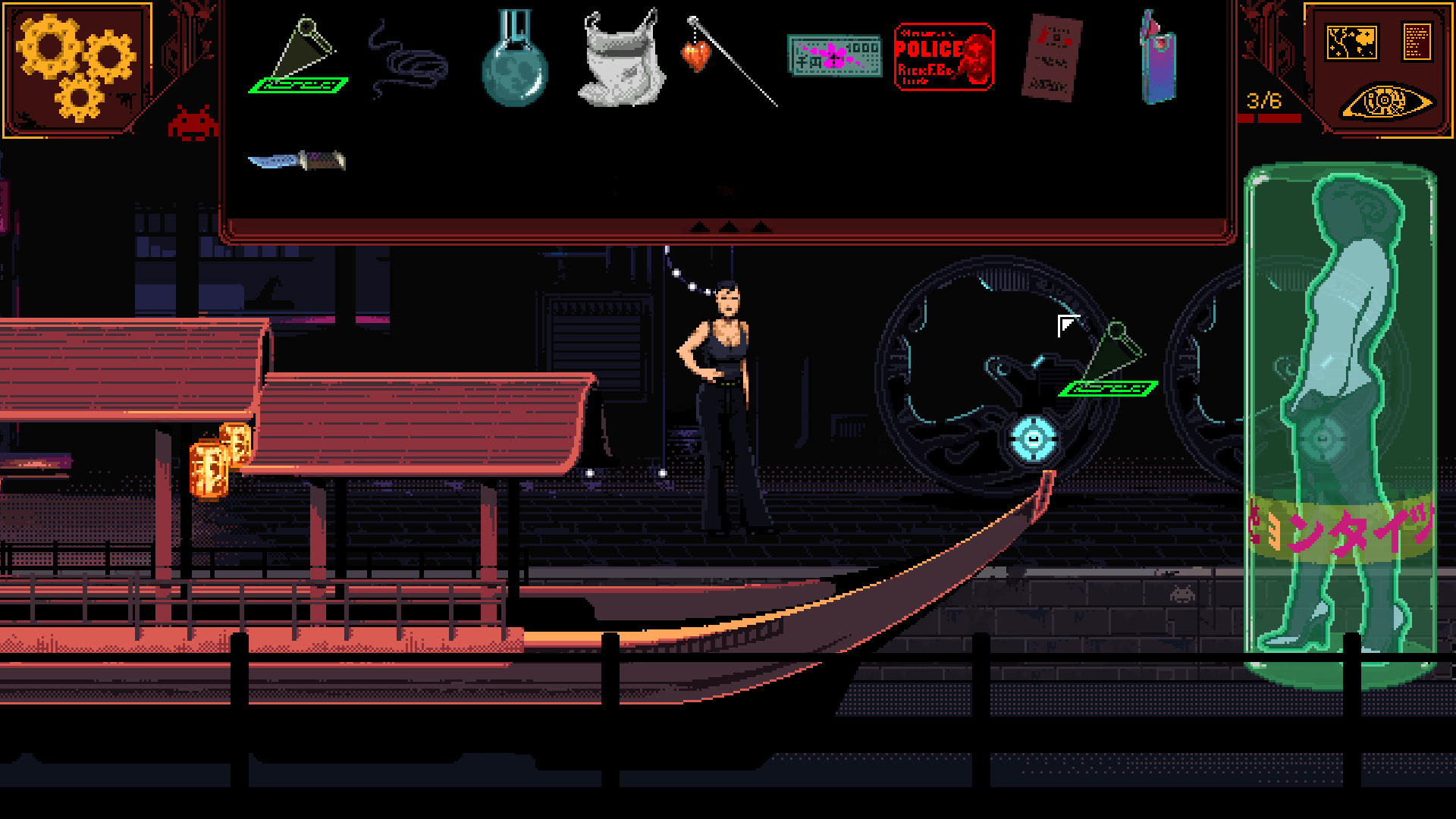 You wander from screen to screen, interacting with characters to progress the plot and learn about the world, all the while finding and collecting items. These range from the immediately useful to the esoteric, but you need to be sure to pick up all of them. All of them. If you can interact with it, click on it. It's important.
Anna is a cop in Shibukawa, the capital of Japan in the year 2054. She's going to be facing perils and mysteries galore, and you'll need to be ready to deal with them. This is not a game you can just waltz through either. Not all of the objects are obvious, some you can only get after talking to other characters or solving puzzles.
Before we get into the puzzles though, there are some other aspects of the game that I need to praise. First and foremost, the sound design is excellent. Not just in the music (though it is good there), but in the soundscape as a whole. Everything works perfectly to set the mood and tone, and it's really just excellent. There's a moment early on in the game when Anna gets into a fight with a guy in a dark alley. The fight happens entirely off-screen, out of sight, but the sound works to explain what's happening very well.
As for the visuals, they're likewise excellent. Moody, atmospheric, and excellent at conveying tone and the overall setting.
From the bleak and industrial…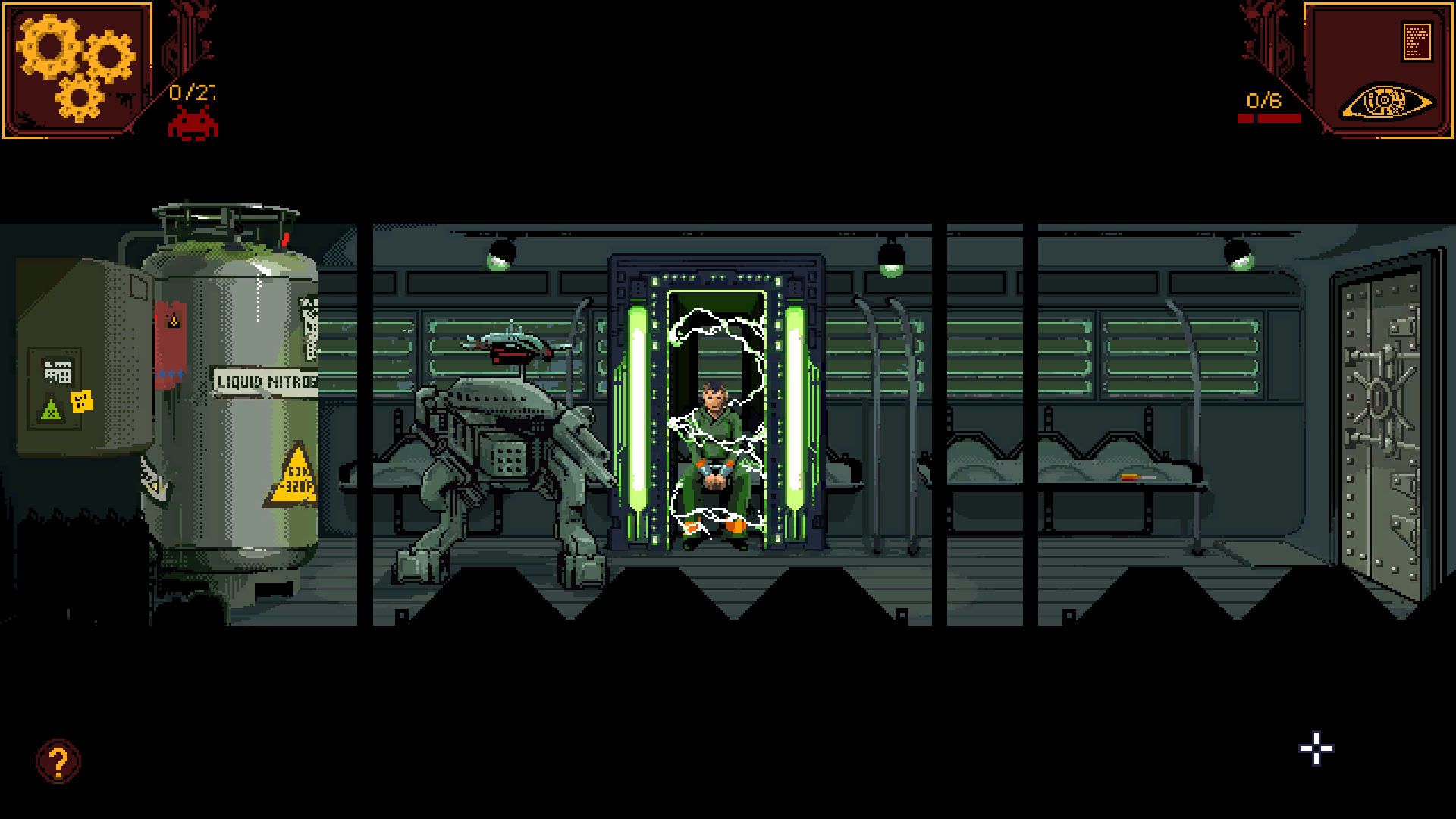 To the stark quiet of nature.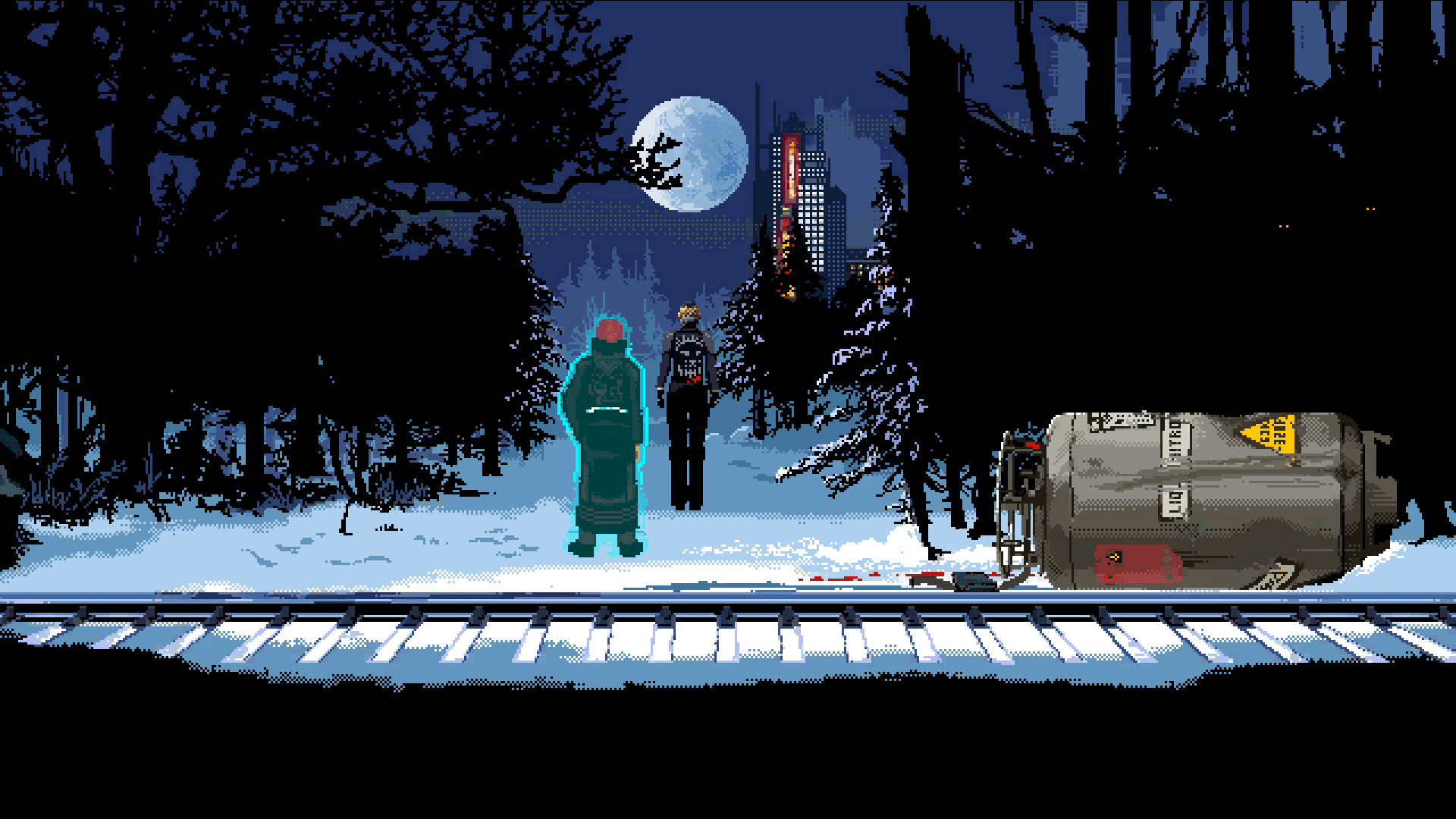 It's all gorgeous. The art does, admittedly, struggle with faces a bit, but that honestly ties into The Sundew's retro throwback nature. Detailed backgrounds, but generally less great faces. Not a huge failing, in the scheme of things.
When it comes to writing, The Sundew is, once again, quite good. Characters that are supposed to be likable are likable (Anna may be a cyberpunk cop, but she doesn't fall into the a-hole trap that so many of her kind do), characters that aren't supposed to be likable aren't over the top in their flaws, and characters that are supposed to be mysterious aren't obnoxiously obtuse.
Likewise, the plot flows well, the mystery and suspense builds carefully, and it all works together into something that's quite fun to experience and altogether worthwhile. Anna finds herself thrust into a struggle against a dystopian government, one she'd been entirely unaware of beforehand, dealing with things well above her paygrade and history. It's a good plot. A bit old and standard, but then again we are working with a retro throwback. And it's nice to see a woman at the center of this sort of plot for once, rather than a man or a teenage girl caught in a love triangle.
That being said…the game isn't flawless.
I don't want to spend too long talking about the puzzles of The Sundew, because ultimately it's gameplay, and a tried and true gameplay formula at that. But still, I do feel it's important to lay out exactly what you're getting into here. This is retro adventure gaming, in all its glory and all its frustrations. Things can be obtuse. We're not talking peak Sierra moon logic, mind you, but we're not talking the most intuitive designs either.
For example, at one point I was told I had thirty-seven minutes to leave a restaurant and go do a job. I tried to leave the restaurant, only for Anna to remark that she needed to use the toilet first. So I went to the bathroom in the back, only to find both toilets closed off to me. Confused, I tried clicking around the bathroom, unable to do anything, and then tried to leave the restaurant, only for her to refuse. Eventually, after a good long while trying to figure out what I needed to do in the bathroom, I went out onto the only other room, the restaurant's terrace. Once out there I was able to pick up a cord that wasn't tied to anything, and this allowed me to access the toilet.
This…is bad game design. Yes, the cord was necessary to solve the puzzle that using the toilet triggered, and I appreciate the game for making sure that I had it before triggering said puzzle. But, at the same time, I had no reason to go out to the terrace. The person I was meeting with to get information wasn't out there, and I was told that time was of the essence. I was under the impression that I needed to get a move on as quickly as possible. Neither Anna nor the other character ever acknowledged the terrace. There was no reason for me to assume that there was something there that I needed to get. I wandered out onto the terrace because I was frustrated and couldn't think of anything else to do, not because I expected it to help, or because the game did anything to point me in that direction.
If The Sundew has a serious flaw, that would be it. More than once I came across the solution to a problem not because it was a logical conclusion, or because the game guided me in that direction, but because I was out of ideas and decided 'might as well try this', and that worked.
Ultimately, if you adopt a policy of 'explore everything, click on everything, talk to everyone about everything', you'll get along okay. However, if that doesn't sound appealing to you, that's entirely understandable.
That's The Sundew, more or less. A visually interesting, audially striking game with good characters and a good plot (I didn't go into it too much because, well, it's a mystery game, but it genuinely is quite good), hampered by a sometimes obtuse set of puzzles.
Would I recommend it? Yes, absolutely. As long as you know what you're getting into. I really enjoyed my time with The Sundew, and I think that there's quite a bit here for fans of point and click adventure games, as well as for fans of cyberpunk, to sink their teeth into. So give it a try, it's on Steam, Itch.io, and Nintendo Switch! Until next time!
The Sundew
Summary
Overall The Sundew is a good, retro throwback that will appeal to fans of old school point and click games and cyberpunk. It's a well made game, albeit one with some short-comings.
Images Courtesy of 2054 Games
Have strong thoughts about this piece you need to share? Or maybe there's something else on your mind you're wanting to talk about with fellow Fandomentals? Head on over to our Community server to join in the conversation!