From USAopoly comes Super Cats, players act as cute kittens and band together to become the fierce Super Cat, the only one who can defeat mangy enemy RoboDog! This fun game is by Antoine Bauza, Corentin Lebrat, Ludovic Maublanc, Nicolas Oury, and Théo Rivière (whew) and brings the strategy of rock-paper-scissors to a multiplayer card game.
Outwit your friends and be the first to transform your cats. Remaining players can then act as defense and let RoboDog win! Spontaneous and quick, the game is perfect for families or a quick game with friends at a party.
What's In The Box?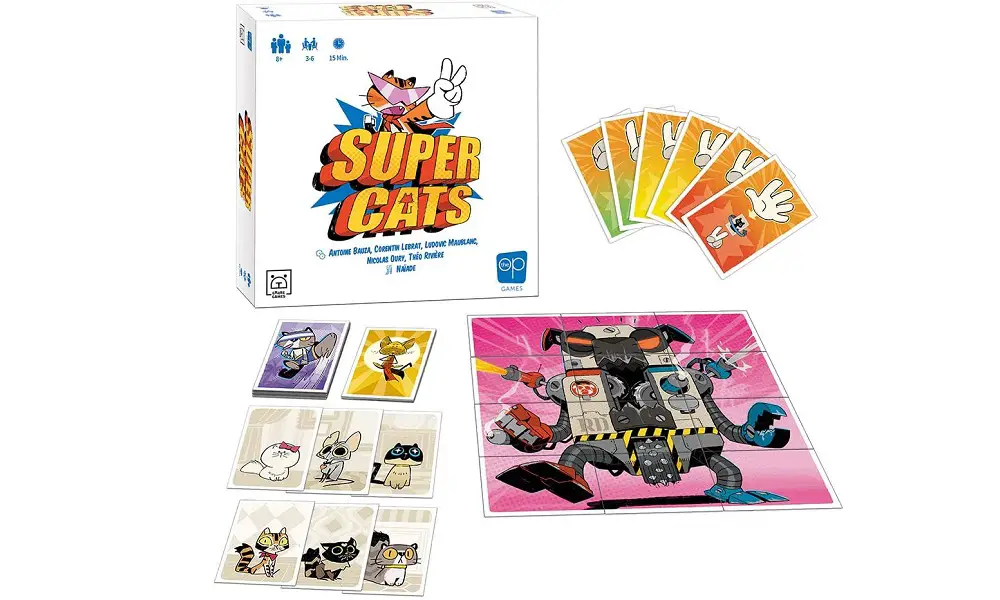 The adorable game comes with 30 cat cards with the super cat on the back, 6 activation cards from 0 to 5, 12 RoboDog cards, 1 SilverCat and 1 GoldenCat card. Each card is beautifully illustrated by Naïade and graphics designed by Valériane Holley.
How's it play?
In Super Cats, you play as groups of 5 cats who compete to become the Super Cats Heroes, in order to defeat the RoboDog, devourer of cat food! The first player to transform his 5 cats becomes the Hero and will face the other players who will then collectively play as the RoboDog.
In Episode 1, you chant SU-PER-CAT, hold out your hand and raise 0, 1, 2, 3, 4 or 5 fingers after yelling Cat. The player with the highest unrepeated number, you can now transform one of your cards into a Super Cat trying to get to 5 super cats first and become the hero. Then, you use the effect of the activation card corresponding to the number you won the round with.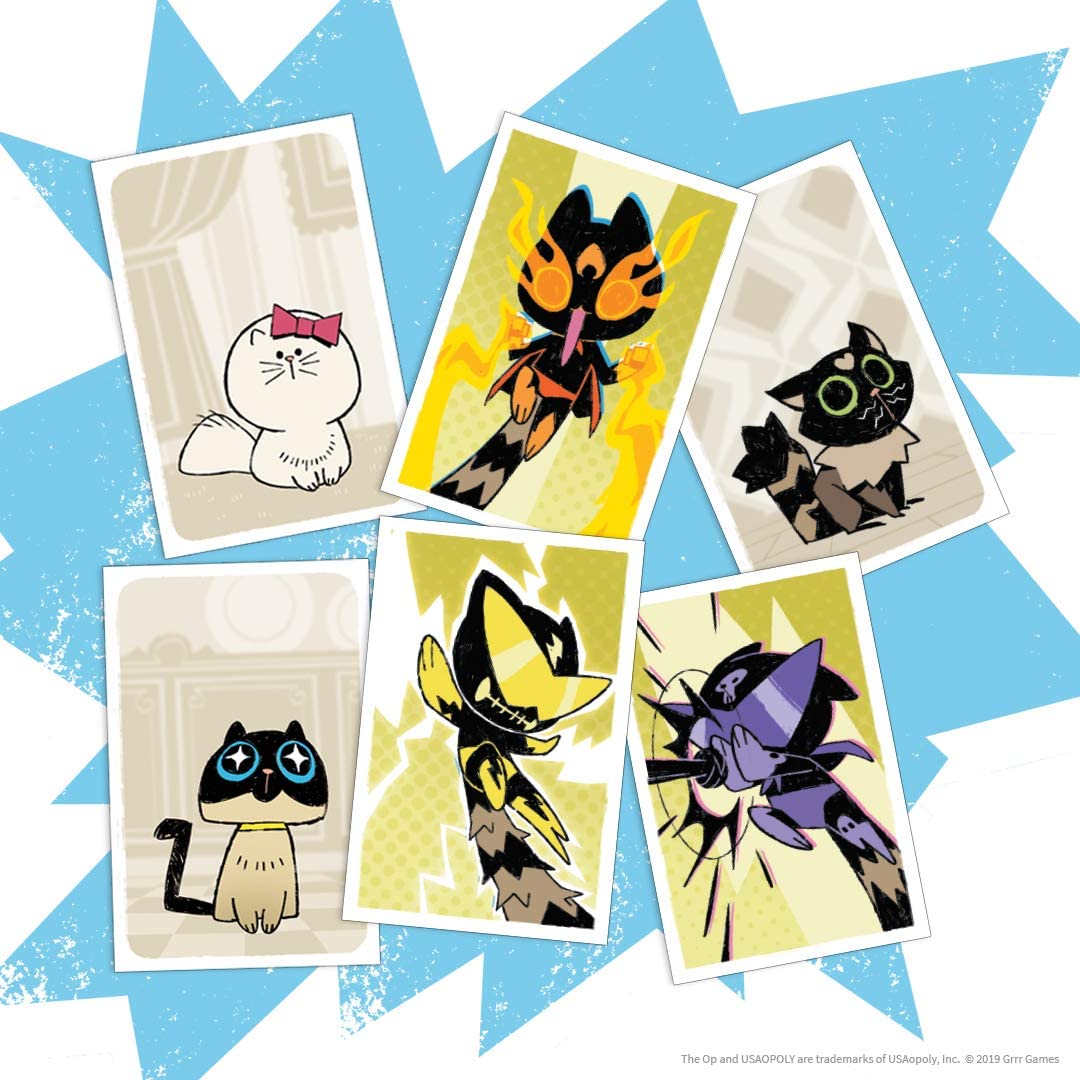 For example, if you held up a 4 then you transform your cat card and must flip another player's card. On the other hand, if you put up a 5 then you can only put up a 2 on the next round so there is a level of strategy in the game or everyone would put up 5s every round. Plus two or more players putting the same number up cancel each other out.
In Episode 2, the Hero player clashes with the other players who are now playing as the RoboDog. When the Hero's attack succeeds that is they raise a unique number higher than everyone else, the RoboDog is damaged with that number of cards removed. If the RoboDog counters the Hero, his Super Cats become normal cats again. The game ends when either the RoboDog is destroyed or the Hero no longer has Super Cats to fight.
Super Cats also has different rules for 3, 5, and 6 player games keeping it fresh and interesting. It's a great game for sentai fans or people who want a family game that's a little different from normal.
You can pick up a copy at your FLGS or Amazon for $13.69.
Images courtesy of USAopoly
Have strong thoughts about this piece you need to share? Or maybe there's something else on your mind you're wanting to talk about with fellow Fandomentals? Head on over to our Community server to join in the conversation!