If you like Uno or Phase 10 then you'll like Ratuki. From The op, this family card game is all about speed. Unlike similar games, Ratukiis about gaining as many cards as possible to rack up the points.
The fast fast flippin', quick grabbin' fun family card game where 2 to 5 players simultaneously race to unload their cards by playing on shared ascending and descending stacks. If you like speed, you'll love the fun frenzied excitement of Ratuki!

Ratuki
We were kindly provided the game for review. Sadly, we are in a pandemic so I played this with my brother but one day, when it's legal to go outside again, this is the perfect party game for 2 to 5 players.
What's In The Box?
Arriving in a fairly small box, all the game needs is five card decks (for up to five players) and instructions. So if you lose the box it's not the end of the world. But don't because it's a high quality box that won't fall apart unless you chuck it at the wall or something else ridiculous. This new printing of the game is much sleeker than the first game and the color contrast on the cards is great. Plus the instructions are streamlined and easy to read.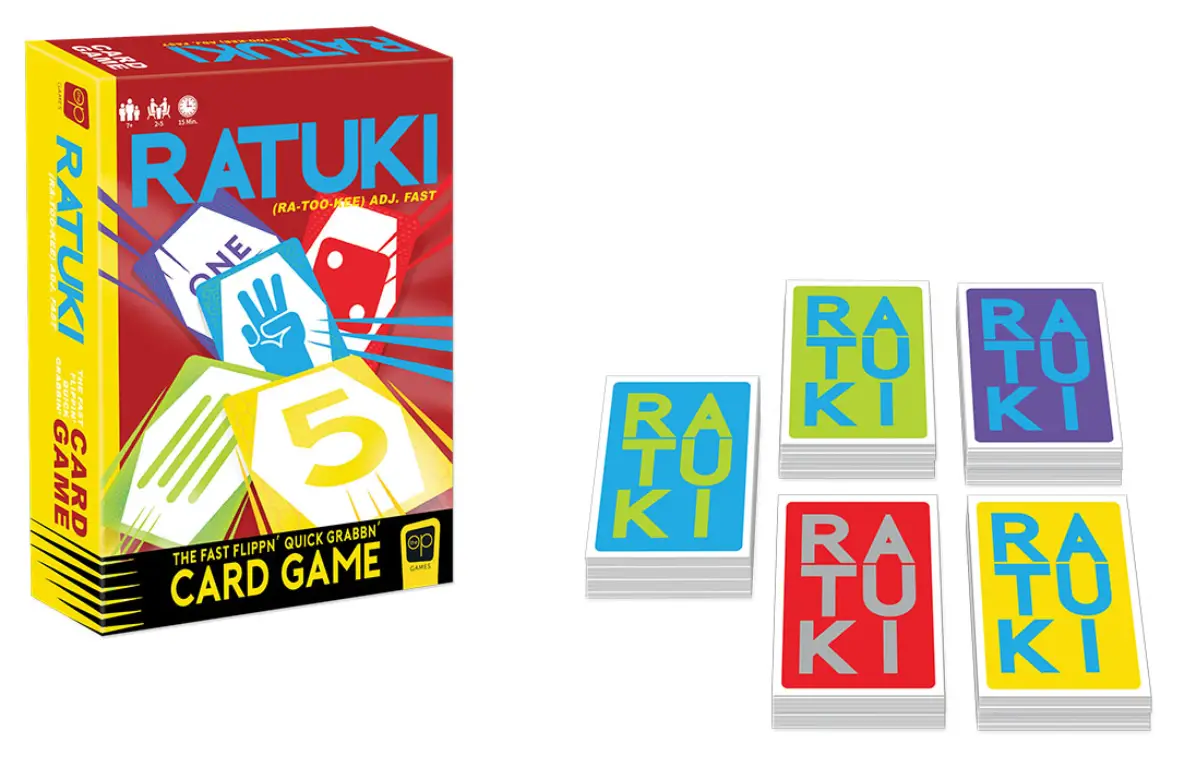 How's It play?
Your objective is to build piles of cards from 1 to 5. Be the first to slam a 5 on top of the deck, shout "Ratuki!", and the cards are yours. The winner is whoever reaches 100 points, for reaching 100 cards.
Each player gets one deck, and has three cards in one hand at any time. That is, once you've placed a card, you must pick up another card, but you can only play with one hand which during a speed frenzied game, can get quite difficult to remember. The cards have numerals, images, or words in different languages indicating the number.
Each deck also comes with two Ratuki wildcards which can play as the 5. You can add cards from your hand to any center stack on the table and there are as many stacks as players.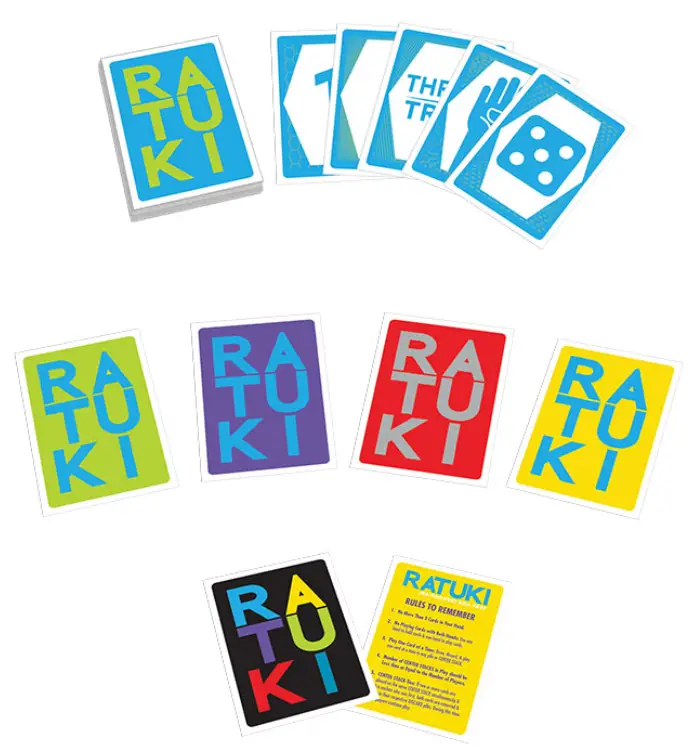 Like other card games of this nature, you can play any card one higher or lower and keep going until you've found that elusive Ratuki, or a 5. Now if you can't play any of your cards, you are allowed to place one card at a time in your junk pile. However if you have a bunch of cards at the end of the round when you've yelled Ratuki, you will lose a point for each of the cards left in the junk pile, taken from the amount in your score pile. For more detailed instructions, check out their YouTube video.
The Verdict
Like other games from The op, this one is high quality and the cards are incredibly colorful. Without trick cards like other games, there's less scheming involved and the game truly is more about speed. It's perfect for one playthrough or endless ones with friends and family. Plus with five people, and five stacks the game goes by super quick with players rushing to get Ratuki! I definitely recommend this game for anyone who likes card games (but definitely wait to have those card parties.)
[rwp_box id="0″]
Ratuki game and Images courtesy of Usaopoly.
Have strong thoughts about this piece you need to share? Or maybe there's something else on your mind you're wanting to talk about with fellow Fandomentals? Head on over to our Community server to join in the conversation!