CN: Sexual assault, abuse
A former employee of Wyrmwood Gaming, prominent creator of tabletop gaming accessories that has raised multiple millions on Kickstarter, has alleged that the company terminated their position in order to cover up a sexual assault by another Wyrmwood employee.
In a video posted to Twitter on February 19th, Andrew Oberbeck, who worked for Wyrmwood from August 2019-January 2020, alleges that he met with his supervisor to discuss a Sexual Assault situation that according to Oberbeck occurred in the meeting room of the Wyrmwood workshop. In that meeting, he provided the names of those involved as well as a different supervisor who'd seen them that day. Within an hour, Oberbeck met with Wyrmwood CEO Douglas Costello behind the shop. Rather than asking for more info as Overbeck assumed, Costello instead allegedly fired Oberbeck. His reason? "Creating shop drama."
Oberbeck further alleges that other employees were threatened with termination if they discussed the issue, and that Wyrmwood would go on to use a design he created while under their employ without compensation or credit once he was gone.
Oberbeck's story came in response to other tweets on February 15th directly referring to the assault itself, which Oberbeck responded to in the moment to corroborate.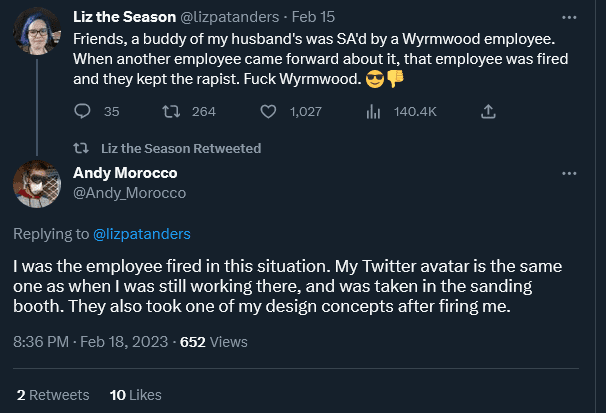 Since 2018, Massachusetts-based Wyrmwood Gaming has made a name for itself as one of the premier sources for more "luxury" accessories in the world of tabletop RPGs. Their flagship items are their modular gaming tables, but they've also produced dice, dice towers, vaults, and other accessories. Their Kickstarters for these products frequently make more than $1 million dollars, with their current project currently sitting at $1,696,959. They also have sponsored and/or provided products to Critical Role (whose Wyrmwood table made a cameo in The Legend of Vox Machina), Dimension 20, and other prominent actual play streams. Their Kickstarters have featured partnerships with creators like Ginny Di, Paul Karamanian, and Matthew Lillard.
(Full disclosure, this writer did back one of the aforementioned Kickstarter campaigns prior to this story breaking.)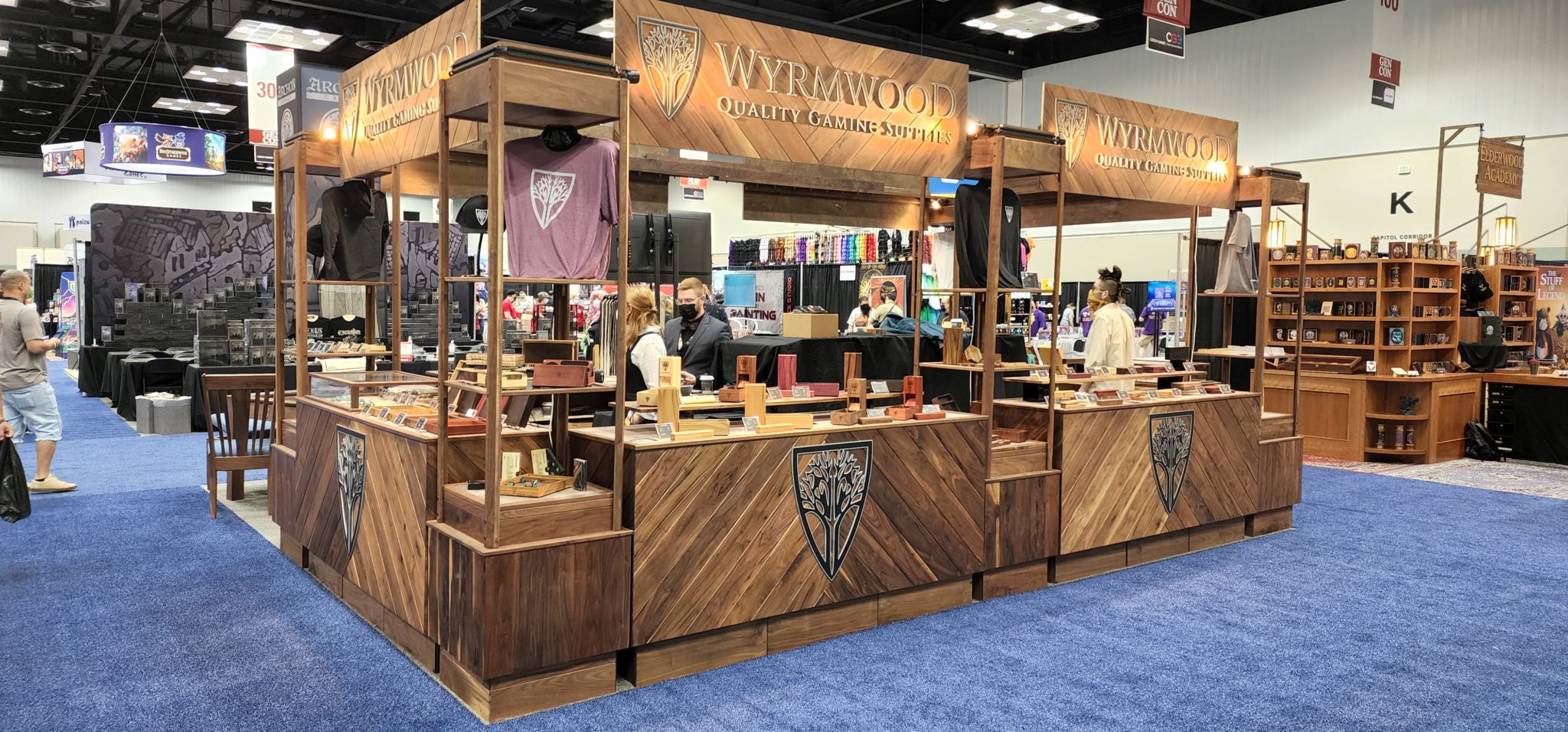 Members of the tabletop woodworking committee have begun to respond, with some stating that Wyrmwood has not had the best reputation over time thanks to reports of off-color jokes and other alleged exploitation. Others have mentioned their 2020 controversy where a Google Ad for the company stated their dice are "Not for Poor People."
There hasn't been a response from most former partners yet, though we've reached out to Dimension 20 and Critical Role for comment, as well as Wyrmwood itself. Kickstarter Partners with Wyrmwood Dispel Dice have, per their Twitter, seen the accusations and plan a response. Charity organization Take This, who have partnered with the company for fundraising, have also stated they are looking into the allegations.
UPDATE: Kickstarter comms Kate Bernyk has put out a statement on behalf of the company:
UPDATE: At 2:54 PST, Wyrmwood Gaming released a video statement on the allegations.
A transcript of the Video can be found here.
UPDATE 9:05 AM PST Wyrmwood issued a correction to their written statement, stating that after further investigation, the at the time CEO did receive word that event happened on company property but that they "missed that detail."

UPDATE 2/22/23 2:05 PM PST Wyrmwood's charity partner Take This, a nonprofit advocating for Mental Health in the gaming industry and fandom, has issued a statement in response to the allegations and Wyrmwood's response. They state that the allegations "violate the ideals and mission of [their] organization," and that Wyrmwood's subsequent written and video responses were "troubling and fall outside the ethical standards of Take This."
Following a thorough review, Take This is ending its charity partnership with Wyrmwood Gaming, effective immediately, halting all joint activations, including the production and sale of Hope Shields.
UPDATE 2/23/23 5:14 AM PST Andy Oberbeck posted a video on his Youtube and Twitter responding to Wyrmwood's statement.
UPDATE 2/23/23 7:45 PM PST Wyrmwood partner Dispel Dice, who worked with Wyrmwood on two previous Kickstarters and who's creator Karen Wang was close to becoming Wyrmwood CEO at one point, has issues their statement on the current controversy.

UPDATE 2/24/23 6:36 AM PST Wyrmwood issues new statement "Addressing Current Concerns" wherein they state they would be taking their initial video down in response to backlash from partners and customers, and would not be making any further public comments.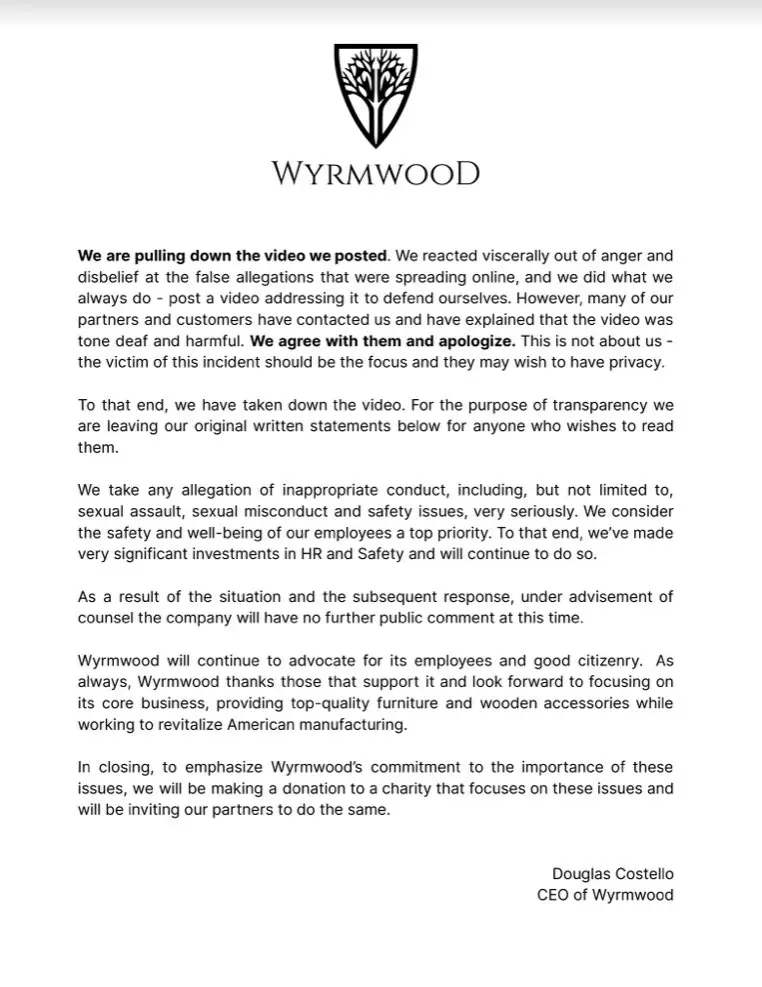 Their previous written statements will remain up.
Since this is a developing story we will update this feature as new details come to light.
If you are a survivor of sexual assault or know someone who is, please contact RAINN. Their site has links with info about how to report incidents, how to prevent, and recover, as well as the number for the National Sexual Assault Lifeline.
Images via respective owners