Wolfenstein: The New Colossus is a phenomenal game. It has an inordinate amount to say about racism, anti semitism, the cycle of abuse, ableism, eugenics, homophobia, fat shaming, PTSD, war, violence, and just about everything else under the sun. And developer MachineGames does all of that with this wonderfully strange combination of hyper-meticulous tact, high production values, and auteur confidence. Of course, none of that would have been possible if the setting surrounding the narrative didn't work, and holy shit does it ever.
The newest iterations of the Wolfenstein franchise take place in an alternate 1960—leading into '61 for the second game—where the Nazis won the war. 2014's Wolfenstein: The New Order was a game framed around the "how" of the world. How did the Nazis win? How do they keep their conquered states in check? How have things changed in this reality? How do we stop them from gaining more power? How do we fight back against a near global, yet also interplanetary, regime?
Throughout the game, you come across newspaper clippings and records (The Beatles sort of still exist) that fill the gaps between 1946 and 1960. The result is a fully realized world that isn't just a horrifying coat of paint over reality; it's how things would have happened…with a few super-science-y liberties thrown in because why wouldn't the Nazis a moon base or fire breathing robot dogs? And, of course, the greatest twist of all: the Nazis' inexplicable sci-fi advancement, the whole reason they won the war, was built on the backs of stolen technology from a secret society of Jewish science wizards. There's even a sequence where the protagonist, William Joseph "B.J." Blazkowicz, breaks into a high security compound and finds ancient schematics written in Hebrew, which he knows how to read.
We also knew, in broad strokes, what had happened to the other parts of the world. America had surrendered completely after Manhattan was obliterated by an atomic bomb, mirroring the destruction of Hiroshima and Nagasaki. The Nazis had yet to conquer the vast majority of Africa, as organized resistance was proving far more effective than they were willing to recognize. London was kept in line by a skyscraper-sized robot called the London Monitor, which you get to blow up.
Wolfenstein: The New Order took place almost entirely in western Europe (with a brief sojourn to the moon, of course) and exploring how the one region of the world that was, at one time, actually conquered by the Nazis, ended up being just familiar enough to what it was back then to what it became in their alternate history. It's this foundation, this deep uprooting and deconstruction of history, that allows its sequel, The New Colossus, to head straight into the United States. We were shown what was comfortably familiar to us, so it was time to show what was uncomfortably familiar.
An America subjugated and ruled by the Nazis.
Enemy Of The State Of Affairs
Wolfenstein: The New Colossus is a game about "why". Why do we fight against oppression when society around us punishes those who do? Why do we push back against systemic hatred, even when it has no bearing on us? Why does a man like William Joseph "B.J." Blazkowicz, the perfect aesthetic poster boy for Aryan supremacy, reject those who would treat him like a king?
Why has America submitted to Nazi rule? The short answer is: giant airship. The long answer? Well, that one's not so complicated.
Relatively early in the game, you meet up with a New York City resistance cell lead by a black woman named Grace, a survivor of the Manhattan bombing. In fact, all but one of her members are black with the exception of her partner Super Spesh. Their character designs explicitly invoke imagery of the Black Panthers and the overall Black Power movement.
The first game had you run around helping the Kreisau Circle, the Berlin-based Nazi resistance group that eventually cut the head off the Nazi war machine and stopping them from developing new weapons. This cell was lead by Caroline Decker, a paraplegic veteran. But, in the opening of this game, Caroline is executed by the main antagonist, Frau Engel, leaving a gaping hole in leadership that Grace fits perfectly. Who better to represent a 1960s violent uprising of the oppressed than a black woman in America?
She even goes so far as to move into Caroline's old cabin in their captured Super U-Boat. From the start of the narrative, Wolfenstein is showing us that America is very different from a conquered Europe. For one, the English language is being banned, hearkening back to that old adage of "If the Nazis won, we'd all be speaking German".
The largest among the differences though is that, just as Grace says above, America never stopped fighting the Nazis. The military did, yes, and the vast majority of the white population, including a South-governed KKK, but the fact that there is a dedicated anti-gravity airship, the Ausmerzer, whose sole role is to travel the country and crush resistance factions for the past decade tells us in no uncertain terms that the hold the Nazis have over America isn't as ironclad as they believe it to be.
Even if they are able to put on one hell of a show.
We find newspaper clippings within the game describing resistance cells crushed by the Ausmerzer, and there's even a moment during a trip to Roswell where you're recognized (you're the Reich's most wanted, after all) by a local resident who, in a terrified act of defiance, whispers that he believes in what you're doing when just seconds prior he was selling newspaper propaganda with glee.
The cap to this, however, is the final scene of the final mission of the game where you ambush Frau Engel's live appearance on a talk show. You sneak through the bleachers and into the rafters, noting that every single person in the audience is a cardboard cutout. The show may be being broadcasted to every living room in the world, but it stands to reason that if people aren't going to the live show…they're not buying into the lies.
America is being crushed under the heel of the Nazis, yes, but it has yet to be crushed. Good people are still out there in the world, but they've forgotten how to resist. Those who were already filled with hate jumped on board, the minority, while everyone else is either putting their head in the sand or just trying to survive.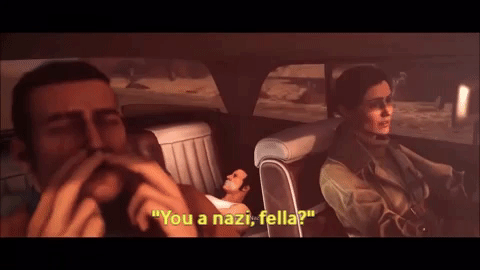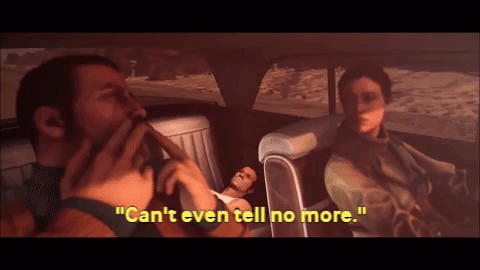 On the other side of the table, though, is how white America perceives the Nazis. I've already mentioned that the KKK controls the south, but it goes a whole lot deeper than that. Slavery has been legalized once more, and auctions are the talk of the town. We find out that, in true Nazi form, they rounded up the country's degenerates—Jews, queer folk and people of color—and either purged them or sent them off to die in New Orleans…which is now a massive ghetto, Escape from New York style.
And if you "named names", you were rewarded with what those same people left behind. Land rights, mansions, savings; everything they owned was either seized by the state or given as a gift to those who betrayed their friends and neighbors. This is not something we discover on a broad scale; it's personal to B.J.
He visits his childhood home after nuking Area 52 (it wasn't aliens, just ancient Jewish Techno Wizard secrets) and finds his abusive father, Rip, waiting for him, having heard he was in the area and assumed he'd come around. Rip, as we learned from flashbacks, was physically and emotionally abusive to both his son and his wife Zofia, a Jewish Polish immigrant. That, and he was a hardcore White Supremacist, having only married Zofia because he believed her father would be a business asset. He bemoans that no one knows what it is like to suffer as he does, thinking that everyone is trying to steal everything from the White Man.
In short, he represents everything that B.J. has spent his entire adult life fighting against.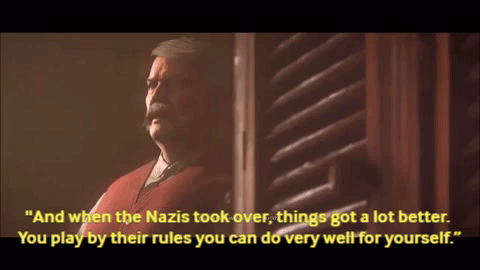 When asked what happened to his mother, Rip admits that he sold her out to the Nazis and they took her away. The confrontation ends with B.J. killing his father after he presses a shotgun to his son's forehead, but through their entire conversation he'd been on the phone with the Nazis. He'd sold out his son, too.
That's the state of the world in Wolfenstein, and in The New Colossus you blow it the fuck up.
Terror-Billy Goes America All Over Everybody's Ass
While the game's marketing may have been pointing towards a parallel with the American Revolution as for how the country ousts the Nazis, I posit that the historical context is far more evocative of our 1960s.
Grace's existence and design are already evidence of this, but it's the rest of the resistance that makes this all the more clear. The second big group you recruit, aptly enough from the New Orleans ghetto itself, is lead by a man named Horton. He organizes a group of communists, socialists and anarchists who you'd think wouldn't fit in with Grace and her people. These are the people that dodged the draft, even if they did push the concept of equal rights earlier than most. Horton even flat out cites their attempted push for a civil rights movement in an argument with B.J.
Of course, there's a key difference between refusing to fight on foreign soil in a war that benefits the military industrial complex and what's happening to them now. Horton's group draws upon sentiment from both the end of the Great War and the counterculture movements of the 1960s.
Again, many of them were draft dodging pacifists, but that goes right out the window when it comes to Nazis. It's one thing to refuse to fight a foreign enemy on foreign lands when victory would have only spread what you're rebelling against. It's quite another to sit by and accept fascism in the very country that allowed, though not always encouraged, you to believe what you saw in your heart as just.
It's at the end of the game, however, in the ending cinematic, that this entire idea solidifies. That this historical context isn't an accident, and the frankly unbelievable amount of homework MachineGames must have done paid off in spades. Mere moments after B.J. kills Frau Engel on live television, Grace and Horton speak directly into the cameras and ignite a violent revolution. The Kreisau Circle may be organized like a guerilla military operation, but the American people aren't. They don't need to be.
It's an angry, raw, improvised and imperfect call to arms, but that's what makes it perfect. Violent uprisings don't start with eloquence or deep debating over the justification to fight against those who oppress you. They start with whatever you've got on hand. The Civil Rights movement, the Stonewall Riots and the general counterculture protests that dominated the 60s are clear influences on Wolfenstein's depiction of "retaking America". Seriously, if it didn't sink in already, they blast a heavy metal cover of Twisted Sister's "We're Not Gonna Take It" over the end credits coupled with imagery of violent rioting and uprisings across the nation.
Wolfenstein does not attempt to hold a mirror to our world today, even if it does so inadvertently. It tries to make us look back, so that we remember how to keep moving forward. It's message is clear because it knows what it's talking about, no matter how over-the-top the presentation:
Equality is not a debate; it's a right. Those without it won't stop until they have it, because for them it's literally "Fight, or Die".  So the best thing you can do, if you've already got it, is to pick them up with you. And if you don't? If you keep trying to push others down? It's gonna get bloody, just like it always does, and chances are it won't be them who's dying.
---
Images courtesy of MachineGames