Slumber Party Massacre II is unlike any slasher movie ever made. It is the Johnny Guitar of slasher films. The film feels strangely outside of the genre while somehow steeped in it. The film stands alone in the genre not only because of its visual distinctiveness but because of its voltaic style and storytelling. 
Surreal and blunt, Deborah Brock's 1987 debut is a singular entry into a genre filled with clones upon clones of each other. Written and directed by Brock, Slumber Party Massacre II sees The Driller Killer returning as someone different. Also, he doesn't start killing people until the last twenty minutes. It's almost as if Brock has only the barest interest in making a slasher sequel.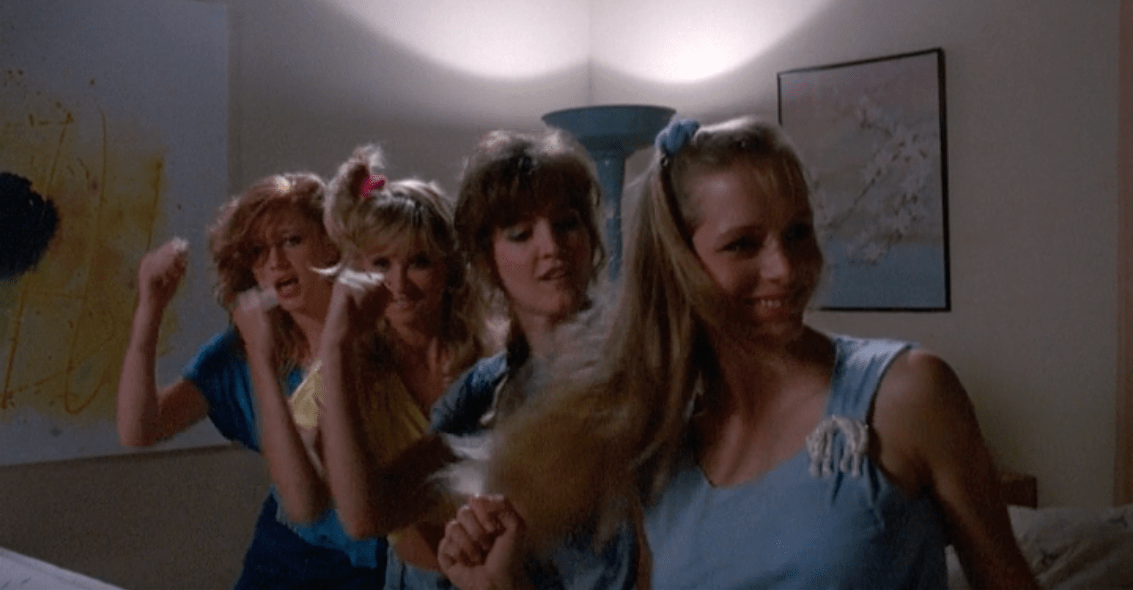 Instead, she's made a pastel explosion of pastel-cloaked montages by way of Wes Craven's version of a slasher. Slumber Party Massacre II runs more on dream than narrative logic and is all the better for it. It is a fitting entry into a franchise that is practically alone as the only horror series written and directed by women.
If the first Slumber Party Massacre is a parody of the genre, then Slumber Party Massacre II is downright defiant of it. For most of Slumber Party Massacre II, the film is less about teens being punished for being teenagers rather than Courtney (Crystal Bernard) and her friends hanging out and having fun. Underneath that, however, is Courtney coming to terms with her sexuality and womanhood. 
Even the typical POV shots we usually get in the genre, generally from the killer's perspective, their identity often kept a secret until the big reveal, are instead from Courtney's point of view. The characters have sex, drink, and are as horny and obnoxious as teens are, with their deaths feeling not like moral condemnations but more like the tragic, bloody result of chaos unleashed that they are.
The irony of John Carpenter and Deborah Hill's Halloween is how neither of them ever intended for Michael Myer's murder spree to be read a puritanical conservative edict on teenage sexuality. The genre just ran with it after copying it so often. In a way, Brock breaks free from this and allows the teenager's death to hit differently simply because it doesn't feel like fulfilling a genre trope or making a statement. 
Much of the violence and voyeurism isn't coming from the outside but from Courtney herself. One of the few survivors of the last Slumber Party Massacre, Courtney has grown up. Her older sister is now committed to an asylum, and Courtney bears the weight of being a growing girl and survivor guilt. It's rife with Queer subtext, especially since, as stated, the first-person point-of-view shots are from Courtney's perspective as she struggles to cope with her burgeoning bisexual desires. 
Courtney literally dreams of the hunky Matt (Patrick Lowe), tan and clean; he is the All-American fantasy come to life. But most of all, he is non-threatening. But her dreams soon give way to another figure before her dreams give way to visions of the leather-clad boisterous rocker, the Driller Killer (Atanas Ilitch), sporting a big red guitar with totally not a symbol for a penis drill at the end. That Courtney sees the Driller Killer whenever she becomes aroused is undeniable but notice how he appears when she is with her friends, or her good friend Amy (Kimberly McArthur).
Brock and her cameraperson Thomas L. Callaway even sprinkle in some menstrual imagery, with blood spurting from the bed as she wakes up from a nightmare. But again, Brock's genius in Slumber Party Massacre is that it's less a horror movie for most of its runtime and more of Courtney and her friends hanging out and having a good time, albeit with Courtney struggling with unresolved trauma. 
Amidst all of this, Brock dares to infuse the movie with musical numbers, Josie and the Pussycat style, with the girls rocking out and, by the end, giving Ilitch's Driller Killer his own song and dance number while wielding his guitar/drill.
If all of this makes Slumber Party Massacre II hard to picture, then that's because Brock has gone out of her way to craft a slasher that runs on the expressionist imagery of its characters. To sit down and type out the plot of Slumber Party Massacre II misses the point. The plot of Slumber Party Massacre II is irrelevant. It's the style and how Brock wields it to rip apart a too-often stale and rote subgenre.
Like the first Slumber Party Massacre, Brock makes the girls distinct characters while the boys feel interchangeable: the rich, snotty lead singer Sheila (Juliette Cummins), the surfer blonde drummer Sally (Heidi Kozak), the quiet Amy on bass (Kimberly McArthur), and Courtney on backup. 
Brock's casting is likely somewhat tongue-in-cheek. In addition to being a Playboy Playmate, McArthur had a minor musical career, including a single and being the star of Mel Tillis's music video "A Cowboy's Dream." Amy is the least sexual of the girls next to Courtney. Brock utilizes McArthur for her talents more than her body, her outfits being more modest than her friends while also being the least overtly sexual of the group next to Courtney.
Which is not to say Slumber Party Massacre II doesn't have its share of requisite nudity. The infamous pillow fight scene stands alone both for its high-camp eroticism and also for its almost satirical, over-the-top music video editing by Wiliam Flicker. The lighting and the way the feathers fall as Sheila's bra falls off are comical as the scene also gives us the rare moment of co-opted voyeurism, with a few moments from the male point of view — two boys watching from the window outside. "I didn't think girls really did this."
Part satire and part Courtney's sexual fantasy, Brock imbues the moment with a kind of innocent salaciousness. Sheila jiggles her breasts as she stares into the camera, Courtney's point of view, and lies on the couch, watching it unfold before her. Brock suggests the "male gaze" might not be as male-specific and heteronormative as we think. Much like the boys on the outside looking in, Courtney is a voyeur inside looking out. Hardly an active participant, aside from dropping the feathers onto her friend's writhing half-naked bodies, she remains in the background.
Running through all of this is Ilitch's Driller Killer in a performance that is only comparable to something from Nic Cage. Free from any narrative logic, his Driller Killer spends much of The Slumber Party Massacre II as part of Courtney's paranoia and nightmares. But once he inexplicably crosses into the real world, he becomes a fearsome, violent, and sexy grim reaper. Unlike Russ Thorn of the first movie, this Driller Killer is bristling with personality. Gone is the "merely another violent man," the Driller Killer is replaced with a cartoonish phantasm.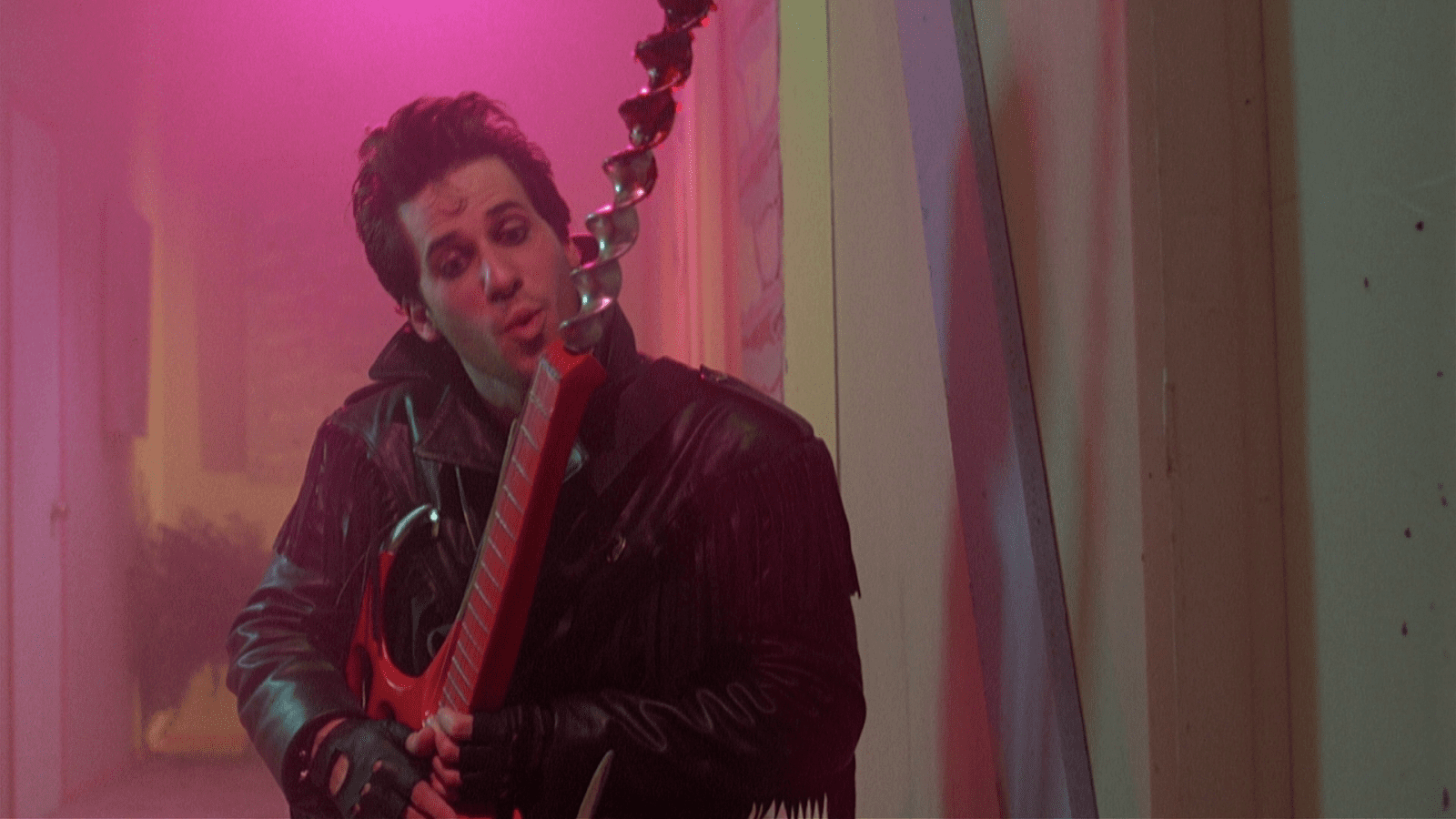 But that's because he's not the Driller Killer; he's the warped frustrations of a confused young girl personified. Trauma mixed with life in the closet breeds an interior life rife with guilt, desire, and shame that can only end with an explosion of tragedy. He appears whenever Cournety's desires begin to burn. A moth to a flame, he is the embodiment of unprocessed sexual awakening and cauterized trauma.
But Brock allows other fears to inhabit Slumber Party Massacre II—mundane fears like Sally's acne, which she blows out of proportion. What is hardly noticeable to both us and Cournety seems to be disfiguring to the poor girl. To the point that eventually, Courtney envisions the zit exploding on Sally's corpseified face in one of the few true squirm-inducing gore instances of the film. 
Bernard, as Courtney, holds Slumber Party Massacre together in a performance that is one of the more truthful portrayals of a teenage girl slowly coming undone from the inside out. But to do it all while nailing such acerbic lines, such as "This Sunday is my Birthday, and I don't want to go to a mental hospital," is talent. 
Brock sprinkles nods to other movies throughout, but perhaps the most pointed one is the name of a cop who is called to the house to check on a disturbance, Officer Kruger (Michael Delano). More than merely a name-drop reference to an evident influence on Brock's debut, it is also a scathing commentary. The cop is useless and refuses to help or listen to the girls, preferring to berate and sermonize at them. When the girls call him again after the Driller Killer has manifested, he brushes them off. The slasher genre is filled with inept and powerless authority figures, but there's something about the callousness and rage of Officer Kruger that makes him particularly monstrous.
Slumber Party Massacre II switches tones like a driver shifting gears in a race. For every moment of aching verisimilitude, such as Amy and Corunety singing along with a song on the radio, there are moments of screeching surrealism, such as when the chicken in the fridge attacks Courtney. Through it all, Ilitch's Driller Killer haunts the frames like a boogeyman of Corunety's psyche; we're never sure when he'll pop up.
Like Nobuhiko Obayashi's House, Slumber Party Massacre II explodes with a kinetic sense of fun and delight. Another trait that sets it at odds with its chosen genre. It takes place largely during the daytime, with even the night scenes being brightly lit, with its bright color schemes making the film all the more enthralling.
Callaway and Brock borrow from German expressionism and MTV, ensuring every shot and angle felt rather than just seen. The result is that Slumber Party Massacre II is a visceral experience as opposed to the passive one so many slashers are. A festival of music, blood, and guts, screaming teenagers, and a psychotic rockabilly slasher, Slumber Party Massacre II should be held as a classic rather than the cult gem it is strangely relegated to.
Images courtesy of New Concorde
Have strong thoughts about this piece you need to share? Or maybe there's something else on your mind you're wanting to talk about with fellow Fandomentals? Head on over to our Community server to join in the conversation!