Def by Temptation reaches out from the screen, pulls you along, and refuses to let you go. An urban fable about good and evil, black masculinity, all the while its homoerotic undertones simmer beneath the surface, I sat there transfixed and confused about how I had never heard of this film.
The first and last film written and directed by James Bond III, Def by Temptation, is a unique film that haunts and compels. Due in large part to Bond's cameraperson, legendary Ernest Dickerson — longtime collaborator of Spike Lee who would go on to be a renowned director in his own right. Bond, who also wrote the script, reportedly told Dickerson that since he had never directed a film before, he could do whatever he wanted, and he chose to focus on working with the actors. Def by Temptation is a hallucinatory tale about a succubus thirsting for an ultimate victory.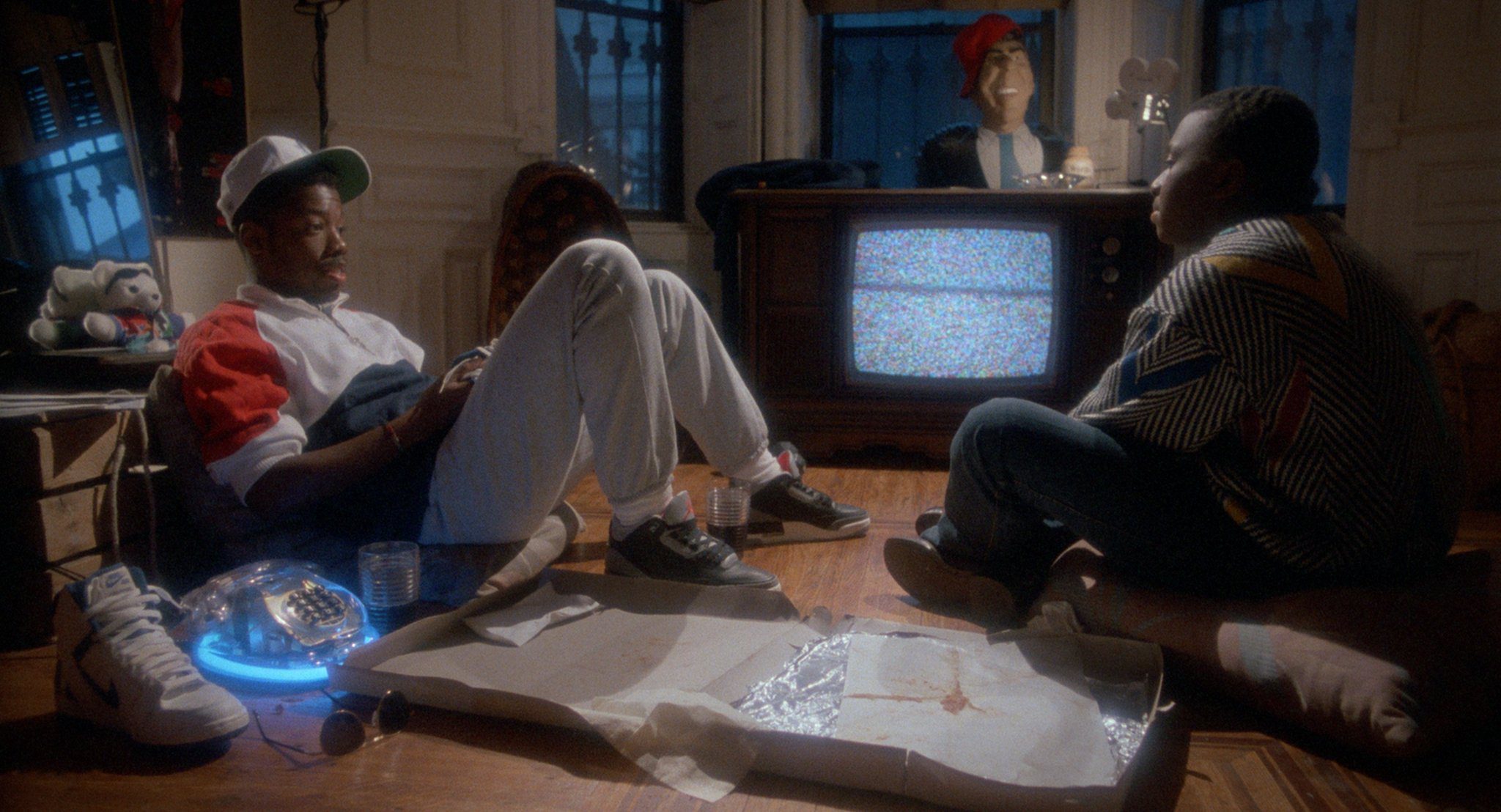 The most striking thing about Def by Temptation is that it is from Troma Studios. A studio founded by Lloyd Kauffman and Michael Herz, infamous for such inspired schlock as the Toxic Avenger Series, Surf Nazis Must Die — a title that is for me in the running for the greatest title ever — and the first feature by then little-known director James Gunn Tromeo & Juliet. Troma films are often gonzo, gory, sleazy, and cheap, cheap, cheap. They are trash films that, while never good, sometimes rocket off into the rarefied stratosphere of amazing.
This makes Def by Temptation an odd film for the studio. If for no other reason, it doesn't reek of exploitative shlock, not a bad thing to smell, but rather a unique blend of genre and singular perspective. The lensing by Dickerson plunges Def by Temptation into a world operating on a particular wavelength of dream logic. At the same time, Bond and Dickerson are in no rush, imbuing a languidness to the film's pacing that draws the characters into sharper focus than the genre typically allows.
Bond plays Joel, a divinity graduate about to enter the priesthood. Raised by his grandmother, played by Minnie Gentry, Joel seems marked by tragedy. His parents were killed in a car crash. Lately, their deaths and his father's sermons haunt Joel's dreams. Joel seems plagued by visions of his father, played by a young Samuel L. Jackson, delivering fiery speeches while a dark specter stalks the back of the church and Joel sits enraptured.
Joel is racked with a sense of approaching a crossroads of sorts. He calls a childhood friend, K (Kadeem Hardison), a somewhat successful B-movie star who lives in New York City, and tells him he's coming to visit. The friendship of the two is a large part of what makes Def by Temptation so unique.
K takes Joel on a tour of NYC to loosen him up. But back at his apartment, he pleas for Joel to remember the people he saw on the street. "What you saw today, young brother were victims of economics and violent Reganomics…You can't be sheltered by the truths of our lives and then go out and do your ministry." Bond's script has such a natural eye, though, that the convo soon turns comedic as Joel reiterates K's message more concisely.
Bond's dialogue is sometimes rhythmic, achieving a kind of poetic prose, as every line feels like a lyric to a song written before our eyes. He wisely has his actors treat the dialogue as natural, adding to the theatricality but neo-realism aspect of their performances.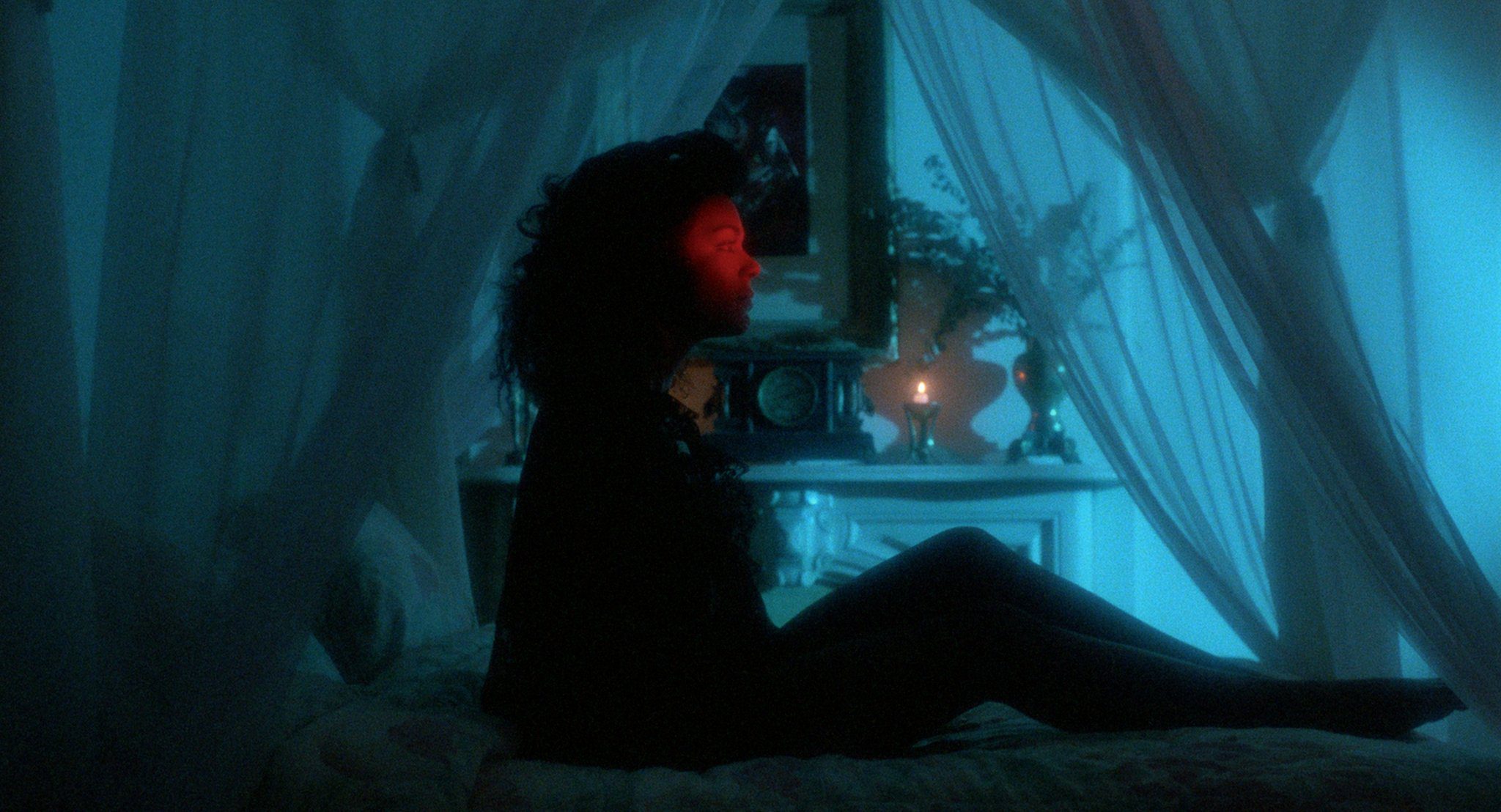 Performances such as Bond's likable naive country mouse Joel and Hardison's K's layered and magnetic seen-it-all, street professor K. The two share a bond — they're both from the country — but their shared yet different perspectives allow for the conflict once the Temptress enters their lives.
The Temptress, played by Cynthia Bond (no relation) in her film debut, is a creation of sheer erotic menace. Bond plays it icy cool but isn't afraid to dial up the heat as she vamps and gazes from her seat at the bar. A femme fatale in the most literal sense, she lures men, usually the worse kind of sleazebag, to their dooms. Def by Temptation never specifies if the Temptress is a succubus or a vampire because what she is isn't the point. It's that she's trying to seduce Joel away from the path of righteousness. The last of his bloodline, his demise would be a true victory for evil.
Dickerson's camerawork with Bond's Temptress is the kind of cinematic manna that makes or breaks performances. His camera enhances her performance in ways that are hard to define but impossible to ignore. A reminder that a good cinematographer can take a great performance and make it iconic while a mediocre one can only record it.
Underneath all the eerie supernatural war between good and evil, Bond explores the fragile masculinity of men. Primarily in the little theatrics, they put on in front of other men and the buffoonery they employ in attempts to seduce women. Yet, it is impossible not to pick up the deeply Queer vibes radiating from Def by Temptation. 
If only because there is something about straight men exploring masculinity that often reads as intensely homoerotic. It's never text or subtext but something much more ingrained in the material, as if it's part of the lettering.
The punishments meted out by the Temptress for the men she brings back to her brownstone are almost biblical. One victim, Norman (Rony Clayton), isn't killed so much as given open sores, mimicking a symptom of HIV and thus marking him as a cheater. Still, yet another punishment has her pegging a gay man, Jonathan (Stephen VanCleef), to death. His sin, presumably, is his attempts to hide in the closet. 
Bond and editors Brian O'Hara and Lin-Shin Yu keep Def by Temptation running on parallel tracks—the story of Joel and K on one and the Temptress and her victims on the other. The two stories heading toward each other, like fate, destined to crash. The bridge between them is the legendary Bill Nunn as Dougy, a fixture at the local bars whose lame pick-up lines cause the ladies to laugh more than to go home with him. 
O'Hara and Yu keep Def by Temptation humming along to its own internal rhythms. Working with Bond, they employ an off-beat tempo in the way they cut from scene to scene, adding to the dream-like feel of the film. The trio are less interested in giving us information and more interested in pulling us into their feverish dream world.
But then a third track appears, and Def by Temptation becomes a sort of Hood monster hunter movie with Dougie and Kay as amateurs trying to battle the Temptress and save Joel. Somehow, Bond and Dickerson make it work, never allowing the silliness to overtake the seriousness, instead blending the two. Frankly, the great disappointment of Def by Temptation is that there is not a spate of sequels featuring Nunn and Hardison as monster hunters, for the two have such a dynamic chemistry that it's a shame their scenes together are so short.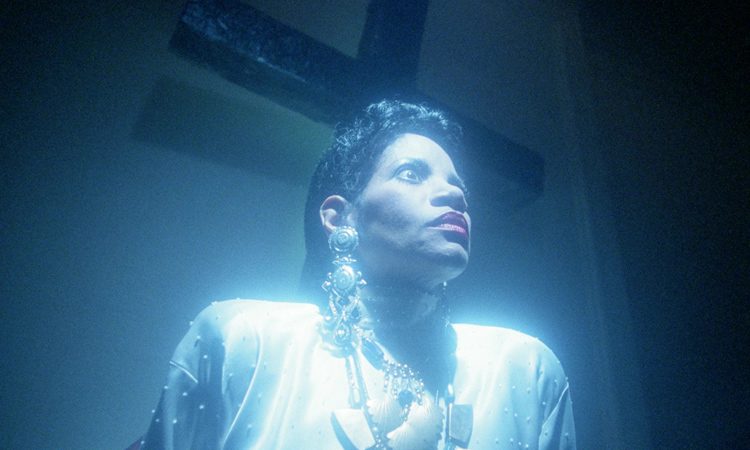 Their adventure leads them to a fortune teller, Madam Sonya (Melba Moore). Madam Sonya and the Temptress face off in what amounts to one of my favorite moments in the movie. Bond and Moore are electric as Dickerson shines a spotlight on the actresses from beneath the frame, with wind machines, as they howl and curse each other. The scene is such a knockout it makes the actual climax feel somewhat anti-climactic.
More than anything, though Bond gave Dickerson near total freedom, Def by Temptation feels born from a singular voice. Def by Temptation reminds me of a 90s Night of the Hunter—a rare gem of American cinema from a first-time director who would never make another film. Dickerson and Bond work together to craft a fanciful morality tale. Whether it's the Temptress cackling in a shower of blood or K being sucked into a television set, Def by Temptation is packed full of imagery that sticks to bones like spectral residue.  
Images courtesy of Troma Entertainment
Have strong thoughts about this piece you need to share? Or maybe there's something else on your mind you're wanting to talk about with fellow Fandomentals? Head on over to our Community server to join in the conversation!