During this year's D&D Direct video presentation, Wizards of the Coast announced new partnerships that expand the breadth of the D&D brand from digital games to physical collectibles from top toy manufacturers Hasbro and WizKids.  
Minecraft x Dungeons & Dragons
The first of these new partnerships is with Minecraft and the launch of a new Minecraft D&D DLC, available on the Minecraft Marketplace Spring 2023.
"We're incredibly excited to partner with Wizards of the Coast, to introduce a brand new, story-driven Dungeons & Dragons DLC to Minecraft! We can't wait for the community to dive in and experience a blocky take on the world of D&D," said Riccardo Lenzi, Senior Producer at Mojang Studios.
In this new Minecraft D&D DLC, players choose among classes like barbarian or wizard and explore five iconic Forgotten Realms locations such as Candlekeep and Icewind Dale while defeating classic baddies like beholders, mimics, mindflayers and, of course, dragons! This new, original adventure allows players to customize their characters' stats and roll 20-sided dice to determine how to proceed in fully-voiced dialogue. Play with friends and get a unique D&D experience in the world of Minecraft.
New Honor Among Thieves Figures
Hasbro is all in on D&D and has been creating amazing figures fans will love. Not only are there the previously announced Dicelings and 6" figures of the characters from Dungeons & Dragons: Honor Among Thieves and the classic D&D cartoon, but Hasbro is excited to show off the Golden Archive releases of the Xanathar, an owlbear and the Dungeons & Dragons: Honor Among Thieves displacer beast. Find out more on Hasbro Pulse Fanstream on March 29th at 8am PT!
Honor Among Thieves Secret Lair
For Magic fans, Wizards also announced a special Dungeons & Dragons: Honor Among Thieves Secret Lair drop for Magic: The Gathering. This pack features six cards based on the characters of the film including Edgin, Larcenous Lutenist; Forge, Neverwinter Charlatan; and Holga, Relentless Rager all bearing the likeness of the actor playing the role. Pre-orders for Secret Lair x Dungeons & Dragons: Honor Among Thieves are open today!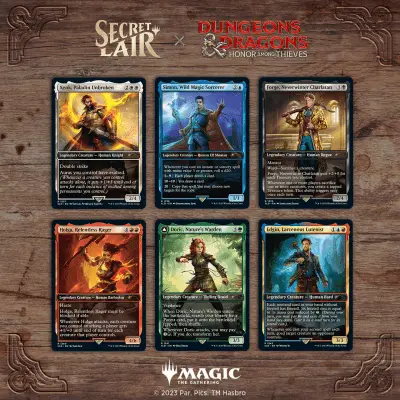 Menzoberranzan Comes To Neverwinter
The writing of R.A. Salvatore in the Legend of Drizzt has become synonymous with many D&D fans' vision of the Forgotten Realms. With the release of Dao of Drizzt this fall and the upcoming conclusion to the latest trilogy featuring the drow ranger, Lolth's Warrior, Salvatore looked back on the character that has meant so much to fans. Wizards' partners at Gearbox Publishing and Cryptic Studios have teamed up with Salvatore to create Menzoberranzan, the 25th expansion for the popular MMO Neverwinter. The new expansion is available now on PC, Xbox, and Playstation, and lets players explore the dangerous city for the first time in the game.
"It's very different to write for a video game than writing for a novel," Salvatore said in an interview featured during D&D Direct. "You're going to walk down the road looking at the world through Drizzt's eyes. When I'm writing a video game, however, the most important character in a video game to the player is the one they are playing. In Neverwinter, the work they are doing always astounds me and the fact that they are piggy-backing on stuff I did makes me feel very good."
Wizkids Brings The Cute
WizKids has brought to life hundreds of D&D creatures over the years but none as gruesome – or adorable – as the D&D Replicas of the Realms they introduced during D&D Direct. The mimic may look like a treasure chest on the outside, but its purple tongue and vicious teeth will make any adventurer lose their lunch, and their hands, pretty quickly. The 20-inch-tall mimic is no match for the cuteness of the 11" baby owlbear figure with its "puppy dog" eyes.
New Stories, Villains, And An Exciting VTT
D&D Direct rounded out with details on the upcoming documentary from Joe Manganiello celebrating the 50th Anniversary of the game in 2024. Chris Perkins and Jeremy Crawford from the D&D studio also dropped hints at what's to come with previews of upcoming books, story hooks involving fan-favorite characters and villains, and a deeper look at pre-alpha gameplay footage from the D&D virtual tabletop (VTT) that's currently in development at Wizards of the Coast. It's also been confirmed that new books include the return of the popular Planescape setting, a sourcebook on giants, and a story relating to Phandelver.
More details on upcoming releases to Dungeons & Dragons itself will be revealed at a later event.
Images via Dungeons & Dragons
Have strong thoughts about this piece you need to share? Or maybe there's something else on your mind you're wanting to talk about with fellow Fandomentals? Head on over to our Community server to join in the conversation!