If there's one thing about Al Ewing, he will pull on a random plot thread that everyone else has forgotten. Even further, he will tie together TWO plot threads that people have forgotten. Maybe I'm exaggerating about how few people remember W.H.I.S.P.E.R from the All-New All-Different era of marvel, but it made me pause to do a quick wiki dive.
We pick up with Whirlwind again, who I had forgotten was a mutant as the Wasps bring him back to the Raft. It is clear that he is scared and intimidated of whoever is pulling the strings behind WHISPER. Nadia tells Jan that she had looked into the organization because she didn't want her enemies to have to become Jan's as well. We learn of a specifically wasp-themed underground organization that was feared by SHIELD and the Red Room alike.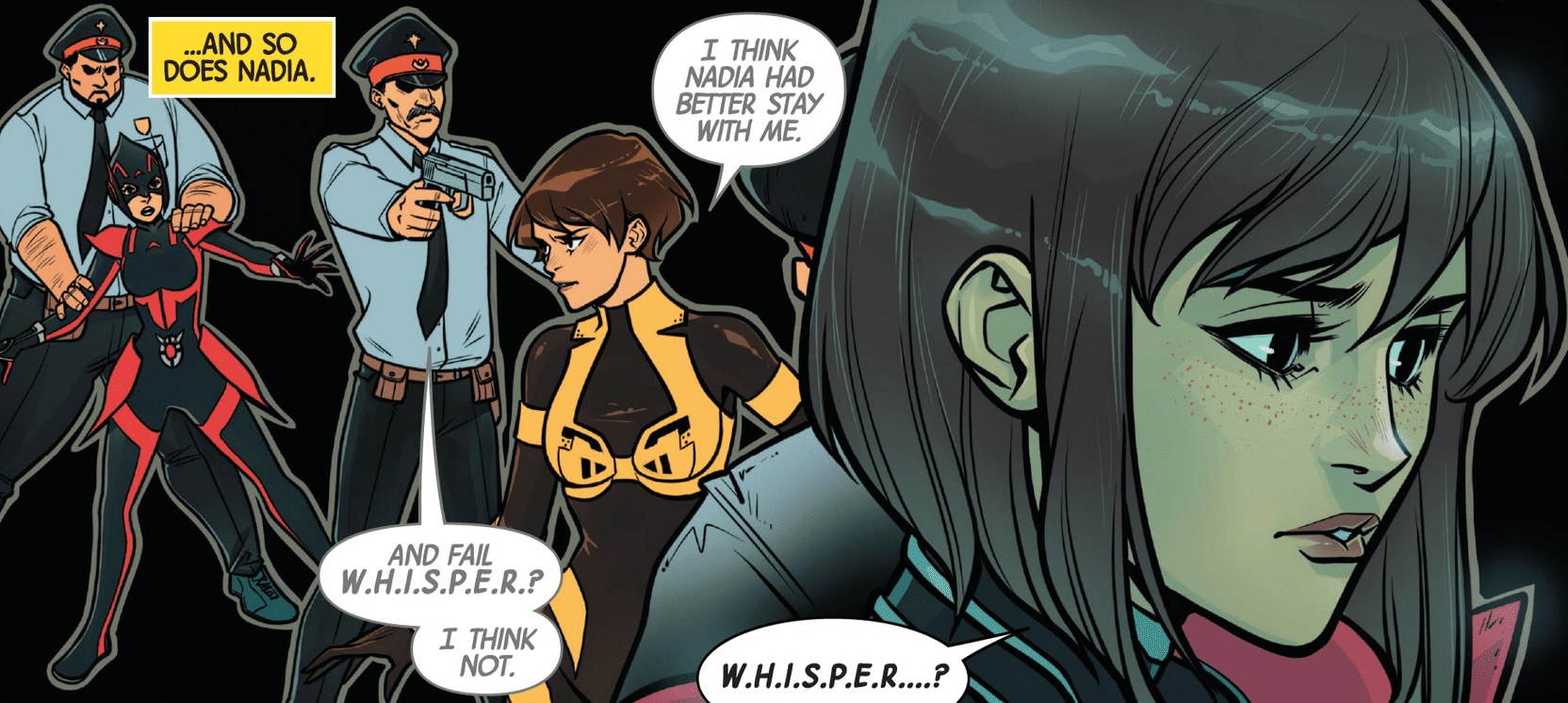 It is then when Nadia's high-tech suit alerts her that it had run tests on the substance that had coated Whirlwind's blades last issue and it sets off alarm bells in Jan's head. It is the very same substance that comprised the Creature of the Kosmos. They use a particulates tracker to trace the highest concentration of the substance to a warehouse that has every marking of an evil lair. 
There they are attacked by Fantasma and a swarm of robo-wasps, all decked out in Janet's many old costumes. Janet is stunned and Nadia single-handedly takes down all of the cyborg wasps. They then enter the warehouse where the concentration of the substance is highest and feel it affecting their bodies, being suddenly unable to turn away and walk trance-like right into the trap that the Creature of the Kosmos laid for them.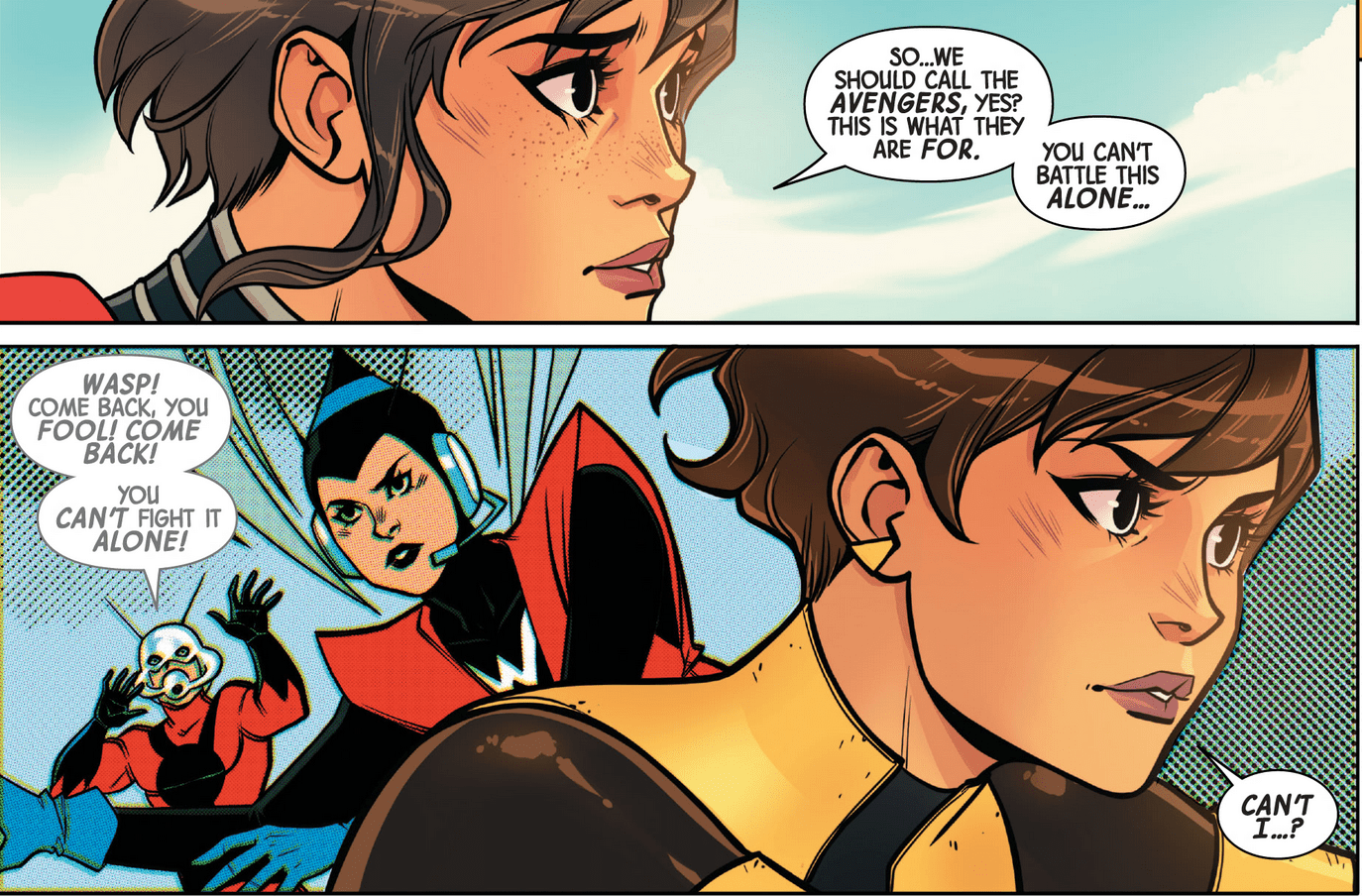 General kookiness of Silver Age villains aside, which I have already commented on, this series gives our Wasps a real threat that ties both of their histories together. Something that stuck out to me in this issue was that it seemed to highlight Jan's impulsive nature. The small flashback panel we get of her and Hank in the early days where she is trying to take on the Creature alone lines up with the now-or-never way she rushes into things presently. Since she has been around for so long, it is sometimes easy to forget that Janet was only 18 when she became The Wasp using experimental technology. Her impulsive tendencies and sometimes reckless abandon are partially why she and Hank were drawn to each other early on. 
This serves to also highlight Nadia's more analytical and rational way of looking at foes. We see that she heavily researches and analyzes and tries to get as much information before formulating a method of attack. She is compared directly to her father Hank in that way. I have never taken a stance on whether or not I think Nadia and Hank need to ever meet, but I do think that drawing similarities to the two is necessary. Nadia has effectively taken the narrative place of her father in the marvel universe, the socially awkward supergenius who struggles with their bipolar disorder. I will go on about Hank Pym in a later piece since this is about Nadia and Jan!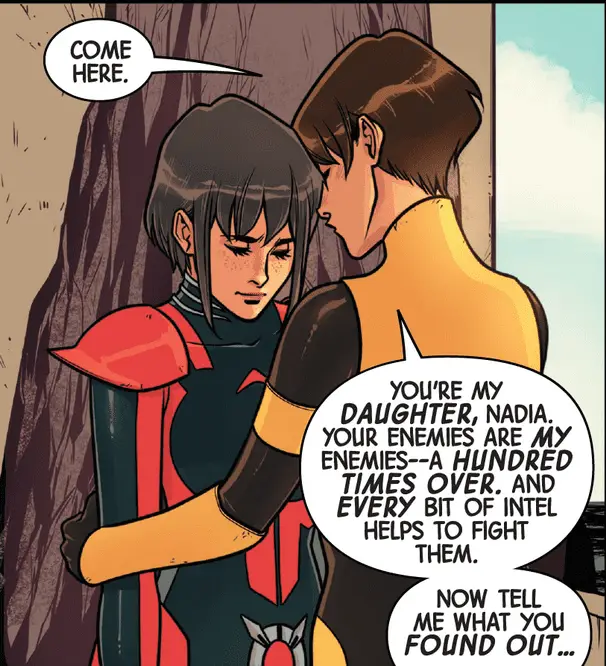 Something else I appreciate is that we got a fight scene of Nadia kicking ass entirely on her own. We know that the Red Room trainees are incredible fighters, but Nadia does not always get to utilize her skills. Because her place in-universe recently has focused more on her scientific prowess, it is always a treat to remember that she is in fact a trained assassin. 
It seems that Ewing is trying to play up a Father/Daughter-like relationship between Edwin Jarvis and Janet; which it is frankly shocking that it has not been done before. As I said above, Janet was a recently-orphaned 18 year old when she founded the Avengers and the most natural paternal figure in her life after she lost her father would be Jarvis. It goes to highlight just how long Janet has been a crucial part of the greater Avengers mythos seeing as Jarvis is almost synonymous with the lifeblood of the Avengers. 
There's mentions of the other Avengers being summoned to help out with the threat of the Creature of the Kosmos so I'm excited to see if there will be guest stars in the next two issues. I want Janet and Nadia to have their time to shine as solo stars, but in many ways they are defined by the teams they have been on. I would love to see some of the classic Avengers or a few of the Champions show up for some battle support.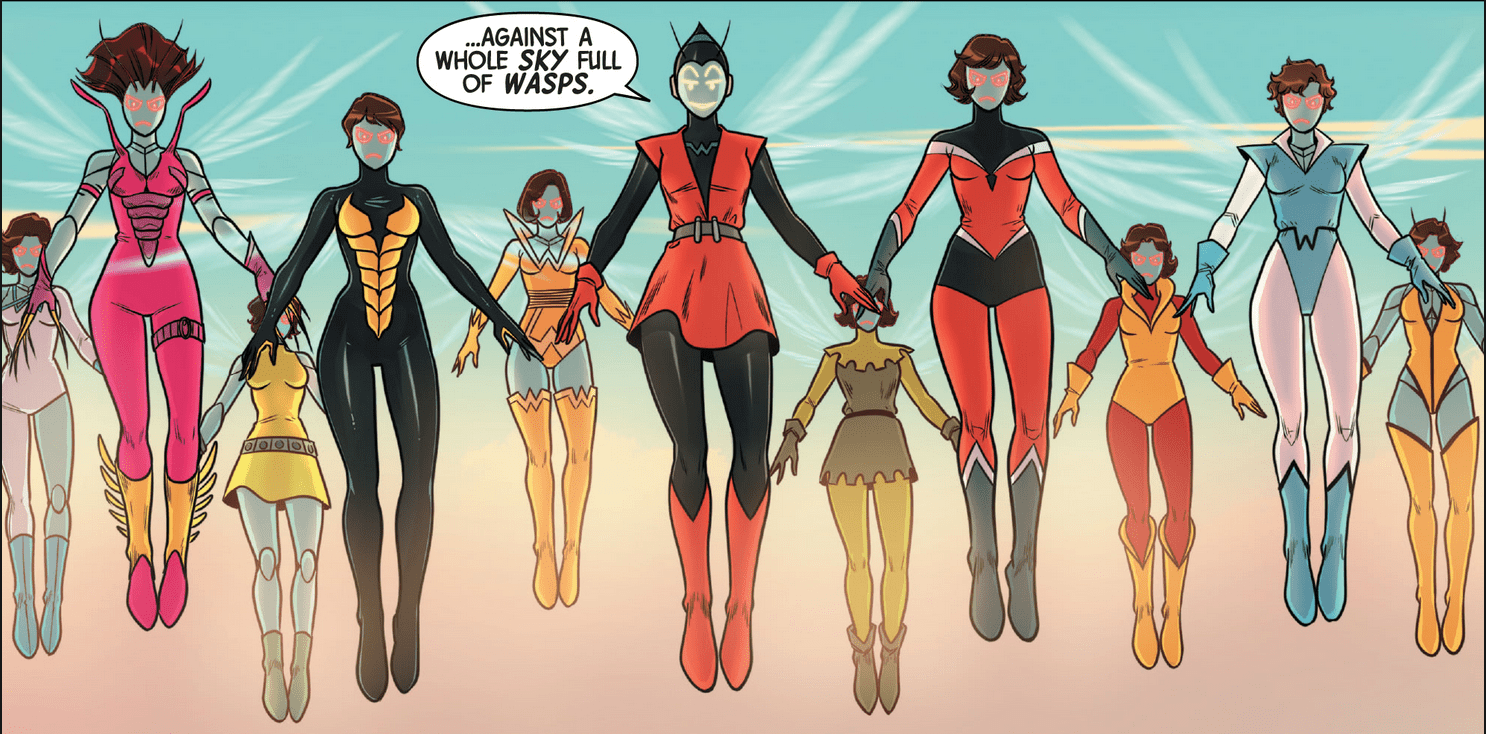 With this series halfway over it already has everything that I could want from a Wasp solo. Ass-kicking, girlbossing, and Janet's extensive wardrobe. Now if we could just get a few more issues or an ongoing!
Images via Marvel Comics
Have strong thoughts about this piece you need to share? Or maybe there's something else on your mind you're wanting to talk about with fellow Fandomentals? Head on over to our Community server to join in the conversation!