Virus! is a game by Goliath Games, part of their line of more family-friendly party games. Your mission in this game is to fight a pandemic head-on by eradicating the virus, isolating healthy body parts and preventing disease spread where you can. Considering the rather…topical nature of its theme, I've been using Virus! to teach the kids in my life how viruses work and how we can defeat them. Teaching them this little bit of science has helped them find some peace with the current pandemic at hand. I know my younger brother who is 11 is currently very stressed but this game made him less so. The world can be scary, but board games can help take the edge off sometimes. 
Down With The Sickness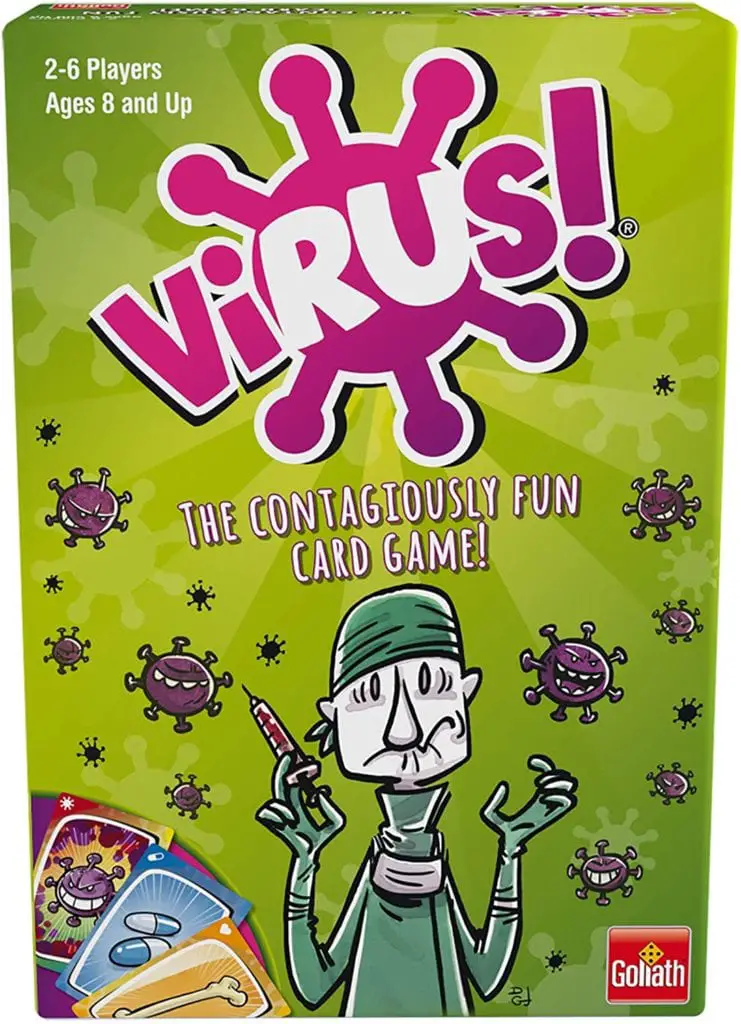 When you open the box you'll see that it contains 68 cards and the rule book. The cards are divided into four different categories: organs, viruses, medicines, and treatments. The cards have no text on them, just cute cartoon doodles that illustrate things super well. At the beginning of the game you shuffle all of the cards together to make a deck then you deal three cards to each player. After that, you place the deck face down on the table a discard pile will be next to it and if the deck runs out you simply flip over the discard pile. I really liked that the rules said the discard pile didn't have to be shuffled. We used the discard pile a few times to replenish the stock as the game is very fast-paced. 
I found both the setup and gameplay to be pretty easy. You just play a card and draw another to a hand of three, perfect for new gamers, young kids…or boomer parents you're trying to convince to stay at home. You win the game by having four healthy organs on the table in front of you before anyone else. Fair warning: This game does let you manipulate other player organs and hands! So beware of who you are playing with.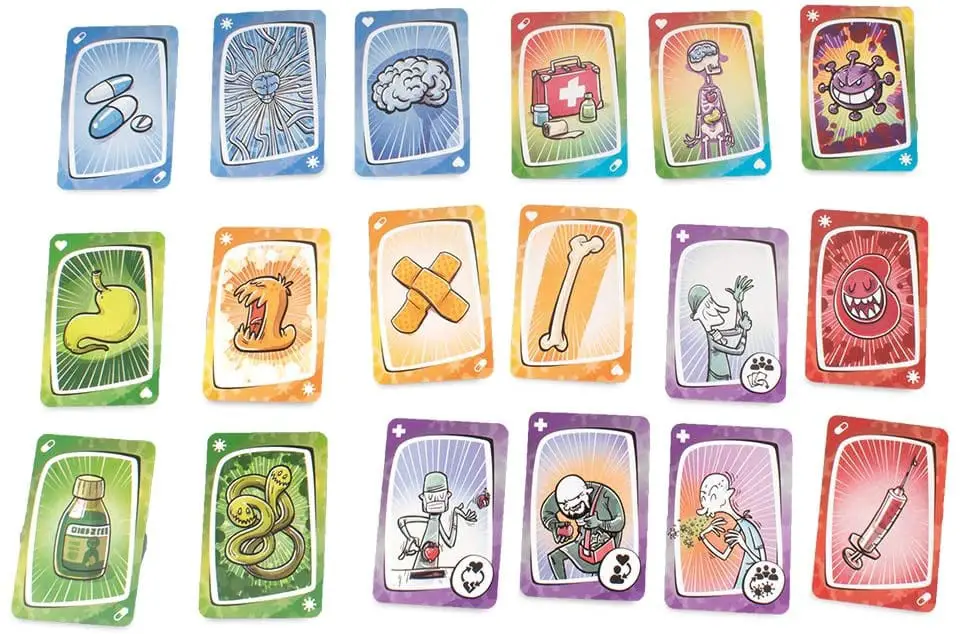 When trying to win, you can't have two of the same kind of organs. The organs are multicolored so it's easy for kids to be able to tell which ones they already have. Viruses can be used to destroy your opponent's organs and medicines. The viruses only have the same effect on the same color cards. if you place a medication card it can destroy a virus. Medication cards can protect an organ. if you place two medication cards on top of an organ it becomes immune to the virus. 
The part of the game I found to be the most exciting were the treatments. It's safe to say these cards are to be game-changers, with things like "Transplants" that let you swap organs or "Latex Gloves" that make you discard your hand. One really fun card (and probably my favorite of the entire game) was "Medical Error". It allows you to swap your entire body with another player including the virus's organs and vaccines. It's so powerful it helped me with an entire game. First I let someone get very close to winning, then I stole their healthy body and gave them my virus. I know that sounds morbid, but I still won. It was a close game with loads of giggling. Everyone loved it and we ended up playing it two more times after that. As far as a game review goes, I can't explain how much this game helped by being in my house right now. I wonder if I can get permission to have it put into a tabletop simulator so we can all play it online (Goliath, hmu!)
It's Contagious!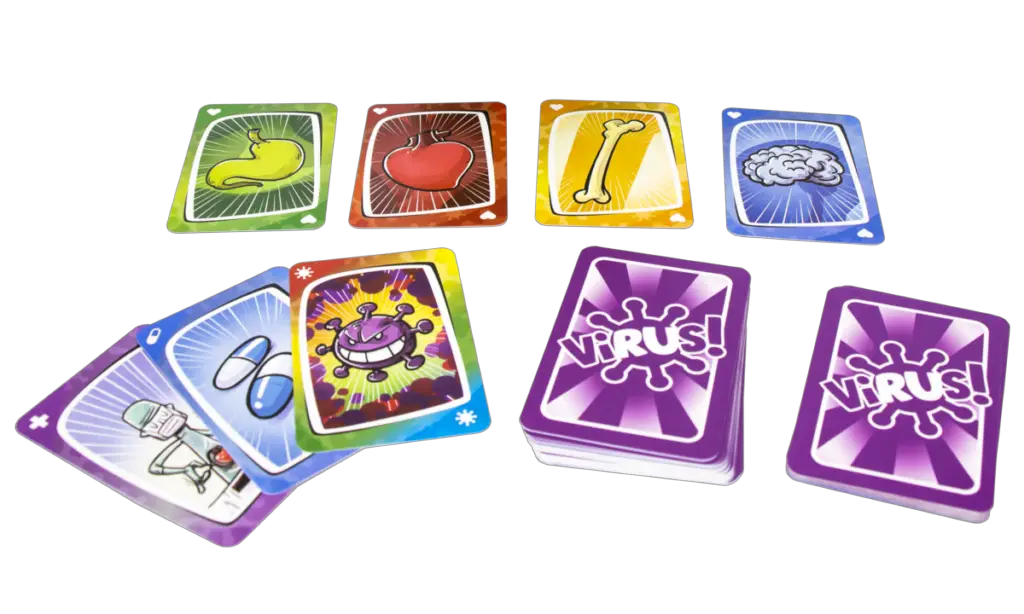 I wasn't expecting to love this game. I am so happy I was proven wrong.  While I view this as mainly a kid's game, adults will certainly love it too and maybe even learn a thing or two about how important vaccines and treatments are.  Just like in real life, the best strategy to win the game is to immunize your organs as quickly as possible. I hope I see this super underrated game out in the wild more often, and will definitely be one that I carry around in my quiver to play at conventions with all of my friends.
[rwp_box id="0″]
You can pick up Virus! at your local game shop, on Amazon, or at Walmart. Thanks to Goliath Games for providing the copy used in this review.
Images via Goliath Games