I think most of us have fond memories of the video store. The smell of popcorn, slightly sticky carpets, surly register workers; the sense of possibility created by long shelves of movies that we honestly couldn't watch if we wanted to. Now what if that same video store hadn't slowly been replaced by streaming services, instead becoming a subject of worship and the basis for an entire society of post-apocalyptic mutants? That is the basic premise of Video Vortex, a deck builder from Mondo Games set in a post Y2K world where the mutation riddled survivors discover the remains of a video store: the titular Video Vortex. There, they find new purpose thanks to the VHS movies on the shelves and the guidance of JOSH, a computer program that becomes their new leader.
But the mutants soon splintered, and each group adopted a particular film genre to serve as their source of guidance in the wasteland. Now, the different tribes have sent their greatest warriors into gladiatorial combat to prove the supremacy of their favored films and chart the path forward for the mutants.
What's In The Box?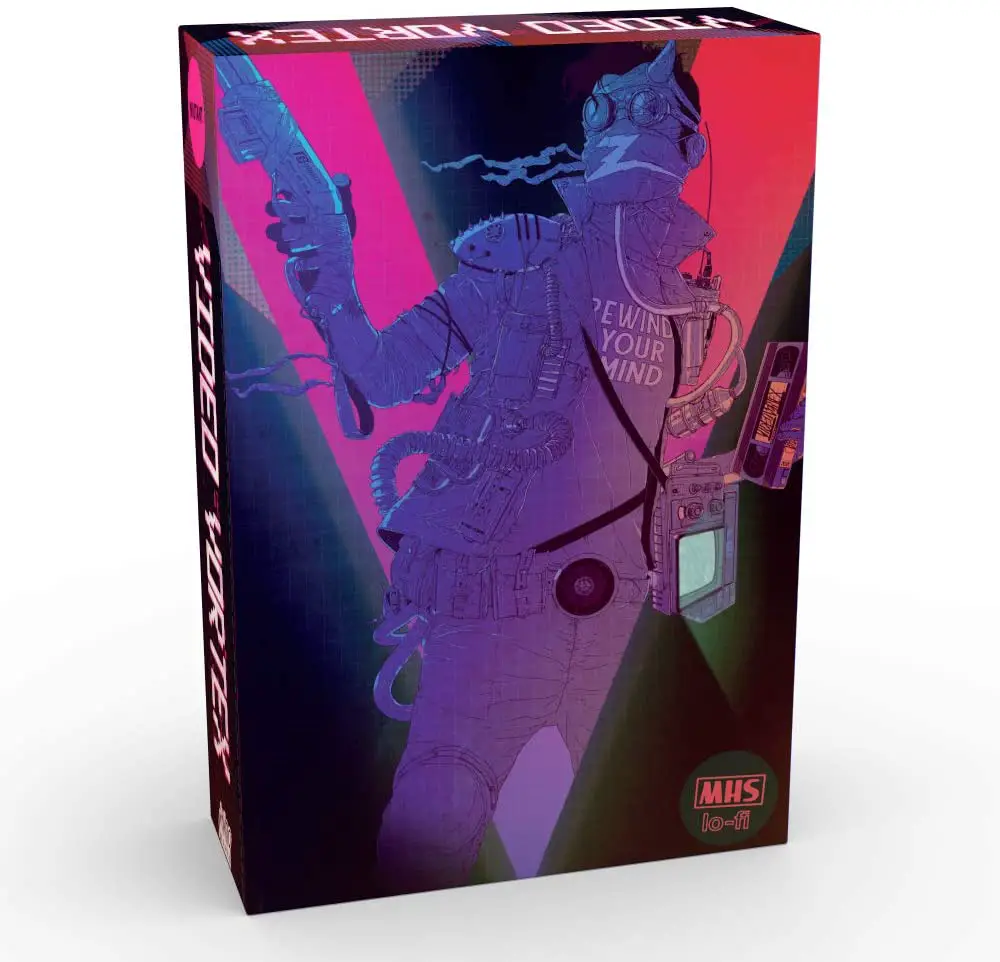 1 Vortex Board
210 Cards
4 Player Boards
4 Runtime Dials
8 Suns
12 Mutant Character Sheets
4 Player Aids
24 Energy Cubes
16 Charges
1 First Player Token
12 Be Kind Tokens
I absolutely cannot overstate how good this game looks. Mondo is known for premium production and making their stuff as collectible as possible, but this blows everything else out of the water. The whole thing is driven by art by UK artist Boneface, a Mondo collaborator who really got to flex in the creation of this game. Every aspect of Video Vortex is dripping with aesthetic, from the vintage board and game manual to the reference-heavy look of each gladiator. I don't know if it's just because it scratches my personal itch perfectly, but I don't think I've played a game that has been this visually appealing in a while.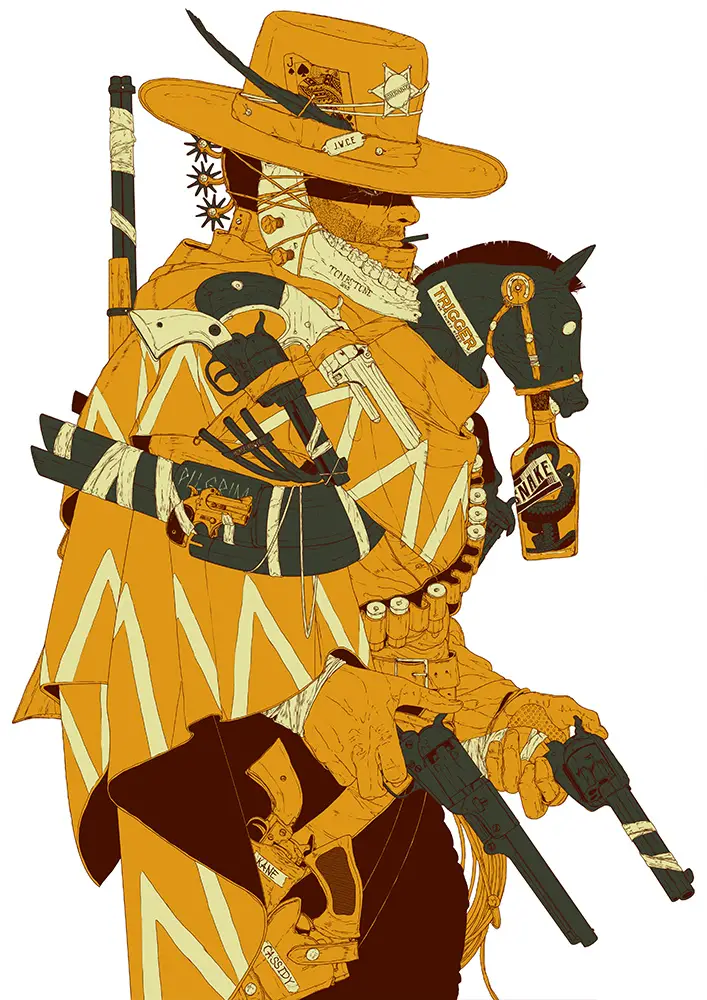 The player board is also a great little thing since the character cards are made to just slot right in and look like an old TV (no it isn't a ripoff Pip-Boy shhh). There's little slots on the side too, which hold the little tokens you use to track your resources. With discard and draw on either side, it's an intuitive and appealing way to maximize the info in front of you.
How's It Play?
Underneath the extremely attractive exterior, Video Vortex is a fairly standard deck-builder. At the start you pick a mutant to play as, which is a fairly impactful choice since it dictates some special abilities you have as well as what your starting deck looks like (kind of, we'll get there). Each mutant has a different complexity level, and as you play more you get a chance to try out different characters and their unique little quirks. Ridgemont, for instance, is a "low" complextity mutant who gets free signal splitters and can make people take filler Bargain Bin cards. By comparison Tobin has a much more complex interaction with his own discard as well as a side-deck, the Specter Deck, which adds things to his deck when he uses his hi-fi power (the cheap power is lo-fi, the expensive one is hi-fi).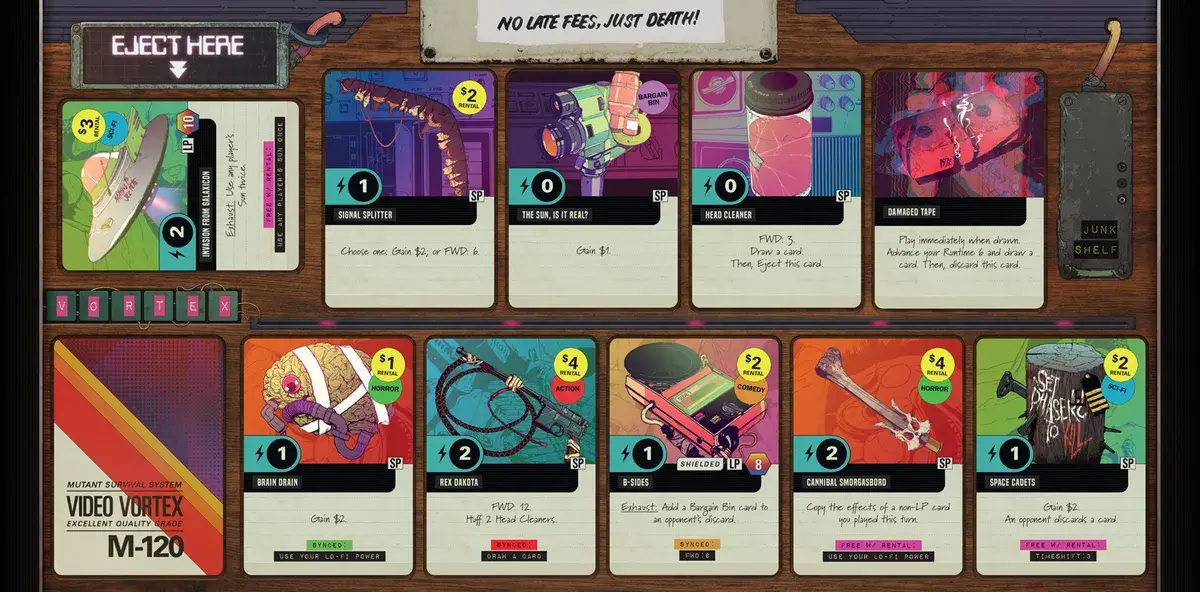 You use your energy to rent cards from the pool, which can either be instant Standard Play (SP) or permanent Long Play (LP), the latter of which might be shielded and have to be destroyed before their owner can be damaged. You can also rent cheap Signal Splitters from the junk shelf. You simply play your hand like any deck-builder, combining cards and increasing your strength as you fast forward your opponent to their doom (yes, that's literally what you're doing. This game is amazing.) Suns exist to give you special one-turn powers that affect the game, and have some interesting synergy with cards. When you kill an opponent, you get their "Be Kind" token. If you die, you just come back reset for more! First mutant to add three tokens to their trophies wins!
The biggest downfall to gameplay is that there are a lot of strange omissions in the rulebook, even from the get-go. Each player's starter hand is set on their card, but these starter cards are NOT cleanly delineated or easy to find. It took about thirty minutes to actually get a handle on what went into our starter decks in our first game, which is NOT a great start. There are also parts of the cards that interact funny, such as when certain effects go off, that the rulebook doesn't explain. I'm not saying Mondo needed to be as detailed as Leder with their rulebook, but a little more explanation might have been helpful.
The Verdict?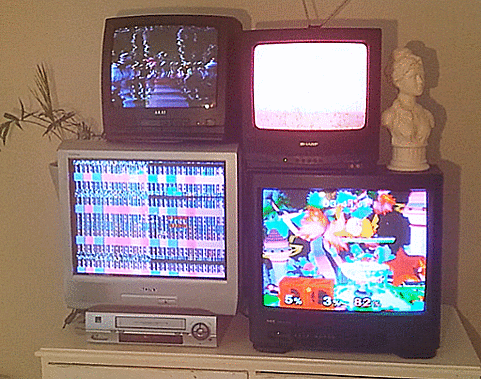 I think at this point, if you're buying Video Vortex…it's for the aesthetic. You're either a big fan of this lurid, pop art style like I am OR you're an old school video head who wants to go back. And really, I don't think there's anything wrong with that. Video Vortex is a lurid love letter to the videodrome, the blockbuster, the warm glow of the CRT. It's got irradiated blood dripping down the sides and Surge in its veins. Plug in and sit back, but please remember the number one rule of the Vortex: Be kind, Rewind.
[rwp_box id="0″]
You can grab Video Vortex from the Mondo Shop or Amazon, where it'll run you about $40. Big thanks to Mondo Games for the copy used in this review. If you want to pick it up for yourself, use the code FANDOMENTAL at checkout to get 10% off your order!
Images via Mondo Games and Boneface