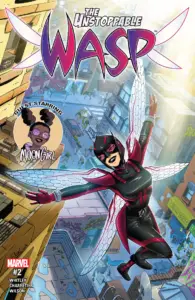 While we seem to be living in the dark alternate timeline of what the world should be (I blame Barry Allen), it is nice to have something fun and optimistic to read. That is where Marvel Comics has your back with The Unstoppable Wasp.
The first issue got us up to speed with Nadia Pym, The Unstoppable Wasp. Fresh from the pages of All-New All-Different Avengers, she's on a mission to start a women-only science lab. Oh, and also to get her American citizenship. (Good thing she's not from the Middle East). Last month, she was interrupted at immigration by a giant robot. Hopefully this issue, she can get things back on track.
Answer the Call
The issue opens at Hank Pym's old house. The phone is ringing, and Nadia can't find it. Turns out it's the land line. (For those of you that don't know, phones used to be connected to a wire at all times). It's Jarvis, and he's here to escort Nadia back to immigrations. However, she has other plans.
She's been compiling her list of candidates for her lab, and she had much more success than we did at finding lady geniuses. Jarvis reluctantly agrees to let immigrating wait, but insists on assisting, and off they go to her first candidate.
Cut to girls playing street hockey with a robotic goalie. This must be the place to find a brilliant mind. But when Nadia approaches, it turns out that the hockey player didn't build the goalie, it was built by her sister. This is where we meet Taina Miranda. She's a Puerto Rican science geek living with her sister and her grandmother, and lots and lots of science junk.
What, no Dinosaur?
Nadia gives her the pitch to join her all-women lab, pointing out that most labs are run exclusively by men, but the smartest person around is, in fact, a young girl, Lunella Lafayette (or Moon Girl). Taina asks why Nadia hasn't asked Lunella to join, and as she doesn't have an answer, she leaves immediately for Lunella's to do just that.
When she arrives at Lunella's, she is looking for the right doorbell to press when who should appear but Lunella herself. Introductions are made, and a joke or two at Jarvis's expense, and then a giant rat shows up. This seems like a random monster attack at first, but it becomes clear that it is targeting Nadia specifically.
With a little help from Moon Girl, she escapes and chases down the rat's handler. Turns out, it's someone from Nadia's past in the Red Room. Dun Dun Dunnnn!
And the Verdict
The Unstoppable Wasp is an absolute joy to read. Nadia herself is cute and smart, and unwaveringly optimistic. She's quick with a joke even if nobody gets it. She has the syntax of someone who hasn't been speaking English long, which only adds to her charm. She's like the little sister we all wish we had.
The story itself is light on plot, but after a standalone #1 issue, this series is still just getting started. Nadia is just at the beginning of setting up her all-women science lab, but in one issue we've managed to meet two new recruits and a possible antagonist, so the next issue promises to move a little quicker.
Plot or no plot though, we would read anything with Nadia. Her running commentary is adorable, and the 'Nadia's Science Facts' text boxes are hilarious to read.
New Recruits
Apart from Lunella, who you may know from Moon Girl and Devil Dinosaur (another fun book), Nadia has recruited Taina Miranda. Taina is seen using a wheelchair and crutches to get around, but we're not sure why. Nadia and Taina have an instant rapport and start talking shop right off the bat before they even know each other's names.
We don't get to spend too much time with Taina, but what we do get is enough to want to see more. She hasn't let her disability stop her. She uses a homemade elevator to get to street level, and obviously doesn't need any help getting around. Having an athletic sister has given her a bit of an attitude, which will be interesting to see when played against Nadia's sweetness.
We don't get much time with Moon Girl this issue either, but we hope she will join Nadia's lab as well. She needs some socialization besides a giant red dinosaur.
The Unstoppable Ace
At one point, Jarvis and Nadia have a dialogue about young women's interests. A girl as young as Lunella ought to be skating or learning about dinosaurs (ironically both things that Lunella already does, but we forgive you, Jarvis).  He asks whether Nadia wouldn't be interested in going to dances or out to the movies, or perhaps kissing boys. At this point, Nadia is grossed out. She has no interest in any of that. In fact, her first love is quantum physics. The subtext here (or maybe even the text, Nadia's reaction is pretty up-front) is that Nadia is asexual. That just made us smile. Nadia is a genius-level asexual woman and we are pretty jazzed about her.
Art
We love the art in this book. The character models and their expressions are a perfect match to its tone. When there is action, the panels bend and curve, and help give it a kinetic feel. The team of Whitley, Charretier, and Wilson have really gelled to make a delightful comic, a feast for the eyes, the soul, and the funnybone.
Agents of G.I.R.L.
Like the first issue, this book's back matter contains a mini interview with two real-life women in STEM fields. This is so important. It's one thing to read a story about a girl who loves science and is looking for more like her to share it with, but it's not just fiction. Real-life women with interests in science face an uphill battle to get a career in a STEM field, let alone women of color. The two women in this month's back matter (and last month's as well) are an inspiration to young girls everywhere as much if not more than Nadia herself. If you know a young woman who loves science, get this book in her hands like yesterday.
We'll be back next month, when it looks like The Unstoppable Wasp will meet Devil Dinosaur. Can't Wait!
---
The Unstoppable Wasp #2
Writer: Jeremy Whitley
Art: Elsa Charretier
Colors: Megan Wilson
Letters: VC's Joe Caramanga
All images courtesy of Marvel Comics