Hey everybody! For a second week in a row I'll be doing an article on a game I got a review code for, and one that I reviewed the demo of. This week we'll be tackling Unsighted is a pixel art action adventure game with RPG elements and a mixture of Metroidvania and Souls-like sensibilities developed by Brazilian LGBT devs Studio Pixel Punk and published by Humble Games (Humble Bundle's publishing arm).
What's it about you ask? Simply put, you play as Alma, a female android who wakes up in the ruins of a city after a devastating war between humans and conscious androids with few memories of her past. The humans have done…something to the source of the energy that made the androids conscious to begin with, and time is running out as one by one they lose their consciousness and become mindless monsters, called Unsighted by the other androids.
Alma, as an android built to fight and to protect, must go on a quest through the former android city-state and its outskirts in order to collect five powerful meteor shards. At the same time, she's searching for a fellow female android, who she barely remembers but knows she cares about deeply. (Can I just say, as a lesbian gamer this was really refreshing? It's nice to have games where I get to play a gay girl that aren't visual novels, text adventures, or BioWare. Not that I don't love those, but variety is the spice of life.)
Amnesia is a bit of a tired trope in games, but one that's gained some new legs in recent years by virtue of, well, people not using it as much these days. Tropes are tools, and Unsighted wields this particular tool quite deftly. The amnesia is used to build the other characters, fleshing them out in their reactions to Alma not recognizing them, and to add extra dimension and drama to Alma's own quest. She's a heroic person, so she wouldn't not go on a quest to save everybody, but the additional incentive of what's she's lost gives it additional stakes.
Gameplay wise, Unsighted is an action-adventure game with emphasis on exploration and fast-paced combat. Its most obvious influences are Metroidvania (out of the two I'd say there's more -vania honestly) and Souls-like, but it takes a fair bit from 2D Legend of Zelda games as well. There's a large map littered with dungeons for you to explore, and you can steadily unlock new items that expand upon your ability to travel and get through the world. There's a bit less verticality to it than in most Metroidvania, but at the same time more than in most 2D Legend of Zelda games, giving it a nice niche of its own in the process.
The Souls-like elements come partly from the combat, which features a lot of dodge rolling and parrying, but also from the overall nature of the world, its tone and overall state. There's also some mechanical similarities. Throughout the map you'll find terminals that offer a variety of functions, one of which is refilling both your health and the thing you use to refill your health. Doing so revives all the enemies around you though, so be careful.
However, the difficulty isn't inherently Souls-like. Unsighted has three difficulty levels to choose from when starting a new game. Each has their own names, but boil down to 'easy with accessibility options', 'medium', and 'hard'. The game recommends that you pick the medium option, but if you have anxiety or are more interested in the story than the challenge I suggest easy, or explorer.
Unsighted can get stressful folks. For a variety of reasons (the combat can get quite hectic) but chief amongst them is that the game is on a timer. All the NPCs have a limited number of in-game hours before they become Unsighted, and Alma has a count-down timer too. You can find items that will add time to any character's remaining life, but they're quite limited in quantity. The game intends for you to replay it, getting better and better, and faster and faster, until you're good enough to save everyone. But if that sort of catharsis isn't what you look for in games, or if you're just not in the mood, you can turn off the timers when selecting the easy mode, while still leaving the gameplay itself challenging. Ultimately it's up to you, and I thank the devs for giving players that choice.
Graphically, Unsighted is fairly good for a pixel art game.
Environments are detailed and pretty to look at, and while characters are simple, they're also distinct. Nothing gets lost in the background, or gets overly obtuse. Everything is colorful. Even the destroyed city that's perpetually raining and at night isn't boring to look at. There are a lot of places where Unsighted shines, but the visuals during gameplay are one of the places where it shines brightest.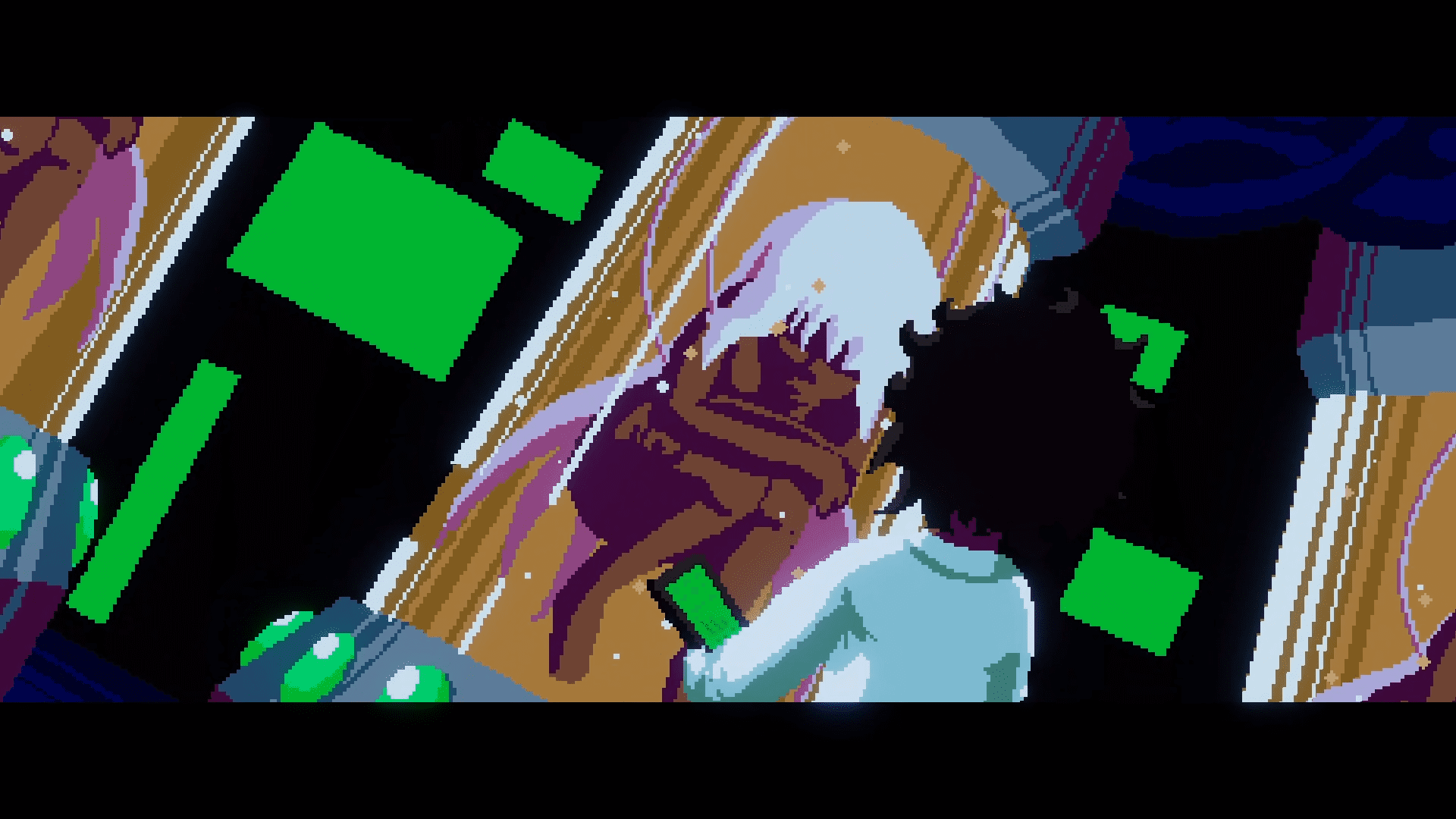 Art in the cutscenes and character portraits is simpler, and less polished, but far from ugly or unpleasant to look at. All the character designs are excellent though, I want to be quite clear on that. They're varied, unique, diverse, and quite unlike anything I've seen in other games. Studio Pixel Punk did a great job on that front.
All in all it's a very pretty game, if a bit rough around the edges. And the sound design is similar. Good at what it needs to be, but lacking some polish that could have been useful here and there. Still, for an indie game done by a small team, with as much going on in this game as there is, it's quite good!
Ultimately, Unsighted is a beautiful game. Not just aesthetically, but in terms of its message, themes, and characters. Playing it can be stressful, but it's also quite gratifying. It was an overall excellent experience that I found myself always happy to continue playing and, at the end of the day, I can't recommend it enough.
Fortunately, you don't just have to take my word for it either! There's still a demo available for play on Steam before purchasing. So if this sounds like your cup of tea, swing on over, download the demo, and give it a try for yourself! You won't be disappointed.
Images Courtesy of Studio Pixel Punk and Humble Games
Have strong thoughts about this piece you need to share? Or maybe there's something else on your mind you're wanting to talk about with fellow Fandomentals? Head on over to our Community server to join in the conversation!
Unsighted
Summary
Ultimately Unsighted is a very good game for those looking for a new metroidvania, especially one with LGBT+ elements. It can be difficult and stressful, but the game provides ways to mitigate those issues. And while rough around the edges, it's still a very well made game.