If there's one one board game that's attained a status so legendary that it looms over a whole industry, discussed in whispers as something to be in both awe and fear of, it's Christian T. Petersen's Twilight Imperium. Few titles can match it in its size, depth, or play time (six hours is considered a quick game). It's the game that built Fantasy Flight as we know it today, and now on its 4th Edition it remains a bestseller and a staple of cons, game shops, and the kallaxes of any gamer worth their salt. But with that fearsome reputation, it's incredibly hard to actually play the damn thing. Luckily, Fantasy Flight seems to have come up with a solution: Twilight Inscription.
Roll-and-write titles became big business during the pandemic since they can be easily played while socially distanced or even over zoom. All of that development and popularity meant the genre rapidly developed from "Yahtzee but X" into something people got truly experimental with. But shrinking down one of the biggest games ever into a roll-and-write? Turning 6+ hours into just two? People were skeptical. As was I when I picked it up. But it turns out that it mind end up being, like its parent game, one of the most innovative titles to come out of Roseville.
What's In The Box?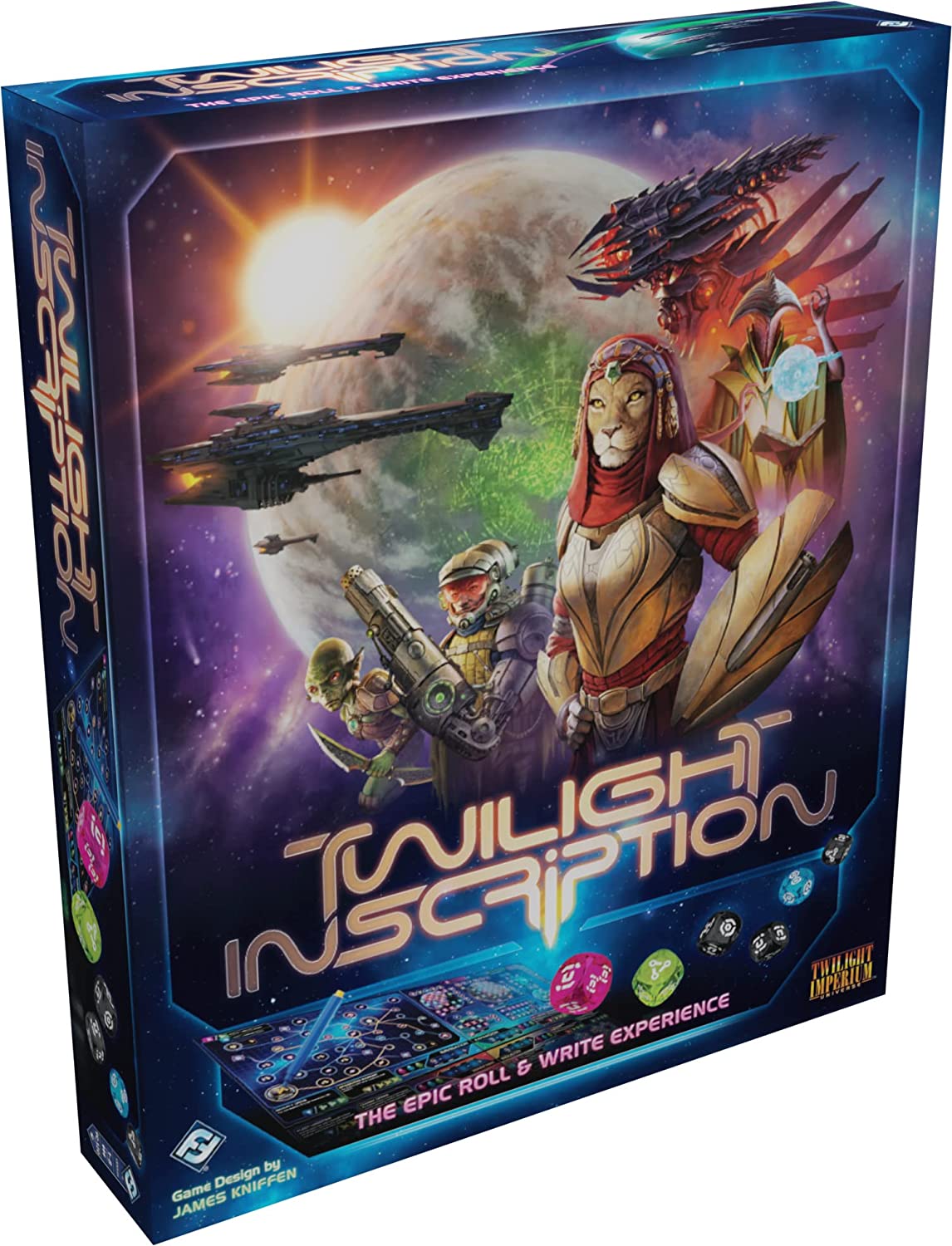 32 Player Sheets (8 per category)
Metacol Rex Sheet (Solo Mode)
24 Faction Cards
25 Event Cards
12 Objective cards
12 Agenda Cards
16 Relic Cards
1 Speaker Card
8 Reference Cards
8 Dry Erase chalk markers
3 Black Dice
3 Focus Dice
How's It Play?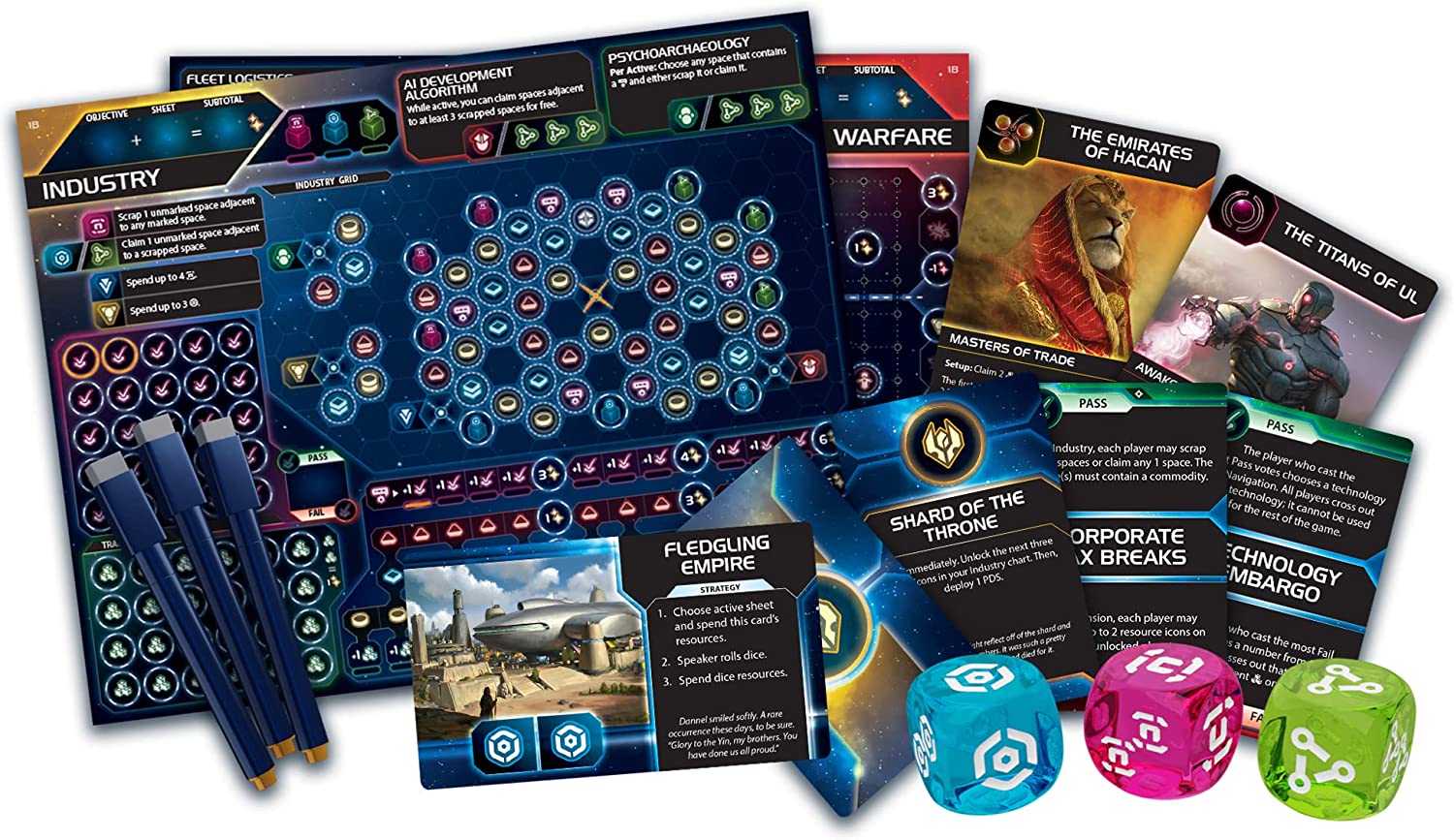 The task to shrink the gargantuan Twilight Imperium into not just a roll-and-write but also a two hour experience was monumental. But they seemed to have done an admirable job. Players each pick a civilization, much like in the main game, and then chart their path as a civ to become a major power. You balance your need to expand with the challenges of interstellar trade, diplomacy, and war. Like in the original, you'll invest your time and energy in different sectors to plot out what kind of civilization you end up being. What Civilization you start with also dictates how you might go, as they all have certain strengths that lend themselves to different strategies.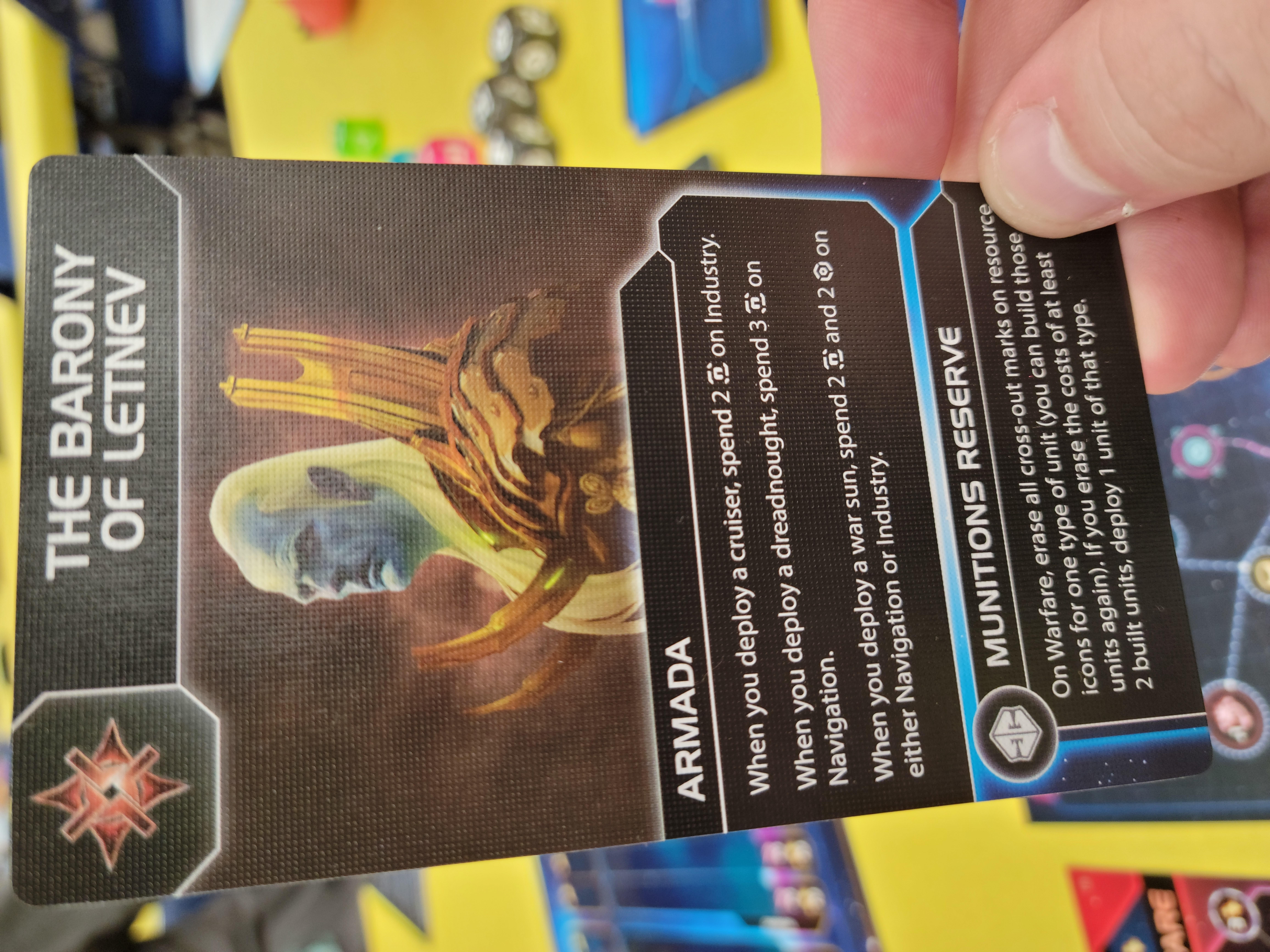 There's four sheets you'll be using throughout the game: Navigation, Expansion, Warfare, and Industry. Navigation is both a place to gain resources and spend them in the quest to claim new planets for your empire. All of those symbols up there correspond to different resources, different events, etc. On the bottom of the card you can see where you spend your resources on what are basically parts of a tech tree. You'll never have enough points for all of these, so use it wisely.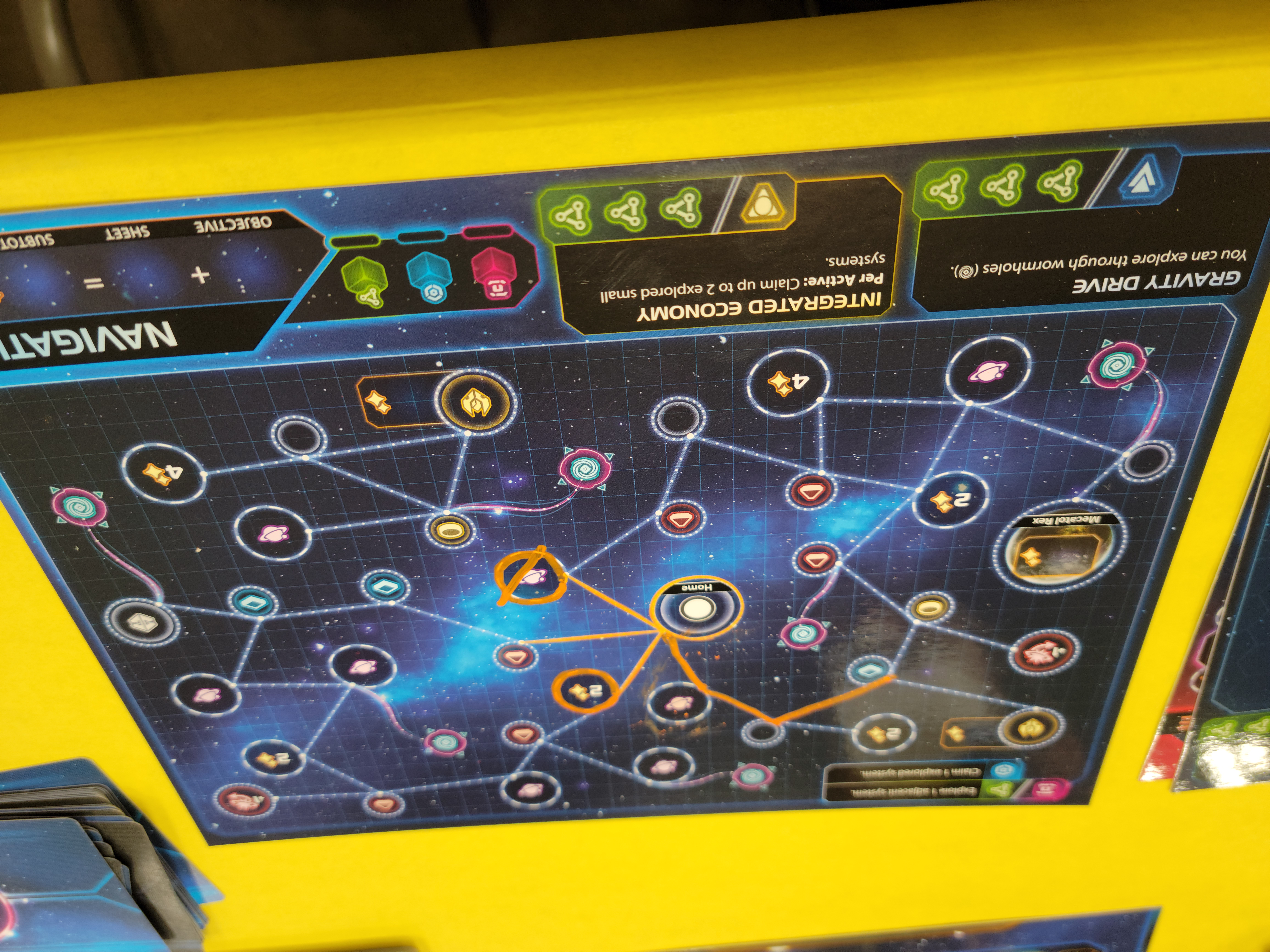 The other boards help you align your civ with different paths. You can aim for a more cultural superpower or one that focuses on industry, or use both just to fuel your war machine. For a roll-and-write, there's a lot of choice and long term thinking needed for this game. This is also where most of the writing takes place, blocking off chosen options or drawing lines. You'll try to create the right combos to get the results you want, and often times gain more dice to roll and resources to spend each turn as you develop your planets.
Player interaction isn't crazy high, as you'd expect, and you'll only really be interacting with the players to your direct left and right. These are the people you'll be attacking and defending against. You will build up your fleet to help with your conquest and defense, with each ship corresponding to a particular shape you will draw on the grid. The bigger and more expensive the ship, the more space you can cover. It's not as tactical as the full game obviously, but it really felt tense making sure you were planning around your opponents and making sure your positioned your fleet correctly.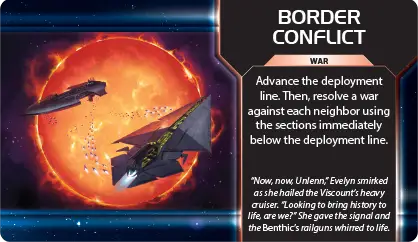 Lots of complications can come up in the form of event cards, artifacts, and other things that you can build to or discover during the game. There's a bit of randomness to some of this, which could be frustrating to players who want the pure tactics but it adds to the overall accessibility of the product. Players also will get a chance to vote on galactic council decisions (which can radically change the board state), complete unique objectives, and even take Mecatol Rex for the glory of their empire. It's maybe the most involved roll-and-write I've ever seen.
The Verdict?
Even though this is MILES more accessible and easier to pick up than its parent game, this isn't the roll-and-write to whip out at your next casual party. It's still a two hour commitment (more when you're learning), and it's got a lot of ways for your strategies to go. You'll be hard pressed to play the same strategy every time.
I'm not really a big roll-and-write guy, as I've said before, but this is something truly special. It uses the medium in a way that simplifies the Twilight Imperium experience without losing the essence of what made the original great. The universe is as a strong and well built as ever. Even fans of the original may find themselves reaching for this title more than the main game for the simple fact that you don't have to block off your whole damned day for it.
You can grab Twilight Inscription from Amazon and your FLGS, and eventually the Asmodee shop on restock. It's set at an MSRP of $64.99 ($100 less than the original)
Twilight Inscription
Summary
Fans of Twilight Imperium will love a way to experience the world without as much commitment, while those intimidated by the size of the original will appreciate a way to finally engage with a game that looms large over the gaming landscape. Twilight Inscription represents the brilliant maturation of the roll-and-write into a serious format for strategy.
Images and Review Copy via Asmodee and Fantasy Flight Games
Have strong thoughts about this piece you need to share? Or maybe there's something else on your mind you're wanting to talk about with fellow Fandomentals? Head on over to our Community server to join in the conversation!