Keymaster's Parks is one of the best games I've ever played, a gorgeous paen to the joys of America's National Park system and a fantastic game to boot. Now on its second expansion, it's been a runaway success for the company. So, in 2021, at peak pandemic, Keymaster dropped a smaller, more compact version to help alleviate some of the claustrophobia while we were all stuck inside. That was Trails, a firecracker of a game that returns players into the natural beauty of the parks in a backpack-friendly package.
What's In The Box?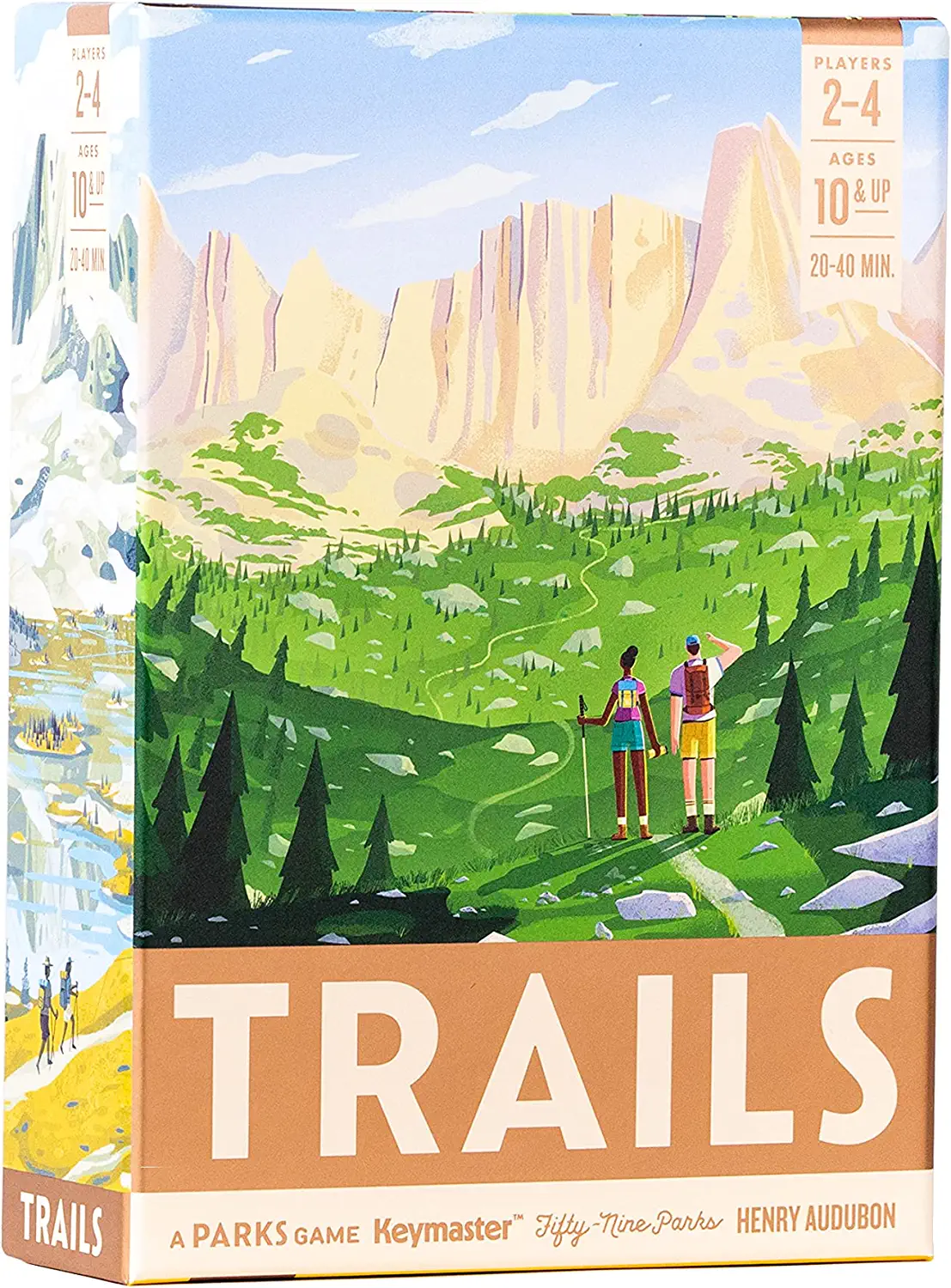 7 Double-Sided Trail Tiles (With Day & Night Park Illustrations)  
76 Game Cards 
4 Custom Shaped, Wooden Hiker Tokens 
1 Custom Shaped, Wooden Wildlife Token 
1 Screen Printed Wildlife Die 
45 Wooden Resource Cubes (Deluxe Resources adds screenprinted and shaped Resource Tokens)
6 Cardboard Tokens 
1 Rulebook
One of the things that drew people (including me) into Parks was the gorgeous design that featured the Fifty-Nine Parks poster art, and that is followed through here in Trails. It doesn't emphasize the different parks as much, naturally, but it features a sort of "greatest hits" of the most popular posters. Even though they've shrunk the size of the game, it still makes a great visual impact.
How's It Play?
Like its predecessor, Trails is focused on replicating an outdoor experience from the comfort of your dinner table (though there's obviously nothing stopping you from taking it on the trail). It's supposed to resemble a more leisurely hike than the cross-country travels of Parks, simply moving up and down the set track as the days go by. You're trying to collect badges, each of which is purchased at the end of the trail using a certain combination of resources. Hikers can only move forward one or two spaces at a time, and can't move back, with each space yielding a certain benefit like gaining or exchanging resources or taking a photo. At night, the spaces give better benefits as the end of the hike draws near.
Many thematic elements from Parks are retained along with the aesthetic, including canteens (which let you move any number of spaces forward), photographs (which are used for badges and have unique victory point values), and wildlife (represented by a roving bear meeple which yields a range of benefits from across the board.
As you play, the sun moves across the sky and gives different bonuses when you reach the trail head. Once it reaches the end, having turned every space to night, the game ends. The badges you've collected will usually give you resources and count for victory points along with your photos. You can also keep track of how many birds you've seen on your hike (as shown on your photos and badges) since whoever sees the most gets the Bird Trophy and some free points.
The Verdict?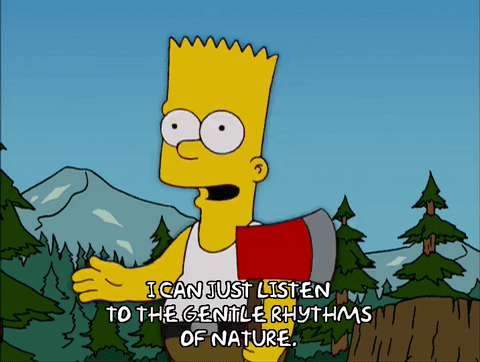 Parks remains one of my favorite games to play with people of any level of experience since it's so beautiful and easy to pick up. Trails, however, might become a game I take with me anywhere since its so compact and quick to pick up. Everything is streamlined and stripped down, scratching a great strategy itch without being overly complex.
All of the thematic elements that made Parks standout to outdoor lovers like me are here, with enough added changes to not make it feel like a simple dumbing down. It's genuinely kid-friendly to boot, and would be a great choice for camp counselors, scout leaders, or particularly woodsy parents to add to their collection. Throw it in your back pack and take it on your next trip into the great outdoors. I think you'll be quite happy with it.
Trails
Summary
Trails sticks all the joy and wonder of a great nature hike into a travel-friendly box, perfect to spread out on a tree stump and play in the middle of the woods. The Natural Parks art continues to serve a beautiful canvas for games, helped by accessible and streamlined mechanics perfect for faster games and ease of accessibility.
You can grab a copy of Trails from the Keymaster website, Amazon, or your FLGS. The base game runs at $20.00 with the Deluxe Resources expansion going for an additional $13.00. And be sure to check out the Trails playlist I curated on Spotify, perfect to get you in the mood for a hike.
Images via Keymaster Games
Have strong thoughts about this piece you need to share? Or maybe there's something else on your mind you're wanting to talk about with fellow Fandomentals? Head on over to our Community server to join in the conversation!