The Fandomentals' Top Shows of 2016
2016 is almost over, (good riddance) and the team here at The Fandomentals have been asking ourselves "what good things happened?"
Well, we think quite a few good thinks happened. In fact, television is full of well-written thoughtful shows– that no one watches. 
As such, our list won't look much like some others you may seem floating around the internet. But we like ours better.
The Fandomentals Presents, as chosen by our contributors, Our Top Shows of 2016.
Gretchen: It should surprise no one that Supergirl won our contributor poll for best of 2016 by a landslide. No show in recent memory has taken such care to depict the journey of a late 20s/early 30s woman coming to understand herself as a wlw. There's a reason why "this is me" and "I feel so represented" were trending so much in the Supergirl fandom this season. 2016 was a bad year for sapphic women in television, so being handed Alex Danvers' and Maggie Sawyer's story this season was simultaneously a huge gift and the biggest fuck you to the Spring Slaughter. If for no other reason, through #Sanvers Supergirl deserves recognition for giving hope, light, and joy to so many LGBT+ persons around the world.
But that isn't the only reason. Not by a long shot. Despite my distaste for James Olsen's Guardian subplot this season, I applaud the writers' effort to give a man of color a continued prominent role on the show despite no longer being the protagonist's love interest. They could just as easily have sidelined him completely, and I'm thankful they chose to keep him central even if I disagree with the character arc. Now if they could just find a way likewise to deal with Mon-El in a non-douchy, non-love interest-y way, I'll be even happier.
As with season one, the characters take center stage in making this show successful. Kara showcases growth and maturity in how she copes with her cousin, her job, her parents' legacy, alien amnesty, and being confronted with her own prejudice. Her continued commitment to compassion and hope given the breadth of her loss and trauma brings me to tears. I would die for her. Space Dad J'onn's inner turmoil over reconciling his hatred of the White Martians for the death of his family with forgiving M'gann has been the under-appreciated subplot of the season. It's so compelling and deserves way more screen time than it gets. Lena and M'gann win for best new characters this season; they may have come later to the family, but they're still my children, and I love them all.
Basically, Supergirl has everything: well-rounded characters that include many women and people of color, compelling themes, a sensitively written wlw coming out arc that can only come from an inside perspective, and a message of hope and compassion that shine in the GrimDarknes like a floodlight. I can't imagine 2016 without it, and can't wait to see what it will bring to 2017.
Nick: BoJack Horseman is a really weird show. A washed out anthropomorphic TV show star horse with depression, existential issues, and a whole lot of moral baggage. The series revels in its weirdness, its absurdity so much it isn't odd anymore.
BoJack as a character has a lot of issues, yet he's far from the only with them. Diane, Todd, Mr. Peanutbutter, Princess Carolyn, and several other side character are given dramatic weight and showcase the moral issues of the Hollywood lifestyle.  It further takes the limits of dark comedy and clever yet heart stabbing writing.
Adult animation is something that's starting to take hold in the States. And BoJack is unquestionably part of this trend. This show is really walking the depiction versus endorsement line; the series depicts things such alcoholism, aging, death, and existential crisis. Yet despite all of the crap these characters go through, there is a weird sense of hope throughout all of it.
I hope I do not sound too highbrow, but this series deserves this verbiage. It revels in it moral ambiguity, its characters, and yet still, somehow, edges away from the world of GrimDark. I'm excited to see where the series goes.
Szofi: One of the defining moments of television in 2016 was when Netflix dropped the first season of Stranger Things in July. This creation of the Duffer Brothers became an instant hit and remained a much talked about show for the rest of the year. With a confirmed Season Two coming, we'll likely be talking about Stranger Things more in the future.
The show centres around the disappearance of a local kid in Hawkins and how his family and friends are trying to find him. You have mystery, horror, drama, even a little bit of romance and comedy. In just eight episodes Stranger Things builds a complete world, or rather two, that completely captured the audience. A huge part of its appeal is the nostalgia of the 80′s, as the entire season is set during the November of 1983. It's done so exceptionally that even I was feeling nostalgic towards the eighties, even though my parents were the same age as the main cast in 1983. But the nostalgia and the countless nods to classics are just parts of the overall Stranger Things appeal.
Personally, I think that the greatest strength of the series is that it knows how plot and characters are equally important. You have a truly intriguing, terrifying mystery that doesn't let you not binge the whole season, but becomes even more exciting because you care deeply about the main characters by the second episode and are scared for them. Apart from a couple of side characters who were made to be disliked, everyone is likable but flawed. The connection between characters, how they relate to each other also makes the viewing experience more enjoyable as the audience follows decaying and developing relationships amid the terrors of the unknown threat. Everyone will surely have their favourites, but personally, I found myself caring about all the major characters.
The first season raises more questions than it can answer, but thanks to the pacing the audience is left excited for more by the end, not frustrated. Combine all this with a truly breathtaking cinematography, an excellent cast that includes famous and rising stars (absolutely brilliant child actors), a fitting score and a plot that somehow seems to cater to everyone's needs, and you have Stranger Things. No wonder people couldn't stop talking about it for months and Season Two was announced not long after the premiere.
Bo: It's no secret just how much we love Steven Universe here at The Fandomentals. It's exactly the kind of happy, relatable, socially responsible, well-written show we gravitate towards. However, not all of us have followed the funky flow yet, and there are plenty more out there who've resisted the call as well. Too bad, because 2016 was a really great (and jam-packed) year for this fantastic show. After all, it started the year in season 2 and ended the year beginning season 4, with all of season 3 delivered over about three months.
Expectedly, a lot happened within all of those episodes. Two new members joined the Crystal Gems. An old member returned. A new villain was introduced and another taken out. Decades-long tensions were hashed out. New fusions literally exploded onto the screen. The idolization of an important character got ripped to shreds. New revelations shocked us. Mystery girls led to episodes we still struggle to believe actually happened.
In short, the great Rebecca Sugar and her amazing Crewniverse took everything we love about Steven Universe and dialed it up to 11.
Even something so simple as picking highlights proves difficult. Peridot's arc, for sure. "Mr. Greg" belongs simply for the amazing songs, let alone the dynamic between Greg and Pearl. "Mindful Education" and "Gem Drill" gave fascinating looks into mental health. The duel "Crack the Whip"/"Steven vs. Amethyst" story gave our Martell lovers everything that breaks their hearts. "Monster Reunion" brought back a fan-favorite in a great way. "Bismuth" surpassed expectations as the show's first half-hour special.
Of course, some people will look at "Last One out of Beach City" as the highlight of the year for giving us an entire episode about Pearl trying to mack on a Rose-lookalike. And they're not wrong. It all comes down to what you like about Steven Universe. Whatever it was, odds are you got it this year. 2016 was an amazing year for an amazing show. In a TV world fully grasped by the claws of GrimDark, Steven Universe is a breath of fresh air. It surprises without cheap shock. It develops characters without unnecessary trauma. The humor is strong. The tone is optimistic. Steven Universe and its creators believe in the good of people.
This year we needed that optimism more than ever. Thank you, Rebecca Sugar, and thank you to everyone who works on this amazing show. It was definitely among the best of 2016.
Elementary
Kori: Elementary is the little show that could. Not in the sense that it was an underdog, but in the sense that in the years the show has been on, it's produced some of the most thoughtful, diverse episodes of television on its network. While some criticized the show as a blatant Sherlock ripoff at its conception, Elementary has achieved something truly remarkable: A modern day Sherlock Holmes, who is possibly the most faithful spiritual adaptation of his book counterpart. With the master stroke of casting the inimitable Lucy Liu as his partner, Joan Watson, Elementary sailed out of the launch station and never looked back.
Throw in that Elementary regularly deals with heavier topics like addiction, mental illness, redemption, and the recurring questioning of "just what is 'normal' anymore," and we have a show has become, at least in our eyes, a joy to watch. It's the comfort blanket you reach for after a long week because you can trust it to always be there for you, and explore the world one procedural episode at a time. Plus, it doesn't hurt that their New York City actually looks like New York City, and isn't a sea of white. Just saying.
CJ
: Luke Cage
's premiere was a treat amongst the collective shit show that was 2016.
The crafting of
Luke Cage
is one big blast from the past for comic readers and television viewers alike, which makes it something of a (really) mature family show.  It's a mixture of old school R&B, modern rap, and the issues of today in both its musical selections and its execution. Harlem is the most fitting backdrop for Mike Colter, who plays Cage. Colter brings an authenticity to the once cheesy character that allows him to pull off the superhero's classic phrase "Sweet Christmas"…repeatedly. Quite a few viewers also got to see a fictional, yet realistic side of Harlem that wouldn't be found on the surface.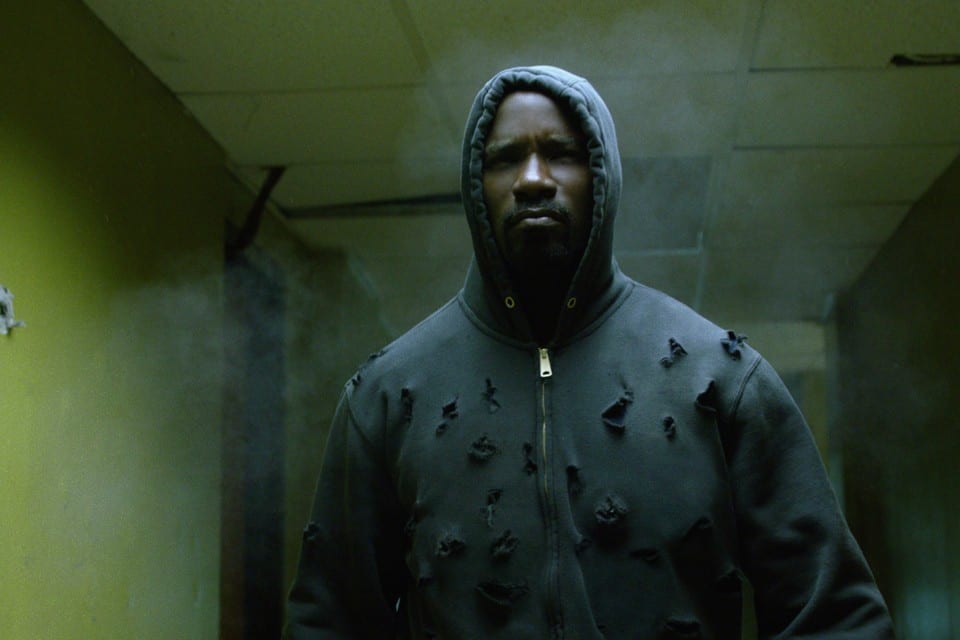 Through Cage, we are pulled deeper into the underground of Marvel's universe, with the blockbuster characters mentioned yet again, but never shown. Some wonderful (and zealous) villains emerge from the woodwork, beginning with Mahershala Ali and his brilliant laugh. A battle for Harlem's soul ensues, and have I mentioned how good the music is along the way? Because it is.
Cage was easily one of the most talked about shows since its release and months beforehand. Not only were we receiving a character that was already featured in the fantastic Jessica Jones, but we get to see him in his territory after the destruction of his bar. We got to see Cage in an environment that was Afro-centered from start to finish, a perspective that hasn't been very present since the 90s.

Does it have its plot holes and inconsistencies? Can it indeed be corny? Are our leads not only great actors but all very attractive?
Yep, but I still loved it.

In short, Luke Cage was a blockbuster that gave us Marvel realness from start to finish. Do yourself a favor and check it out.
The Good Place
Katie: My two favorite shows this year were a dark, difficult cartoon about depression and warm, bright live-action show about heaven. The two shouldn't have reminded me of each other so much. But both Bojack Horseman and The Good Place approach similar questions from opposite angles: what it means to be a good person, and what we owe to the people that surround us.
Created by Michael Schur – previous creator of Parks and Recreation and Brooklyn Nine-Nine – The Good Place explores a single neighborhood in "the good place," a heaven-by-any-other-name where the best of the best go when they die. It's filled with human rights activists, pediatric surgeons, philanthropists, and anyone brimming with selflessness and kindness. It's also the new home of Eleanor (Kristen Bell), a… not great individual who has somehow wound up in The Good Place by mistake. With the help of her earnest philosophy-professor roommate Chidi (William Jackson Harper), Eleanor starts to explore what it means to be a "good person" while becoming increasingly aware that her presence in The Good Place is causing some serious problems.
It would have been easy for The Good Place to immediately become either treacly or cynical. When I began to watch, I feared that the neighborhood residents would be revealed to be secretly petty and vindictive, or absurdly out of touch. Instead, even if the characters aren't perfect, they are genuinely kind, good-hearted people and it's wonderful to see that celebrated on television. There's also plenty of ground to explore going forward. The show has already shown interest in questions like how goodness is measured, whether contrition counts towards "recovering" goodness and tricky moral quandaries like the justification of doing something cruel for a kind reason. The show is a weekly burst of philosophical musings, kind people trying their best, and bright, happy colors. Boasting all of this plus a wonderful cast that includes Ted Danson and Adam Scott, The Good Place is off to a great start and promises even more to come.
How to Get Away with Murder
Claire: HTGAWM's third season started airing this air and immediately delivered what can only be called a shocking turn: Annalise's house burnt down, killing one person inside it. While the main plotline, as usually, focuses on the events that lead to the house fire as well as the personal lives of the characters, the flash forwards then rule out one character per episode before revealing who died.
The latter is another shocking turn, but this time with all the negative connotations that the term implies around these waters. The body found in the burning remains of Annalise's house is that of Wes who had seemingly been revealed as being alive and fine three episodes prior. HTGAWM tricked it's viewers by implying that a scene showing Wes getting blanket immunity in exchange for testifying against Annalise was taking place simultaneously to the fire when said scene had actually taken place multiple hours earlier.
While the reveal undoubtedly packed an emotional punch, some fans did not take kindly to the decision to kill him off, and understandably so: Not only did many viewers feel betrayed, Wes story was far from done. He had just gotten into a relationship with Laurel, who was also revealed to be pregnant, he was also struggling to emancipate himself from Annalise and deal with the trauma and consequences of his actions. Taking into account that men of color and especially black men are still more likely to die on our screens than many other demographics (except maybe women loving women of all races), killing off Wes is a decision that can best be described as problematic.
Nevertheless, HTGAWM also gave us lots of good stuff in this third season, including the emotional turmoil of Frank's and Annalise's relationship, Annalise trying to get sober and her bonding with the black female university president over their shared alcoholism. The Keating Five all got to lead in court and lay into Annalise after starting to defend three children accused of poisoning their mother. Connor and Oliver's relationship fell apart which gave room to Oliver exploring dating as an HIV-positive Asian American man. And the show gave us some much needed back story on both Michaela and Laurel and their relationships with their parents.
That's why HTGAWM is one of my favorite shows of 2016 despite my deep unhappiness with Wes' death: the third season centered characters who we rarely get to see in such central roles and gave all of them interesting storylines that added to their characters. Add some morally gray trials and the tension of a "who's dead, " and you get some pretty good TV."
Meg: I've already written several hundred words about why Outlander is the best show you aren't watching, but let me pull out my soapbox again and remind you. Because it's important.
Outlander isn't always an easy show to watch: it can be violent and heartbreaking. There's more sexual violence than I would like. Seasons 1 & 2's villain, Jack Randall, is as nasty as it gets. But sometimes what makes it hard is also what makes it so damn good. You can't help but love Jamie and Claire, and Jamie and Claire together. You cheer for them and cry with them and want, more than anything, for them to succeed—even when you know, they won't, or can't.
The season 2 finale gave us some of the show's best work: Jamie and Claire's heartbreaking goodbye, 1960s Claire revisiting Scotland, Jamie and Claire's daughter finding out the truth about her father. Outlander invests in its characters because it knows that's why we're there. Sure, the scenery is pretty, and the costumes are amazing, and the big battles are neat, but at the end of the day, if you don't love the people, what's the point?
I don't understand why more people don't watch Outlander. More than that, I don't understand why it can't get the awards recognition it deserves. Caitriona Balfe (Claire) is nominated for a Golden Globe, but the show itself isn't, and neither is anyone else in the cast.
It's a beautiful show on every level, a show that takes a fantastic premise and grounds it in humanity. Our heroine is resourceful, smart, and feisty, and our hero is suitably dashing and romantic. Together they're one of the best couples in history, major OTP material in a TV landscape that seems more and more about uneven, problematic relationships, and less about honest, genuine love.
The bottom line is this, and I've said it a million times: Watch. Outlander. Do yourself a favor. I promise you won't regret it.
Gretchen: No, it's not just because of WayHaught or because I got to interview Kat Barrell (who plays Officer Nicole Haught) for ClexaCon. Given my predilection for slightly campy, supernatural/ demon hunting shows like Constantine and Buffy the Vampire Slayer; Wynonna Earp piqued my interest from the get-go. It has its weak episodes ("The Blade"), but they're aberrations in an overall excellent first season.
Despite being unfamiliar with the comic, the mythology hooked me right away. The premise of a female heir to Wyatt Earp having to put down demons with her was both unique and different from other current television offerings. Back that up with engaging and well-written female characters and a powerful black male detective heading up the governmental task force and I'm sold. True, Dolls's not-quite-drug-addiction plays into a problematic stereotype of black male characters, but I'm willing to give it benefit of the doubt until we know exactly how his backstory unfolds.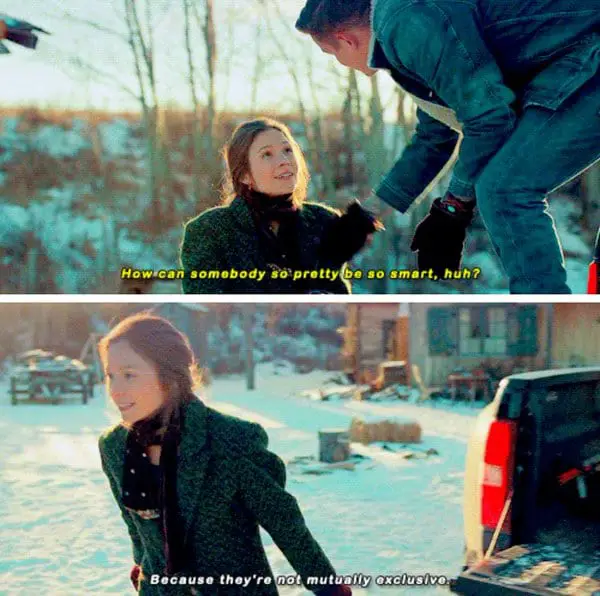 The dynamic between the Earp sisters turned a surface level struggle against demonic forces into a family drama. And we all know how much I love family dramas (hint: a lot). Reconciling with one's personal and familial past is a relatable struggle for me, especially if it involves complicated sisterly interactions. Doc's guilt and Wynonna's psychological burdens were written with nuance. Heck, even Willa's memory loss and subsequent conflict with her heritage worked reasonably well, and I found Willa to be the least interesting of the characters this season.
Waverly drew me most of all. That Waverly, the smart, underappreciated, homebody who never left town and stayed committed to the family legacy, and who also happens to be the youngest, ended up being bi just…well, let's just say that's as close to my story as I've ever seen. Add in a compelling wlw ship (WayHaught) as the cherry on this delicious supernatural cake. Officer Haught was the first wlw to survive being shot after the travesty that was the Spring Slaughter, and in such a blatant way that it's hard to remember it wasn't meant to be a statement piece. It may have minor flaws, but Wynonna Earp is still in my 2016 top ten.
Kylie: Let me tell you a little secret: I didn't want to like Black Sails. I didn't want to like anything immediately compared to Game of Thrones, and this was the *only* thing I ever heard said of it.
After watching all three aired seasons this year, I couldn't believe that was anything ever said about it. True, it was likely marketed to the same audience, and even hit a stumbling block in its first season that featured rape. But there was something about this show from the start that had a sensitivity, and at least an intent to explore heavy issues…to do something with them.
Seasons 2 and 3 of Black Sails can serve more or less as case studies in how to write women, how to write anti-heroes, and how to feature moral ambiguity in a gritty setting that doesn't get lost to the grimdark. It is actually shocking to think about the show and realize how many characters you care about—and I mean care about—no matter how small their role might seem. It began as a show about a swashbuckling treasure hunt and somehow became a study in people screwed over by the system, with no real place in the world, fighting for their own dignities, each with their own different motivations.
There's so much that's remarkable about Black Sails, including its almost effortless LGBT representation and diverse cast, though it's the strength of its characters that serves as the shining star. You can always see where someone is coming from, and it's very difficult not to at least empathize on some level with the (rather sprawling) main cast.
Or in the case of Anne Bonny for me, empathize a bit too much.
I can't tell if it's because it's on Starz, but Black Sails feels like one of the most criminally under-watched show. It's bisexual pirates, people! Season 4 is going to be its last, and it's right around the corner. Let's all strive to fix this immediately.
---
Happy New Year from our whole Fandomentals Family.
May 2017 fill your heart with squee and give you all the representation.
Brooklyn Nine-Nine Should Let Rosa Date Gina
Google most non-canon LGBT ships, and you get results for various fanfiction sites, maybe an article or two about why they should be canon, why the show is clearly missing the opportunity of a lifetime. Google Rosa/Gina—dubbed Dianetti—and you get tweets from the two actresses involved.
Finally the truth is out

— Stephanie Beatriz (@iamstephbeatz) September 4, 2017
Though media has made huge strides in the past decade or so with LGBT relationships, there is still a lot to be done. Queerbaiting remains common, as does the bury your gays trope. Relationships—especially wlw ones—are still seen as less valid, less possible, than their straight counterparts; this is in part due to many writers, actors, and showrunners continuing to tease of F/F relationships. By creating a dynamic where two women are clearly not just friends (and, of course, never making that dynamic explicitly romantic either), they get the best of both worlds: LGBT viewers who crave representation with none of the potential backlash for so-called political correctness.
The Beauty of B99
Brooklyn Nine-Nine, however, has never fallen into that trap. Holt and Kevin may be the subject of many jokes, but they are never the butt of any. Similarly, topics like racial profiling and police corruption are taken seriously. It is a comedy show, but it is also a show that recognizes the power of its platform. Where another show would tease these topics and turn them into a punchline, Brooklyn Nine-Nine turns them into a discussion.
So, of every show on television, I know that Brooklyn Nine-Nine would treat Rosa and Gina well. That is an important part of the discussion that is oft forgotten: representation does not end when it begins. Instead, it is an ongoing process, most successful when the writers and showrunners make continued efforts to deepen and better their characters and relationships. When we ask for representation, we are asking for a commitment: at the very minimum, do not kill them. Because that is still often too much to ask, we never get to the next step: do not cheapen them, do not forget them. Do not let them be a checked box on a list of things a show needs to have.
Brooklyn Nine-Nine has proven they can do it. So why don't they?
The Case For Dianetti
Over the past four seasons, we have seen Gina and Rosa flit in and out of various relationships. All the while, however, they have been there for each other.
Rosa is closed-off, awkward whenever the slightest hint of emotions are involved; Gina, on the other hand, is as open a book as she could possibly be. In the same way that Jake and Amy build on each other and make each other grow, Rosa and Gina could do the same.
In the past, the show has paired Rosa with men who are too different or too similar. Marcus was very openly emotional, and while the importance of having such a character cannot be understated, he was not right for Rosa. Adrien, then, had the opposite problem: he and Rosa never truly get to know each other during their relationship because both were content being unattached in that way.
Enter Gina. She is the perfect option, the perfect mix of emotional and independent; she is the one who can make Rosa consistently smile, the one who isn't semi-scared of her at all times.
There are not many women on television that are like Rosa, and to give her a chance to find true, lasting love would be very valuable to many viewers. Having her and Gina both go through several unsuccessful relationships is good—it's realistic and done well. But just as Jake and Amy found each other, just as Kevin and Holt found each other, I would like to see Rosa and Gina do the same.
In a world where F/F ships are punchlines to jokes that weren't funny the first time, it is a rare and very special thing to see such an opportunity supported by both actresses involved. We have the support, and we have the chance; all that remains is for Brooklyn Nine-Nine to take the leap.
Brooklyn Nine-Nine consistently surprises me with the topics they are willing to tackle and the grace with which they do so. So, as it returns this month for its fifth season, I hope that they will tackle Rosa/Gina next.
---
Images courtesy of Fox
This week's episode of American Horror Story: Cult opens with a blonde woman, Rosie, speaking with Dr. Vincent (Cheyenne Jackson) about how thanks to him she's overcome her fear of being trapped in dark places. (Sidebar: why is Ally the only important woman without white/blonde hair in this show?) When Rosie and her husband Mark, return home, however, they are accosted by clowns and nailed into coffins. Rosie's worst nightmare that she admitted to Dr. Vincent. It makes you wonder if the Doctor is part of the cult. Hmm…
Switching up the timeline of things (again), we return to where we left off after last week's episode; the Mayfair-Richards household following Ally's (Sarah Paulson) gun play. Detective Samuels (Colton Haynes) assures Ally that he doesn't think charges will be pressed because the murder of Pedro was in self defense. Though Ivy (Allison Pill) knows it was accidental and not self defense, she agrees with the Detective and the power finally returns.
The next day, protestors gather outside the Butchery on Main, branding Ally as the "lesbian George Zimmerman," and the news is there to broadcast the protest. Unable to show her face, Ally is forced to stay in the car while Ivy goes to work. Before Ally can go home, however, she is confronted by Kai (Evan Peters) who calls her brave. He tells her to never apologize and that he'll take care of the mob for her. When Ally does arrive home, she receives a very different greeting from Meadow (Leslie Grossman) and Harrison (Billy Eichner). The couple, dressed in sombreros, condemn the accidental murder and accuse her of being a racist.
Ally and Ivy are unable to avoid the news of the protestors on television. The news finally moves on to announce the deaths of Rosie and Mark, who were found in coffins in their home with a smiley face symbol painted above them. The same symbol that was found on the Changs's house.
Things turn to the strange (or stranger, anyway), the next day when Ivy and Ally find dozens of dead crows in their yard. It gets stranger yet when Winter accidentally lets an unknown man into the house. The man was responding to an ad on Craigslist that listed lesbians looking for pleasure from a man.
During a phone session, Dr. Vincent talks to Ally about the Craigslist ad. It's in this scene that we get our first election reference of the episode, a record few this time. Dr. Vincent suggests Ally file a police report then asks for an emergency meeting to talk about an inpatient facility. Ally (obviously) disagrees with the doctor's assessment and ends the call. When she reaches town, protestors accost her car, but with a single word Kai is able to get them to leave.
Returning home, Ally and Ivy find Oz and Winter playing with a guinea pig with a cisnormative name.  They learn that the animal was a gift from Meadow. When Ally tells him that he cannot keep the pet, Oz lashes out and says that he wishes Ally wasn't around. Ally then calls Harrison who is sitting with Meadow and Detective Samuels. Harrison states that he likes Oz but not Ally, and that Oz needs testosterone in the house. Angry, when Ally sees a truck spraying green mist, she chases the truck down to no avail.
Elsewhere, Meadow and Kai play the pinky game. When asked for her greatest fears, Meadow offers a superficial fear that Kai slaps her for. This is a revolution and he doesn't want his time wasted. Kai calls her out as being afraid of never really being loved.
In a rare moment of levity and normalcy, the Mayfair-Richards family having a nice family dinner at the Butchery on Main. Oz apologizes for lashing out at Ally, and she decides to let Oz keep Mr. Guinea. When they arrive home, however, what was a good night takes a turn.   smiley face is painted on the door, and Mr. Guinea blows up in the microwave.
Ally crosses the street and enters the neighbors house where she assaults Harrison. She accuses the couple of being responsible for all the wrong that has been done to them, but Meadow is genuinely scared when she hears about the smiley face. Ally escalates matters and threatens to kill them before leaving. Ivy finally reaches her breaking point with Ally, calling her out on her absurd reactions, when Oz points out that the same smiley face is on the side of the Wilton's house. Instead of warning the couple, however, Ivy and Oz return home. Ally follows behind, only to find mysterious people spraying a green substance on her lawn. When she tries to reveal their faces, she finds smiley faces in the place of where real faces should be.
Meadow is not the only Wilton to play the pinky game with Kai. This time, Harrison plays, and does a better job telling the truth to Kai than his wife. He admits that he wishes Meadow were dead.
When Detective Samuels calls on the Mayfair-Richards home, Ally talks to him with crazy eyes about her conspiracy theory. She's finally the one that seems to be making some sense and no one is listening. It makes her look even crazier to have make-up smeared down her face. 
The conversation is halted by Oz's scream. His mothers immediately head upstairs to find him closing his laptop. He admits that he got past Ivy's parental controls as he saw her type in the password once, "Clownz".  Sorry Ivy, but you're starting to look pretty suspicious here. Ivy and Ally finally convince Oz to reveal what's on the computer. It is a video of Ally in the bath getting fingered by Winter. Whomp, there it is.
Ivy wastes no time retaliating once they bring their conversation to the hallway and punches Ally in the face. She starts yelling about Ally breaking their family, while Ally seems hung up on the fact that someone planted a camera in their bathroom. Both valid points.
Not willing to stay in the same house as her cheating wife, Ivy prepares Oz to leave with her. Just as they are about to leave, however, police arrive across the street. They exit the house to find Harrison is freaking out and upon seeing her, accuses Ally of murdering Meadow. He woke up covered in Meadow's blood, Meadow nowhere to be found. While the adults were arguing, Oz returns to the house. His mothers run after him to find him staring at the walls. Walls that are now covered in blood with a bloody smiley symbol on the living room wall.
Closing Thoughts
At this point, it seems as if the cult behind all the murders and strange happenings in this small Michigan town is larger than expected. In fact, it seems almost as if Ally and Oz are the only ones that aren't part of the cult. With Meadow and Harrison both deferring to Kai, it appears that the blue-haired man might be one of the ring leaders. But then again, there's also Dr. Vincent and Ivy to think about. Where do they fit? Are they secretly behind it all? And if Ivy is involved, what is it about Ally that makes her want to torture her so much?
With more questions raised in this episode, such as the questionable green substance, it's easy to wonder where this cult is going, but perhaps the biggest question is; do we really care?
---
Images courtesy of FX
Outlander Slows Things Down for Episode 2
This week's Outlander was much slower than last week's, returning to the steady pace they set in the first few episodes of both seasons 1 and 2. Unlike other shows that use this tactic (*cough* The Walking Dead *cough*), it works in Outlander because of how invested I am in the characters, no matter what they're doing.
Recap
Like last week, this week's episode divided its time between Jamie in the 18th century and Claire in the 20th. Jamie is at Lallybroch with his family, but he's a wanted man. The redcoats frequently harass Jenny and Ian, even randomly throwing Ian in the clink in the hopes that they'll all decide to betray Jamie's whereabouts. Since they don't ever really do anything to him, and he seems largely friendly with the soldiers, it's a fairly empty threat.
Still, it's dangerous, because in the aftermath of Culloden, being a Scot in Scotland was essentially outlawed. By that I mean clans were no longer allowed to wear their tartans, bagpipes were banned, and Scots weren't allowed weapons (except I guess what they had to have to have hunt, like a bow and arrow or a knife).
Jamie has gone full-on wild man of the woods, complete with giant beard and long hair. He doesn't really speak, just brings offerings of excessively large game (seriously, it was huge) and makes crazy eyes at people. Fergus, my dear son, is still in his service, and for all that it's been 6 years, he's not that much taller or older. It's like the Stark kids in reverse.
While Ian's locked up, Jenny goes into labor a bit early, and her sons Robbie and Jamie see a raven perched on the gate. They tell Fergus that a raven's bad luck and can mean the death of the baby. The boys found a pistol hidden in the dovecot, so of course they use it to shoot the bird. Because why not!? Pistols aren't against the law or anything.
The redcoats hear the shot because black powder guns are LOUD, and of course the tenacious captain brings some of his boys around. Unfortunately Jamie chose that moment to come a-visiting, so he's walking around the house carrying his new nephew when the English show up.
Jamie hides and Jenny tells them the baby died, and while the commander is being semi-respectful, his corporal, a Scot named MacGregor, is a real ass. Ultimately the maid shows up with the pistol and says it was her dead husband's, and she shot at a raven to scare it away.
The commander says to leave her, she's no threat, and the soldiers leave. Fergus is giving them the stink eye as they go, and apparently it gives the Scottish corporal the idea to follow him, thinking he'll lead them to Jamie. He's wise to their bumbling, however, and he leads them away from Jamie's cave. He taunts them as Jamie, hiding in the woods, watches in horror.
The soldiers catch Fergus and the corporal, um…chops his hand off with a sword. Which wasn't nearly as violent and/or bloody as it could have been, thank goodness, because my poor son! As soon as they're gone, Jamie wraps his stump and carries him back to the house.
Fergus later tells Jamie he's lucky, because when he first hired him, Jamie swore if Fergus was hurt while in his service, Jamie would keep him for the rest of his days. "With one blow I've become a man of leisure," he says with a grin.
Fergus's maiming causes Jamie to realize that hiding out isn't helping anyone. He tells Jenny and Ian they have to turn him in, partly to get the hefty reward money, but also so that the soldiers know once and for all that Jenny's loyal to the Crown. She isn't happy about it AT ALL, but she agrees. She sends her maid out to Jamie's cave with some food, and she helps him shave the beard and cut his hair.
She also takes her dress off and offers him some old-fashioned comfort, which he reluctantly (and tearfully) accepts.
Later Jamie shows up at Lallybroch acting all "Jenny, it's me after all this time! I certainly haven't been hiding in a cave in the woods for the past few years! What a random happenstance!" The soldiers are there, of course, and he's carted off while Jenny watches, crying.
Meanwhile in the future (which is our past, but not AS past as Jamie's time), Claire is trying to be a full time mom and housewife. If y'all learned anything about Claire the last 2 seasons, you should've learned that that would NEVER work. It starts with her fantasizing about Jamie while Frank sleeps next to her, then the two of them having sex while she thinks about Jamie. Poor Frank.
After a dinner party one night she seduces him in front of the fire, but when she won't open her eyes to look at him, he stops and tells her that when they're together, he's with her, but she's with Jamie. She doesn't deny it, and after that they go back to being much more distant.
Later Claire enrolls in medical school, and all the little white boys in her class are Shook. But they're even MORE shook when a Black man walks in. He sits next to Claire and introduces himself to her, and in that moment a beautiful friendship was born.
The episode ends with Claire and Frank crawling into bed to say goodnight. Claire turns off the light and lies down to sleep, and as the camera pulls back we see they're now sleeping in twin beds. I guess their pretense of returning to their marriage has ended, and they're staying together mostly for Bree's sake.
Review
Like I said, this was kind of a slow episode. Not a lot happened, really. It was mostly about Jamie and Claire trying to adjust to their new lives without each other. Jamie is essentially dead inside, a shell of himself, while Claire has Bree to think of.
They both tread water for a time, but eventually realize they have to figure out some way to keep going. Jamie turns himself in to the English because he knows he's hurting his family and putting them at risk by being a fugitive. Even if they never find him hiding out on Fraser land, they'll always suspect Jenny and Ian are sheltering him, and one day they may not be so congenial when they cart Ian off to jail.
If I have a criticism of the episode, it's that Fergus losing his hand—a moment that shocked Jamie back to life, so to speak—lacked some of the punch it was clearly meant to have. Maybe I was just really tired, but my reaction was kinda like, "Oh no my son! Welp. Sucks for him." I don't know what they could've done differently with it. I certainly didn't need it to be gorier. I guess it just seemed sort of…sudden? And possibly after Jack Randall's antics, any old dastardly redcoat just doesn't really compare. The whole thing was a little rushed in an episode that otherwise took its time.
I'm gonna admit it, y'all: I hate seeing Jamie with another woman! I can deal with Claire with Frank, but Jamie with the serving lady (who was very nice and very brave) had me seeing red. Like, duh he believes Claire's gone forever, and it's not like I'm mad at Jamie for seeking comfort with someone else—he needs to move on and get out of his emo phase. But STILL! Logic be damned!!!
I honestly love this show and these characters, so I really could watch them stare at their shoes for an hour, but having said that—I hope next week picks up the pace just a li'l bit. Just a smidge. Especially on Claire's side, because while yeah I love seeing her make That Face She Makes when men are sexist jerks, I want her to have something more to do than miss Jamie. Medical school and her career should definitely help that issue.
All in all, this was a solid filler episode, and I was glad to see Jenny and my (now one-handed) son Fergus again. Next week we'll re-meet Sir John Grey, so that should be interesting. Also I wanna see more baby Bree because that is a super cute baby. Like, wow.
Episode Grade: B. It wasn't as good as last week, but it's a great show, so it earns some generosity from me. Also all the emotional notes were spot-on.
---
Images curtesy of Starz