The Fandomentals' Top Shows of 2016
2016 is almost over, (good riddance) and the team here at The Fandomentals have been asking ourselves "what good things happened?"
Well, we think quite a few good thinks happened. In fact, television is full of well-written thoughtful shows– that no one watches. 
As such, our list won't look much like some others you may seem floating around the internet. But we like ours better.
The Fandomentals Presents, as chosen by our contributors, Our Top Shows of 2016.
Gretchen: It should surprise no one that Supergirl won our contributor poll for best of 2016 by a landslide. No show in recent memory has taken such care to depict the journey of a late 20s/early 30s woman coming to understand herself as a wlw. There's a reason why "this is me" and "I feel so represented" were trending so much in the Supergirl fandom this season. 2016 was a bad year for sapphic women in television, so being handed Alex Danvers' and Maggie Sawyer's story this season was simultaneously a huge gift and the biggest fuck you to the Spring Slaughter. If for no other reason, through #Sanvers Supergirl deserves recognition for giving hope, light, and joy to so many LGBT+ persons around the world.
But that isn't the only reason. Not by a long shot. Despite my distaste for James Olsen's Guardian subplot this season, I applaud the writers' effort to give a man of color a continued prominent role on the show despite no longer being the protagonist's love interest. They could just as easily have sidelined him completely, and I'm thankful they chose to keep him central even if I disagree with the character arc. Now if they could just find a way likewise to deal with Mon-El in a non-douchy, non-love interest-y way, I'll be even happier.
As with season one, the characters take center stage in making this show successful. Kara showcases growth and maturity in how she copes with her cousin, her job, her parents' legacy, alien amnesty, and being confronted with her own prejudice. Her continued commitment to compassion and hope given the breadth of her loss and trauma brings me to tears. I would die for her. Space Dad J'onn's inner turmoil over reconciling his hatred of the White Martians for the death of his family with forgiving M'gann has been the under-appreciated subplot of the season. It's so compelling and deserves way more screen time than it gets. Lena and M'gann win for best new characters this season; they may have come later to the family, but they're still my children, and I love them all.
Basically, Supergirl has everything: well-rounded characters that include many women and people of color, compelling themes, a sensitively written wlw coming out arc that can only come from an inside perspective, and a message of hope and compassion that shine in the GrimDarknes like a floodlight. I can't imagine 2016 without it, and can't wait to see what it will bring to 2017.
Nick: BoJack Horseman is a really weird show. A washed out anthropomorphic TV show star horse with depression, existential issues, and a whole lot of moral baggage. The series revels in its weirdness, its absurdity so much it isn't odd anymore.
BoJack as a character has a lot of issues, yet he's far from the only with them. Diane, Todd, Mr. Peanutbutter, Princess Carolyn, and several other side character are given dramatic weight and showcase the moral issues of the Hollywood lifestyle.  It further takes the limits of dark comedy and clever yet heart stabbing writing.
Adult animation is something that's starting to take hold in the States. And BoJack is unquestionably part of this trend. This show is really walking the depiction versus endorsement line; the series depicts things such alcoholism, aging, death, and existential crisis. Yet despite all of the crap these characters go through, there is a weird sense of hope throughout all of it.
I hope I do not sound too highbrow, but this series deserves this verbiage. It revels in it moral ambiguity, its characters, and yet still, somehow, edges away from the world of GrimDark. I'm excited to see where the series goes.
Szofi: One of the defining moments of television in 2016 was when Netflix dropped the first season of Stranger Things in July. This creation of the Duffer Brothers became an instant hit and remained a much talked about show for the rest of the year. With a confirmed Season Two coming, we'll likely be talking about Stranger Things more in the future.
The show centres around the disappearance of a local kid in Hawkins and how his family and friends are trying to find him. You have mystery, horror, drama, even a little bit of romance and comedy. In just eight episodes Stranger Things builds a complete world, or rather two, that completely captured the audience. A huge part of its appeal is the nostalgia of the 80′s, as the entire season is set during the November of 1983. It's done so exceptionally that even I was feeling nostalgic towards the eighties, even though my parents were the same age as the main cast in 1983. But the nostalgia and the countless nods to classics are just parts of the overall Stranger Things appeal.
Personally, I think that the greatest strength of the series is that it knows how plot and characters are equally important. You have a truly intriguing, terrifying mystery that doesn't let you not binge the whole season, but becomes even more exciting because you care deeply about the main characters by the second episode and are scared for them. Apart from a couple of side characters who were made to be disliked, everyone is likable but flawed. The connection between characters, how they relate to each other also makes the viewing experience more enjoyable as the audience follows decaying and developing relationships amid the terrors of the unknown threat. Everyone will surely have their favourites, but personally, I found myself caring about all the major characters.
The first season raises more questions than it can answer, but thanks to the pacing the audience is left excited for more by the end, not frustrated. Combine all this with a truly breathtaking cinematography, an excellent cast that includes famous and rising stars (absolutely brilliant child actors), a fitting score and a plot that somehow seems to cater to everyone's needs, and you have Stranger Things. No wonder people couldn't stop talking about it for months and Season Two was announced not long after the premiere.
Bo: It's no secret just how much we love Steven Universe here at The Fandomentals. It's exactly the kind of happy, relatable, socially responsible, well-written show we gravitate towards. However, not all of us have followed the funky flow yet, and there are plenty more out there who've resisted the call as well. Too bad, because 2016 was a really great (and jam-packed) year for this fantastic show. After all, it started the year in season 2 and ended the year beginning season 4, with all of season 3 delivered over about three months.
Expectedly, a lot happened within all of those episodes. Two new members joined the Crystal Gems. An old member returned. A new villain was introduced and another taken out. Decades-long tensions were hashed out. New fusions literally exploded onto the screen. The idolization of an important character got ripped to shreds. New revelations shocked us. Mystery girls led to episodes we still struggle to believe actually happened.
In short, the great Rebecca Sugar and her amazing Crewniverse took everything we love about Steven Universe and dialed it up to 11.
Even something so simple as picking highlights proves difficult. Peridot's arc, for sure. "Mr. Greg" belongs simply for the amazing songs, let alone the dynamic between Greg and Pearl. "Mindful Education" and "Gem Drill" gave fascinating looks into mental health. The duel "Crack the Whip"/"Steven vs. Amethyst" story gave our Martell lovers everything that breaks their hearts. "Monster Reunion" brought back a fan-favorite in a great way. "Bismuth" surpassed expectations as the show's first half-hour special.
Of course, some people will look at "Last One out of Beach City" as the highlight of the year for giving us an entire episode about Pearl trying to mack on a Rose-lookalike. And they're not wrong. It all comes down to what you like about Steven Universe. Whatever it was, odds are you got it this year. 2016 was an amazing year for an amazing show. In a TV world fully grasped by the claws of GrimDark, Steven Universe is a breath of fresh air. It surprises without cheap shock. It develops characters without unnecessary trauma. The humor is strong. The tone is optimistic. Steven Universe and its creators believe in the good of people.
This year we needed that optimism more than ever. Thank you, Rebecca Sugar, and thank you to everyone who works on this amazing show. It was definitely among the best of 2016.
Elementary
Kori: Elementary is the little show that could. Not in the sense that it was an underdog, but in the sense that in the years the show has been on, it's produced some of the most thoughtful, diverse episodes of television on its network. While some criticized the show as a blatant Sherlock ripoff at its conception, Elementary has achieved something truly remarkable: A modern day Sherlock Holmes, who is possibly the most faithful spiritual adaptation of his book counterpart. With the master stroke of casting the inimitable Lucy Liu as his partner, Joan Watson, Elementary sailed out of the launch station and never looked back.
Throw in that Elementary regularly deals with heavier topics like addiction, mental illness, redemption, and the recurring questioning of "just what is 'normal' anymore," and we have a show has become, at least in our eyes, a joy to watch. It's the comfort blanket you reach for after a long week because you can trust it to always be there for you, and explore the world one procedural episode at a time. Plus, it doesn't hurt that their New York City actually looks like New York City, and isn't a sea of white. Just saying.
CJ
: Luke Cage
's premiere was a treat amongst the collective shit show that was 2016.
The crafting of
Luke Cage
is one big blast from the past for comic readers and television viewers alike, which makes it something of a (really) mature family show.  It's a mixture of old school R&B, modern rap, and the issues of today in both its musical selections and its execution. Harlem is the most fitting backdrop for Mike Colter, who plays Cage. Colter brings an authenticity to the once cheesy character that allows him to pull off the superhero's classic phrase "Sweet Christmas"…repeatedly. Quite a few viewers also got to see a fictional, yet realistic side of Harlem that wouldn't be found on the surface.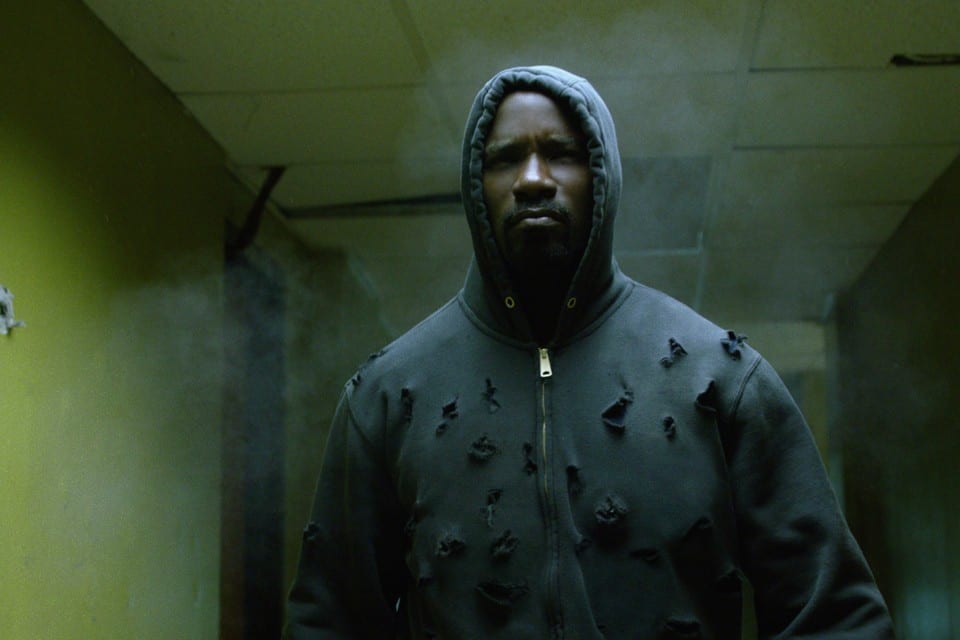 Through Cage, we are pulled deeper into the underground of Marvel's universe, with the blockbuster characters mentioned yet again, but never shown. Some wonderful (and zealous) villains emerge from the woodwork, beginning with Mahershala Ali and his brilliant laugh. A battle for Harlem's soul ensues, and have I mentioned how good the music is along the way? Because it is.
Cage was easily one of the most talked about shows since its release and months beforehand. Not only were we receiving a character that was already featured in the fantastic Jessica Jones, but we get to see him in his territory after the destruction of his bar. We got to see Cage in an environment that was Afro-centered from start to finish, a perspective that hasn't been very present since the 90s.

Does it have its plot holes and inconsistencies? Can it indeed be corny? Are our leads not only great actors but all very attractive?
Yep, but I still loved it.

In short, Luke Cage was a blockbuster that gave us Marvel realness from start to finish. Do yourself a favor and check it out.
The Good Place
Katie: My two favorite shows this year were a dark, difficult cartoon about depression and warm, bright live-action show about heaven. The two shouldn't have reminded me of each other so much. But both Bojack Horseman and The Good Place approach similar questions from opposite angles: what it means to be a good person, and what we owe to the people that surround us.
Created by Michael Schur – previous creator of Parks and Recreation and Brooklyn Nine-Nine – The Good Place explores a single neighborhood in "the good place," a heaven-by-any-other-name where the best of the best go when they die. It's filled with human rights activists, pediatric surgeons, philanthropists, and anyone brimming with selflessness and kindness. It's also the new home of Eleanor (Kristen Bell), a… not great individual who has somehow wound up in The Good Place by mistake. With the help of her earnest philosophy-professor roommate Chidi (William Jackson Harper), Eleanor starts to explore what it means to be a "good person" while becoming increasingly aware that her presence in The Good Place is causing some serious problems.
It would have been easy for The Good Place to immediately become either treacly or cynical. When I began to watch, I feared that the neighborhood residents would be revealed to be secretly petty and vindictive, or absurdly out of touch. Instead, even if the characters aren't perfect, they are genuinely kind, good-hearted people and it's wonderful to see that celebrated on television. There's also plenty of ground to explore going forward. The show has already shown interest in questions like how goodness is measured, whether contrition counts towards "recovering" goodness and tricky moral quandaries like the justification of doing something cruel for a kind reason. The show is a weekly burst of philosophical musings, kind people trying their best, and bright, happy colors. Boasting all of this plus a wonderful cast that includes Ted Danson and Adam Scott, The Good Place is off to a great start and promises even more to come.
How to Get Away with Murder
Claire: HTGAWM's third season started airing this air and immediately delivered what can only be called a shocking turn: Annalise's house burnt down, killing one person inside it. While the main plotline, as usually, focuses on the events that lead to the house fire as well as the personal lives of the characters, the flash forwards then rule out one character per episode before revealing who died.
The latter is another shocking turn, but this time with all the negative connotations that the term implies around these waters. The body found in the burning remains of Annalise's house is that of Wes who had seemingly been revealed as being alive and fine three episodes prior. HTGAWM tricked it's viewers by implying that a scene showing Wes getting blanket immunity in exchange for testifying against Annalise was taking place simultaneously to the fire when said scene had actually taken place multiple hours earlier.
While the reveal undoubtedly packed an emotional punch, some fans did not take kindly to the decision to kill him off, and understandably so: Not only did many viewers feel betrayed, Wes story was far from done. He had just gotten into a relationship with Laurel, who was also revealed to be pregnant, he was also struggling to emancipate himself from Annalise and deal with the trauma and consequences of his actions. Taking into account that men of color and especially black men are still more likely to die on our screens than many other demographics (except maybe women loving women of all races), killing off Wes is a decision that can best be described as problematic.
Nevertheless, HTGAWM also gave us lots of good stuff in this third season, including the emotional turmoil of Frank's and Annalise's relationship, Annalise trying to get sober and her bonding with the black female university president over their shared alcoholism. The Keating Five all got to lead in court and lay into Annalise after starting to defend three children accused of poisoning their mother. Connor and Oliver's relationship fell apart which gave room to Oliver exploring dating as an HIV-positive Asian American man. And the show gave us some much needed back story on both Michaela and Laurel and their relationships with their parents.
That's why HTGAWM is one of my favorite shows of 2016 despite my deep unhappiness with Wes' death: the third season centered characters who we rarely get to see in such central roles and gave all of them interesting storylines that added to their characters. Add some morally gray trials and the tension of a "who's dead, " and you get some pretty good TV."
Meg: I've already written several hundred words about why Outlander is the best show you aren't watching, but let me pull out my soapbox again and remind you. Because it's important.
Outlander isn't always an easy show to watch: it can be violent and heartbreaking. There's more sexual violence than I would like. Seasons 1 & 2's villain, Jack Randall, is as nasty as it gets. But sometimes what makes it hard is also what makes it so damn good. You can't help but love Jamie and Claire, and Jamie and Claire together. You cheer for them and cry with them and want, more than anything, for them to succeed—even when you know, they won't, or can't.
The season 2 finale gave us some of the show's best work: Jamie and Claire's heartbreaking goodbye, 1960s Claire revisiting Scotland, Jamie and Claire's daughter finding out the truth about her father. Outlander invests in its characters because it knows that's why we're there. Sure, the scenery is pretty, and the costumes are amazing, and the big battles are neat, but at the end of the day, if you don't love the people, what's the point?
I don't understand why more people don't watch Outlander. More than that, I don't understand why it can't get the awards recognition it deserves. Caitriona Balfe (Claire) is nominated for a Golden Globe, but the show itself isn't, and neither is anyone else in the cast.
It's a beautiful show on every level, a show that takes a fantastic premise and grounds it in humanity. Our heroine is resourceful, smart, and feisty, and our hero is suitably dashing and romantic. Together they're one of the best couples in history, major OTP material in a TV landscape that seems more and more about uneven, problematic relationships, and less about honest, genuine love.
The bottom line is this, and I've said it a million times: Watch. Outlander. Do yourself a favor. I promise you won't regret it.
Gretchen: No, it's not just because of WayHaught or because I got to interview Kat Barrell (who plays Officer Nicole Haught) for ClexaCon. Given my predilection for slightly campy, supernatural/ demon hunting shows like Constantine and Buffy the Vampire Slayer; Wynonna Earp piqued my interest from the get-go. It has its weak episodes ("The Blade"), but they're aberrations in an overall excellent first season.
Despite being unfamiliar with the comic, the mythology hooked me right away. The premise of a female heir to Wyatt Earp having to put down demons with her was both unique and different from other current television offerings. Back that up with engaging and well-written female characters and a powerful black male detective heading up the governmental task force and I'm sold. True, Dolls's not-quite-drug-addiction plays into a problematic stereotype of black male characters, but I'm willing to give it benefit of the doubt until we know exactly how his backstory unfolds.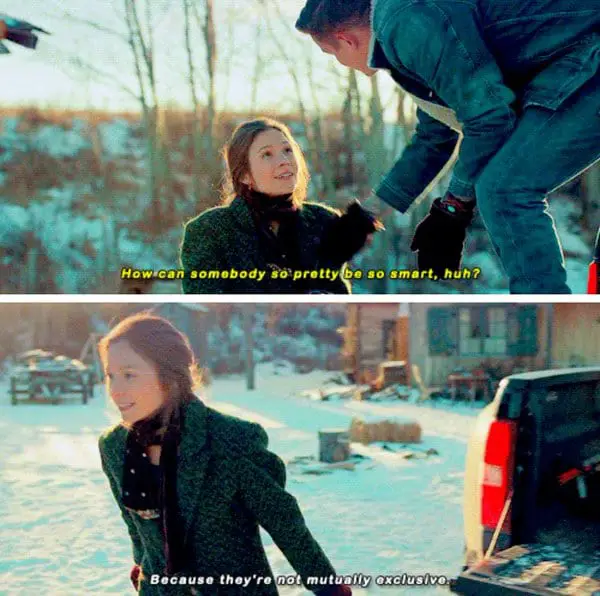 The dynamic between the Earp sisters turned a surface level struggle against demonic forces into a family drama. And we all know how much I love family dramas (hint: a lot). Reconciling with one's personal and familial past is a relatable struggle for me, especially if it involves complicated sisterly interactions. Doc's guilt and Wynonna's psychological burdens were written with nuance. Heck, even Willa's memory loss and subsequent conflict with her heritage worked reasonably well, and I found Willa to be the least interesting of the characters this season.
Waverly drew me most of all. That Waverly, the smart, underappreciated, homebody who never left town and stayed committed to the family legacy, and who also happens to be the youngest, ended up being bi just…well, let's just say that's as close to my story as I've ever seen. Add in a compelling wlw ship (WayHaught) as the cherry on this delicious supernatural cake. Officer Haught was the first wlw to survive being shot after the travesty that was the Spring Slaughter, and in such a blatant way that it's hard to remember it wasn't meant to be a statement piece. It may have minor flaws, but Wynonna Earp is still in my 2016 top ten.
Kylie: Let me tell you a little secret: I didn't want to like Black Sails. I didn't want to like anything immediately compared to Game of Thrones, and this was the *only* thing I ever heard said of it.
After watching all three aired seasons this year, I couldn't believe that was anything ever said about it. True, it was likely marketed to the same audience, and even hit a stumbling block in its first season that featured rape. But there was something about this show from the start that had a sensitivity, and at least an intent to explore heavy issues…to do something with them.
Seasons 2 and 3 of Black Sails can serve more or less as case studies in how to write women, how to write anti-heroes, and how to feature moral ambiguity in a gritty setting that doesn't get lost to the grimdark. It is actually shocking to think about the show and realize how many characters you care about—and I mean care about—no matter how small their role might seem. It began as a show about a swashbuckling treasure hunt and somehow became a study in people screwed over by the system, with no real place in the world, fighting for their own dignities, each with their own different motivations.
There's so much that's remarkable about Black Sails, including its almost effortless LGBT representation and diverse cast, though it's the strength of its characters that serves as the shining star. You can always see where someone is coming from, and it's very difficult not to at least empathize on some level with the (rather sprawling) main cast.
Or in the case of Anne Bonny for me, empathize a bit too much.
I can't tell if it's because it's on Starz, but Black Sails feels like one of the most criminally under-watched show. It's bisexual pirates, people! Season 4 is going to be its last, and it's right around the corner. Let's all strive to fix this immediately.
---
Happy New Year from our whole Fandomentals Family.
May 2017 fill your heart with squee and give you all the representation.
Black Lightning Episode 1-5 In Review
This week, Black Lightning is on a hiatus so here are some thoughts on the show so far. New episodes return next week.
As a whole, Black Lightning is one of my favorite shows on TV right now, and of the 381 (I have a list) shows I've watched in my 24 years. It does so many things well, and what I don't like is situated in a very specific context. For example, I love how the show hammers home that there are consequences to everything.
Consequences and Bad Guys
Last week's episode ended with Jefferson as Black Lightning knocked out in the water when his suit gave him problems in a fight with Joey Toledo, Tobias' right hand man. It was a bleak moment, but highlights how everything feels grounded! From the fights between Jefferson and various baddies, the deaths we've seen, and to Tobias doing anything, nothing is cartoonish. There are consequences to actions.
Sure dropping a lackey into a tank of piranhas is a bit much…but Tobias is terrible and terrifying and his traumatic childhood is not used as an excuse for his current actions. Rather they situate Tobias and Tori as adults (whose ages we don't actually know) trying to control their world. I wonder if Tori has her own crime syndicate in Miami? Oh hey, that would be a cool webseries…
The dedication to showing consequences of people's actions does have me worried with the portrayal of Khalil's future arc. I understand the impetus behind his arc. Unless the writers flip the script, it'll highlight how easy it is for people like Tobias and his lackeys to prey on young men without other options.
And I do not mean to simplify the many reasons why a young man may choose to deal drugs or why there is violence across so many American cities. But Khalil's existence now for Tobias is as a scapegoat to turn BL into the bad guy. Again, disability in DCTV is merely a plot point for villains or temporary.
On the flip side, Anissa as an out and proud activist lesbian is awesome!
Ladies Loving Ladies
Once the season ends, I'll write a full length piece on Anissa, Chenoa, and Grace. Even with only three episodes to really pull from, the writers established a lot about Anissa and Freeland. We saw in week 2 how she had a key for Chenoa's place, and her parents knew her name, but that's as far as that one year relationship had gone. Their sex was mindblowing, sure (which how incredible to finally see two Black woman make love as an affirmative thing), but Anissa wasn't committed to Chenoa. Understandably she was pissed at the Ruby Red Lipstick Bar (I love that Freeland has a lesbian bar) and said some hurtful things to Anissa.
I wish we had (or maybe we will) seen Chenoa one last time, but the moment Anissa laid eyes on Grace, it was pretty clear we were getting the slow-burn there. And this is what's so great about the show, by five episodes both Anissa and Grace have been affirmatively labeled by the show as a lesbian and bisexual woman. No need to assume and no need for obnoxious fandom labeling conversations.
However, with Grace as a super recurring character, who knows when we'll see Chantal Thuy next and how she'll factor into the next portion of Anissa's development into Thunder. And if she receives a series regular promotion, whether or not she joins the Pierce family+Gambi shenanigans.
Pierce Family Passion
I LOVE ONE FAMILY. Look, representation is not revolutionary and won't meet any of our material needs on a global scale. Instead, representation is required and our media should look like us. But I'd be remiss to say that centering a show on a Black man who loves his family isn't a huge freaking deal!!!
Specifically because of the racist sentiment that Black fathers aren't around for their kids. This doesn't consider that a) 1.5 million Black men are "missing" or b) the Black men that are fathers, they are the most involved with their children of any other group of dads!
So watching Cress Williams as Jefferson Pierce, completely in love with his ex-wife and two daughters is stunning and I am so glad the show is about the Pierce family now instead of Jefferson years ago. Their passion for their home and each other is one of the bigger successes of the show.
(Though I'd love a flashback of him first realizing his powers since it would have been in response to a very emotional moment).
Grandpa Gambi
Who is he? We know he and Alvin Pierce were super close, he's Jefferson's surrogate father, and from an interview that the girls think of him as a grandpa. Yet we've only seen him interact with JefferLynn and Tobias! And he knows Tori? I want to know everything about him and really hope the next eight episodes reveal more. As the only white guy the writers invite us to care about, Gambi is important. He's got this amazing boutique and clearly knows his technology. (Is he making Anissa's outfit?)
But he's hiding more than Tobias from Jefferson, like what I assume is his understanding that Anissa was on camera in episode 3. Likely more secrets related to Alvin Pierce too. Plus just how does he afford all his tech? The show is so good with details that it seems suspect we've yet to see more of that aspect…
Otherwise, Gambi is a really interesting lens into the show's statements about so many issues.
Political Statements
The show has effectively made multiple statements not just about police brutality, drugs, or violence. Even the brief mention of the Tuskeegee experiments is significant with Greenlight and its entry into Freeland. I think its usage of Gambi as BL's greatest champion as a hero pulled out of "retirement" as compared to Anissa and soon Jennifer's journeys is really compelling.
I honestly don't have the expertise to write a lengthy piece on the show's usage of Malcolm X, MLK Jr, or others like Harriet Tubman but I think Anissa's Malcolm vs. Jefferson's MLK Jr. vs Black Lightning's Malcolm is clear just from the show's dialogue.
The scene between Anissa, her parents, and the Henderson's is a great example. Is Black Lightning a vigilante who is hurting the police attempt's to fight the 100 gang or everything else? (How is Henderson actually feeling about his inability to stop the 100 gang long-term?) Or is he stepping in where no one else will and making a difference? Does nonviolence actually work, or nah? How do we meet the material needs of oppressed groups, here black people?
The latter questions are debated at length and I don't think Black Lightning is trying to conclusively answer them. Though the former two are definitely at the core of the show.
The same goes for the writers' strong use of religious imagery in implicit and explicit ways.
Book of Black Lightning
Abrahamic religion and their prophets are explicitly referenced from the episode titles to the show dialogue. Abrahamic religion is a huge part of the show. The titles all tell a story, even the non "Book of" titles like "Resurrection" and "Black Jesus" have their own. We even saw a Methodist church for Lawanda's funeral! It makes sense because the Akils are actually Muslim. I hope we get some Black Muslims too in the show.
Jefferson is Black Jesus (resurrection), then Black Lightning is Moses (the latter was reluctant at first to lead). Obviously Judaism, Christianity, and Islam have differences in their telling of Moses' story but it's pretty apparent what's happening here. Lady Eve is Pharaoh and I'm not quite sure on who Tobias is yet, but I'll figure it out by season's end when I'll write a long article about everything else we get this season.
Last Thoughts
When will Syonide get to talk extensively? One Syonide in the comics has a girlfriend and I would love to see the show's take on that.
Someone find the scripts for me because each episode feels like it's cramming a usual script and a half's worth of stuff into one 45 minute episode.
I hope this show doesn't get 22 episodes this fall. I find it works better as a short season show.
What do y'all want answers to or have thoughts on? Next week, the show returns to Jefferson looking for Alvin's murderer and so much more.
---
Image courtesy of The CW
Rise and Fall: The Chi's "Penetrate a Fraud" Is Joy, Heartbreak, and Fear
Welcome back to Lena Waithe's The Chi, where this week we see some characters start to rise from pain while others fall all the way into it.
Let's start with Brandon, who hit a low point last week when Jerrika showed up to the block party with another guy. Then Brandon confronted Ronnie, telling him he hopes Coogie's murder haunts him for the rest of his life before walking alone into the darkness. This week, things are looking a little better for our tender-hearted guy. A big reason for that is Sarah, his boss's wife/all-around manager of things at the restaurant. There is a serious mutual crush happening, and in this episode she gives him an opportunity to prove himself: he's going to be in charge of the food for a very large and fancy wedding anniversary catering gig. He pulls it off without a hitch and Sarah thanks him, saying the restaurant isn't doing as well as everyone thinks and they really needed a good night like this one.
Side note, my parents ran a restaurant for more than 10 years, and it is so true that even popular upscale places are in a constant struggle to keep their heads above water. It is a very unforgiving industry, and this little corner of the storyline hit home for me. Plus, my mom was the Sarah, basically doing every little thing and never stopping, so I appreciate her as a character.
Anyway, the other immediate event in Brandon's world is the revelation that his mother and Greavy got married at the courthouse without telling him. They're planning a backyard barbecue celebration that night and were hoping he could do some of the food. Brandon is angry, still resentful of Greavy, and storms off. But Greavy goes after him and is a little softer toward him, saying that it would mean a lot to his mother if he were there, and also that he'll do right by her.
In the end, Brandon, high off of a successful night that will likely mean a lot to his career, takes Sarah and the leftover catering food to his mom's house. The joy Laverne feels that her son shows up is such a perfect illustration of how much mothers love their children. Brandon ends up making a really nice speech about the new couple, and it's nice to see everyone in that string-lights-and-Heineken-filled backyard so full of smiles. Oh and then Brandon and Sarah kiss, so, that will be interesting next week.
Meanwhile, some other mothers are having an unexpectedly great day of their own. Ethel takes Jada to get their nails done as a thank you for patching up Ronnie's gunshot wound/saving his life. They end up bonding and we learn that Jada has not been prioritizing dating or her sexual needs, since she has approximately 100 million other things on her plate. But after her conversation with Ethel, Jada comes home to an empty house, lights candles along the edge of the bathtub, and masturbates with the shower head. I am so here for Jada taking care of herself. Also I will always associate showerhead masturbation with that scene in The Runaways where Joan Jett—aka a still-not-publicly-out Kristin Stewart—tells her bandmate to think of Farrah Fawcett in order to get off. Iconic.
The reason Jada came home to an empty house is that Emmett has been extremely busy with his and Amir's burgeoning shoe business. Amir "borrows" $5,000 from his uncle Habib, and he and Emmett follow a tip Emmett got about some rich white person who wanted to unload a shoe collection. Turns out it's a day-drinking divorcee who wants to sell her husband's garage full of sneakers. The two jump on it, thinking they've scored the shoes for half, if not less, of what they're worth.
Emmett gets to work putting the word out to his network of sneakerheads and sets up the van full of shoes in an underpass, where he sells almost all of them. Until one guy rolls up, looks at the shoes, and tells Emmett they're knockoffs (something to do with SKU numbers). Then he accuses Emmett of "penetrating a crime" on him and pulls a gun on him and Emmett Jr., who is in his arms. Emmett Jr. basically never stops crying; is that what real babies are like? Anyway, luckily the guy doesn't actually shoot but Emmett is sufficiently freaked out. It remains to be seen how this will unfold with the "business partnership."
Side note, the wide shots that include the art + landscape of Chicago are one of my favorite things about this show.
As we continue down our path of characters' best days to worst days, Ronnie is still halfway dead, stumbling around town bleeding through his clothes. He goes back to Common's mosque, where he is told he'll be welcome to come in and talk, but despite looking tempted, he doesn't do it—yet. Ronnie is also trying to find someone who will unlock Jason's phone. He finds Jason's girlfriend. Ronnie didn't know he had a girlfriend, or that she is pregnant, or that Jason knew she was pregnant and so did Tracey. Or that Tracey didn't want Jason to see her, or that Jason wanted to quit basketball. There was a lot Ronnie didn't know, but Jason's girlfriend unlocked the phone for him, so now he can look through pictures.
But guess who else wants to look at the phone: Detective Cruz. He brings Ronnie in for questioning, and backhandedly proposes they help each other: Cruz won't push too hard to pin Coogie's murder to Ronnie, and Ronnie will give Cruz Jason's phone. I guess so he can figure out what happened and get back in the department's good graces before anyone exposes the fact that he's the reason Ronnie knew about Coogie having robbed Jason's body. Cruz doesn't seem to find much on the phone—mostly a lot of selfies—but he sees that the last call made was to 911. So that's interesting.
Lastly, we have the boiling-point tensions between Trice, Reg, and their crew and Q and his. Q stole Trice's dog (the same one Coogie used to feed) and has been taunting him with her for weeks. Now, he uses her as a distraction, taunting Trice into conversation while Q's two guys sneak into the house to see what Reg, Trice, and co. have in there. Trice tells Q to go back to Cuba, so we now know where he was before coming back to Chicago. Q points out to Trice that he never got back to him about who might have killed Jason and why. He's clearly hung up on something with Tracey; maybe he's Jason's real father? I don't know.
Regardless, Q's guys report back on the specific kinds of military guns Reg and co. stole a lot of last week. And at the end of the episode, the three of them straight-up kill everyone in the house and steal the guns. I don't know if Trice or Reg were there, but I'm concerned for Jake?!?!
That's it for this week, let's hope next week we get to see the kids and the lesbians again, because I miss them and this episode ended on an extremely dark note.
---
Images from The Chi Courtesy of Showtime
Legends of Tomorrow Gets Stuck in a Time Loop
Starting off intensely, we see Zari racing against time to get Gideon to execute some simulation program that she wants to keep a secret from the team. Things don't go as planned because the Legends come back from a mission that involved Napoleon Bonaparte and disco clothing. While Nate and Amaya leave the bridge to discuss the fact that they just had sex during a mission, Sara gets pissed at Zari when Gideon stops working and she finds out about Z's secret simulation.
Taking the captain position hard, Sara argues with Zari about it, despite Ray's concern about her mood given Constantine's warning. Zari reveals that she wanted to find loopholes in history so she could exploit them to avoid the dark future she knows as 2042. As Zari goes to fix the ship, she is hit with some neon fluid from a tube. As she tries to see if Gideon is back online, the Waverider explodes…
…and we're back to Zari arguing with Sara.
Zari tries to figure out what's going on, first talking to Mick, then snooping on Nate and Amaya's post intercourse conversation, and finally Ray to no avail. In the end, the ship explodes again and we're back to Sara, who ends up twisting Zari's arm by accident. She ends up being taken to the med bay where she gets sedated and thus back again with the day starting over. Her next move is to try to explain the whole thing to the crew, but it still doesn't work for multiple attempts.
Until Nate believes her and tells Zari to talk to him again and quotes "Groundhog Day," which leaves me wondering why pop culture can't update its timeloop references. Say "Edge of Tomorrow" or even "Happy Death Day" if we want current. Nevertheless, as soon as she wakes up again, she goes to Nate. The two theorize that the explosion comes from within the ship instead of some outside force. Some other stuff happens, but in the end, the ship explodes.

Zari's newest attempt starts with her teaming up with Nate to go after Rory. It takes a few other attempts, but they eventually figure out that, despite his initial suspicious behavior—doing his laundry—Mick's was only hiding his novel. They go check on Ray, who ends up revealing, rather easily, that Constantine had told him to kill Sara when Mallus takes over. The duo decide to go after Sara now, fearing that she may be possessed and exploding the ship. Ray shrinks Zari and himself in order to spy on Sara.
What they find is rather the opposite: just a flirtatious facetime conversation with Ava — to quote the poet, "This is a gays only event, go home!". The two talk about their own experiences being bossy and how Sara has faith in Zari, but she ends up dodging one of Ava's attempts to go over to the ship and hang out. Sadly, Sara ends up crushing Ray and Zari, as she thought they were a fly.
Once again, Zari goes to Nate, but she's feeling quite tired. Nate suggests they have fun with it given the lack of consequences, so cue the fun montage. Eventually, the fun runs out and Zari tries to kill herself, but fails. This time though, Sara manages to believe Zari's story and enlists the whole team to look for bombs. The Legends try the trash compactor and find Gary, the Bureau agent. Mick takes a device from his hand and destroys it, thinking it was the bomb, but instead, it was what originated the time loop: Gary had boarded the Waverider because of an alert that the ship would explode so he had created the one-hour loop which would give enough time for the time to defuse the bomb. So now, the device is broken and the team has five minutes to find the bomb before they truly die.
Using the Chekhovian move, Sara finds the bomb inside a disc play. If I understant it correctly, Napoleon had gotten his hand on a CD player with ABBA's "Waterloo" in it, which he had used to win the war? Something campy like that, for sure. Seeing as the bomb will explode, Zari locks herself with the bomb in a force field so she can say her last words to the team which, as expected, is mostly advice she picked up from her time during the time loop.
As the timer stops, Zari finds herself in the company of humanoid!Gideon, the same one that kissed Rip Hunter that one time (I'm glad they end up finding ways to bring Amy Pemberton on board!). Gideon tells her that, in real life, Zari is healing at the med bay, but her mind is with Gideon at her matrix. Turns out Zari's simulator had not only worked but done all the job regarding the timeloops to show that Zari needs the Legends' help in order to find the loophole to save 2042.
As she wakes up, Zari gets Ray to confess his secret to Sara so she can prove that she indeed was inside the matrix. As Sara and Zari have a chat, it circles between their will to save people and a nice little loophole that may just give Z a chance to spare her brother's life.
Capping off the episode, we finally meet Firestorm's replacement after the CW confirmed it a few weeks back: Rip Hunter tracks down Wally West in China to ask him for help to save the universe.
---
Images Courtesy of The CW.