The Fandomentals' Top Shows of 2016
2016 is almost over, (good riddance) and the team here at The Fandomentals have been asking ourselves "what good things happened?"
Well, we think quite a few good thinks happened. In fact, television is full of well-written thoughtful shows– that no one watches. 
As such, our list won't look much like some others you may seem floating around the internet. But we like ours better.
The Fandomentals Presents, as chosen by our contributors, Our Top Shows of 2016.
Gretchen: It should surprise no one that Supergirl won our contributor poll for best of 2016 by a landslide. No show in recent memory has taken such care to depict the journey of a late 20s/early 30s woman coming to understand herself as a wlw. There's a reason why "this is me" and "I feel so represented" were trending so much in the Supergirl fandom this season. 2016 was a bad year for sapphic women in television, so being handed Alex Danvers' and Maggie Sawyer's story this season was simultaneously a huge gift and the biggest fuck you to the Spring Slaughter. If for no other reason, through #Sanvers Supergirl deserves recognition for giving hope, light, and joy to so many LGBT+ persons around the world.
But that isn't the only reason. Not by a long shot. Despite my distaste for James Olsen's Guardian subplot this season, I applaud the writers' effort to give a man of color a continued prominent role on the show despite no longer being the protagonist's love interest. They could just as easily have sidelined him completely, and I'm thankful they chose to keep him central even if I disagree with the character arc. Now if they could just find a way likewise to deal with Mon-El in a non-douchy, non-love interest-y way, I'll be even happier.
As with season one, the characters take center stage in making this show successful. Kara showcases growth and maturity in how she copes with her cousin, her job, her parents' legacy, alien amnesty, and being confronted with her own prejudice. Her continued commitment to compassion and hope given the breadth of her loss and trauma brings me to tears. I would die for her. Space Dad J'onn's inner turmoil over reconciling his hatred of the White Martians for the death of his family with forgiving M'gann has been the under-appreciated subplot of the season. It's so compelling and deserves way more screen time than it gets. Lena and M'gann win for best new characters this season; they may have come later to the family, but they're still my children, and I love them all.
Basically, Supergirl has everything: well-rounded characters that include many women and people of color, compelling themes, a sensitively written wlw coming out arc that can only come from an inside perspective, and a message of hope and compassion that shine in the GrimDarknes like a floodlight. I can't imagine 2016 without it, and can't wait to see what it will bring to 2017.
Nick: BoJack Horseman is a really weird show. A washed out anthropomorphic TV show star horse with depression, existential issues, and a whole lot of moral baggage. The series revels in its weirdness, its absurdity so much it isn't odd anymore.
BoJack as a character has a lot of issues, yet he's far from the only with them. Diane, Todd, Mr. Peanutbutter, Princess Carolyn, and several other side character are given dramatic weight and showcase the moral issues of the Hollywood lifestyle.  It further takes the limits of dark comedy and clever yet heart stabbing writing.
Adult animation is something that's starting to take hold in the States. And BoJack is unquestionably part of this trend. This show is really walking the depiction versus endorsement line; the series depicts things such alcoholism, aging, death, and existential crisis. Yet despite all of the crap these characters go through, there is a weird sense of hope throughout all of it.
I hope I do not sound too highbrow, but this series deserves this verbiage. It revels in it moral ambiguity, its characters, and yet still, somehow, edges away from the world of GrimDark. I'm excited to see where the series goes.
Szofi: One of the defining moments of television in 2016 was when Netflix dropped the first season of Stranger Things in July. This creation of the Duffer Brothers became an instant hit and remained a much talked about show for the rest of the year. With a confirmed Season Two coming, we'll likely be talking about Stranger Things more in the future.
The show centres around the disappearance of a local kid in Hawkins and how his family and friends are trying to find him. You have mystery, horror, drama, even a little bit of romance and comedy. In just eight episodes Stranger Things builds a complete world, or rather two, that completely captured the audience. A huge part of its appeal is the nostalgia of the 80′s, as the entire season is set during the November of 1983. It's done so exceptionally that even I was feeling nostalgic towards the eighties, even though my parents were the same age as the main cast in 1983. But the nostalgia and the countless nods to classics are just parts of the overall Stranger Things appeal.
Personally, I think that the greatest strength of the series is that it knows how plot and characters are equally important. You have a truly intriguing, terrifying mystery that doesn't let you not binge the whole season, but becomes even more exciting because you care deeply about the main characters by the second episode and are scared for them. Apart from a couple of side characters who were made to be disliked, everyone is likable but flawed. The connection between characters, how they relate to each other also makes the viewing experience more enjoyable as the audience follows decaying and developing relationships amid the terrors of the unknown threat. Everyone will surely have their favourites, but personally, I found myself caring about all the major characters.
The first season raises more questions than it can answer, but thanks to the pacing the audience is left excited for more by the end, not frustrated. Combine all this with a truly breathtaking cinematography, an excellent cast that includes famous and rising stars (absolutely brilliant child actors), a fitting score and a plot that somehow seems to cater to everyone's needs, and you have Stranger Things. No wonder people couldn't stop talking about it for months and Season Two was announced not long after the premiere.
Bo: It's no secret just how much we love Steven Universe here at The Fandomentals. It's exactly the kind of happy, relatable, socially responsible, well-written show we gravitate towards. However, not all of us have followed the funky flow yet, and there are plenty more out there who've resisted the call as well. Too bad, because 2016 was a really great (and jam-packed) year for this fantastic show. After all, it started the year in season 2 and ended the year beginning season 4, with all of season 3 delivered over about three months.
Expectedly, a lot happened within all of those episodes. Two new members joined the Crystal Gems. An old member returned. A new villain was introduced and another taken out. Decades-long tensions were hashed out. New fusions literally exploded onto the screen. The idolization of an important character got ripped to shreds. New revelations shocked us. Mystery girls led to episodes we still struggle to believe actually happened.
In short, the great Rebecca Sugar and her amazing Crewniverse took everything we love about Steven Universe and dialed it up to 11.
Even something so simple as picking highlights proves difficult. Peridot's arc, for sure. "Mr. Greg" belongs simply for the amazing songs, let alone the dynamic between Greg and Pearl. "Mindful Education" and "Gem Drill" gave fascinating looks into mental health. The duel "Crack the Whip"/"Steven vs. Amethyst" story gave our Martell lovers everything that breaks their hearts. "Monster Reunion" brought back a fan-favorite in a great way. "Bismuth" surpassed expectations as the show's first half-hour special.
Of course, some people will look at "Last One out of Beach City" as the highlight of the year for giving us an entire episode about Pearl trying to mack on a Rose-lookalike. And they're not wrong. It all comes down to what you like about Steven Universe. Whatever it was, odds are you got it this year. 2016 was an amazing year for an amazing show. In a TV world fully grasped by the claws of GrimDark, Steven Universe is a breath of fresh air. It surprises without cheap shock. It develops characters without unnecessary trauma. The humor is strong. The tone is optimistic. Steven Universe and its creators believe in the good of people.
This year we needed that optimism more than ever. Thank you, Rebecca Sugar, and thank you to everyone who works on this amazing show. It was definitely among the best of 2016.
Elementary
Kori: Elementary is the little show that could. Not in the sense that it was an underdog, but in the sense that in the years the show has been on, it's produced some of the most thoughtful, diverse episodes of television on its network. While some criticized the show as a blatant Sherlock ripoff at its conception, Elementary has achieved something truly remarkable: A modern day Sherlock Holmes, who is possibly the most faithful spiritual adaptation of his book counterpart. With the master stroke of casting the inimitable Lucy Liu as his partner, Joan Watson, Elementary sailed out of the launch station and never looked back.
Throw in that Elementary regularly deals with heavier topics like addiction, mental illness, redemption, and the recurring questioning of "just what is 'normal' anymore," and we have a show has become, at least in our eyes, a joy to watch. It's the comfort blanket you reach for after a long week because you can trust it to always be there for you, and explore the world one procedural episode at a time. Plus, it doesn't hurt that their New York City actually looks like New York City, and isn't a sea of white. Just saying.
CJ
: Luke Cage
's premiere was a treat amongst the collective shit show that was 2016.
The crafting of
Luke Cage
is one big blast from the past for comic readers and television viewers alike, which makes it something of a (really) mature family show.  It's a mixture of old school R&B, modern rap, and the issues of today in both its musical selections and its execution. Harlem is the most fitting backdrop for Mike Colter, who plays Cage. Colter brings an authenticity to the once cheesy character that allows him to pull off the superhero's classic phrase "Sweet Christmas"…repeatedly. Quite a few viewers also got to see a fictional, yet realistic side of Harlem that wouldn't be found on the surface.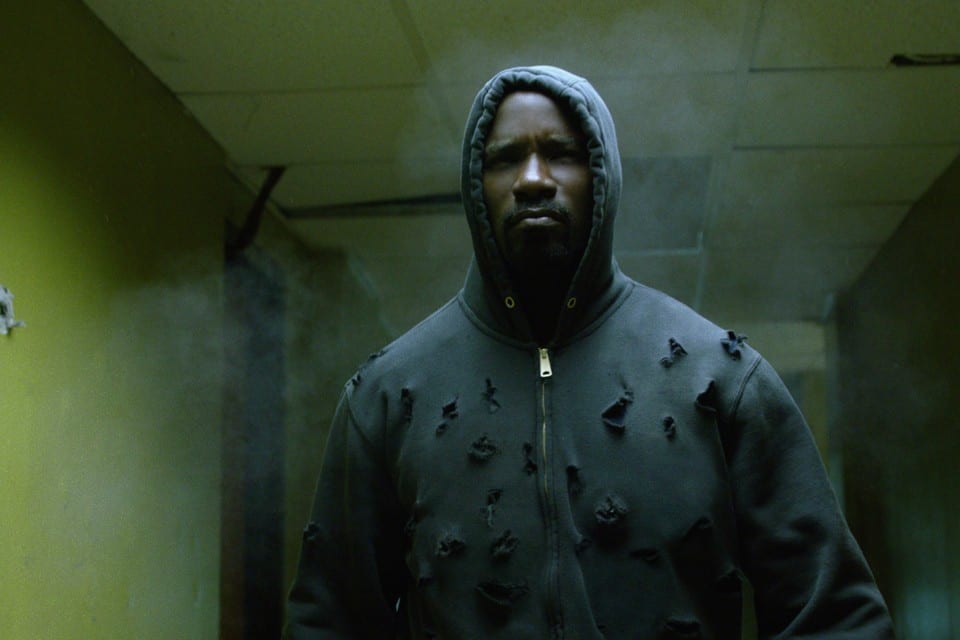 Through Cage, we are pulled deeper into the underground of Marvel's universe, with the blockbuster characters mentioned yet again, but never shown. Some wonderful (and zealous) villains emerge from the woodwork, beginning with Mahershala Ali and his brilliant laugh. A battle for Harlem's soul ensues, and have I mentioned how good the music is along the way? Because it is.
Cage was easily one of the most talked about shows since its release and months beforehand. Not only were we receiving a character that was already featured in the fantastic Jessica Jones, but we get to see him in his territory after the destruction of his bar. We got to see Cage in an environment that was Afro-centered from start to finish, a perspective that hasn't been very present since the 90s.

Does it have its plot holes and inconsistencies? Can it indeed be corny? Are our leads not only great actors but all very attractive?
Yep, but I still loved it.

In short, Luke Cage was a blockbuster that gave us Marvel realness from start to finish. Do yourself a favor and check it out.
The Good Place
Katie: My two favorite shows this year were a dark, difficult cartoon about depression and warm, bright live-action show about heaven. The two shouldn't have reminded me of each other so much. But both Bojack Horseman and The Good Place approach similar questions from opposite angles: what it means to be a good person, and what we owe to the people that surround us.
Created by Michael Schur – previous creator of Parks and Recreation and Brooklyn Nine-Nine – The Good Place explores a single neighborhood in "the good place," a heaven-by-any-other-name where the best of the best go when they die. It's filled with human rights activists, pediatric surgeons, philanthropists, and anyone brimming with selflessness and kindness. It's also the new home of Eleanor (Kristen Bell), a… not great individual who has somehow wound up in The Good Place by mistake. With the help of her earnest philosophy-professor roommate Chidi (William Jackson Harper), Eleanor starts to explore what it means to be a "good person" while becoming increasingly aware that her presence in The Good Place is causing some serious problems.
It would have been easy for The Good Place to immediately become either treacly or cynical. When I began to watch, I feared that the neighborhood residents would be revealed to be secretly petty and vindictive, or absurdly out of touch. Instead, even if the characters aren't perfect, they are genuinely kind, good-hearted people and it's wonderful to see that celebrated on television. There's also plenty of ground to explore going forward. The show has already shown interest in questions like how goodness is measured, whether contrition counts towards "recovering" goodness and tricky moral quandaries like the justification of doing something cruel for a kind reason. The show is a weekly burst of philosophical musings, kind people trying their best, and bright, happy colors. Boasting all of this plus a wonderful cast that includes Ted Danson and Adam Scott, The Good Place is off to a great start and promises even more to come.
How to Get Away with Murder
Claire: HTGAWM's third season started airing this air and immediately delivered what can only be called a shocking turn: Annalise's house burnt down, killing one person inside it. While the main plotline, as usually, focuses on the events that lead to the house fire as well as the personal lives of the characters, the flash forwards then rule out one character per episode before revealing who died.
The latter is another shocking turn, but this time with all the negative connotations that the term implies around these waters. The body found in the burning remains of Annalise's house is that of Wes who had seemingly been revealed as being alive and fine three episodes prior. HTGAWM tricked it's viewers by implying that a scene showing Wes getting blanket immunity in exchange for testifying against Annalise was taking place simultaneously to the fire when said scene had actually taken place multiple hours earlier.
While the reveal undoubtedly packed an emotional punch, some fans did not take kindly to the decision to kill him off, and understandably so: Not only did many viewers feel betrayed, Wes story was far from done. He had just gotten into a relationship with Laurel, who was also revealed to be pregnant, he was also struggling to emancipate himself from Annalise and deal with the trauma and consequences of his actions. Taking into account that men of color and especially black men are still more likely to die on our screens than many other demographics (except maybe women loving women of all races), killing off Wes is a decision that can best be described as problematic.
Nevertheless, HTGAWM also gave us lots of good stuff in this third season, including the emotional turmoil of Frank's and Annalise's relationship, Annalise trying to get sober and her bonding with the black female university president over their shared alcoholism. The Keating Five all got to lead in court and lay into Annalise after starting to defend three children accused of poisoning their mother. Connor and Oliver's relationship fell apart which gave room to Oliver exploring dating as an HIV-positive Asian American man. And the show gave us some much needed back story on both Michaela and Laurel and their relationships with their parents.
That's why HTGAWM is one of my favorite shows of 2016 despite my deep unhappiness with Wes' death: the third season centered characters who we rarely get to see in such central roles and gave all of them interesting storylines that added to their characters. Add some morally gray trials and the tension of a "who's dead, " and you get some pretty good TV."
Meg: I've already written several hundred words about why Outlander is the best show you aren't watching, but let me pull out my soapbox again and remind you. Because it's important.
Outlander isn't always an easy show to watch: it can be violent and heartbreaking. There's more sexual violence than I would like. Seasons 1 & 2's villain, Jack Randall, is as nasty as it gets. But sometimes what makes it hard is also what makes it so damn good. You can't help but love Jamie and Claire, and Jamie and Claire together. You cheer for them and cry with them and want, more than anything, for them to succeed—even when you know, they won't, or can't.
The season 2 finale gave us some of the show's best work: Jamie and Claire's heartbreaking goodbye, 1960s Claire revisiting Scotland, Jamie and Claire's daughter finding out the truth about her father. Outlander invests in its characters because it knows that's why we're there. Sure, the scenery is pretty, and the costumes are amazing, and the big battles are neat, but at the end of the day, if you don't love the people, what's the point?
I don't understand why more people don't watch Outlander. More than that, I don't understand why it can't get the awards recognition it deserves. Caitriona Balfe (Claire) is nominated for a Golden Globe, but the show itself isn't, and neither is anyone else in the cast.
It's a beautiful show on every level, a show that takes a fantastic premise and grounds it in humanity. Our heroine is resourceful, smart, and feisty, and our hero is suitably dashing and romantic. Together they're one of the best couples in history, major OTP material in a TV landscape that seems more and more about uneven, problematic relationships, and less about honest, genuine love.
The bottom line is this, and I've said it a million times: Watch. Outlander. Do yourself a favor. I promise you won't regret it.
Gretchen: No, it's not just because of WayHaught or because I got to interview Kat Barrell (who plays Officer Nicole Haught) for ClexaCon. Given my predilection for slightly campy, supernatural/ demon hunting shows like Constantine and Buffy the Vampire Slayer; Wynonna Earp piqued my interest from the get-go. It has its weak episodes ("The Blade"), but they're aberrations in an overall excellent first season.
Despite being unfamiliar with the comic, the mythology hooked me right away. The premise of a female heir to Wyatt Earp having to put down demons with her was both unique and different from other current television offerings. Back that up with engaging and well-written female characters and a powerful black male detective heading up the governmental task force and I'm sold. True, Dolls's not-quite-drug-addiction plays into a problematic stereotype of black male characters, but I'm willing to give it benefit of the doubt until we know exactly how his backstory unfolds.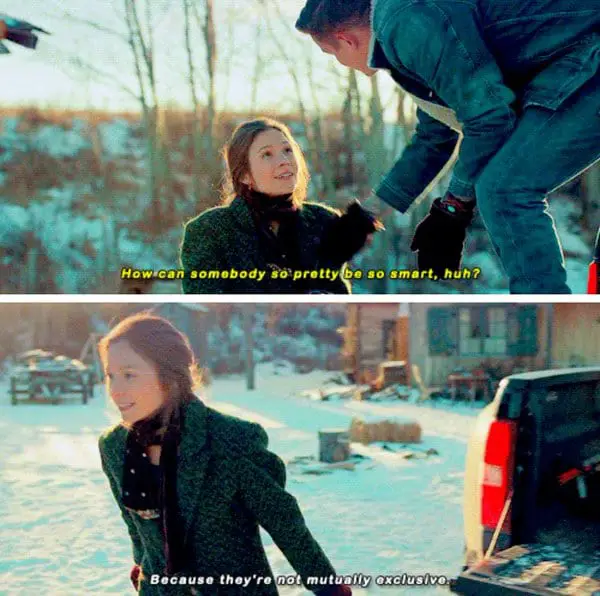 The dynamic between the Earp sisters turned a surface level struggle against demonic forces into a family drama. And we all know how much I love family dramas (hint: a lot). Reconciling with one's personal and familial past is a relatable struggle for me, especially if it involves complicated sisterly interactions. Doc's guilt and Wynonna's psychological burdens were written with nuance. Heck, even Willa's memory loss and subsequent conflict with her heritage worked reasonably well, and I found Willa to be the least interesting of the characters this season.
Waverly drew me most of all. That Waverly, the smart, underappreciated, homebody who never left town and stayed committed to the family legacy, and who also happens to be the youngest, ended up being bi just…well, let's just say that's as close to my story as I've ever seen. Add in a compelling wlw ship (WayHaught) as the cherry on this delicious supernatural cake. Officer Haught was the first wlw to survive being shot after the travesty that was the Spring Slaughter, and in such a blatant way that it's hard to remember it wasn't meant to be a statement piece. It may have minor flaws, but Wynonna Earp is still in my 2016 top ten.
Kylie: Let me tell you a little secret: I didn't want to like Black Sails. I didn't want to like anything immediately compared to Game of Thrones, and this was the *only* thing I ever heard said of it.
After watching all three aired seasons this year, I couldn't believe that was anything ever said about it. True, it was likely marketed to the same audience, and even hit a stumbling block in its first season that featured rape. But there was something about this show from the start that had a sensitivity, and at least an intent to explore heavy issues…to do something with them.
Seasons 2 and 3 of Black Sails can serve more or less as case studies in how to write women, how to write anti-heroes, and how to feature moral ambiguity in a gritty setting that doesn't get lost to the grimdark. It is actually shocking to think about the show and realize how many characters you care about—and I mean care about—no matter how small their role might seem. It began as a show about a swashbuckling treasure hunt and somehow became a study in people screwed over by the system, with no real place in the world, fighting for their own dignities, each with their own different motivations.
There's so much that's remarkable about Black Sails, including its almost effortless LGBT representation and diverse cast, though it's the strength of its characters that serves as the shining star. You can always see where someone is coming from, and it's very difficult not to at least empathize on some level with the (rather sprawling) main cast.
Or in the case of Anne Bonny for me, empathize a bit too much.
I can't tell if it's because it's on Starz, but Black Sails feels like one of the most criminally under-watched show. It's bisexual pirates, people! Season 4 is going to be its last, and it's right around the corner. Let's all strive to fix this immediately.
---
Happy New Year from our whole Fandomentals Family.
May 2017 fill your heart with squee and give you all the representation.
Honest Conversations and Unfortunate Insensitivity on Cloak and Dagger
Content Warning: This review discusses suicidal ideation and attempted suicide, as depicted on the show. 
Last week's episode of Cloak and Dagger ended with Tyrone and Tandy together and finally ready to discuss why exactly they have new superpowers insistent on bringing the two of them together.  Both their lives have been tossed upside down, and the only consistent thing in the tragedies of both their lives is each other. Maybe it's time to sit down and talk about it? That's exactly what "Call/Response" did this week. Unfortunately, to mixed results.
Time to Talk
"Call/Response" continued Cloak and Dagger's attempts at interesting episode structure by weaving together forward plot momentum in and out of the previously mentioned conversation between its heroes. This conversation lasted through the entire episode as Tandy and Tyrone hashed out what their powers are, what they do, how they experience them, and what their dreams from last week meant for each of them. These two had a lot to talk about.
For a good 90% of this conversation, I liked the direction of it. The honest and open-ended nature was refreshing. For the first time since they acquired their new powers, they held nothing back regarding what had changed, what they were going through, and how it affected them.
It moved both characters appreciatively forward. Even better, you could see how the conversation positively affected both in the scenes from the next day, when both acted on everything they discussed. Cloak and Dagger thus did a good job timing subjects of conversation with next-day action. Like you'd expect, these scenes were not exactly subtle about it, but so long as the point is made what does that matter?
Through their conversation, Tyrone and Tandy finally started acting against their instincts. They challenged their perceptions of the world. Tandy made an honest effort to learn about her mother's boyfriend Greg and found out he was genuinely interested in her mother and trying to help. She made an effort to embrace the hope she always rejected before. Her experiences have shaped her towards cynicism in everything. Life is a giant scam where everyone uses everyone else to get ahead, and you see this in her own method of making money. For her to open her mind to the possibility of Greg proving her wrong was a significant step forward.
Tyrone faced his own challenged perceptions, naturally based around his brother's murder and murderer. He considered Tandy's argument about his place in the world and where his privilege truly stands, as well as the destructive path his actions led him down. The failed trip to the police station was one important step, but the truly important moment was his field trip with his father to Otis's old Mardi Gras Indians stomping ground.
(By the way, add another cool twist on New Orleans culture to Cloak and Dagger's credit.)
Through this trip, Tyrone found new perspective on his father and brother, as well as his own anger. His father stressed the importance of finding a channel for his anger. And he might have found his way via the suits the Mardi Gras Indians create, and the taking on of his brother's unfinished suit. Tyrone needs this outlet and focus for his anger. He struggled with it throughout the first three episodes, even to the point of trying to shoot Detective Connors.
Even better, all this character development provided the biggest plot movement yet.  Tandy's determination to get along with Greg led to direct involvement in the Roxxon lawsuit he represented her mother in. It also led to Roxxon killing Greg for presumably getting too close. There should be no escaping the consequences of Greg's death. Tandy's mother will suffer. Who knows whether her determination to take the corporation down will wax or wane. Tandy herself visited the burned office to retrieve documents from Greg's safe, so she certainly won't let this go.
Tyrone's plot movement was not so direct, but still meant something. He learned of his brother's training to be a "Spy Boy" for the Redhawks, a role in Mardi Gras parades involving moving ahead of the Big Chief but was described in this episode as someone responsible for scouting the unknown to seek oncoming trouble. The unfinished suit Tyrone adopted also largely resembles the signature look of Cloak in the comics.
And of course now you also have to wonder if Roxxon will involve themselves with the Redhawks.
There was definitely a lot of good content in this episode. At this point Cloak and Dagger is close to establishing a base quality that this episode certainly matched. Unfortunately, the end of the episode left a real sour taste in my mouth. One reason due to plot, and another for some poor handling of a very sensitive subject.
Insensitivity and Stalling
You saw the content warning, so let's dive right in. The episode-long conversation between Tandy and Tyrone breaks down at the very end, when conversations about privilege turn into insults and eventually lead to Tandy admitting to suicidal thoughts. In his anger, Tyrone tells her that if she wants to die so badly, she should just do it.
The next day, in the aftermath of Greg's murder, Tandy restrains her hands and feet and jumps into the ocean, clearly planning on killing herself. She eventually resurfaces when her powers trigger and she cuts the ropes binding her hands.
I will say this: my final judgment will depend on how this is handled moving forward. Right now it feels like a really cheap use of suicide. There are some things you must always take care to portray responsibly when telling your story, and this did not feel like a particularly responsible way to handle Tandy's thoughts of ending her life. I worry this was nothing more than an attempt to end the episode with high drama, and that the distasteful implications are unrecognized.
Now, we do need to see where it goes from here. If Tyrone recognizes the terribleness of what he said and apologizes for it, and there's a genuine effort to understand the mistake he made, this can pass by without issue. And it's not like the idea that Tandy might have suicidal thoughts came from nowhere. Considering her immense survivor's guilt and lack of connection, I can certainly understand how thoughts of suicide enter her mind. Thing is, I don't think you can just throw it out there, have a main character yell at her to just go ahead and kill herself, have said character try, and then move on from it. It all happened so quick and dirty that I can't help but feel like it may have just been there for drama.
I hope it's needless to say that using suicide just for drama is an awful idea.
Cloak and Dagger needs to follow up respectfully on Tandy's attempt. Suicidal tendencies are a serious concern that must be handled delicately and with a purpose. And unfortunately, this is an easy fallback too many shows rely on without the proper care needed. I hope Cloak and Dagger doesn't.
My second, lesser, and plot-related concern is the argument that led to Tyrone's insensitive words. Namely that, to me, it came completely out of nowhere. The two of them spent the entire episode having  a calm, respectful discussion. Even sensitive subjects between the two caused little drama. Then all of a sudden a piece of genuine advice blows it all up and leads to an unnatural argument over privilege. Which leads to Tandy mentioning her suicidal thoughts and Tyrone's comment.
This development renewed my worry from last week over these two being kept apart too long. It seems clear that the real, ground-shaking forward movement on Cloak and Dagger won't take place until Tandy and Tyrone unite. "Call/Response" spent 90% of its runtime heading in this direction. Then it all fell apart.
I certainly understand how a conversation over privilege could lead to heated tensions, especially with backgrounds like Tandy and Tyrone have. Still, this felt so artificial. It almost felt like Cloak and Dagger attempting a superficial, ham-fisted discussion of privilege without any real meat. The main goal seems to be keeping the two main characters apart. It's the absolute worst attempt the show has made regarding the privilege debate. Scenes like Tyrone walking into the police station and looking around, only to find a sea of white faces, speak volumes more than this conversation did.
While we're certainly not back where we were at the end of the second episode, we're a little too close for comfort. Both characters seem like they will tackle the plot alone. And you know they will tackle it ineffectively. The whole idea (at least to me) is that they won't truly make progress until they team up. I'm also reaching a point where I will start to distrust the moments where they appear ready to team up if this goes on for too long.
In one moment, they undid a great deal of the work the 40 minutes before hand strove hard for.
I'm all for character development, but here's hoping Cloak and Dagger avoids this mistake in the future. And here's hoping Tandy's suicide ends up as more than a way to create drama feeding this mistake.
Other Thoughts:
I was delighted when Greg turned out to be a good guy. Damn shame they killed him in the same episode he turned out as such.
Tandy's mother is seriously tragic. I worry we're heading in a self-harm direction with her as well.
I also loved learning more about Tyrone's father, Otis. He seems to harbor a lot of the same barely repressed anger that his son does. I hope we get more of him and his history with the Redhawks.
Roxxon is still paying for the rights to the plot of ocean with the collapsed rig. This suggests to me that whatever gave Tyrone and Tandy powers still slumbers beneath the water.
Sometimes Tandy and Tyrone have some really good banter…and then sometimes I wonder how it can be so off.
---
Images Courtesy of Freeform
The Expanse Wanders Among The Wreckage
The Expanse is on its penultimate week, and with an episode called "Fallen World," showed us the aftermath of a disaster.
Recap
When the episode starts, Holden is unconscious, so Bobbie picks him up and they head towards their shuttle. However, she realizes the speed limit might have decreased after her commanding officer threw the grenade last episode, and tests it. Turns out she is right. They get out and stabilize Holden. However, many Martians and Earthers are both dead on their ship, as the quick deceleration was a massive shock.
Naomi survived, but her skiff is no longer able to move, so she abandons it and steps into space. Drummer and her first officer are both pinned by heavy machinery, and have to cooperate to get out of the situation. Anna wakes up and goes through her ship, watching the scores of dead people. Those who are bleeding severely are lost as well, since in zero gravity, there is apparently no way for the blood to drain. One would expect they'd have some sort of vacuum pumps for that, being a space-faring civilization, but whatever. Anna is horrified and offers her help, being a trained nurse.
Holden's brain scans show frenetic activity, but he's not waking up. A MCRN soldiers feels like Bobbie is more loyal to him than to them, and suggests she kills him, because dying might be the best fate for him right now.
Drummer and her first have now gotten to the point of sharing life stories and singing together, since they are out of viable solutions for their situation.
When Clarissa wakes up, she think she successfully killed Tilly. But as Anna is helping fix her broken arm, Tilly contacts Anna on her hand terminal. Anna goes to find her, and Tilly tells her what happened before she dies. Clarissa, meanwhile, escapes the ship just as Anna catches up with her. She is left screaming that, "she cannot escape, only beg for mercy."
Naomi arrives at the Roci and finds Alex, mostly all right, and Amos, who was hit in the head with a heavy tool and so is less alright. Drummer's first starts coughing blood from his punctured lungs. For some mysterious reason, Drummer decides that means she should sacrifice herself, even though from what we have heard, doing so gives him a really low chances of survival. Still, she moves the machine back onto herself, freeing him, and he calls for help.
Clarissa reaches the Roci and manages to get inside. Naomi hears the impact and goes to check what is wrong. Clarissa tries to kill her—of course she does—but Anna, who apparently followed Clarissa, saves Naomi.
Drummer's first, after hearing about the large number of wounded they have, gives the order to spin the drum of the ship, creating artificial gravity. They are unsure it will work, but they manage successfully. The first, who is not the captain, then opens a channel to other ships around them and invites everyone to transport their wounded to their ship.
MCRN seems to have more stupid ideas about how bad it is they are being saved by the "skinners," apparently a name for the Belters. Bobbie effectively tells him he is an idiot and goes to see Holden, who woke up, and now tells her he had a vision of the end of everything.
Review
Overall, this was another good episode with solid pacing and clear progress forward. But there were still plenty enough things left that bother me.
First and foremost among them would be the storyline happening aboard the Martian shuttle. For one, the MCRN marine was acting completely ridiculous. The Expanse has always had trouble with depicting the less open-minded military types with any nuance, but this might be a new low. In particular, I am talking about handing Bobbie the gun to shoot Holden.
It made no sense at all in context: their orders were to bring Holden in. I don't expect MCRN tortures their prisoners, so the argument with "might be the best for him" hardly made sense. Most of all, it felt like a test for Bobbie, but if so, it was a test of a kind I'd expect to see in Star Trek Discovery's Mirror Universe, not among the Martians. The Expanse show adaptation has always depicted the Martians worse than the books do, and this continues in the same vein. Bobbie is gaining the very uncomfortable overtones of being the "one good apple."
On the other hand, Bobbie's own role here was scarcely better, particularly her strange obsession with Holden. She is acting like they became best friends in the first half of this season, which is definitely not something I noticed. No matter how ridiculous the marine's desire to have Holden shot was, he was perfectly right that it looked like Holden was controlling the protomolecule. We know it was because Miller was controlling it for him, but Bobbie doesn't.
At the same time, it doesn't follow she would immediately jump to the conclusion that Holden is a villain. He could be controlled by the protomolecule. In fact, he was, to a degree. Or, he could have simply gone insane. Once again, he had in a way. There are many possible explanations that don't lead to wanting to have Holden executed, but which at the same time don't lead to Bobbie insisting to her marine crew that, "Holden wouldn't do anything wrong."
It is doubly irritating because this is Holden of all people, everyone's personal favorite white boy. Of course she would be all up in arms about him. Meanwhile, women of color were in danger or outright killed left and right this episode.
Speaking of which, Drummer. On one hand, when we first saw the situation she was in, I was worried it would develop into a mutual attempt at killing the other and saving themselves. I am truly, deeply grateful it didn't. And even the idea of her sacrifice could have been a brilliant one, really, in the right circumstances. The way it played out here, however? Just after it is implied her first has a low chances of survival, without any particular indication that she is in serious trouble herself? It just feels very much like, "all right, the brown chick was the captain for a bit too long, time to give it to a white guy."
The scene between them was acted excellently though, I have to grant them that much. Naomi was very good this episode as well, and were her Rocinante boys.
The one character who continues to be a disappointment is Anna. Her very last intervention was badass to be sure, but it's not the kind of strength I expect from Anna. She's not there to beat people over their heads. And until that moment, she was as insufferable as before. The most ridiculous moment was shouting after Clarissa. I understand she was meant to be upset, but it just looked stupid. Tilly repeating Anna was "very good at this," meaning her pastoral duties, only made me roll my eyes once more. Show, don't tell, please. At this point, such assertions about Anna are about as convincing as all the characters telling Tyrion he was clever on Game of Thrones.
The season finale next week is a double episode. At this point, I feel like it can go in many different directions, and I am all impatience to see which one it goes for.
---
All images courtesy of SyFy
Reverie Sows the Seeds of Doubt
Last week's episode of Reverie ended on a cliffhanger. Mara realized that she wasn't actually at her late sister's house, talking to her late niece (she was actually pretty sure on that last one). This leads to an obvious question: where was Mara, really. Unfortunately for her, she was in the middle of a road, with a car on its way. Before the car runs her over, Mara is saved by a mysterious man who knows her name. Turns out Mara's savior is Oliver Hill, who claims to be suffering from de-realization as well. Hill has been following Mara, out of supposed worry. Before Oliver was a concerned stalker, he was a founding partner of Onira-Tech. He has something to explain to her, but he needs food first.
Oliver Hill V. Onira-Tech
Reverie spends about half of the episode providing two arguments for what's really going on. Oliver argues that Reverie 2.0 is inherently flawed. He claims that he and Mara, being the two people who have spent the most time in Reverie 2.0, will be representative of the general population. In his version, Charlie is Onira-Tech's unthinking bodyguard who hates Oliver. The medication that Mara has been given is supposedly useless (which is not a great message, especially when paired with Mara's previous trashing of her meds). Oliver tells Mara not to tell Onira-Tech about their conversation, but that lasts for about 3 minutes. Mara is scared and she needs answers, and she tries to test Oliver's claims against Onira-Tech's personnel.
On the other hand, Onira-Tech claims that Oliver Hill was unstable. Charlie claims that Oliver is dangerous. Paul shows Mara Oliver's brain activity, explaining that he had issues before Reverie 2.0. Alexis tells Mara that her partnership with Oliver was founded in a romantic relationship. That relationship went badly, and Alexis doesn't want to be defined by that failure, hence his erasure from the company. 
By the end of the episode, Mara agrees with the latter form of events. She seems to be finally persuaded by Alexis' detailing of her and Oliver's romantic partnership. However, it's not clear that the narrative agrees with Mara. Mara doesn't know where to turn, and Reverie loves drawing tension from that. It thrives off of Mara's (and the viewer's) disorientation.
It's certainly clear that Oliver has other plans, since he offers to buy a Reverie system at the end of the episode.
Episodic Woes
This episode also included a client of the week. Part of the reason the Onira-Tech team started out the episode on edge was a theft within the building. Someone stole a copy of Reverie, and modified it into a form of "Dark Reverie." The "Dark" version doesn't have restrictions. Our client of the week, Glenn, is using it to plan a heist. Since last week's episode involved a bank robber, it's likely Glenn needed the jailbroken version for the detailed specifications.
Glenn is a man with a stereotypical form of OCD. He avoids daylight, and hates the color blue. In a twist that should not surprise the viewer, Glenn doesn't want to commit the heist for himself. He's been watching the single mother and son across the street. The son has a rare disease, and Glenn wants to save his life with a trial drug. Despite mostly living inside, Glenn's motivation is that he feels like part of the pair's family. This entire plot feels like a math problem. Sick kid + adult with stereotypical OCD + moral heist = episodic plot.
Glenn offers to sell out "Dark Reverie" sellers and give his system back on one condition: help him do the heist. Mara complies, but Charlie and Monica have other ideas. Instead of letting Glenn steal the medication, they make a deal with the medicine company CEO. The heist goes through, but is spinned as a test of the company's security system. Glenn gets the meds for the kid, and doesn't get a felony on his record. Smiles all around.
Conclusion
Reverie's season arc plot wildly outstrips its episodic plots. This week's episodic plot was probably the worst so far. However, the arc's plot twists easily, without feeling gimmicky.
---
Images courtesy of NBC