As a fan of wooden puzzles, I've learned a lot about the different type of puzzles out there. One popular type, the DIY wooden model kit is difficult but has great payoff! I was able to try two different kits from Tiny Treehouses, a company that has seven treehouse and architecture inspired kits perfect for individuals or a few people to work on together.
Ranging in difficulty from 2 to 5 with LED lights, the kits take a couple hours to make. I was provided the Temple of Gratitude and Spring Pavilion to try and was really excited! However, these are not "simple" puzzles and take a deft hand, which means if you're impatient or likely to give up if you mess up, these puzzles are not for you.
On the other hand if you can take the puzzle one step at a time and carefully piece the parts together, you'll really enjoy this. Funnily enough, I actually had much more difficulty with the Spring Pavilion, which had a lower difficulty! More on that later.
The Tiny Treehouses kits come in a nice box with a photo of the kit on the front and the different ways the kits can be finished. For example, the Temple of Gratitude comes with stakes to put it in a plant pot or a flat base, while the Spring Pavilion comes with a hook to hang, stakes for a plant pot, and a flat base.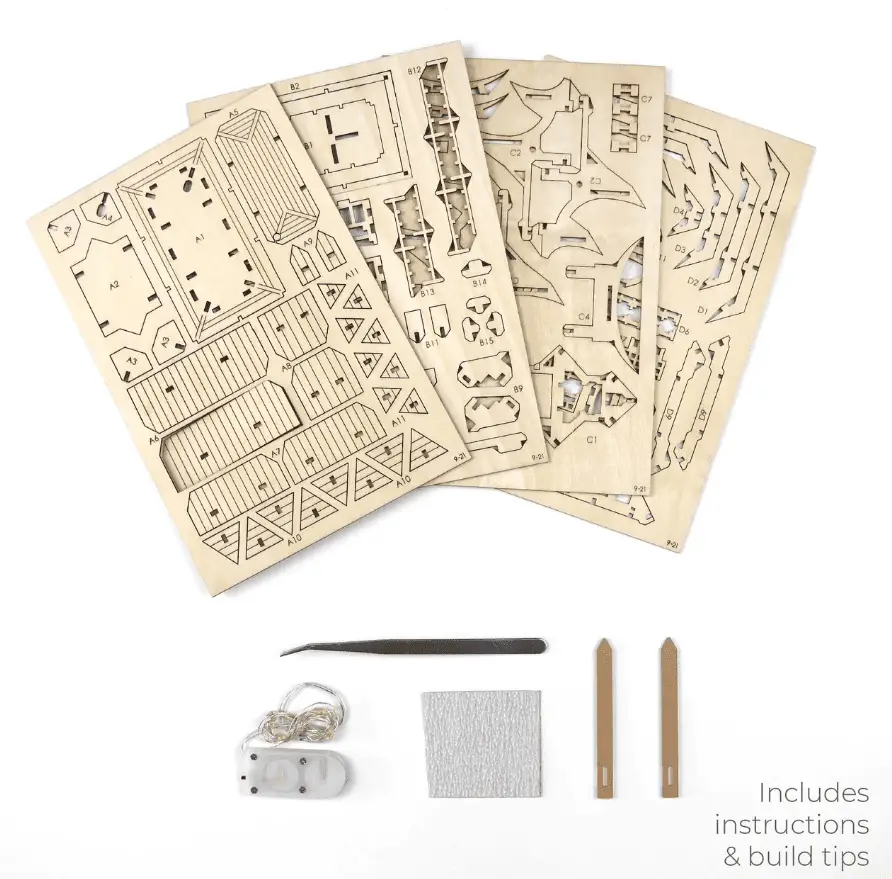 Each kit comes with four rectangles that house all the lasercut pieces, a tweezer for "tight fit" areas, a small piece of sandpaper, and the pieces needed to make the treehouse hang or sit in the plant pot.
The kits also come with large instructions that are numbered, have the pieces labeled A#, B#, C#, or D#, and tips for each puzzle. There are also pictures that show common mistakes of placing the pieces and how the pieces should actually look which is super helpful.
The biggest thing to watch out for is if the Tiny Treehouses pieces are actually going to fit together easily. If you face resistance, don't push! That will break the piece. Using the sandpaper to sand down edges is super key and something I wish that I had really understood with the Spring Pavilion. The tweezers also come in really handy for pulling the lights through when you get closer to the end of the building process and for the tiniest pieces.
Unfortunately the version of that kit that I received, every single piece needed sanding down and nothing really fit right and then it broke. I tried to finish it with broken pieces but too many had gotten messed up so all I've got left is the fountain base and the lights.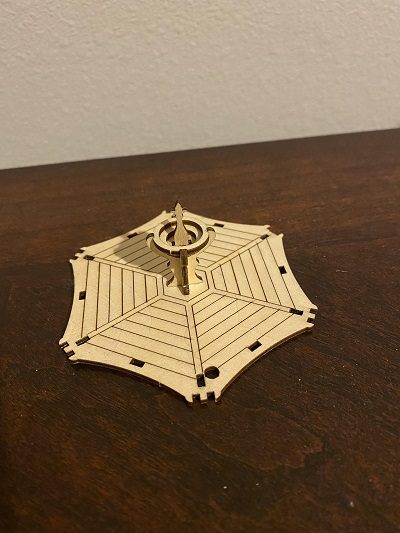 I will definitely sand down each piece as I go if any future kits give me issues. Having worked with laser cutters before I know how finicky the cuts can get so I don't blame the company at all. Plus this is plywood specifically for laser cutters, making the pieces really high quality.
Fortunately! The first Tiny Treehouses kit that I did, Temple of Gratitude came out great and I only broke a couple of the 109 pieces, all of which were easy to fix with mod podge (the kits recommend wood glue).
This first kit took me about three hours (while I watched TV) and was only difficult in a few spots where I couldn't figure out how to hold all the pieces while inserting new ones. I found the instructions really easy to follow and love how big the photos are. No squinting here.
The pieces also didn't splinter or cause me any issues, though this is a slightly messy project as pieces fitting together to lead to some of the material coming off. A damp washcloth will pick anything right up.
Another tip is to look at the current and future step so you can see how things fit together. There were a couple steps where I realized I probably could have flipped them and that would have worked better (like fitting a rectangle piece in before a triangle). After the first kit, what will or won't work comes intuititively.
I definitely plan to do another one and at $39, these kits are appropriately priced for their value!
You can see all seven of the kits at the Tiny Treehouses website.
Review copy and images courtesy of Tiny Treehouses
Have strong thoughts about this piece you need to share? Or maybe there's something else on your mind you're wanting to talk about with fellow Fandomentals? Head on over to our Community server to join in the conversation!