Are you an LBGT woman or fan of LGBT women in media? Have you always wanted to attend an event that celebrates LGBT women fandoms in TV, film, and other digital media? I have fantabulous news for you! Next year, there is going to be a con entirely devoted to LGBT women in media. It's called ClexaCon — in honor of the Clexa ship (Clarke Griffin and Lexa kom Trikru from The 100) — and it's going to be phenomenal.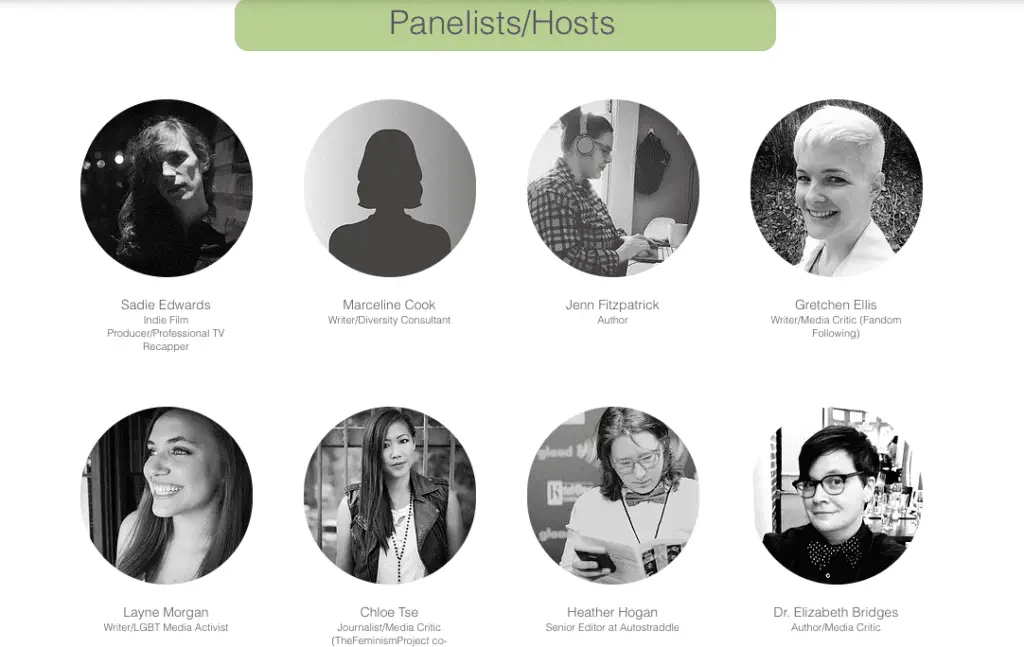 An entire con devoted to LGBT women in media? It's revolutionary, literally one of the first since XenaCon. There will be LGBT focused panels with journalists, media representatives, and industry professionals. They've announced 12 panelists already and are adding more all the time. Layne Morgan, one of the writers' assistants on The 100, will be there. The Televerse Podcast hosts Kate Kulzick and Noel Kirkpatrick will be there too, as well as Autostraddle's senior editor Heather Hogan, Dr. Elizabeth Bridges (whom I've quoted in my reviews), Youtuber Kaitlyn Alexander, author Jenn Fitzpatrick, writer Marceline Cook, Indie film producer Sadie Edwards, journalist and media critic Chloe Tse, and journalist Ben Bateman. Oh, and I'm going to be there too as a panelist. So that's a thing.
I'm happy to be able to announce a few of the panels as well. This information hasn't been released anywhere else yet, so you all get to be in on the news before the rest of the internets. That's how we roll here at Fandom Following. We're hip and cool that way. Anyway, the first panels announced for ClexaCon will be: "Transgender Representation in the Media", "Bisexual Representation in the Media", "Queer Women of Color Representation in the Media", and "Allies in the Media".
And these are just the first four panels; there are going to be more, and they'll all be just as awesome, I promise. I'm going to be on a panel called "Ethics in Storytelling" (like the article I wrote!), so in case the other ones weren't enough to get you to go to ClexaCon for some reason, come just to see me turn bright red and try not to geek out too much while I'm surrounded by legit celebrities. (I might just babble like an idiot…)
It gets better. Any of you all out there watch Wynonna Earp? I do, and I'm already a huge WayHaught fangirl. Well, Katherine Barrell, our very own Officer Nicole Haught, is going to be there! There are a couple other celebrities coming, too, but we can't announce them yet. Stay tuned, though. We will have a special announcement about these celebrities in the next week or so. It's going to be exciting, so get hype!
Want more reasons to go? There will be an Artist's Alley, photo ops, autograph signings, and vendors with merch. But Gretchen, I hear you asking, will there be Clexa? Yes, so much Clexa. All the Clexa. And also so much more. As much as it was inspired by the badass power couple that is Clarke and Lexa, this con is about enjoying all LGBT women in media. There are going to be workshops on content creation like filmmaking, script writing, fanfic writing, vlogs, and web series. So even if Clexa isn't your jam, there will be something there that is.
More than anything, this is a chance for LGBT women to have a voice in the conversation about our own representation in media. These are our stories. ClexaCon is a place to celebrate yourself, celebrate the women and ships you love in LGBT fandom. It's a chance to talk about how LGBT women are represented, the good, the bad, and the ugly. It's a chance to be surrounded by other LGBT women and allies, a chance to be you and love what (and who!) you love. It's going to be a safe place, and a fun one.
ClexaCon will be March 3-5th, 2017 in Las Vegas, Nevada. Due to the need for some of the international fans to have proof of entry into the con prior to purchasing their airline tickets, the ClexaCon team will be releasing a small batch of Early Bird tickets and 3 day passes on Tuesday, July 5th at 8am Pacific time. If you are an international Clexa fan (or know one), spread the word please! They want as many international fans to be able to make it as possible, so reblog this on Tumblr to save a life. If you're not an international fan but know you're going and want to make sure you get tickets ahead of time, here's your chance! Grab an Early Bird ticket and be the cool kid in your friend group with advance tickets. For the ticket sales website, click here.
Have questions? Check out the FAQ. If you have suggestions for panelists, guests, panels, artists, or discussions you'd like to see included, let them know! They're still looking for more, so get email writing!
Also, come to ClexaCon!
(Edit: Citing ClexaCon as the "first con of its kind" for celebrating LGBTQIA women in media was inaccurate, as XenaCon used to serves this function.)
---
Images Courtesy of ClexaCon.