The Test of High Sorcery a standalone D&D adventure written by veteran writers Donathin Frye (To Hell & Back Again, Fallout: The Roleplaying Game) and Kienna Shaw (TTRPG Safety Toolkit, Candlekeep Mysteries) is great for newbies and enthusiasts of D&D. As a completely new player to D&D, I found the adventure pretty fun and could see myself trying D&D in a group one day!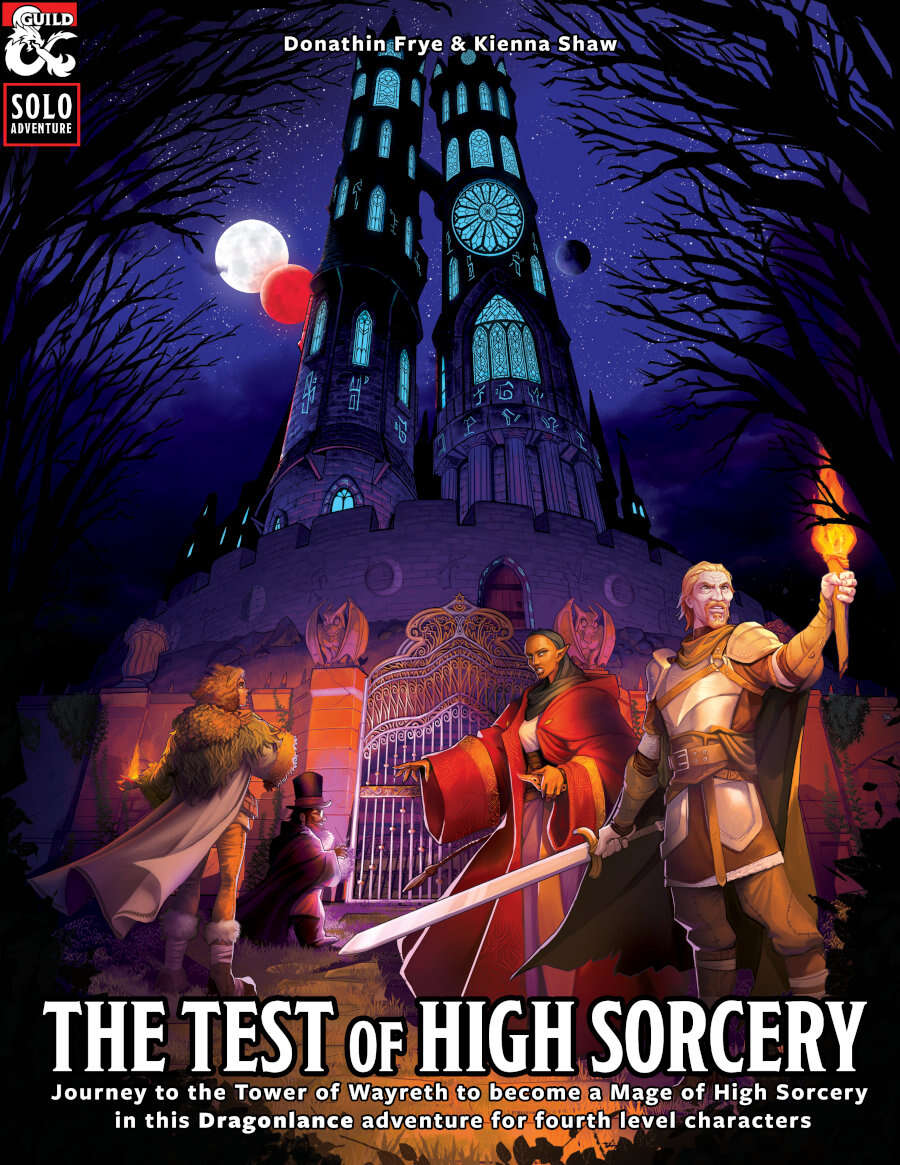 For those familiar with D&D, this adventure can work as an expansion to any Dragonlance campaign, Dragonlance: Shadow of the Dragon Queen, or a stand-alone experience.
The game follows the player(s) who are attempting to become a Mage of High Sorcery, but to join the esteemed organization, they must travel to the tower of Wayreth and undertake the Test.
Along the way players will meet new characters and iconic characters like Fistandantilus, Takhisis, Fizban the Fabulous, and the Gods of Magic (who I obviously didn't know but do enjoy their names). There are new magic items and stat blocks and mechanics that support using the enemies' weaknesses and environments against them.
Since the Destiny and Trait mechanics are designed for player choices to truly matter, each Test of High Sorcery run is unique with over 60 possible outcomes. Plus for new players, there are already four sample characters with interactive character sheets so that you can jump into the story. This was incredibly helpful for me because outside of visual novels, I haven't played anything that requires as much decision making for the character alone.
Additionally there's a really detailed history of Krynn and how it relates to the Mages of High Sorcery so I was able to really get into the mindset of playing the game.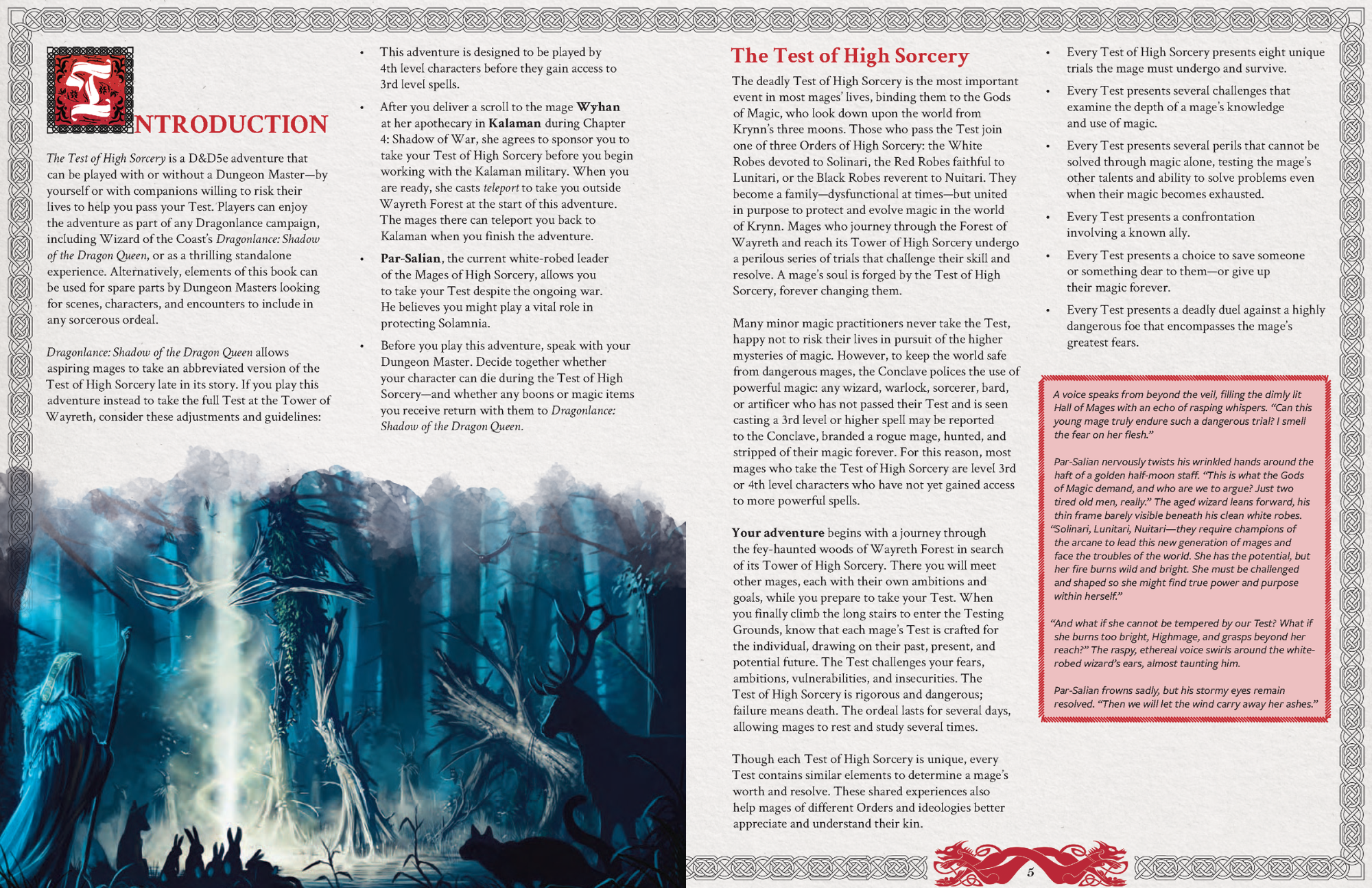 A choose your own adventure style game, the guide begins by explaining that the player character is a prospective mage about to undertake the titular Test to then join one of three Orders of spellcasters in Ansalon. Designed for a single 4th level character capable of casting spells, players flip (or scroll) to specific sections of the book as you make choices throughout. The PDF is set up so that you can click on the bolded text to be sent where you need to go for the next part of the adventure.
"Those who pass the Test join one of three Orders of High Sorcery: the White Robes devoted to Solinari, the Red Robes faithful to Lunitari, or the Black Robes reverent to Nuitari. They become a family—dysfunctional at times—but united in purpose to protect and evolve magic in the world of Krynn."
Actions result in the player character gaining a Trait which later impacts the story, or can add points to the various Orders (at the end the character is inducted to an Order if they pass).
There are images for the four sample characters and they all come with descriptions, backstories, and interactive character sheets.
I played with Adralei, a Bard, because I truly know nothing about creating a D&D character and ended up having more fun for it! (Shout out to online dice rollers,)
"Adralei is a storyteller at their core who collects pieces of folktales and history with a keenly observant eye. Though they're a bit clumsy with words, Adralei leads with an honest heart and compassion. They like few things more than soothing others with flute songs. Adralei dislikes conflict and finds ways to act as the peacekeeper before even thinking of fighting, but they're also fiercely protective of their friends."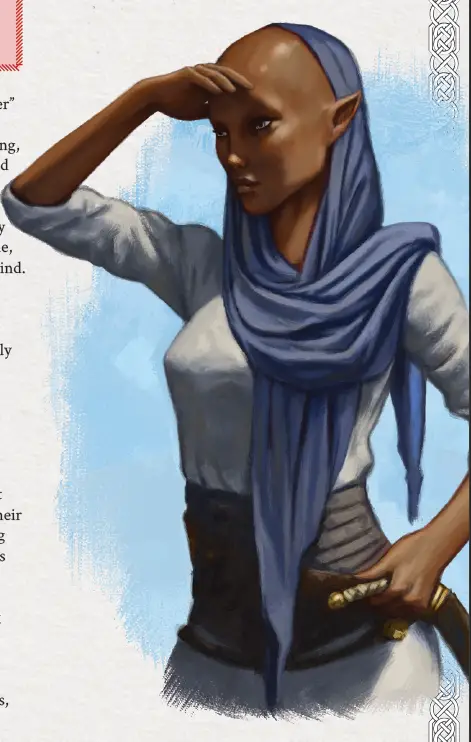 Before even getting into the adventure itself, I was really pleased to see such detailed character writeups which were also super distinct from one another. You can tell the writers took time and care into developing a game that truly does work for new players.
The Test of High Sorcery Plot
The adventure itself takes place over four chapters with multiple interactions with other characters, enemies, and situations. Player characters can take rests at different points in the game, gain treasure and unique magic items, and outright combat is actually not the main point of the game!
Chapter One: The Tower of Wayreth finds the player character heading to and staying at the Tower and then starting the test. There are moments for interacting with other mages which actually help to determine more backstory and personality via the Traits system. For example, there's a shy woman and interacting with her will determine whether the player character is confident in their abilities or has doubts like Kyrian. After meeting and being interviewed by the three Order leaders, the player character ends up in the guest room and is directed to the Testing Grounds.
Chapter Two: High Sorcery is much longer than the first and has the player character's first real moments of danger with either damage or Exhaustion and lost spell slots. The player character must face four tasks with the fourth task being based on what answer the player character gives earlier in the game which allows for multiple unique events. After passing these tasks, we move onto chapter three.
Soulforge is the last chapter, devoted solely to the Test. From my understanding the Soulforge is where a permanent alternation occurs to a mage's body which show the sacrifice that they made for magic. Here the player character might gain Traits based on previous actions and actions within chapter 3. After another round of tasks and encounters, the player reaches Chapter 4: The Epilogue.
In the final chapter of The Test of High Sorcery, based on the various traits picked up throughout the adventure, the player character joins one of the three Orders which can roll over into continuations of a campaign if you play with a group or use this as part of the Dragonlance story.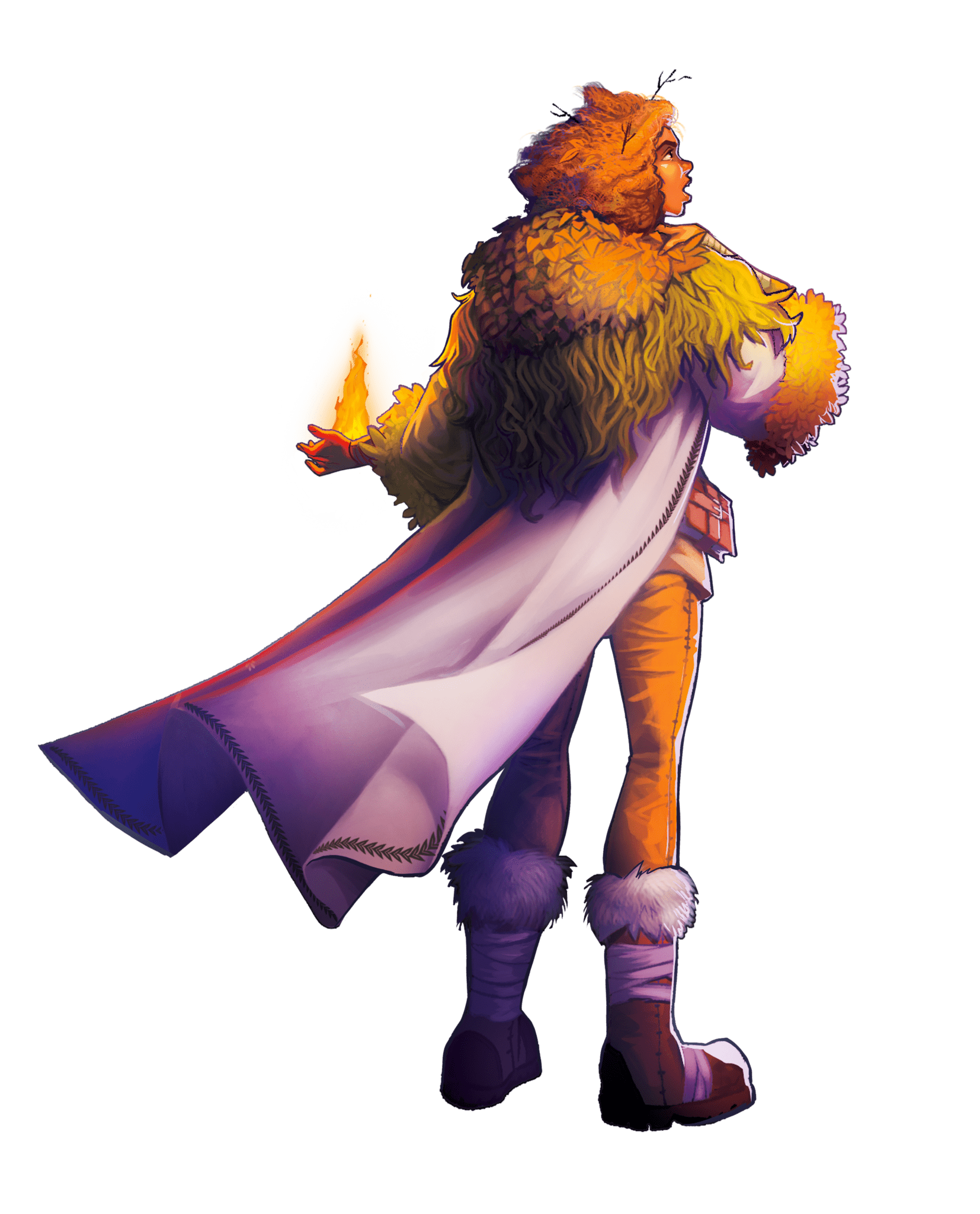 These are of course super brief summaries as to not spoil the story, but overall I found choose your own adventure method really fun! Since I am so new to the game, I was worried that it would require a lot of background knowledge or ability to really fill in the role of a DM for example.
The directions in the guide and having a sample character though made it really easy to get into the mindset of playing as Adralei. Depending on how fast you read and make decisions, this could go as quickly as two hours, and took me about three since I spent some time reading sections twice to make sure I understood what was going on. The second time through will be much easier for me.
Though there aren't a ton of illustrations, what exists is gorgeous and spread out so it doesn't feel like you're stuck reading endless text. And like visual novels (which I play a lot and seem closest in comparison), there are a lot of branching points so that no two adventures will be the same, even if you play as the same sample (or your own) character.
However there aren't any maps so everything is really up to the player's imagination. This was slightly difficult for me because I've never really done this type of game before so I kind of made stuff up based on the vibes that I got from the images and descriptions included. This is of course the intent of the game but I would have liked a handful of landscape images or maybe one or two full page images.
Overall I would really recommend this adventure and for those who have already played or want to play Dragonlance, can see this easily fitting in for the test in those campaigns.
You can get The Test of High Sorcery which comes as two PDFs from DM's Guild for approximately $20 and there's an interview with the creators available for more information!
---
Written by Kienna Shaw and Donathin Frye
Cover Art by Nicholas Beecher
Interior Art by Wizards of the Coast, Direquest, John Latta, Dean Spencer, Tzlynart
Layout and Additional Graphic Design by Virginia Page
Additional Design by Donathin Frye
Edited by Edelyn Parker-Frye
Playtested by James Barry, Matt Evans, Lydia Gschosmann, Stephan J. Millar, Bernardo Rodriguez
Images and review copy courtesy of DM's Guild
Have strong thoughts about this piece you need to share? Or maybe there's something else on your mind you're wanting to talk about with fellow Fandomentals? Head on over to our Community server to join in the conversation!