At The Fandomentals, we always want to showcase truly inclusive pieces of media and have mentioned the short film The Syed Family Xmas Eve Game Night multiple times before. Originally known as The Rules of the Game, the film is written, produced, and stars Kausar Mohammed. Directed by Fawzia Mirza, it is a delightful 11 minute short packed with hilarious and poignant moments between a queer Pakistani woman, her sisters, partner, and family during their Christmas eve party.
Originally premiering at TIFF, the short follows Noor (Kausar Mohammed), a queer Pakistani Muslim woman who brings her Puerto Rican nonbinary girlfriend Luz (Vico Ortiz) home.
Set at the family's annual game night, also Christmas eve, what starts off as a mostly chill party hosted by middle sister Kiran (Pia Shah) turns into a challenge for Luz to make a good impression. When Noor's eldest sister Soraya (Meera Rohit Kumbhani) unexpectedly shows up, the game is on for Noor and Luz to handle the situation the best that they can.
In The Syed Family Xmas Eve Game Night, the cast does a spectacular job leaning into the chaos, ultimately presenting an incredibly realistic portrayal of meeting the family and expectations around tradition and relationships. Between indoor basketball and Uno, to Soraya asking Luz to make chai (for the first time!), not a single moment is extraneous.
The culminating moment when Luz does in fact make the chai and receives Soraya's approval is shot like a Bollywood Western, dramatic music and slo-mo included. It's clear the whole team truly enjoyed working with one another in filming one pivotal night in the Syed family.
Having followed the film since it was first announced, I was super excited to interview some of the cast and crew. Kausar Mohammed, Fawzia Mirza, actor Vico Ortiz, and producer Amalia Mesa-Gustin share their experiences making the short and telling an intensely personal yet relatable story.
This interview has been edited and condensed for clarity.
The Syed Family Xmas Eve Game Night and Personal Stories
Kausar what inspired you to write the film?
KM: Well, I am the baby of two older sisters. The very first scene was inspired by the first Christmas I introduced my partner, Amalia Mesa-Gustin (who is also a producer for this) to one of my sisters for the first time. My sisters are my life and I was so anxious and worried about it, making up scenarios in my head about all the ways it could go wrong. If they didn't like her, my world would be over! And thus… from within this downwards spiral in my head, the idea was born.
In real life, the introduction went just fine!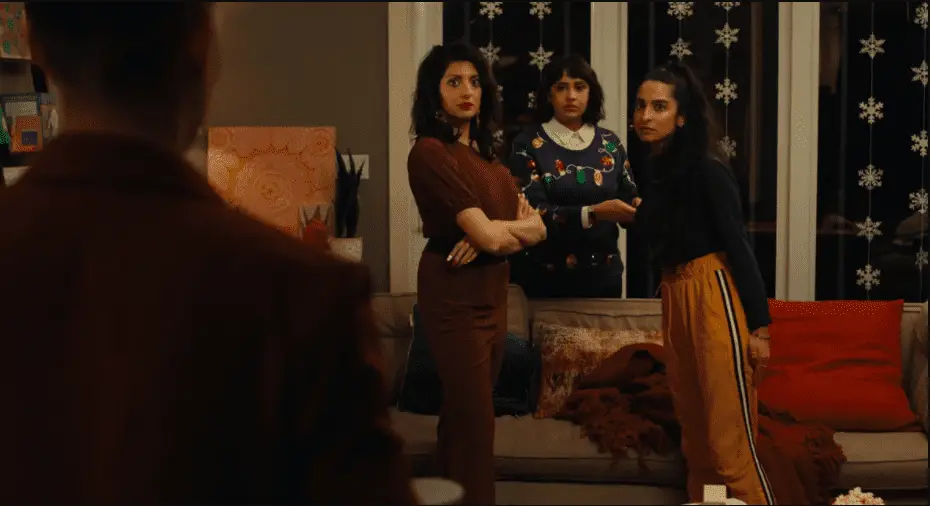 Since this was so personal to you, how did it feel to cast from both the perspective of the creator and someone who would act in the short? How did you balance letting your babies go for others to interpret?
KM: Yes, that was part of the reason why it felt so fun for me! Who do I want to play with? So we wanted to cast people who were funny, strong comedians… out of the selfish reason of wanting to just have so much fun on set with them! The hilarious actress, Meera Rohit Kumbhani, was also my clowning teacher. I remember meeting her and thinking, "Wow, she's so cool, I hope we get to work together one day." So "letting go" felt easy – because these people absolutely knew what they were doing. I did my part writing it, y'all take it away – because I know you'll do it even better than I could have imagined. And overall, the character pieces were meant to serve as the larger directorial vision that Fawz had in mind. I trusted that Fawz had their eye on it and that I could just chill, relax, and eat the Hot Cheetos during filming breaks.
Some of the depictions in this film have resulted in some Muslims (and others) responding unfavorably on social media. However, one movie isn't supposed to represent every single Muslim family. How did you try and balance the line between something specific and something more universal?
KM: This is very true! Some Muslims on Twitter were not happy that 1) I was gay and 2) that I was celebrating Christmas. The reality is that this entire story was written during a time that I just needed to see myself happy on screen, coexisting with my queerness and my family. In that moment, where I was desperately craving for something tangible to aspire towards, I didn't care about the universal, I just wanted my story told. And I think part of the "unfavorable" response is that we don't get enough Muslim stories in TV/film. So there's always a lot of representation anxiety around the one story that does get on the screen. To that, I say… write your own. We need more of our Muslim stories out there. Just don't make them hateful and homophobic, thanks!
Fawzia, I know you've spoken prior about putting your hat into the ring to work and direct on projects that were connected to one or more of the characters being featured. What does it mean to you to have such a large role in a project that can relate to some of your own experiences?
FM: It is rare. And it was a dream. To be a queer, Muslim, Pakistani woman director spearheading a story led by a queer, Muslim, Pakistani star/writer. It hadn't happened for me before. My mission has been to center the stories of my intersecting communities and this project is completely in line with that. And of course, this film is feel good. I'd love to direct a big studio feature version of this. Or a genre film centering on Muslim Jinn. Or an action-filled buddy comedy.
What was your favorite scene to direct?
FM: Honestly, every scene has a beautiful story and something I loved. I loved directing the sisters in the cupboard. I also loved when Luz listens to the sisters talking in the cupboard. Playing with the POV and giving Luz some action as they listen really gave another dimension to the moment. Playing with the sisters' argument at the end and finding the right choreography was exciting. And getting to direct the young actor who plays Saira was a lot of fun!
My favorite part of the film is the chai-standoff when Soraya and the others taste the chai that Luz has made for the first time. What went into deciding how to shoot that scene and the scene directly after?
FM: Kausar had written the scene like a Bollywood Western – so we leaned into that. We went with slo-mo because that makes everything more dramatic but then in the edit, added western music to punctuate the stakes of the standoff.
Speaking of Luz, they're the "outsider" to the family. Amalia could you tell us a bit about the casting process for finding the perfect fit for them?
AM: The two main characters, Noor and Luz, are loosely based on Kausar and me, and being queer, being Latinx, being Cuban, we were interested in finding someone who actually had some of these lived experiences and identities. Fawzia had cast Kausar and Vico Ortiz opposite each other at a table read for another project and knew they had great chemistry. I had also seen Vico in several shorts and TV shows and knew what an incredible talent they were and had wanted to work with them for some time! When our creative team came together, I think we all made a quick realization that there was only one person for this role, and we are so grateful that Vico enthusiastically accepted and we really all became one big Cuban-Puerto Rican-Pakistani family.
Vico, what about your own approach in bringing Luz to life?
VO: I asked myself, what kind of partner do I wanna be? From talking with Kausar and her experience with Amalia, I knew that meeting the sisters was the biggest deal. So I thought, let me hold space within myself to be reassuring, loving, respectful, calm but also nervous AF. Which translated into this sort of awkward, endearing charm. I've gotten the chance to experience meeting the family of a former partner who had a very complicated relationship with their family and I remember wanting to impress them really badly while not losing myself in the process.
What was the filming process like for you?
VO: Filming The Syed Family Xmas Eve Game Night was a dream come true! I've been a huge fan of Fawzia and Kausar's work and when they approached me with this script, I was beside myself. Also, finally getting to work with D'Lo was such a joy. The whole cast (whom I met in person the first day of filming) is everything and then some. Absolutely magical.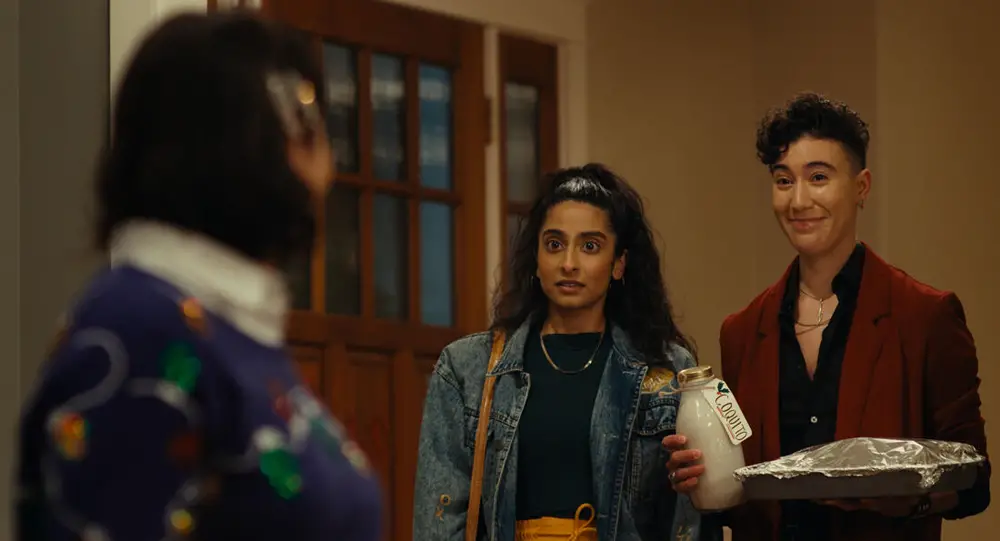 Amalia how does it feel having premiered the short at such a prestigious festival like TIFF?
AM: It was such an honor to screen at TIFF and to represent our film in person, especially after a long, long year and a half of the pandemic. It felt like a dream and we are so grateful to our cast and crew and supporters who helped us make this dream a reality. We want to reach people with this story. To witness the audiences' response and laughter and incredible reception just affirmed that these are the films we must invest in and bring to life and get as many eyes on as possible. These stories deserve to be told and to be lifted into spaces that have often been so out of reach so that we can help shape media and cultural representation.
Some of you have obviously worked together in the past, but how did collaborating on such a personal project feel, especially seeing the final product?
AM: This idea of collaboration really was at the center of creating the film from start to finish. We decided early on that we were going to do it differently than is often seen in the film industry and on sets – we wanted everyone to understand their value to the project and to treat people as family and with dignity and respect. We also wanted to make sure that we lifted our community up and brought on all BIPOC, queer, and/or women to help us create this. And in turn, our community lifted us up and we were able to create this beautiful, fun, heart-warming world together that ultimately felt personal to everyone involved. 
Kausar and Fawzia, to wrap up, can you tell us more about some future projects?
KM: The two things I love most in life are horror and comedy, and mixing the two together. So I'm co-developing a horror anthology series with Shireen Alihaji, which was a recipient of the Islamic Scholarship Foundation last year. Fawz and I have some fun TV/film projects in development in addition to the Syed Fam feature. I also have an all South Asian sketch group, The Get Brown, and we're pitching different projects currently. Right now, I'm shooting a role on a CW show releasing later this Fall!!
FM: Lots going on. A few nuggets: I'm deep in my feature Me, My Mom, & Sharmila, an adaptation of my one-person play. I wrote the screenplay and will direct. We've been pitching it looking for additional partners and hope to shoot Spring 2022. I also am in post-production on a short I made with PowderKeg, executive produced by Paul Feig. And we are hoping to premiere the second season of our micro-series on TikTok soon, Hidden Canyons.
Thank you all for talking to me about the film! Is there anything else anyone wants to add?
AM: I think that it could be really fun to have other installments and revisit the Syed family for different holidays. The Syed Family does Halloween! The Syed Family New Year's Party! A Syed Family Summer Vacation! We are definitely open to following where this story and these characters take us and are especially excited about the potential of developing the short into a feature-length film.
VO: Honestly, you can sense in every step of the way how much love and care was put into this story, this project. It's so special. It makes you feel all ooey-gooey inside and I'm truly so humbled and honored to have gotten to be part of it. Watch it! Share it! Really, I want audiences to want more. To ask for more of this! "Take my money!" We need a feature!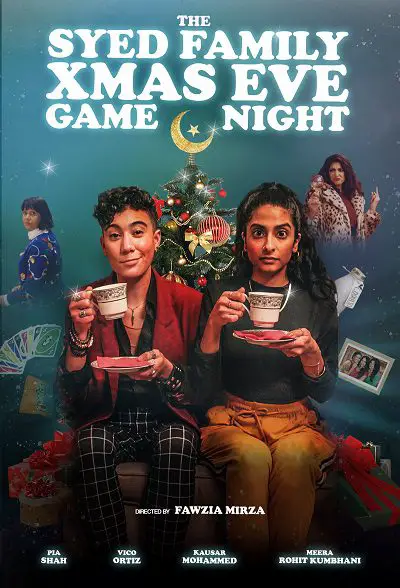 ---
The Syed Family Xmas Eve Game Night is showing next at the Chicago International Film Festival on 10/17 (also available online in some states).
Don't forget to follow the film's Instagram!
Images courtesy of The Syed Family Xmas Eve Game Night Production
Have strong thoughts about this piece you need to share? Or maybe there's something else on your mind you're wanting to talk about with fellow Fandomentals? Head on over to our Community server to join in the conversation!