The World of Krynn is in turmoil. Once the armies of the Dragon Queen begin their campaign in Solamnia, the free peoples of Krynn won't know when or where they will be able to congregate in safety again. Luckily, in our world, the D&D Community can come together to celebrate at PAX Unplugged in Philadelphia, PA December 2-5, 2022. Attendees can play in D&D sessions, learn about the new board game Warriors of Krynn, grab some collectibles you won't find anywhere else, and meet members of the D&D Team. Even if fans can't attend in person, they can watch live D&D play on Twitch and hear insight behind the making of the game at "Designing D&D's Dragonlance" panel.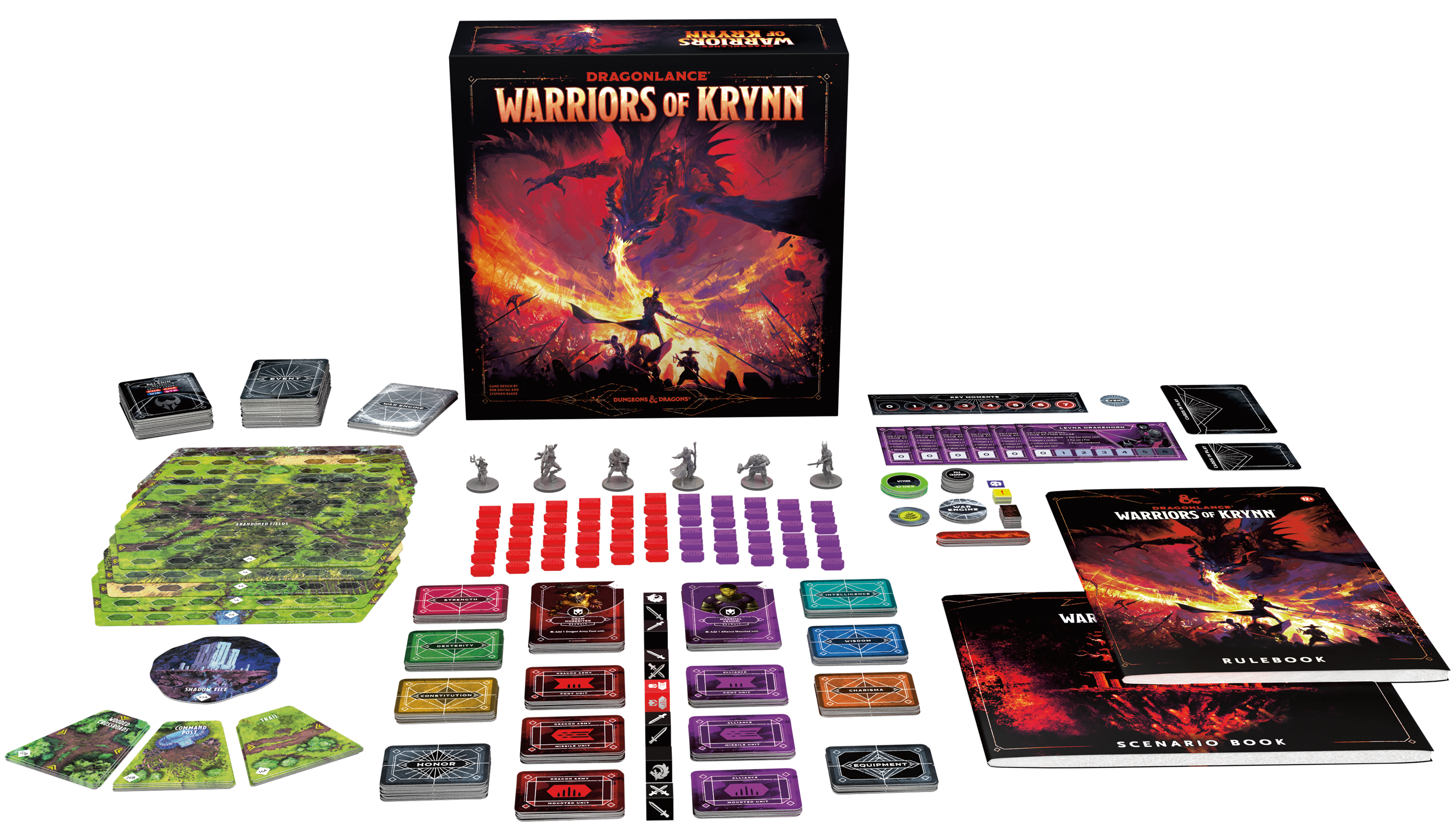 Here are the details on streaming D&D events at PAX Unplugged 2022:
Friday 12/2 8:30 PM ET – Dragonlance Live: A D&D Special Event
·        Wizards of the Coast invites you to witness the march of the Dragon Army! Join us in celebrating the launch of Dragonlance: Shadow of the Dragon Queen in this special live play event featuring an all-star cast of TTRPG favorites that gives you an exclusive look into the massive battles, brave heroes, and legendary villains of both Shadow of the Dragon Queen and the brand new Dragonlance: Warriors of Krynn strategy board game. Will the party become legendary heroes, or will they fall before the merciless Lord Soth's machinations? Witness for yourself as Dragonlance takes the main stage of PAX Unplugged!
·        Dungeon Master Jasmine Bhullar leads a star-studded cast including Gabe Hicks, Erika Ishii, Johnny Stanton, Maggie Robertson, and Anjali Bhimani on an adventure she customized inspired by Dragonlance: Shadow of the Dragon Queen and Warriors of Krynn.
·        Dragonlance Live will be shown in the Main Theater and the adventure won't end until nearly midnight! Fans at home can watch on: twitch.tv/pax and twitch.tv/thatbronzegirl.
Friday 12/2 2:30 PM ET – Panel: Designing D&D's Dragonlance
·        Ever wondered how tabletop RPGs are made? Designing D&D Dragonlance offers a rare glimpse behind the scenes into one of D&D's most beloved settings. The team will showcase artwork, talk through their own experiences, and explain how the book and board game work together to immerse you in the magical world of Krynn. From fans of Dragonlance to newer players, all are welcome!
·        Moderated by D&D Game Design Architect Jeremy Crawford, fans can learn about the Dragonlance design process from board game designer Rob Daviau, D&D Principal Writer Dan Dillon, and D&D Art Director Bree Heiss.
·        The "Designing D&D's Dragonlance" panel will be in the Mothman Theatre at PAX Unplugged. Fans at home can watch on: twitch.tv/pax2.
If any fans are going to be sampling cheesesteaks in Philly this December, they can also sample some fine D&D play at the Philadelphia Convention Center. The play area, organized by Baldman Games, is a activity-packed space open during general show hours each day (Fri-Sat 10 am – midnight, Sun 10 am – 6 pm). D&D fans can sign up to play with experienced Dungeon Masters all weekend long in a variety of formats, including but not limited to:
·        Play the opening encounters of Shadow of the Dragon Queen
·        Play other Dragonlance-themed adventures from Baldman Games
·        Learn to play Warriors of Krynn, a new board game from D&D that's a companion to Shadow of the Dragon Queen
·        Learn to play Yawning Portal, a new board game releasing in January from Hasbro
When available, fans can grab a copy of Shadow of the Dragon Queen (physical book only, standard retail version) before the official release date of December 6, 2022. And while you're there, check to see if a member of the D&D Team will sign your book! (Check that area for more details.)
For prospective fans, or the D&D-curious, pick-up-and-play sessions will be available in the Main Hall of PAX Unplugged from 10 am – 6 pm daily. These sessions feature a 20-minute demonstration of a "Voyage to Stormwreck Isle" experience developed for use at introducing new fans to how the game works. Once they're finished, the D&D Play Area offers plenty of opportunities for a new player's next adventure.
If chasing cursed items, err, collectibles, is your jam, then make sure you cast Locate Item on the Lord Soth pin. The Lord Soth pin is available only at PAX Unplugged 2022 in limited quantities in the D&D Play Area, as part of the official Pinny Arcade set. Grab Lord Soth's grisly visage in pin form quick or be forever doomed to FOMO.
Images via Wizards of the Coast
Have strong thoughts about this piece you need to share? Or maybe there's something else on your mind you're wanting to talk about with fellow Fandomentals? Head on over to our Community server to join in the conversation!