Loot The Room has announced the first adventure for original system 'A Dungeon Game' from award-winning game designer Chris Bissette. The adventure, The Moss Mother's Maze, will be available for pre-order now with a wide release on Monday, June 26th 2023.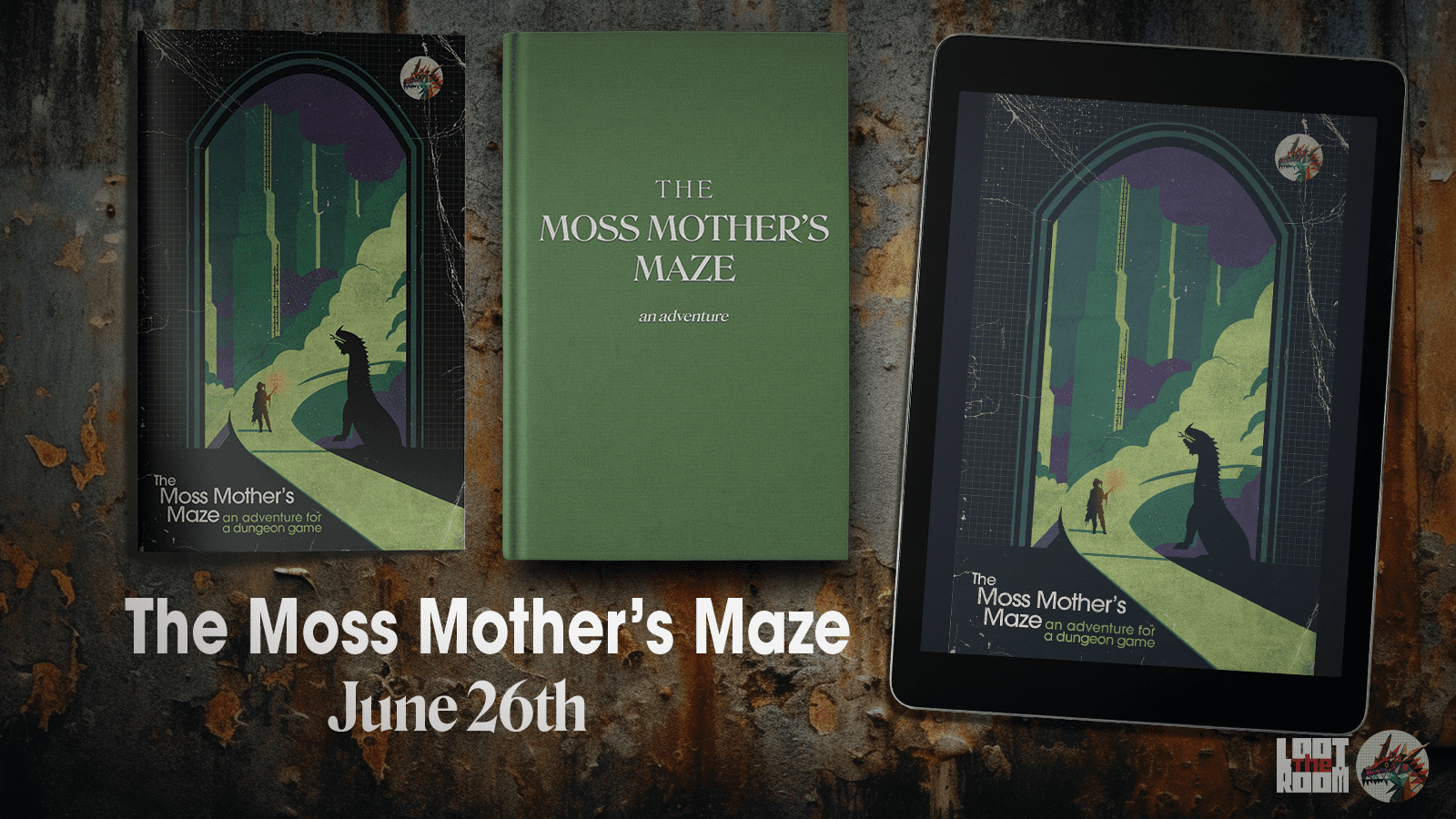 The Moss Mother's Maze is a low-level dungeon adventure steeped in the folklore of the rural north-west of England. Players will delve into an ancient labyrinth beneath sprawling moorlands to uncover the secrets of the Moss Mother, a legendary dragon said to guard a mighty treasure. Immerse yourself in a world of rot, rust, and rebirth, where the echoes of buried legends stalk your every move!
The adventure is designed to guide new players as they learn the system of A Dungeon Game. The book is designed with usability and teaching in mind, containing guidance for running the adventure and getting the most out of it during play. It comes complete with player handouts, pre-generated characters, and a pair of pamphlets aimed at players new to dungeon crawling titled, 'So You Want To Run A Dungeon Game?' and 'So You Want To Explore A Dungeon!'.
Chris Bissette is the ENnie-nominated, award-winning creator of solo journaling sensation The Wretched, which appeared in multiple end-of-year-lists (Shut Up & Sit Down, Tabletop Gaming Magazine, and more) and spawned hundreds of new games based on its 'Wretched & Alone' engine. Their freelance work has appeared in MCDM's Arcadia, as well as Fallout: The Roleplaying Game (Modiphius), Pathfinder 2nd Edition (Paizo), and cy_borg (Free League/Stockholm Kartell) among many others.
 "Over the past year I've been focusing heavily on how we onboard new players to tabletop roleplaying games, often working through things publicly on Twitter to highlight how much work there still is to do in this field" Chris says. "This adventure synthesizes everything I've been talking about and learning, and the result is that it's not just a great adventure – it's a book that makes it incredibly easy for you to get going fast and to feel confident that you're going to have a great time, even if you're someone who normally struggles to pick up new systems or run pre-written adventures!"
A Dungeon Game is the second edition of a dragon game. The new edition has been updated and expanded and is available entirely for free. 
Images via Loot The Room
Have strong thoughts about this piece you need to share? Or maybe there's something else on your mind you're wanting to talk about with fellow Fandomentals? Head on over to our Community server to join in the conversation!