Last week's episode of The Mandalorian pretty much drove home just how important Grogu has become for Din Djarin, our titular Mandalorian bounty hunter. The best part of this exceptional second season for this show has been the steps it has taken to really sell the audience on the familial bond Mando and Grogu feel for each other. They are father and son. Mando was ready to give his life for his son last week, and you knew he was ready to do just about anything to get him back.
I would probably argue that "The Believer" is the weakest episode in quite a while, if not the weakest yet for season 2. The conflict was rushed and ignored one major aspect of this week's adventure that seemed like it would be more important. It was still a fun episode to watch, don't get me wrong, but compared to how good The Mandalorian has been throughout season 2, this one did not quite hit that level.
So why the hell was it so engaging anyway? Because Mando proved just how much Grogu means to him and I am still freaking out.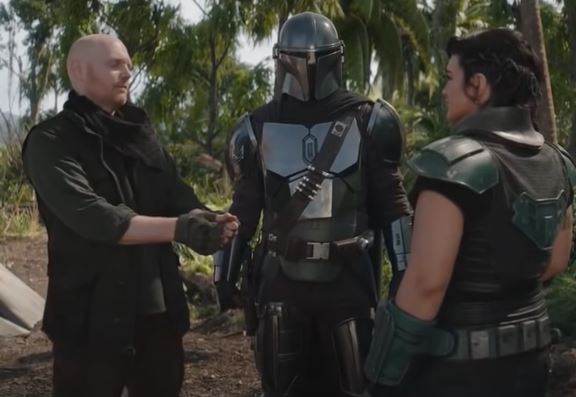 After Moff Gideon finally got his hands on Baby Yoda last week, Mando was on a mission to find out where Gideon took him and plan the mission to get him back. He takes Boba Fett, Fennec Shand, and Cara Dune with him to recruit Mayfeld from the prison camp he was sent to after the prison break episode from season 1. Mayfeld is a former Imperial who helps them find a way to locate Gideon in a plot involving infiltrating an Imperial base on a secret mining colony.
And here is where things get interesting, because this plan forces Mando to do a couple of things that prove just how much his son means to him. First, he removes his armor to don a Stormtrooper disguise. Then, when that is not enough, he takes his helmet off to let a cafeteria full of people see his face.
Pedro Pascal does not get many chances to face act on The Mandalorian. If I recall correctly, this is only the second episode in which we see his face. Even here, there is no dramatic direction or scene demanding that Pedro Pascal put on some stunning display of expressive emotion using his face. Really his emotions during his helmetless scenes can be defined in one word: discomfort. Vast, inescapable discomfort at having to break one of his rules he lives his life by, to always keep his helmet on in front of others.
This is not like season 1, where Mando's face is shown involuntarily in a moment of extreme duress and danger. He found a loophole by showing it to a droid, and he did not so much make the decision as have it forced upon him. Here, Mando makes a clear choice to take his helmet off because there is simply no better option. If he walks away, Grogu remains lost. Therefore, there is no choice. He must take it off.
Pascal does a fantastic job radiating the lack of comfort in his own skin that you would expect from someone breaking a rule that defines his sense of self. He shrinks into himself and comes across so laughably unremarkable for someone as freaking attractive as Pedro Pascal. He uses the same subtleties of motion and body language that so effectively get his personality across with the helmet on. He does not come across like a feared bounty hunter in any way. He reminded me of a scared child.
Mando is often such a self-assured, confident, dangerous person, and to see him so entirely unsure and incapable without his helmet was jarring. I felt like I was watching an entirely different person. Much like the act itself proved just how far Mando will go for his son, the way he just stops functioning when people can see his face also reinforces the point rather well.
I don't think Grogu alone went into Mando's decision to take his helmet off. The bounty hunter's experience with Bo-Katan clearly gave him something to think about, challenging the fundamental beliefs Mando has lived by since he was taken in by his Tribe. I'm sure his encounter with Boba Fett only gave him more to think about. After so long without seeing his Tribe, Mando may be relaxing beliefs he once felt to be unshakeable.
Make no mistake, though, this was mostly about his son. It was the most expressive action Mando could have possibly taken to prove his feelings for Grogu, and to display the lengths he will go to in order to save him from Moff Gideon. The speech he gives at the end to Gideon, where he turns Gideon's words from season 1 around on him, were obviously intentional and probably the most passionate thing I can remember Mando ever saying. He has shed his armor in multiple ways.
I have some worry about the way his helmet serves as an allegory for his sense of self-discovery. While I love the character arc of Mando finding himself and deciding what kind of person he wants to be, I also love the idea of him choosing to keep his helmet on. There is something unique and hopefully validating about a main character whose beliefs and identity involve covering his face. I think that is especially true when we are talking about the main character of a show as popular and culturally relevant as The Mandalorian.
The Mandalorian already did something potentially iffy by making Mando's tribe a sect of religious zealots, which adds unfortunate negative connotations to the decision to never remove his helmet or show his face. Then of course they had Bill Burr's Mayfeld character make racist jokes towards Mandalorians because why not, I guess. I hope they don't expound on this unfortunate connotation by having him eventually shed the helmet as a way of "being himself" or anything like that.
But if Mando needs to take his helmet off every so often in order to protect those he loves, I am okay with it.
I could talk about how this episode bothered to set up exploitative colonization that no one did anything about. I could talk about how they set up a scenario where Mayfeld is some type of white savior who ends this colonization later. Again, this was the weakest episode since "The Siege," at least, and maybe since season 1. That did not make it bad, but it was also a level below the heights season 2 has reached.
Still, it is hard to believe The Mandalorian could make me care so much about whether a helmet stays on or not.
Images Courtesy of Disney
Have strong thoughts about this piece you need to share? Or maybe there's something else on your mind you're wanting to talk about with fellow Fandomentals? Head on over to our Community server to join in the conversation!