It's a rare few game companies that can devote an entire convention to themselves. Even huge companies like Sony, who are developing consoles and peripherals to go with their games, tend to make the normal rounds at places like E3, PAX, etc. But Blizzard Entertainment saves their big announcements for Blizzcon, a 2-day "Blizzstravaganza" held yearly at the Anaheim Convention Center. This year's took place over the weekend.
Like any convention, it's a chance for fans to convene, share cosplay, buy dubiously priced merch, and attend panels on all of their favorite properties. Blizzard, as they seem to do with all of their output, tend to go all out: flying in top streamers, hosting tournaments, and revealing their biggest upcoming news. While the attendance has democratized somewhat with the advance of the Blizzcon Virtual Ticket, many fans (like this author) have to content themselves with the dribble of info that comes out after each convention. So, to save you time in finding out the future of your favorite games, we decided to compile all of the biggest news stories in one place.
Overwatch
Overwatch, or "SJW Simulator 2016" as Reddit calls it, has been going strong in its second year, and going forward the team has some goodies in store for the fanbase.
Overwatch Gets An Evil Healer Who Definitely Isn't Tilda Swinton
The biggest news is the reveal of a new character: Moira, The Talon Geneticist. Blizzard has finally given the fanbase something it's been clamoring for: an evil healer. A former member of the same covert Blackwatch team as Gabriel Reyes a.k.a Reaper, Moira is a member of talon with her old comrade Reaper, along with Sombra, Widowmaker, and Doomfist. Uninhibited by silly things like morals or ethics, Moira serves as a direct foil to Overwatch's more heroic healer Angela Ziegler a.k.a Mercy. As a bonus, it looks like she's getting a David Bowie-inspired skin in the future! Watch her release trailer below:
Zarya Gets A Good Skin As The Overwatch Characters Cosplay As Other Blizzard Properties, Go To The Theme Park
In other Overwatch news, Blizzard is releasing an all-new map for the game called Blizzardworld. Themed around Blizzard's other properties like Diablo and Starcraft, the map also comes with a bevy of new themed skins for multiple characters. Highlights include the Diablo-inspired Butcher Roadhog and Barbarian Zarya, and the Starcraft inspired Nova Widowmaker. They're also introducing skins that reference Overwatch's shorts like Ecopoint Mei and Crusader Reinhardt (Side note: If you've not watched, and cried over, the new short "Honor & Glory," here's a link).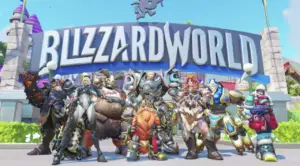 South Korea Wins World Cup *shock*
And on the E-sports front, South Korea has (rather unsurprisingly) won the Overwatch World Cup for the second year in a row, defeating Team Canada.
World of Warcraft
New Expansion Brings Wow Back To Its Roots
Blizzard's biggest announcement for its bread and butter is that of the new WoW expansion: Battle For Azeroth. Probably their biggest change since Cataclysm, this expansion will include new lands, dungeons, a level cap raise, and six, yes SIX, new races. It will pull the focus back to the Alliance vs. Horde conflict that has been the core of WoW's story since its inception. The devs hope that the new expansion will be "the best introduction yet" for new players.
Blizzard is still hoping to claw back some of their market shares, having lost their near-monopoly on MMO's to a diversified slate of more innovative newcomers like Bungie's Destiny and Bioware's The Old Republic.
Watch the Battle for Azeroth trailer below:
Blizzard Finally Listens To Fanbase's Nostalgic, If Masochistic, Pleas
The other big news is an announcement 10 years in the making.
Ever since the first update to WoW in 2007 with The Burning Crusade, segments of the WoW player base have been vocal in their desire for a release of "Vanilla" WoW, before the changes of each expansion rendered their favorite time-sing "ruined forever." You may have heard some noise a few months ago when Blizzard took down one of the most popular private servers hosting purely vanilla content. But now those players who want to spend three weeks leveling in the Barrens and looking at 12-year-old graphics can finally play with full Blizzard support. There's not a lot of info, but the new release will have a full team attached to it and have all the polish any other Blizzard game would.
Watch the announcement trailer below:
Heroes of the Storm
Dragons of the Nexus
In Blizzard's corner of the crowded MOBA genre, two new heroes are coming to the fight for the Nexus. As with all HotS characters, the additions come from pre-existing Blizzard properties.
The first is Overwatch's Hanzo, who joins his brother Genji on the roster.  He will be a ranged assassin who functions as both damage and a scout for his team. The second is World of Warcraft's Dragon Queen Alexstrasza (you can call her Alex), who will be a ranged support who heals and can turn into her powerful dragon form.
See their release trailer below:
MVP Black Takes Global Championship
In the HoTs championship final, Korea's MVP black defeated the Swedish powerhouse Fnatic 3-1 to take home their first trophy.
Starcraft
Starcraft II Goes  Free To Play
In their quest to bring new eyes to older products, Blizzard has announced that their bestselling RTS Starcraft II: Wings of Liberty will be going free to play on November 14th. It will be rebranded simply Starcraft II and will feature all of the features the old game had. This change follows the successful implementation of an F2P model on the original StarCraft. And of course, expansions for Starcraft II will be available on Battle.net for the low low price of 14.99 each.  Those who already own the game and expansions will receive an exclusive Ghost skin as compensation and thank you.
Hearthstone: Heroes of Warcraft
Travel Into the Deep With The Kobolds
Blizzard's big cash cow has a new expansion for players to sink their cash and gold into: Kobold's and Catacombs. The new expansion will, of course, have a huge slate of new cards that include new varieties like Legendary weapons,  Spellstones that level up as the game goes along, and cards with staggered effects.  The biggest addition will be a new, free-to-play mode called Dungeon Run. A sort of rogue-like, the mode will start the player with 10 cards with which to defeat eight bosses. With each victory, you receive three new cards. When you lose? Your run ends, and you must go back to the beginning.
Watch the Kobolds and Catacombs trailer below:
Grimestreet Grifters Win Hearthstone "Inn-vitational"
The "Inn-vitational," a sort of all-star game for Hearthstone personalities, was won by the three-person team of Andrey 'Reynad' Yanyuk, Hakjun 'Kranich' Baek, and Pathra Cadness. The tournament serves as a showcase for these fan-favorites' skills, as well as a place for Blizzard to show off their new expansion. The Grifters came back from a 4-1 deficit to beat the Chillblade crusaders 6-5.
For more news on Blizzcon, you can check out the official site at https://blizzcon.com/en-us/. In the meantime, I'll be saving gold for that Zarya skin.
---
Image Courtesy Blizzard Entertainment