On Friday morning, Good Morning America broke the news that next week Taylor Swift will be releasing a short film based on her song 'All Too Well' as part of her re-recording project for Red (Taylor's Version). The short film — which is probably not an extended music video as it wasn't labeled as such — will be dropping on November 12th, the same day that the new Red comes out. The film marks another step in Swift's evolution as a filmmaker as she wrote and directed it, and she will also star in the project alongside Dylan O'Brien and Sadie Sink, who are known for their work on Teen Wolf and Stranger Things respectively.
By creating a short film based on one of her songs, Swift is revisiting and reevaluating themes from that time of her life, revealing a deepened understanding of her work and how to express her growth as a person. She also expands the mythology of 'All Too Well', further enriching the song with added visuals and a related narrative, creating another layer of canon.
'All Too Well' is a country-rock song that recounts a story from beginning to end, Swift-as-narrator remembering a beautiful relationship that crashed into a painful break-up. It includes references to a missing scarf kept by her former lover, holding on to it because "it reminds [him] of innocence and smells like [her]". It is generally accepted that the song details her time with actor Jake Gyllenhaal, which publicly lasted from October to December 2010, and some of the lyrics even match paparazzi candids of her and Gyllenhaal visiting his family that Thanksgiving. Overall, the song has retained its legendary status throughout the fandom for the past nine years, a fan-favorite and Swiftian staple for her discography, and it has also seeped into greater pop culture. For example, one of my favorite 'All Too Well' tidbits is that the scarf has become a motif in general fanfiction. Fittingly, writer Kaitlyn Tiffany called the scarf "the green dock light of our time."
In addition, though not well-known to general listeners, Swift has several directing and co-directing credits already on her music videos, and she also solo directed the documentary concert film Folklore: The Long Pond Studio Sessions last year. And as I argued in the past, she qualifies for many more co-directing credits on her music videos from her past, particularly from the 1989 and reputation eras, due to her heavy involvement in those projects. She has a filmmaker's mind and always has, and she even mentioned in an interview early in her career that she would love to be a music video director if she weren't a musician. That is evident from the fact that she has typically been involved in casting her music video love interests. For example, in a behind-the-scenes clip for her 2008 music video 'White Horse', she explained, "I've had a hand in picking most of my video guys because it's a really important thing, like they each have to stand for something different and represent different things," (t. 1:26-3:20). So, I do not think she cast two actors with an eleven-year age difference randomly, especially since Gyllenhaal is nine years older than her. They had started to date when she was twenty and he was twenty-nine.
Her decision in casting O'Brien and Sink, who are 30 and 19, stems from her mindfulness when choosing her actors and possibly from her growing awareness about the imbalance in a relationship with such an age difference, reflecting on formative experiences in her early twenties. In my opinion, her casting decision implies that Swift has reevaluated the Red relationship, which is at large accepted to be Gyllenhaal, and has come to see certain kinds of toxicity in it that she had grasped at but couldn't name when she was 22 and discussing the original Red album.
Indeed, dating young women is a possible pattern for the 40-year-old Gyllenhaal, as after Swift he dated Alyssa Miller, who was also born in 1989, and Gyllenhaal's partner of several years, Jeanne Cadieu, is only twenty-five. Notably, Cadieu is the same age as Tom Holland, whom Gyllanhaal called 'kid' while doing press for Spider-Man: Far From Home (t. 2:29). Age-gap relationships are fine in principle, but we live in a society™, and across geography and history exists a trend of older men pursuing young women. The difference in "knowledge and experience", as psychologist Lundy Bancroft notes (p. 21), makes younger women easier to control, hence some men habitually dating women significantly younger than them. When men and women are similar in age, women are more likely to notice red flags early in the relationship, are more attuned to types of emotional manipulation, and in general have more experience in life that can protect them, as they know what to look out for and know what they want out of a partner. It's important to name patterns when we see them, especially as Swift's comments paint an uncomfortable picture of Gyllenhaal that reads differently post-#MeToo.
Swift has never made direct allegations against Gyllenhaal for toxicity nor named him directly on Red, but she also made blatant references to him in her work and her comments on the Red relationship blaze red for red flags in hindsight, as culturally we now have a better understanding of power dynamics in private relationships. 
It starts with her confetti-infused breakup anthem 'We Are Never Ever Getting Back Together', which she released in summer 2012 as the lead single for Red. One lyric that caught people's attention and which generated tons of discussions and jokes and commentary was the couplet, "And you would hide away and find your peace of mind/With some indie record that's much cooler than mine." Swift described it as "the most important line of the song" and explained,
"It was a relationship where I felt very critiqued and subpar. He'd listen to this music that nobody had heard of … but as soon as anyone else liked these bands, he'd drop them. I felt that was a strange way to be a music fan. And I couldn't understand why he would never say anything nice about the songs I wrote or the music I made." 
Her allusion to a toxic hipster ex also appeared in the song '22' and the two songs' subsequent music videos, as well as in her press for Red. Swift makes clear that this relationship had tension because of her career and general love of music, and at one point she further described the Red relationship as making her "insecure". Indeed, the hipster snob of Red propelled Swift to make 'We Are Never Ever Getting Back Together' into the poppiest of pop songs in revenge.
In one interview, she said:
"[My ex] made me feel like I wasn't as good or as relevant as these hipster bands he listened to. […] So I made a song that I knew would absolutely drive him crazy when he heard it on the radio. Not only would it hopefully be played a lot, so that he'd have to hear it, but it's the opposite of the kind of music that he was trying to make me feel inferior to."
These themes of conflict, eroded self-esteem, and lack of respect reappear on 'Begin Again', the closing track on Red. That song details her going on a first date after struggling for months with the end of a relationship. At the beginning of the song, she reflects on how she changed her behavior for her ex, singing, "He didn't like it when I wore high heels/But I do," and reiterates the theme of conflict over music, adding, "He always said he didn't get this song/But I do, I do." The vulnerability in the song is only matched by Swift's vulnerability when talking about the song's origin. 
Some of her most revealing comments come from an interview she did with People Country in late 2012. When reflecting on the Red relationship, she said, "When someone criticizes you all the time, if you're a people-pleaser like me, you change little things about yourself to make it work. But if you change too many things, you lose who you are," (p. 34). Her statement echoes the theme of identity loss which spans Red. 
The interview also included Swift's annotating her song 'Begin Again'. Her notes are startling in their frankness about the toxicity of the previous relationship:
"One day going to meet friends, I had heels on and thought, 'I should take those off,' but realized, 'I want to wear them. And we're not together. There's no one to look at me skeptically anymore.'  [And] I love a pop melody and I'm not mad if it's a radio hit. I'd get nothing but eye rolls from listening to the music I like. It was a big point of contention in that relationship. […] There was something dark and too adult about what I had experienced. You should keep some element of childhood—that wonderment and ability to laugh. […] That moment [talking about Christmas movies] came from real life and it's one of the last parts I wrote. When you're in a dark relationship, all you talk about are problems. So when that conversation happened, I thought, 'This is so light and innocent and good. I want this.'"
Her reference to her experiences being 'too adult' reminds me of the themes of change and lost innocence in 'All Too Well', which her choice in casting will likely heighten. While Dylan O'Brien's most notable and longest role was as a high schooler in Teen Wolf, he was not as young as Sadie Sink was when cast for that role, and Teen Wolf ended a few years ago. Stranger Things is still ongoing, and Sink is still a teenager. Visually, the audience would be more likely to pick up on gross elements in the story, should Swift be adapting the film to be close to Red's narrative about surviving a toxic, on-again-off-again relationship, more so than if Swift cast two actors similar in age.
This is in no way about reducing Swift to a victim or centering men in her art. Rather, this is about addressing a hugely important part of Red that the general public ignored upon its release, as the media instead slut-shamed Swift and derided her for her intimate songwriting, cementing the serial dater joker into a comedic trope of 2010s pop culture. When listening to Red, one hears several times how Swift blames herself for how the relationship ended, yet she also goes back and forth, sometimes putting the blame squarely on her partner for how everything crashed and burned. Swift subtly addressing the age difference is another way she is refuting stigma and shame, addressing the trauma of the Red relationship on her terms.
Relatedly, Swift has used language reminiscent of #MeToo more often in recent years — such as describing certain emotional reactions as triggered reactions, naming power dynamics in terms of gender, and in general explicitly referring to traumatic experiences as trauma. For example, in 2019 she described 'I Knew You Were Trouble.' as being about being "emotionally manipulated". And similarly, in a recent letter to co-writer Maya Thompson, Swift described Red as being an album about "trauma". Her word choice contrasts to her original description of Red, back in 2012, as being about "semi-toxic relationships".
This makes sense as these themes of trauma, victimhood, and survival are more acceptable and recognized in the mainstream thanks to progressive movements like #MeToo, and this also makes sense because of Swift's own growth as she has reportedly worked on herself a lot the past few years in order to better her physical and mental health. She is more sure of herself, her experiences, and her understanding of them. In the documentary Miss Americana, Swift also mentioned how her 2017 sexual assault permanently changed her, alluding to a deeper awareness of how the personal is political and how gender impacts her and all women.
Overall, while All Too Well the short film has yet to be released, it appears that Swift may be adding her voice to the choir of women speaking up for their younger selves, acknowledging how their past partners negatively affected them. By channeling these complex, confusing scars into art, women like Swift make space for themselves and for girls and women in similar positions, as well as creating a way to hold the men in their lives responsible. It's a way to reclaim one's story and find catharsis, and so, Swift will be taking us back in time, to remember it all too well, soon enough. Time to grab some tissues.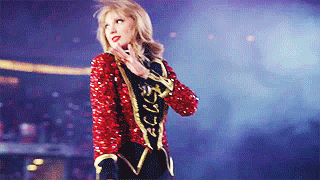 Images courtesy of Taylor Swift, Big Machine Label Group, and Republic Records
Have strong thoughts about this piece you need to share? Or maybe there's something else on your mind you're wanting to talk about with fellow Fandomentals? Head on over to our Community server to join in the conversation!