Welcome to the wild and wacky world of celebrity fragrances, where we're on a merry-go-round of famous people who either slap their name on a scent for money or genuinely love fragrances and at least try to put something of quality out. What will you get? Who knows unless you SAMPLE.
I beat that sample drum pretty hard around these parts because I'm a big believer in not blind buying a bottle you'll potentially hate. Celebrity fragrances are certainly no exception to this rule, particularly when results can wildly vary. Why do people buy celebrity fragrances? Especially when it's highly doubtful said celebrities have ever worn their own sh!t in their lives? Well, capitalism. Celebrity culture. We want the glamour that comes from things associated with people/teams/objects we admire.
Do you really think Justin Bieber is trialing out Girlfriend or Someday? (To be fair, and to save me from a potential lawsuit, it is entirely possible he did, but not probable.)
That said, there are some celebrity fragrances that rise above the chaff, and I wanted to talk about a few of them in my reviews. Today, however, is all about T-dawg. The Swiftster. Our Taylor's favorite Taylor. Taylor Swift.
I avoided the regular Wonderstruck perfume and went right to the flanker, Enchanted (EDP) because… well, that sample was easier to get my hands on.
Let's get the technical bits out of the way before I give you my thoughts. Enchanted is a fruity/gourmand fragrance, released in 2012, just one year after its progenitor, Wonderstruck, debuted. The notes are as follows (and there are quite a few, all things considered).
Enchanted Notes
Top: Passionfruit, poppy, wild berries
Heart: Peony, champaca, sugar, freesia
Base: White musk, woody notes, vanilla
Now for the review.
I'll be upfront. I wouldn't wear this in my day to day life. That said, this is a good fragrance for a pre-teen. As a fruity/gourmand fragrance, the wild berries note is the big star here, followed by some sweetness from the vanilla, the straight-up sugar, and a hint of florals. The wild berries remain the main note, and it stays pretty linear (the scent doesn't change much during dry down) throughout.
Not something I would reach for, but it's a good scent for a pre-teen as I said, that would be inoffensive during the day and not too overpowering for a developing nose palate. This might be too heavy for the summer months, but it'd be a great fall fragrance.
Surprisingly, while I wouldn't spring for it myself, I didn't hate the smell. The notes blended well together and the vanilla and sugar notes never become too cloying. Better, it's blended in a way that the vanilla didn't turn into a death note on my skin, so well done to the noses Loc Dong and Jea-Marc Chaillan. While it might be a tad "dated" and it came out during Swift's still predominantly country days, this is inoffensive, pleasant, and not a failure for a celebrity fragrance.
For an 11 to 12-year-old this is a good "intermediate" level fragrance that they can wear that has a little more depth than expected but is easily accepted by their peers.
Chalk up a win for celebrity frags, though considering Swift herself seems to be a bit of a fraghead, I suppose we shouldn't be too surprised. (Hint: Some of her favorites are said to be Flowerbomb by Viktor & Rolf, Santal Blush by Tom Ford, and rumor has it she even wears one from her own line called Taylor.)
You can pick up a 50 mL bottle of Enchanted from Fragrancenet (click the image below) for under $40 with their discount factored in. They also have a sample size available for purchase as well.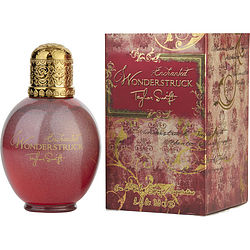 The Fandomentals "Fragdomentals" team base our reviews off of fragrances that we have personally, independently sourced. Any reviews based off of house-provided materials will be explicitly stated. 
[rwp_box id="0″]