My quest to catch up on all truly original Netflix content continued with my one day marathon of Sweet Magnolias last month, one of the few small-town stories that isn't oppressively over the top.
Written by Sheryl J. Anderson, the show adapts the Sweet Magnolias book series by Sherryl Woods who also executive produced the series. I will admit the reason it took me so long to watch the series even though it released in May was that I thought it was an adaptation of Steel Magnolias!
Once I realized my mistake I pressed play on the first episode and was immediately hooked. Sweet Magnolias follows three South Carolina women, best friends since childhood, as they shepherd each other through the complexities of the wild ride that we call life.
Joanna Garcia Swisher plays Maddie Townsend, recently divorced and trying to move back into the workforce. Heather Headley is Helen Decatur, an accomplished attorney who supports Maddie through her divorce and all the legal ramifications of it. Finally, Brooke Elliot is Dana Sue Sullivan, chef and owner of the Sullivan's restaurant in Serenity.
The first season does follow some of the books but veers off course towards the end, which makes the show all that more enjoyable for people who enjoy cliffhangers. I found myself yelling at the screen, but I also went in completely unspoiled which is not usually how I watch TV!
Throughout the season we meet Maddie's children Ty, Kyle, and Katie, her ex-husband Bill, his pregnant fiancee Noreen, and Cal, who is both Ty's baseball coach and Maddie's love interest. There's also Dana Sue's daughter Annie who Kyle has a crush on, Erik the sous chef at Sullivan's and mentor to Isaac who is looking for his birth father, Ryan, Helen's first love, and a number of other Serenity residents who vary in their nosiness and friendliness to our leads.
What made Sweet Magnolias so enjoyable is that it's the perfect mix between the best of Hallmark tropes and topics usually not really interrogated in those Hallmark holiday films. Obviously there's the divorce and the ramifications both legal and emotional on Maddie and her kids. Do the kids "side" with one of the parents? What about Noreen who is young, pregnant, and works with Bill? They're supposed to move into a new house but Bill's a jerk so keep an eye on that storyline.
Elsewhere, Helen must tackle whether she wants to have kids or not, having been single for years, and even when Ryan comes back into town…well he doesn't want kids! Dana Sue fights health issues, a recently fired sous chef who stole from the restaurant and her, and Annie who doesn't quite love Serenity as much as her mother and honorary aunts. By the way, her ex-husband also makes an appearance. These women need the spa more than the town!
Throw in Erik vying for the sous chef position and maybe a place in Helen's heart, Isaac who at first thinks Erik is his father, and our Sweet Magnolias trying to renovate an old mansion into a spa, well there's more than enough chaos to go around in ten episodes.
These conflicts don't even begin to touch the not quite love triangle, but emotional interconnections between the teen children, which of course requires rivals and other sources of opposition. Fortunately and as an extreme compliment to the casting department and writers, the kids are portrayed by kids and their problems are dealt with in the same respectful and thoughtful manner as the adults.
Blend it all up in a town so small that anyone who's Christian goes to the same church (led by a Black woman) and it's a shock anyone can have any secrets. Which is what makes the show just so fun!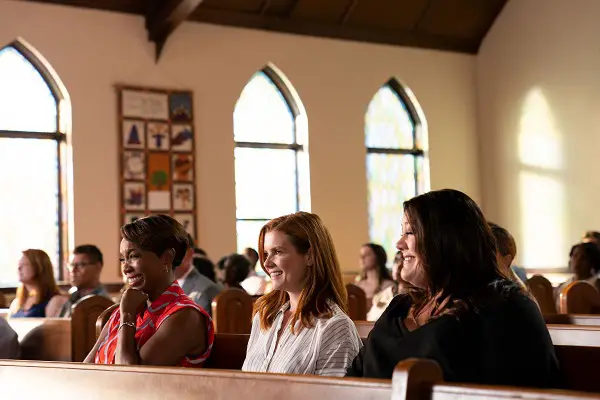 Sweet Magnolias, A Sublime Small Town
Small town shows can feel cloyingly sweet and oppressive both to the viewer and the characters themselves. Those of us from small towns can understand exactly why Annie is so frustrated by the less pretty areas of Serenity and what is considered small-town mentality.
Anderson and the writers room, however; do an incredible job of balancing the former with a realistic look at what it is like to still be in family with people you've known your whole life by having Annie talk to Helen, who left and returned to Serenity. Since Helen is one of the few main Black characters (though there are many recurring characters and folks in crowd scenes, a+) this is especially poignant.
Along those lines, there's a tension created between Helen and Peggy Martin, the town reporter, and another Black woman who is not a villain, but definitely not friendly to our favorite friends. This one relationship and the various strands spun from this web is precisely what makes the show so dang good!
I want to know exactly why Peggy and Helen don't get along. What does it mean that Peggy tells Helen she does in fact know what heartbreak feels like (after yet another break-up with Ryan)? The obvious conclusion is that she's Isaac's mother, further supported by her remark that as a senior in high school, she left town for a year and is the reason Ryan comes back to town after he learns that the Sweet Magnolias are renovating his childhood home.
The answer to those questions will hopefully come in the second season. More importantly, it indicates a level of care to fleshing out Black characters that so often is non-existent in any show, but especially ones about small towns. After all, the common misconception is that small-towns are lily-white.
Helen is not a side-kick or emotional support system only. She's an intelligent, well-developed, nuanced character who has strength and poise but is not yet another Strong Black Women. Nor is she only the Black Best Friend or Black Lady Therapist. She supports and in turn receives support from Maddie and Dana Sue like true friendship is meant to be!
Similarly Erik and Isaac are both incredibly complex characters. We learn that Erik lost his wife and he's seen a lot of awful things as a former EMT, whereas Isaac is trying to find his place in the world, sure that one or both of his parents are from (or even in) Serenity. Seeing Erik support Dana Sue and receive support and respect in return is also a refreshing twist on how Black men are usually treated in TV.
Finally, though certainly I could write pages about each character, I am so pleased to see that while Dana Sue must address her diabetes, it's not her weight or size that become the focus of her character and personhood. (I do want to see a realistic exploration of what it means to adjust after a diabetes diagnosis.)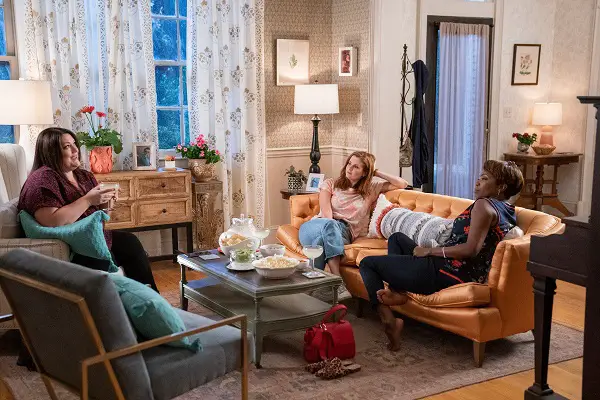 The first season ends with a number of questions, foremost being who was the other passenger in Ty's car? The car by the way bought by crappy dad Bill…
Who will Maddie choose between Cal or Bill? Will we see Noreen again? Who are Helen and Dana Sue going to end up with? Of course any one of them could end up without a partner and be fulfilled adults, but this is of course Netflix and the Hallmark comparison was on purpose.
Truly my one major complaint is that there's no indication on whether we'll see recurring or main LGBTQ characters in the next season, but I would love to find out that Maddie's kickass mom Paula is actually a bisexual or lesbian woman thriving in her older years with all her senior friends. Paula, by the way, is the best version of the meddling and supportive mom who pushes Maddie to stand on her own two feet.
They could of course introduce someone new, but Anderson and writers didn't spend all that time getting us hooked on the characters we already know to not spend more time with them.
Overall, Sweet Magnolias deftly handles issues of loss, heartbreak, friendship, family both biological and found, small-town rivalries, and claiming what's yours whether that's related to personal or professional goals.
Plus if you're as obsessed with the amazing dishes Dana Sue and Erik create, well here's the cookbook for you, written in Dana Sue's voice and approved by Woods.
---
.Have strong thoughts about this piece you need to share? Or maybe there's something else on your mind you're wanting to talk about with fellow Fandomentals? Head on over to our Community server to join in the conversation!
Images courtesy of Netflix.