Summer Day in Brooklyn is a sweet exploration of what happens after a night of passion. It is less about intimacy and more about searching for a meaningful connection. Josh Cox, who, as usual, directed, wrote, and edited, looks at two women, played by Oumou Eden Traore and Susi Plotts-Pineda, as they try to feel their way through the first awkward steps of a relationship-or figure out if they even want to pursue one.
I have been lucky to review many films by Cox. His latest short is a departure from his work because it is shot on an iPhone. As a result, it is less exact in the staging and more interested in finding realism in it. It's not that the exactitude of his framing has gone away, so much as Cox has found a way to blend it into the film so it is less noticeable. Or perhaps it is a consequence of filming on an iPhone.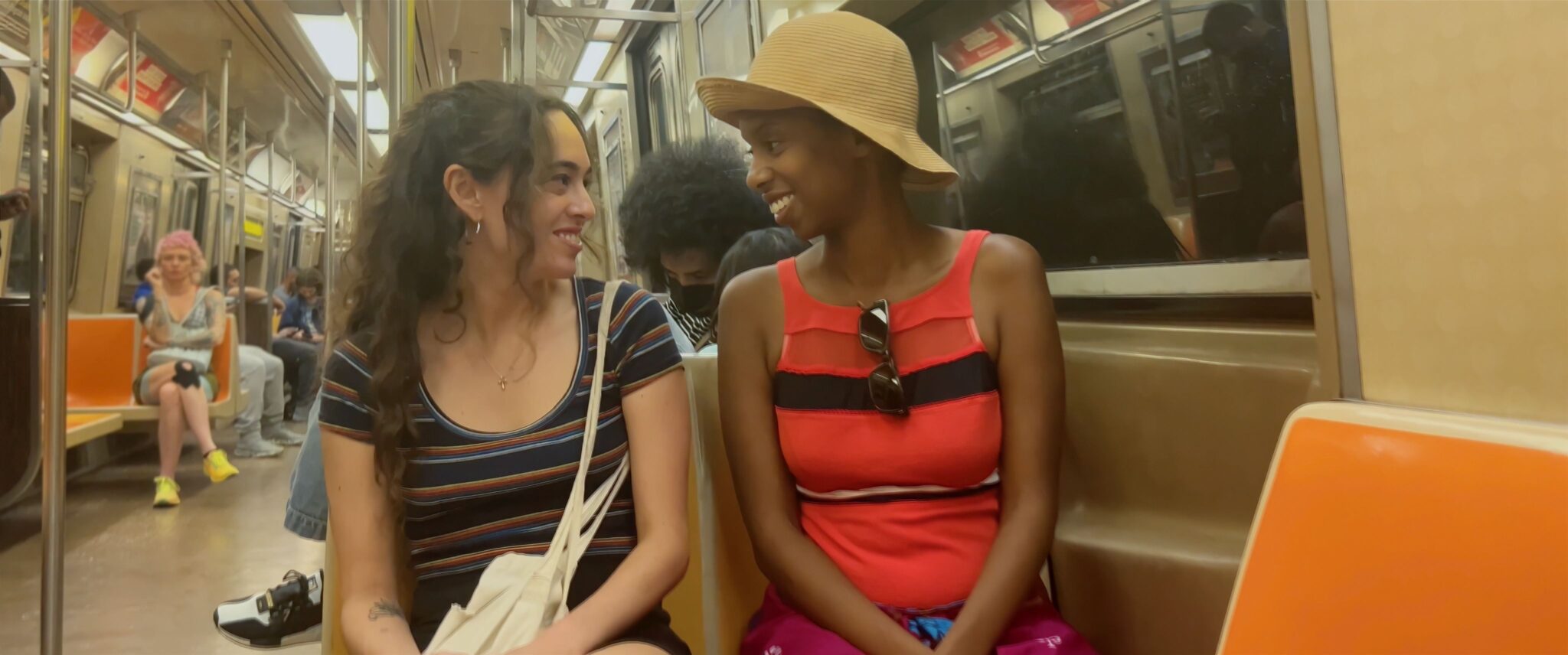 Sean Baker famously his film Tangerine on an iPhone but did not recommend anyone else do so. It was done out of necessity, not out of artistry. As an experiment, Summer Day in Brooklyn is an interesting one, visually speaking. The images lack the observational and poetic weight of Cox's past films. The lyricism is replaced with a stronger sense of observation and naturalism.
At times the iPhone feels not objective but impersonal, and for what Cox is trying to get at, it primarily works. One of the women says while on a picnic in the park, they talk about how they want to be seen and see other people without projecting onto them or desiring them. This is displayed as Summer Day in Brooklyn opens up with the two women in bed. Cox doesn't frame the scene in sensuality as much as curiosity. I hesitate to say documentary feeling so much as it feels almost Cassavettes-like, stripping away the artifice of formalism to reveal a simple if banal, but no less powerful, truth.
Traore and Plotts-Pineda's conversations aren't witty or revelatory, again part of Cox's attempt at capturing the naturalism of the moment. The women are free of affectation and appear to be speaking in the moment, the dialogue moving haltingly yet freely like they are thinking of the words as they say them. The dialogue allows the performances to come off as more grounded, their inner life evident as they listen to each other as they try to figure out what this is and what last night meant-if anything.
Summer Day in Brooklyn has no scenes where the two women identify as anything. It's not the naming of the sexuality that drives Cox but the exploration of it, and there's something to be said about the beauty of watching two women sitting and drinking coffee as they share uncertain flirty looks at each other. They speak of past and hopefully future relationships without pretension, unafraid of seeming silly or vulnerable. 
Though Cox's staging and framing aren't as precise, it is still there. Shots such as the two on the subway, staring longingly into each other's eyes, or setting the camera behind the staircase as the two enter the apartment building, are moments where the voyeuristic aspect kicks in. Moments that feel as if we are passers-by and happen to witness these small moments.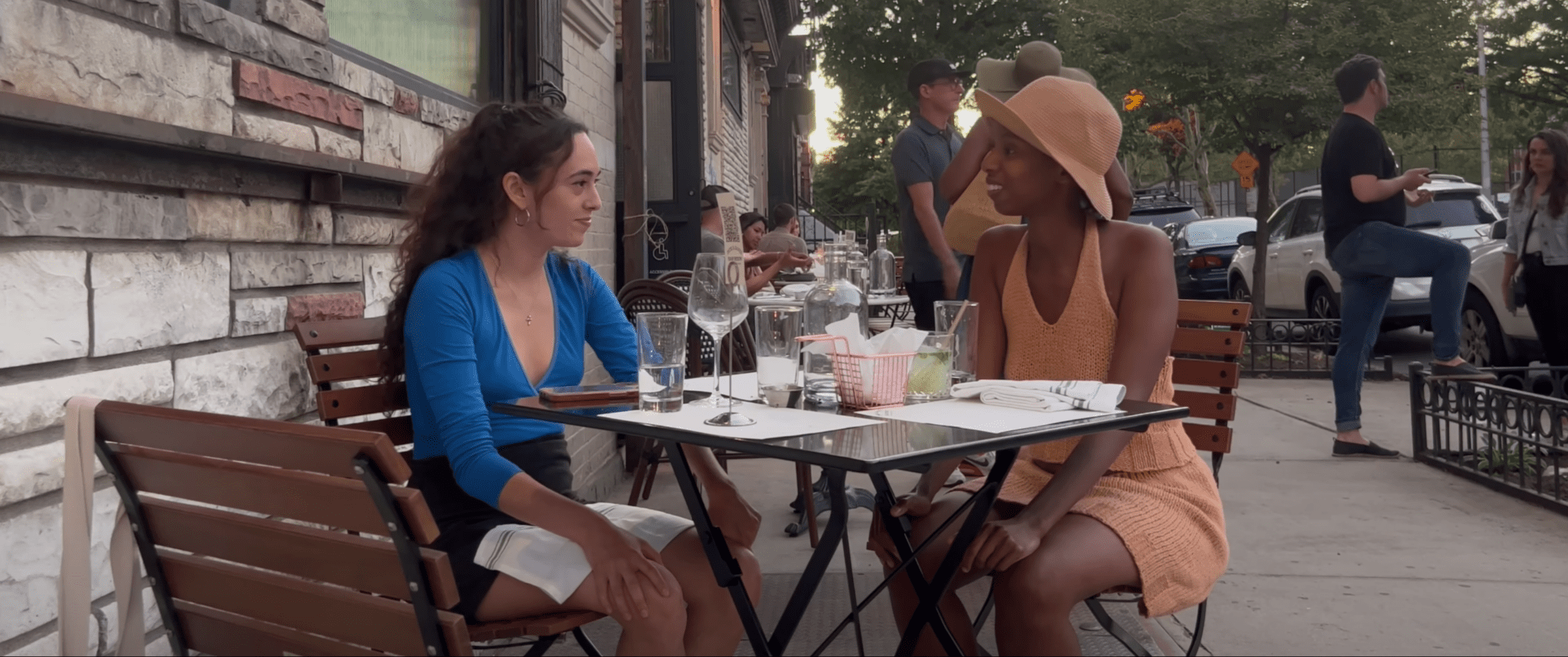 Still, I miss the way Cox's images used to be more controlled, the way he would cut to shots of small things like a hand. There was an expressiveness to his images that seemed lacking in Summer Day in Brooklyn. In some ways, filming on the iPhone makes the objective shots seem like an impassive spectator. As an experiment, the film shows the little ways shooting on an iPhone can enhance the peering aspects of the movie while others making shots that would ordinarily seem contemplative seem matter-of-fact.
However, this is the point. After all, Traore and Plotts-Pineda don't want to be objectified or even desired so much as seen. In a way, Summer Day in Brooklyn seems more accessible but unmoored at times. Certain lenses and angles give certain feelings and intentions that an iPhone lacks. But for the impressionistic purposes of a short film, it is an oddly perfect drill bit for what Cox is trying to mine.
Yet, I can't deny how briskly Summer Day in Brooklyn flies by due to its immediacy. It feels alive and in the moment, not that his other films have not, but it doesn't call attention to itself here. How he would sit with a frame is replaced with a more mobile camera and a less controlled atmosphere. Cox is maturing as a filmmaker while also trying out new things. Far from losing his voice, he seems only to be getting stronger, bolder, and more visually curious.
Images courtesy of Americana Pictures
Have strong thoughts about this piece you need to share? Or maybe there's something else on your mind you're wanting to talk about with fellow Fandomentals? Head on over to our Community server to join in the conversation!